Learner's Story
I continued my training for a year before deciding to become a teacher!
I am a 'technopreuner' with 20+ years of experience in the area of operational technical leadership in IT Infrastructure and systems software. I wasn't too convinced about the idea of learning a skill online. However, a few sessions with Edureka,I warmed up to the idea and got myself up-skilled with the Edureka DevOps Certification Training. After successfully completing the course, I continued my training for a year before deciding to become a teacher!
I have been able to apply the learnings in my job on activities related to public cloud
I am a tech professional with more than 12 years of experience in networking domain and working on Datacenter virtualization in VMware. I have greatly benefited from Edureka's AWS Architect certification training. Not only have I been able to apply the learnings in my job on activities related to public cloud, the course also helped me get a promotion and a good hike last year.
I implemented a project after the course which won my client's and management's appreciation
I signed up for the DevOps course at Edureka because I had a keen interest in learning the technology. But, the benefit that I got from the course did not end with only skills. I was already working as a Build and Release Engineer at the time of completing the course, following which, I prepared a Proof of Concept for a client and implemented the project with a current customer. My management was very happy with my work and this work subsequently won me a 20% hike!
Program Schedule
Structured program curated and taught by industry experts
Select weekend or weekday batches as per your convenience
24 x 7 Support executives just a click or call away
Earn Masters Certificate along with course certificates
Job Outlook

18 Million

Career Opportunities
for professionals associated with cloud computing across the globe
26.00 %

Annual Growth
for cloud related opportunities in IT sector worldwide
Salary Trend
$124,300

is the median advertised salary for cloud professionals in 2016. Companies competing to hire the limited number of cloud architects are willing to offer up to US $1 million per year.
Top Industries
Economic sectors that adopted cloud platforms and generate jobs include
Retail
Insurance
Manufacturing
Telecommunications
Job titles include
Cloud Architect

Enterprise Solutions Architect

Devops Cloud Architect

Infrastructure Architect

Cloud Engineer
Learning Path - Become an Alpha Geek


Master Program Certificate
Applicable for learners enrolling for entire learning path
Edureka's Certificate Holders work at companies like :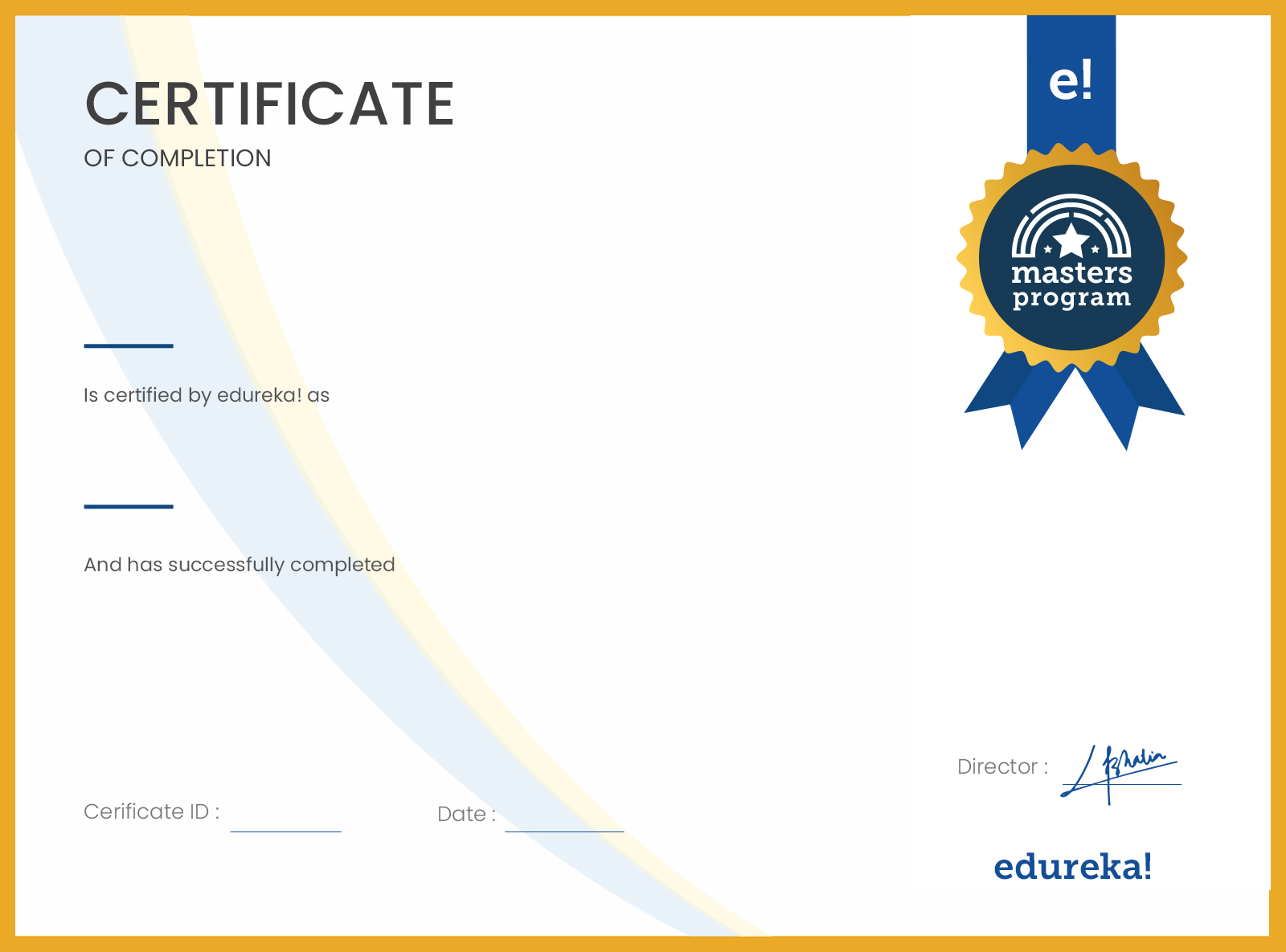 Java Essentials
Fundamentals of Cloud Computing
AWS Architect Certification Training
Migrating Applications to AWS Training
DevOps Certification Training
The Certificate ID can be verified at www.edureka.co/verify to check the authenticity of this certificate
Get a sample certificate right in your inbox

Ridiculously Committed
100+ courses with latest curriculum to learn
Blogs and video repository for unlimited learning

Please check your inbox for the sample certificate
Free Elective Courses along with learning path
About the Program
This program follows a set structure with 5 core courses and 5 electives spread across 13 weeks. It makes you an expert in key technologies related to Cloud ecosystem. At the end of each core course, you will be working on a real-time project to gain hands on expertise.
Java Essentials
02
Weeks
5
Modules
Course

01

/

05
01

OOPS Concepts

02

Core Java
This training will cover Java architecture and make you expert in developing the code with various data types, conditions and loops.

It will also cover how memory management is handled in Java and help you create a Java project in Eclipse and execute it.
Fundamentals of Cloud Computing
01
Week
1
Module
Course

02

/

05
01

SAAS

02

PAAS

03

IAAS

04

Cloud Virtualization

05

Cloud Deployment Models
This training will help you build a base for the Cloud Computing Architect by clearing your fundamentals of Cloud

At the end of this course you will understand the various Cloud Deployment Model, various Cloud Services Model and learn concepts of Cloud Virtualization
AWS Architect Certification Training
05
Weeks
10
Modules
Course

03

/

05
01

Lambda

02

EC2

03

RDS

04

S3

05

VPC

06

EBS

07

IAM

08

Redshift

09

Glacier
AWS Training is designed to help you pass the AWS Certified Solutions Architect (CSA) - Associate Exam.

You will gain expertise on AWS Cloud Computing and its services like Lambda, S3, EC2, VPC, Redshift, IAM, EBS, Cloudfront, Snowball, Cloudwatch, DynamoDb, Glacier, SES, SNS.
Migrating Applications to AWS
01
Week
3
Modules
Course

04

/

05
01

Migration Plan

02

Migration Strategy

03

Migration Execution
This training covers 3 case studies where you will gain expertise and experience in managing cloud migration.

You will become proficient to migrate Web Applications, Batch Processes, and Backend Processing Pipeline to AWS cloud.
DevOps Certification Training
04
Weeks
8
Modules
Course

05

/

05
01

Git

02

Chef

03

Docker

04

Jenkins

05

Puppet

06

Ansible

07

Nagios
This DevOps Training helps you master Configuration Management, Continuous Integration and Continuous Deployment, Continuous Delivery, Continuous Monitoring using DevOps tools.

Tools you will master as part of this training will be Git, Chef, Docker, Jenkins, Puppet, Ansible and Nagios
Frequently Asked Questions