20 years of Java and the success party continues. To all those who said that Java is slipping in popularity, job trends have responded saying 'not yet'! We need not look further than the TIOBE programming community index-2016 to see that Java has continued to grow, gaining about 6 percent share since 2014, going on to be named as the programming language of the year. Also significant is the fact that the TIOBE index is based on search engine statistics and factors such as the number of skilled engineers world-wide, courses and third party vendors using the programming language. This is not the first time that Java has won the title and it sure does not look like the last time.
Widely believed to be the 'most reliable programming language' in the developer community, Java continues to grow in usage and popularity. This has a telling implication on Java career opportunities with demand for Java developers expected to sustain in the years to come.
Java Career opportunities
Java is currently leading the pack in the enterprise back-end market and the Android mobile application development market. The future looks bright for Java when you consider the integration of modern language features such as lambda expressions and streams in JDK 8. According to Oracle, there are nine million Java developers in the world who continue to work with Java for many reasons such as practicality, compatibility, reliability and ease of use. With plans already afoot to introduce new language features, like value types, in JDK 10, Java might as well emerge as the Programming Language of the Year even ten years down the line!
Java Popularity Vis à Vis Other Programming Languages

Source: Tiobe.com
Java programming salary
According to Indeed.com, the average salary for a Java Developer in the USA is $102,000 with salaries for job postings nationwide being 77% higher than average salaries. The graphic below shows the salary growth trend for Java programming in the United States.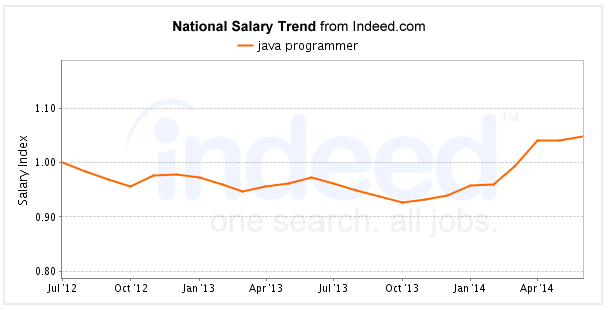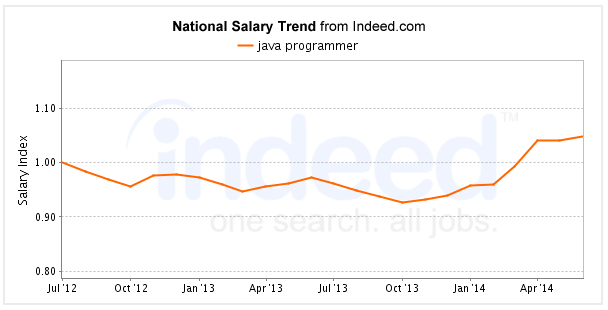 In India the story is no different. According to Payscale.com, the median total pay for a Java programmer/developer in India is Rs 436,104 with total cash increasing with experience level.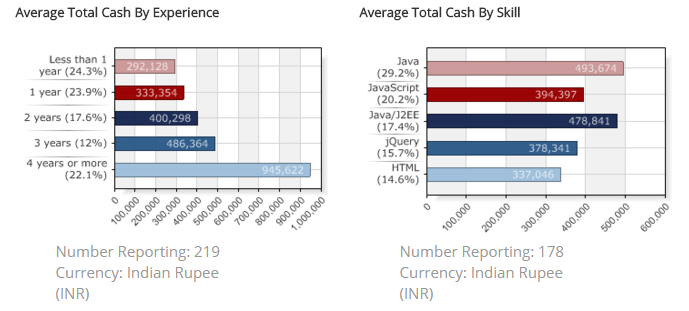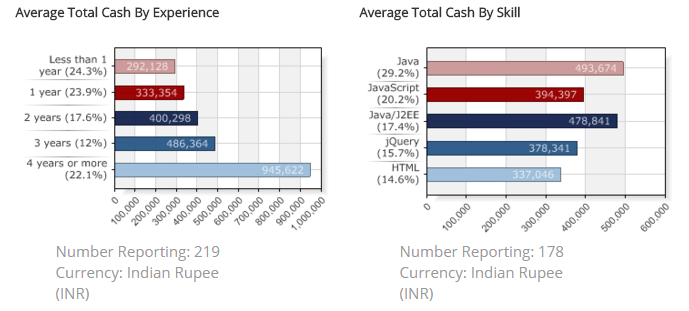 Java Job Roles
Here are some of the job roles that are available for a professional with Java skills:
Java Developer

Java Architect
Web Developer
Database Administrator
The average salaries (USA) for corresponding Java job roles are given below: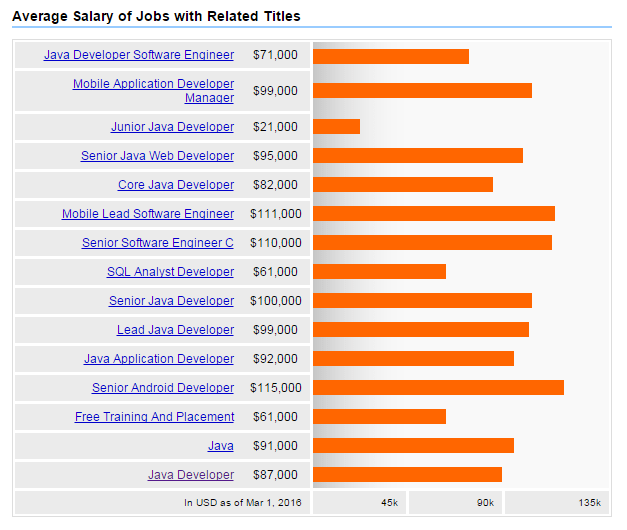 Source: Indeed.com
Hot Java Programmer Skills
A top-notch Java programmer, will be proficient in the following skills:
Enterprise Java Beans
Oracle database SQL and JDBC
XML,X query, XSL
J2EE framework
JSP
Service Oriented Architecture
Java based Web services
Java Servlet Technology
Java career opportunities are aplenty all over the globe. A quick search on Indeed.com reveals that reputed companies such as Amazon Web Services, IBM, Microsoft, Oracle, Cisco Systems, Akamai Technologies, JPMorgan Chase and Hewlett Packard Enterprise among others are looking for Java developers. The time is ripe to up-skill and take advantage of the Java career opportunities that come your way.
Edureka has a specially curated Java/J2EE and SOA course that is designed to give you a head start into Advance Java programming and train you for both core and advanced Java concepts along with various Java frameworks like Hibernate & Spring. New batches for this course are starting soon. Click here to learn more.
Got a question for us? Please mention it in the comments section and we will get back to you.
Related Posts:
Get Started with Java/J2EE and SOA
Top Java Interview Questions for 2016