Becoming a Chartered Financial Analyst (CFA) is no simple feat. Statistics have shown us over the years that it requires considerable dedication and effort to prepare for the examinations and crack it. However, that does not mean that cracking the CFA Level 1 examination is not possible. The right mix of perseverance and strategy can put you ahead of your peers.
The CFA Level 1 examination is your key to the elite CFA world. It helps in creating a strong base in Finance and is relatively easy for candidates with prior knowledge in accounting (Finance Graduates). It covers areas like ethics, quant, FRA, corporate finance, economics, equity, fixed income, derivatives and portfolio management with a weightage of about 5%-15% spread across these topics. Administered by the CFA Institute, the CFA program offers a graduate-level curriculum.
The figure below summarizes the most important features of the CFA Level 1 examination: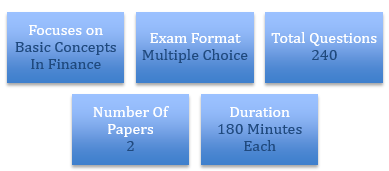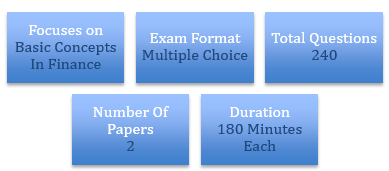 CFA level 1 examination tips
Here are a few simple tips to breeze through your CFA Level 1 examination:
1. Create a study plan
While preparing for the CFA Level 1 examination, create a study plan. Try and adhere to it no matter what, to ensure less stress during the crunch hours. Time management is essential while preparing for any examination. The CFA Institute estimates that at least 250 hours of independent study is required to clear each examination. So a simple math calculation says that if you intend to begin preparation six months before the exams, you need to put in at least 10 hours of studying per week.
2. Take notes
Do you remember your childhood days when your mother would tell you to write notes to memorize topics? The golden words make perfect sense for this examination. It will help you memorize, overcome difficulties and sort of imprint a topic in your mind.
3. Concentrate on test papers
Mock tests and solving test papers of previous years is one of the best ways to get your confidence levels soaring. Remember, at this point, it's imperative that you focus on practice rather than your mock scores. A variety of test papers will give you enough exposure to the various kinds of questions that you may face during your examination.
4. Get up-to-date with testing methodologies
Each examination features different policies and procedures. It is best to familiarize yourself with the policies by reading all the guidelines. This will ensure that there are no surprises during the examination.
5. CFA topics to pay attention to:
While preparing for your CFA Level 1 exam, concentrating on certain key areas is important. These are:
Ethical and Professional Standards
Financial Reporting and Analysis
Fixed Income and Equities
Corporate Finance
Quantitative Methods
Derivatives
Alternative Investments
Portfolio Management
Economics
6. Devise your own exam strategy
The CFA Level 1 examination consists of conceptual and numerical sections. It's advisable to devise your own strategy of how you will attempt the questions. This level has two papers that you need to clear – the AM and the PM. One-way of working around the various topics to study is:
Begin with FRA and economics as they are major subjects and carry about 30% weightage
Next, tackle equity, fixed income, portfolio management and corporate finance which will cover 35% of the syllabus
Derivates and ethics can follow, getting another 20% off your plate
7. Practice to up your speed levels
To crack the CFA Level 1 exam, speed is the key. Prudence says that one must not waste too much time on one question. If you are unable to answer it at the first instance, move on to the next question and come back to attempt it later. Practice using your business calculator as not doing so can severely impede speed. With 120 questions to be completed in 180 minutes, time is definitely a constraint here.
8. Make use of online resources
Global training firms specializing in teaching financial services have a lot of study material available online. Make use of these resources for your preparation.
9. Revise formulae
A formula cheat sheet is a great tool for revision. You can carry it with you and revise it at least a couple of times everyday. Homemade flash cards are another great way to master the study material. Pull them out during commute, during lunch break and maximize your time.
The CFA Charter poses certain challenges along the way and it's up to each candidate to work around them. Meeting with and talking to existing CFA charter holders is a way to understand how to study for the examination the right way. Staying motivated and maintaining a healthy lifestyle are other ways to ensure that you are all set on your path to ace the CFA Level 1 examination!
Powered by Ivyclique
Got a question for us? Please mention them in the comments section and we will get back to you.