We had discussed earlier how your career prospects increase with PMP® Certification . With increased globalization, industrialization and millions of projects, big and small being undertaken, the Project Management Profession has been gaining prominence like never before.
To summarize briefly, PMP® Certified Professionals are in demand by many leading companies in India & abroad for the following reasons:
Certified professionals implement best practices in the Project Management domain.
They are better at managing projects as per general and best practices guidelines.
They help in improving the Project Management Processes.

According to PMI, there is huge demand for certified project managers across the globe. The best way to get employed by top companies is through PMP® training, which is the single most important step towards PMP® preparation.
Importance of PMP® Training
There are certain pre-requisites for undertaking PMP exam. PMI requires that before you take up PMP® exam, you need to undergo a mandatory 35 hour Project Management Training.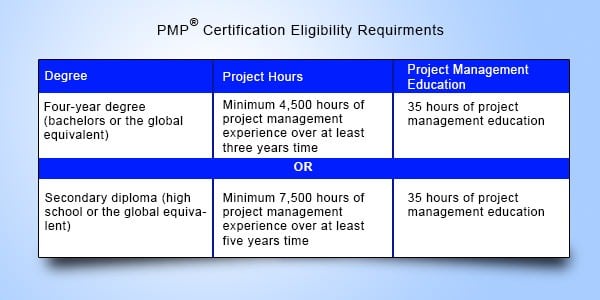 The training is done either through an online medium or through Classroom Sessions. Project management training covers the PMBOK (Project Management Book of Knowledge) released by PMI. The intention is to spread awareness and understanding of the general guidelines to be followed while managing a project.  The best part is that the PM training is delivered by industry experts who have hands-on experience in the Project Management domain.
Benefits of Attending Project Management Training
35 Contact hours PDU(Professional Development Unit) certificate to meet the pre-requisites of PMI PMP® exam
In-depth discussion of the concepts in PMBOK; this allows for easier grasping of concepts and best practices
Learning industries' best practices
Discussing real-life examples in order to map it to the concepts in the exam
Networking with others who are preparing for PMP®. Networking puts you in touch with others who would later recommend you for jobs in their own organizations
Services Required along with PMP® Training
Mock Tests: This allows you to get a feel of the real exam and helps you assess your strengths and weaknesses.
Free Post Training Support:  This helps you reach out to your trainer or any other faculty to get doubts cleared even after the training period.
Assistance in Submitting Application: The application submission process is tedious. It includes filling up details of all previous projects to match up to 4500 hours of leading or directing a project.  Edureka provides guidance in filling up the details.
Free online Resources: Apart from Mock tests,you need to have recorded lectures for easy reference at a future date.
Free online support: You definitely require 24/7 support during the training period, to clear any doubts on topics related to the PMP® training course.
PMP® Online Training:
The PMP online training has numerous benefits and some of them are as follows:
You can attend the class from the comfort of your home.
It's helpful for those of you who'd like to take a self-paced approach to prepare for PMP® Certification while balancing a busy schedule at work.
It allows you to grasp requisite knowledge slowly rather than getting overburdened with a 9 hour classroom session at once.
You can raise doubts and get them clarified immediately in this kind of approach.
We hope this post was helpful in understanding the importance of training. Got a question? Mention them in the comments section and we will get back to you with the relevant information
Related Posts:
Growing PMP career opportunities in different industries.
PMP is a registered mark of Project Management Institute, Inc. Edureka is a Global PMI® REP: ID 4021