Big Data technologies and initiatives refer to our ability to collect and analyze the vast amounts of data that is being generated in the world today.  The technology that supports Big Data and analytics is Hadoop.
Big Data and Business Intelligence: A Match Made in Hadoop
Big Data solutions like Hadoop along with BI reporting can change the game on your strategic decisions. Organizations these days, are overwhelmed by the enormity of the Big Data and the fact is that it will continue to grow. When it comes it analyzing data, the enormity of the data might lead to delay in processing it. It is required by an organization to have timely solution, so faster data processing is essential. In this situation, Hadoop enables faster crunching of data across a cluster of several nodes. With increase in data, another node needs to be added and the processing would scale linearly.
Business Intelligence professionals' interest in Hadoop has gone up in recent years, owing to the fact that Hadoop has proved to be useful when it comes to dealing with Big Data, Advanced analytics and unstructured data. TDWI, the premier provider of in-depth, high-quality education and research in the Business Intelligence and Data Warehousing industry, anticipates that Hadoop technologies will soon become a common accompaniment to Business Intelligence, Data Warehousing, Data Integration and Analytics.
Why are Business Intelligence Professionals taking up Hadoop?
Business Intelligence professionals have to deal with the tough challenges of storing Big Data, unstructured data and advanced analytics.
According to this TDWI's survey, the Hadoop products most commonly used today, based on their use cases for BI, DW, DI and Analytics are: MapReduce, HDFS, Java, Hive, HBase, and Pig. The following is a graphical representation of the number of users of the above Hadoop products.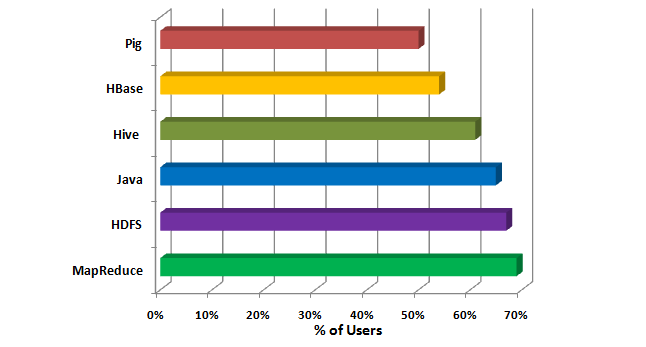 BI professionals rely a lot on reporting tools. Their main job involves scanning through relational data and pulling data from various sources to generate customizable reports.Hadoop supports this requirement of BI in a big way becauseHadoop Distributed File System can manage the storage and access of any data type as long as the data is put in a file and that file is copied into Hadoop Distributed File System. This brings many BI users to Apache HDFS and related Hadoop products.
Most BI organizations have designed their Data Warehouses for structured, relational data, which makes it difficult to wring BI value from unstructured and semi structured data. Hadoop promises to complement Data Warehouses by handling the multi-structured data types that Data Warehouses simply weren't designed for.
Why Integrate Hadoop with Business Intelligence?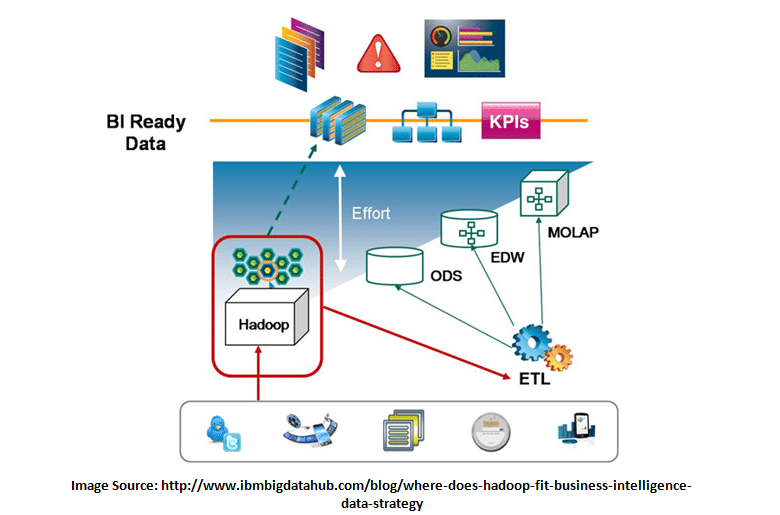 While Enterprise Data Warehouses are awesome platforms for providing heavily processed data in to most BI deliverables, there are areas where it is least suited. Hadoop technologies can be used in above such areas where the Enterprise Data Warehouse is not suitable. Hadoop is excellent for managing and processing huge volumes of file based data. Hadoop is renowned for its analytics capabilities and is utilized in places where the data is huge. Hadoop is adept at managing and processing Big Data, for which the traditional BI tools were not designed. Recently, more and more organizations are directly integrating Hadoop and EDW for data analysis, to get maximum visibility in to performance of the Organization and thereby providing a 360 degree view of the business units.
Advantages of using Hadoop/Big Data Technologies in Business intelligence:
Big Data technologies are significantly contributing towards improving the current BI solutions.  With Hadoop providing a computing solution that is:Scalable, Cost effective, Flexible and Fault Tolerant, Hadoop has panned out to be a good choice for Business Intelligence.
Let's take a look at how Big Data technologies like Hadoop are making a difference to Business Intelligence solutions:
Include More Data Types – Big Data technologies enable consumption of data from diverse sources and also allow new data types, both structured and unstructured.
Explore Data – Big Data environment provides a flexible environment to explore your data, which can be used to bring about better functionality and new structures out of your existing BI solution.
High Volume of Information – With Big Data technologies, BI solutions can now devour higher volumes of information. As Big Data technologies are equipped with horizontal scalability, there is no restriction to the number of resources that needs to be added, to store and process unlimited information. This horizontal scalability allows detailed analysis of humongous amounts of data and thereby meeting the requirement of your BI solution.  Big Data technologies also provide you with the facility to conduct data modeling and analysis in the Big Data environment.
Process More Information in Less Time – There are scenarios where the BI system takes multiple days to generate the required information. This feels like eons, especially when you are under time constraints. Big Data technologies permit horizontal distribution on the massive amount of data being processed, which in turn process the information much more quickly than the traditional BI systems.
Higher Quality of Analysis – Data aggregation is often done when a BI solutions have a tight budget. The end result is mostly, loss in granularity and thereby reduction in the quality of the data. The distributed power of Big Data technologies lets you to perform data analysis at any level needed, without aggregation.
Improved User Experience – Big Data technologies mean more power, you are able to obtain your information in less time, often in near real-time. This means that you can invest more funds to data visualization and thus improving user experience.
Cost Reduction – Big Data technologies reduces the cost of the BI solution as they are designed for horizontal scalability, whereas traditional BI solutions require vertical scalability which requires powerful hardware, whose expenses accelerate quickly. Horizontal scalability means that you can use cost-effective commodity hardware on a larger scale as one powerful hardware. With increasing amount of data, leveraging the horizontal scalability of Big Data makes it an affordable choice.
With so much going on with Big Data technologies in BI, organizations have began to accept the potential of Hadoop and started to implement it along with their BI system.
Hadoop – A Recognized Component of Business Intelligence
According to the TWDI's survey respondent who are Hadoop-BI professionals, Hadoop is already deeply integrated with analytic databases, analytic tools, reporting tools and data visualization tools.  This shows that Hadoop is already a recognized component of Business Intelligence.
There are mixed views about Hadoop's role in Business Intelligence.  In TWDI's report, they have mentioned that 78% of the users feel that Hadoop is a valuable addition. They accept that Hadoop is more of a complement and that the major benefit from Hadoop, is its Big Data analytics capability.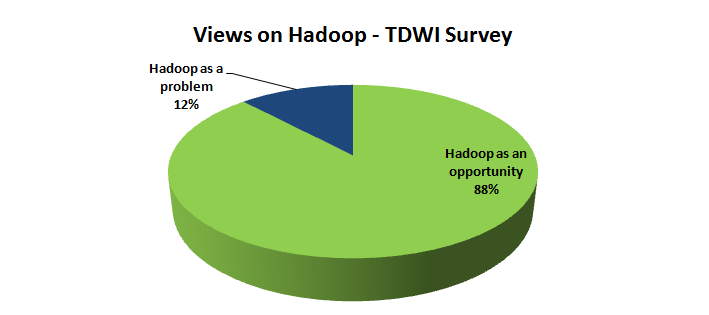 The vast majority of 88% of users consider Hadoop as an opportunity, as Hadoop technologies enable new application types like sessionization, which is based on Web logs, monitoring and Sentiment Analysis. And a small minority of 12% of users consider Hadoop as a problem.
Job Openings for BI + Hadoop Professionals:
Let's take a look at some of the job openings for this combined skills at Glassdoor.com and Indeed.com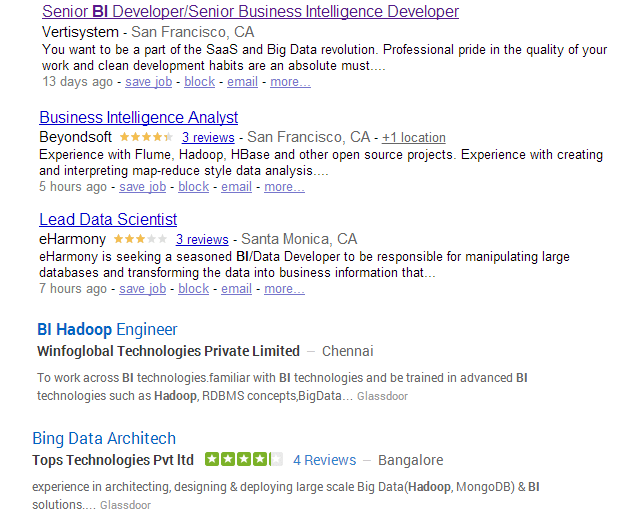 Using Hadoop technologies in BI, requires a decent amount of training for Business Intelligence professional in Big Data skills, Hadoop skills and Analytics. When this trend pans out, Hadoop will impact a Lion's share of BI environments soon. Hence, Business Intelligence professional need to prepare for Hadoop usage now.
Got a question for us?? Mention it in the comments section and we will get back to you.
Related Posts:
Is Big Data the Right Move for You?