Robotic Process Automation is a process through which simple to complex task gets automated with the help of RPA Tools. One of the top tools in today's market is UiPath. UiPath has been named the Leader by Forrester with the highest possible scores in Strategy and Market Presence. So, in this article on What is UiPath, I will give you an introduction to UiPath by discussing the following topics:
What is UiPath?
UiPath is a Robotic Process Automation tool that is used for Windows desktop automation. It is used to automate repetitive/redundant tasks with the help of drag and drop functionality and eliminates human intervention. This tool offers various editions to support different types of users and comes with an active community to resolve issues.

According to Deloitte's 2019 Technology Fast 500, UiPath Ranks No. 1 in North America. It is used by multi-national companies such as AIRBUS, NASA, AUTODESK, DHL, HP, PARADISE, etc. Being the market leader, it is trying to make sure it caters to all types of audiences either it be a fresher, or an experienced professional working in top enterprises by providing various editions.
If you wish to learn further about what is UiPath, then I suggest you go through the following interesting video.
What is UiPath? | UiPath in 2020 | UiPath Tutorial For Beginners | Edureka

This session on What is UiPath will provide a basic understanding of UiPath.
So, next in this article let us discuss the various editions offered by UiPath.
UiPath Editions
The following are the various editions provided by UiPath.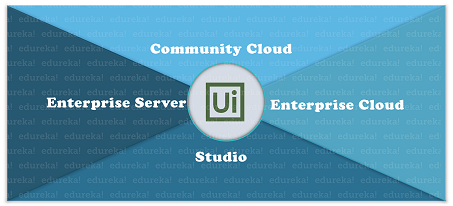 Once, you figure out which edition you want to work on, you can go forward and install that edition.
UiPath Installation
To install UiPath, you can go to the start-trial link and chose which edition you want to install. After that, you can refer to my article for the best steps on UiPath Installation.
So, by now you must have got a basic understanding of UiPath and also must have installed it. Next, in this article let us discuss the architecture of UiPath.
UiPath Architecture
The UiPath architecture or its platform components consist of the following three components:
If you wish to get a detailed understanding on UiPath platform components, then refer to my article on UiPath Architecture. Moving on in this article, let us understand the different types of projects you can create using UiPath.
Project Templates
The different project templates present in UiPath are as follows:
Now, that you know the different types of projects you can create, let me take you through the basic components of UiPath so that you can go forward and automate tasks.
UiPath Studio Components
The main components of UiPath Studio are the following panes:
Now, that I have discussed so much about UiPath, let me take you through a simple hands-on in UiPath, to help you understand better.
Hands-On: Reversing a String
Step 1: Create a Blank project by choosing the Process and mention details such as name, location, and description of the Project. Refer below.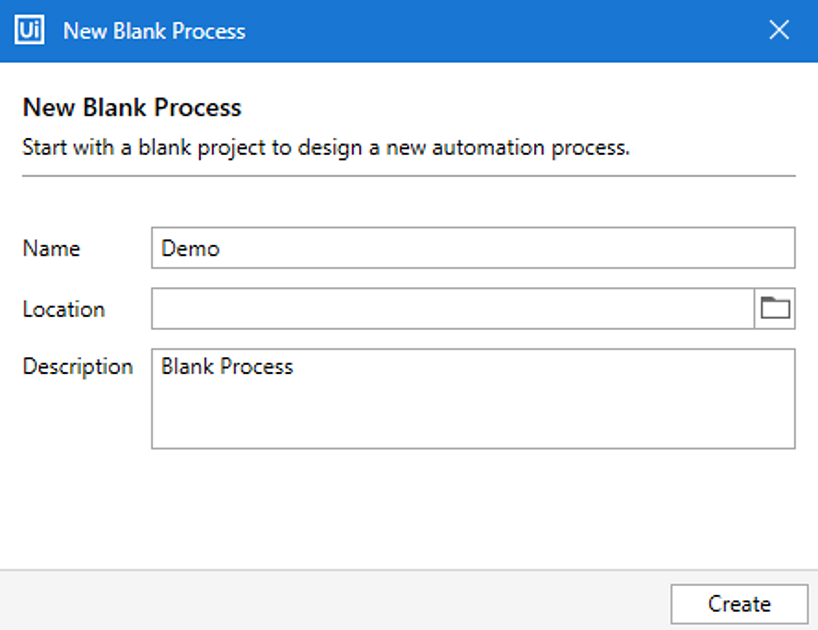 Step 2: Drag and drop a sequence in the main panel and then drag and drop an Input Dialog.
Step 3: In the title section of Input Dialog mention "Mention your name" and in the label section mention "What is your name?".
Step 4: In the properties section of the Input Dialog activity go to the output section and press on CTRL + K to create an output variable as sample.
Step 5: Next, drag and drop an Assign activity and in the To section of Assign activity create a variable as output. After that, in the value section mention, the expression New String(sample.ToCharArray.Reverse.ToArray)
Step 6: Now, make sure that the data types of the variable created is String.
Step 7: Finally add a message box, to display the output and mention the output variable as output [created in step 2].
Step 8: Execute the project by clicking on the run button. Your final workflow should be as below:
Output:

Well, folks, this was a simple project. If you wish to know more about how to use UiPath for web scraping, email query processing, and customer support, you can refer to my article on RPA Projects.
With that, we come to an end to this article. Check out the RPA Training using UiPath by Edureka, a trusted online learning company with a network of more than 250,000 satisfied learners spread across the globe. Both, these certifications will help you get in-depth knowledge in UiPath.
Got a question for us? Please mention it in the comments section of "What is UiPath?" and we will get back to you.