TOGAF®, or 'The Open Group Architectural Framework', is an award-winning enterprise architectural framework developed in 1995 by The Open Group. But what is TOGAF®?
Some of the world's most powerful and profitable organisations use TOGAF®, while Certified Professionals can often enjoy sizeable salary boosts.
This article unfolds all about TOGAF® and how it benefits large enterprises to achieve development goals in a quick and cost-effective manner in the following order;
What is TOGAF®?
TOGAF® is basically a clear set of rules and practices for organisational development curated to help an organisation. It guides an enterprise on how to create, interpret, analyse and make use of different elements within a single strategy. This framework also makes use of clearly defined terminology. This enables simple communication between departments and a sizeable reduction in the likelihood of wasteful errors.
So, it is a set of rules. So, how did a single set of guidelines gain so much popularity in the market?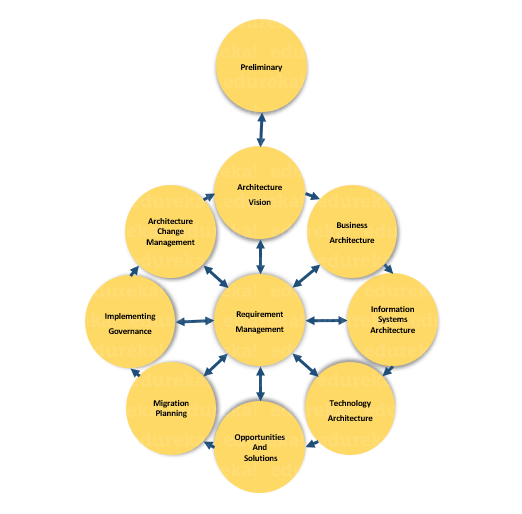 Reason number one. It is merely a matter of scale.
An enterprise architect has the need to maintain a clear understanding of what their enterprise is progressing towards, while simultaneously, keeping in mind the needs and capabilities of different departments in relation to the overall enterprise. This is a lot to put in order, even for a seasoned professional!
In such a scenario, TOGAF® comes to the rescue. The framework offers a solution by helping businesses to establish a clear return on investment, solid communication and enough perspective to tie everything together under one plan. Going further without a well-established planning framework induces risks, severe delays and a chance of wasting resources.
Worse yet, it will likely produce an end result which fails miserably to satisfy expectations or requirements. And as we all know by now, in a business of the scale we're talking about, a single mistake can cost millions!
Reason number two. It's been nearly 25 years and TOGAF® is still at the top of its game.
The very first version of TOGAF® was based on the Technical Architecture Framework, developed by the Department of Defense. This framework was then handed over to The Open Group, which has continued to tune and refine it ever since.
How Does TOGAF® Work?
How TOGAF® works can be broken down into three key areas for Enterprise Architecture framework Development.
The first is clarity and well-established terminology.
This is used during the development process. If you ask a builder and a marketing executive to give their own definitions of architecture, their answers will be poles apart. Without a solid idea of not just what its professionals are saying but also how they are saying it, an organisation will suffer confusion and delays, inevitably.
To establish the meaning behind key terminology in the early stages of the process enables efficient communication across the board. This converts to the clarity of vision in establishing goals, along with the methodologies designed to achieve them. TOGAF® provides this terminology, allowing certified professionals to collaborate with ease, even across disparate industries.
The second is setting clear and defined processes to be followed.
This is supported by the Architecture Development Method by TOGAF®. It is a cycle for architecture development which outlines several key steps for professionals to follow while also, guiding users via a clear and versatile methodology, simultaneously. This allows individuals involved to apply and develop their knowledge in practice.
Finally, The Open Group Architecture Framework provides all the necessary assets required to carry out architectural development. The framework outlines a clear procedure to manage and document changes as they occur.
This helps in creating future Architecture Development Method cycles, which, in turn, will cut down on the time required for further developments down the line.
How can a TOGAF® Certification help me?
You have already read about how TOGAF® provides what is required for effective enterprise architecture development. For those of you unfamiliar with essential concepts of enterprise architecture, however, it may seem like we have failed to get down to tacks of brass.
So, exactly how canTOGAF® can benefit both businesses and professionals?
TOGAF®

for businesses
More efficiency:

The framework helps to develop clear routes for creating an enterprise architecture. It also provides all the tools necessary to establish a working Enterprise Architecture framework. While paying for this kind of counsel is not mandatory, substitutes of the same often result in severe loss of time and resources.
Standard language:

The terminology established by

TOGAF®

eases communication both within and with other large scale organisations. This proves to be a huge advantage in making certain that an architectural development process runs smoothly.
Building processes for future development:

The Architecture Development Method gives a staged approach to enterprise architecture. This approach is fluid enough to adapt to individual organisations, while also, making future architectural development much easier.
In other words, it helps enterprises to create reusable systems and templates which can be put to use time and time again without having to start from scratch each time.
TOGAF®

for Enterprise Architects
High demand: Top tier organisations put a good deal of faith in any certification which sets a global standard. To pursue TOGAF® training can be an excellent option for both budding and experienced enterprise architects. However, one must make sure that they take the Level 1 and 2 TOGAF® exams via a certified test centre. Beware, for there is plenty of unrecognized course content out there!

Experience: The framework combines the technical and managerial aspects of Information Technology. Aspiring enterprise architects wish to learn how to manage multiple elements simultaneously through the course of this certification training programme. More importantly, one can learn the perspective required to design and adapt information systems architecture within a wider Enterprise Architecture framework.

Networking: Since TOGAF® is so extensively recognized, professionals world over, are familiar with its terminology and processes. This creates excellent networking opportunities for professionals who are on the lookout for newer opportunities.

No prerequisite qualifications: While, it does help to start a TOGAF® course, at the very least with a basic knowledge of enterprise architecture. However, there are no prerequisites when it comes to the qualification required to get TOGAF®-certified. Even a college student could learn TOGAF® to set themselves apart from a crowd of youngsters in the Red Sea.

Future proof: TOGAF® introduces new features on each update, but the core framework remains the same. So, you can continue to use TOGAF® even as new versions are dropped. Rather than to unlearn and relearn everything from scratch, you can simply add it to your skillset as you go.
Have a question? Leave a comment to let us know. Edureka offers the TOGAF® 9.2 Certification; TOGAF® Foundation (Level 1) and TOGAF® Certified (Level 2) that gives you access to instructor-led, live online classes with high-quality, learning content accredited by The Open Group and designed by industry experts.