What is Robotic Process Automation? – An Introduction to RPA
Recommended by 16 users
What is Robotic Process Automation?
Robotic process automation(RPA) is the process of automating the current workflows with the help of robots to reduce human intervention for every work. In this blog of what is robotic process automation, the following topics will be covered.
Robotic Process Automation is a combination of robots following sequence of steps to automate tasks. So let's understand each of these terms one by one.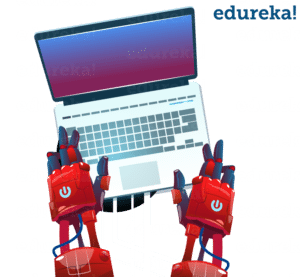 Robotic: Entities which mimic human actions are called Robots.
Process: Sequence of steps which lead to a meaningful activity. For example, the process of making tea or your favourite dish etc.
Automation: Any process which is done by a robot without human intervention.
Summarizing all terms together, mimicking human actions to perform a sequence of steps that lead to a meaningful activity, without any human intervention is known as Robotic Process Automation.
What is Robotic Process Automation (RPA) | Edureka
Automation is the key to future businesses. From the time computers were invented, programmers have tried to leverage the compute technology as far as they can reach. Today, if we see the technologies around us, automation ranges from complex tasks like flying air-crafts to doing simple tasks like calculating numbers. But Automation existed from the time computers were invented. So, let's understand how different is Automation from RPA.
Automation vs RPA
Automation: It is the invention of a new technology to solve an existing manual problem, for example, calculators were invented to solve the problem of calculation. The problem with this invention is, we still needed human intervention to feed in the values.
RPA: In RPA, no new technology is invented, instead it uses the existing technology's interface to automate the human element in the process. For example, in case of the calculator, feeding of numbers would be done by a bot instead of a human.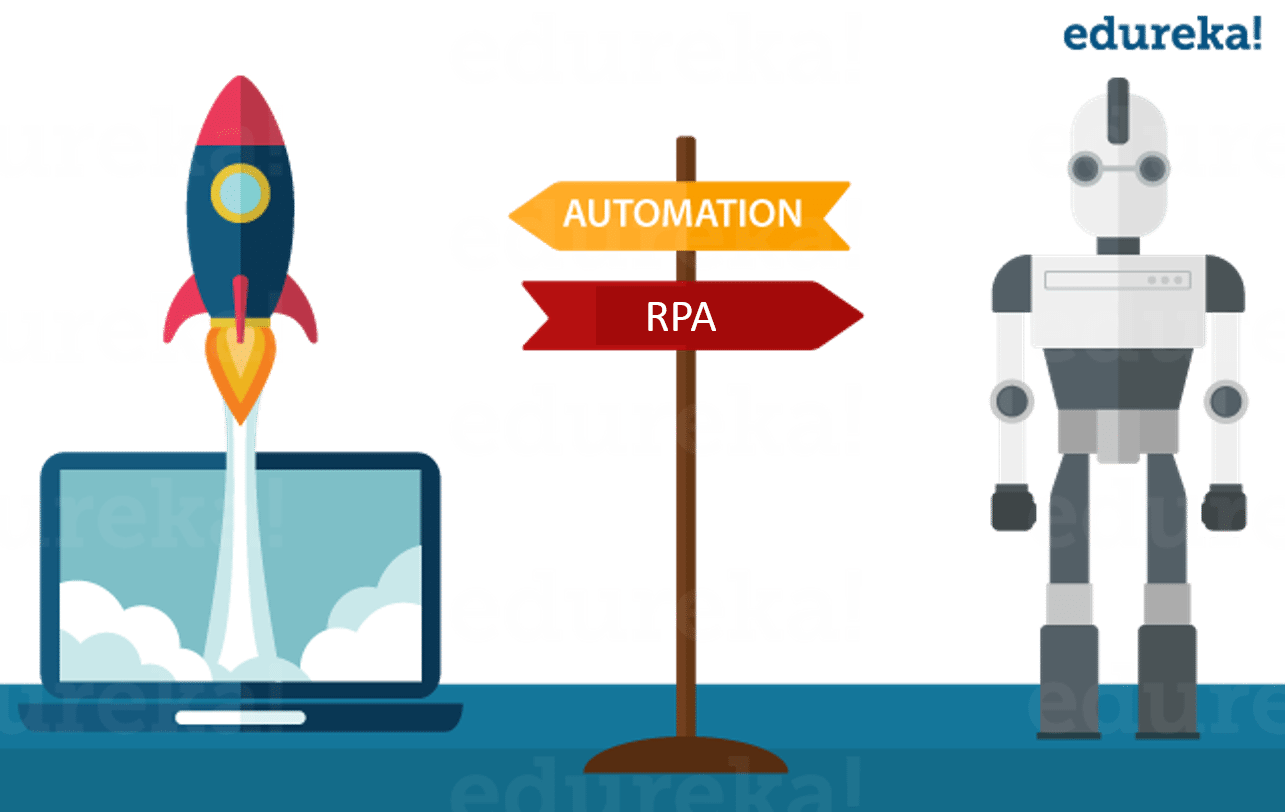 So, in layman terms what differentiates automation from RPA is the ability of RPA to adapt to various situations. Once it is being trained to capture and interpret the actions of processes in existing applications, it can further perform actions such as manipulation, triggering responses, and also simultaneously communicate with various other systems.
Now, if you have to use RPA, then you should know what all factors you need to consider while choosing your RPA software.
Factors to look in RPA software
Below mentioned are the factors, you need to consider while choosing an RPA software/tool.


To implement RPA, you should know the top trending tools. So, let us see the top tools and compare them based on various parameters.
RPA Top Vendors
RPA Technology can be implemented using a lot of tools. Some of the top tools in the market include:
Blue Prism

Automation Anywhere

UiPath

WorkFusion

Pega Systems
According to a Forrester Research on RPA, this is the current ranking of various RPA tools: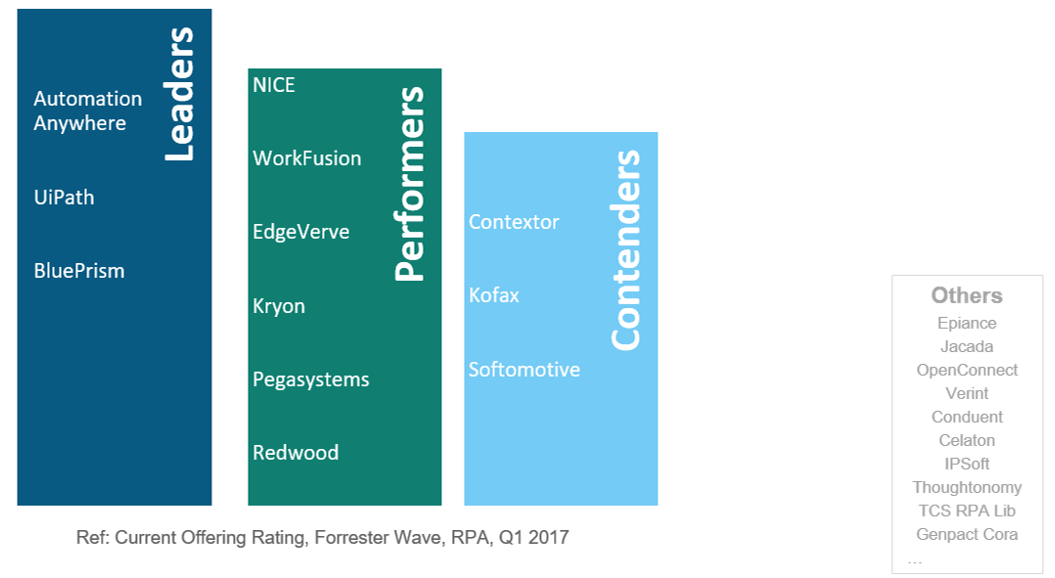 Comparison between top tools
As is evident, the leaderboard is shared by Automation Anywhere, UiPath and Blue Prism. These tools are the most widely used tools in the industry. These tools have their own advantages and drawbacks. Let's try to see these tools from a learner's perspective. Refer to the table below.
| | | | |
| --- | --- | --- | --- |
| Features | UiPath | Blue Prism | Automation Anywhere |
| Is trial version available? |  Community edition/ Free edition  is available | No trial version available | Trial version is available for 30 days |
| Is it user-friendly? |  Provides user-friendly visual designer | Provides a user-friendly visual designer, easier than Automation Anywhere | Developers friendly but requires high programming skills. |
| Popularity | Most Popular tool | More popular than Automation Anywhere | Least popular tool in the trio |
RPA Tools in Google Trends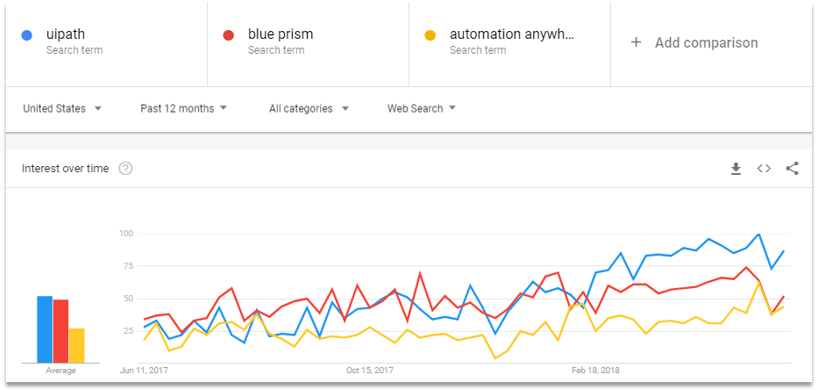 The blue line here is UiPath, red line Blue Prism and the yellow line is Automation Anywhere. As it is evident, UiPath emerges as a winner here.
All the tools are similar in their functioning and structure. If you can master one tool, it is easy to switch to another tool. For enthusiasts and learners, it is recommended to start with UiPath. It is the only tool which provides a Community Edition i.e free software.
The tool can be downloaded from the following link: UiPath Download Link
Benefits of RPA
Robotic process automation can help organizations in their journeys by providing the following benefits: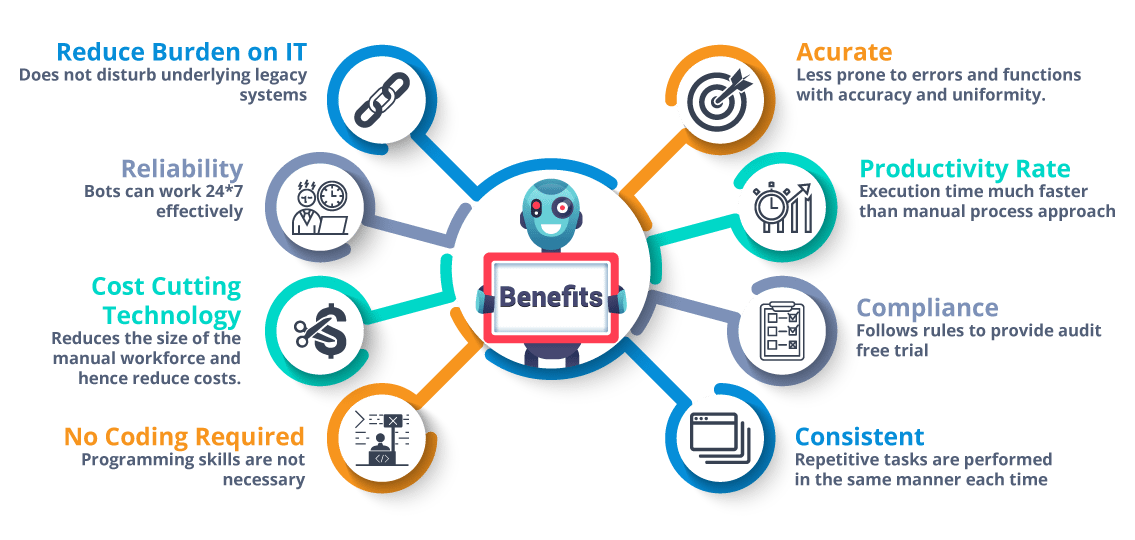 Applications of RPA
Most of the companies are now using RPA for testing. They are scraping their old testing tools, such as Selenium which was/is used for web testing. But RPA provides much more than testing. Refer below to see where all can RPA be applied.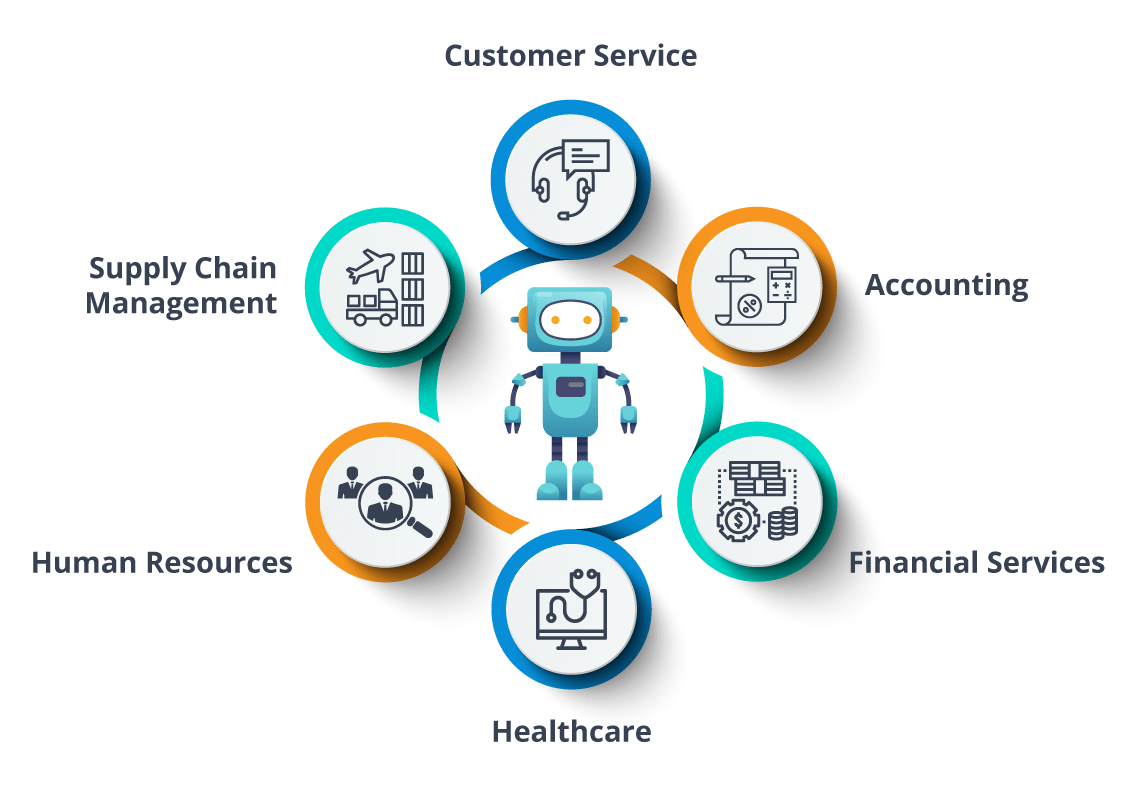 Companies Using RPA
Here is a long list of companies using RPA technology, these are just to name a few: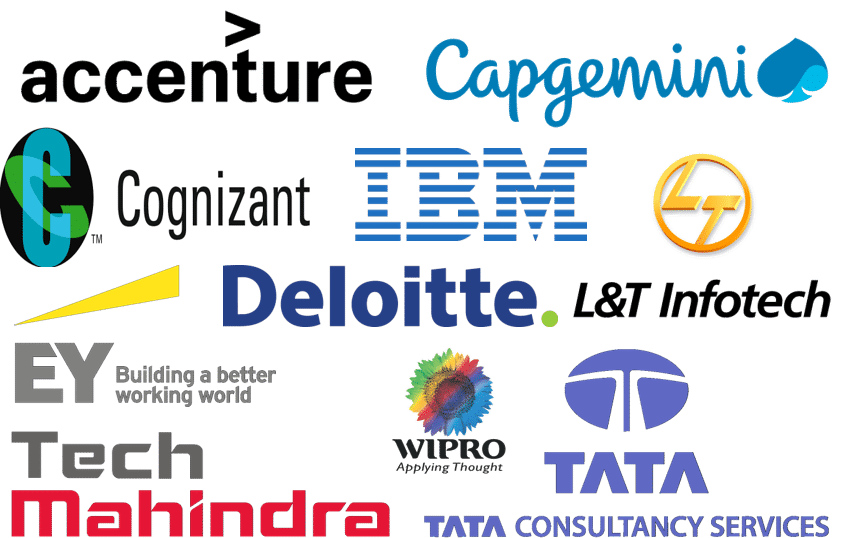 If you are further interested in learning about Robotic Process Automation, this blog series will be updated frequently, please subscribe. We at edureka! also offer Robotic Process Automation Training using UiPath. If you are interested in shifting your career to RPA, you can enroll for the course here, and get started.
Got a question for us? Please mention it in the comments section of this What is Robotic Process Automation blog and we will get back to you.