Irrespective of the type of industry or size of the project, you might often find project managers suggesting to implement PRINCE2® as the project management methodology for smooth execution and successful delivery of the project. Through this article, I will give you complete insights into What is PRINCE2® and how it serves all with impressive outcomes.
However, if you want to go beyond this blog and dive deeper into PRINCE2, you can definitely learn from the PRINCE2 Course by Edureka.
Below are the topics covered in this article:
Let's get started.
Project Management Methodologies
Today's market is constantly evolving. New methods are being innovated and adopted whereas the obsolete ones are getting replaced by the better and the advanced ones. In this era of continuous development/advancement, what remains the same within the organizations is the process of undertaking new projects. The responsibility of delivering successful projects solely lies on the shoulders of a Project Manager.
But ensuring the project's success and meeting customer satisfaction is not an easy task. While starting up a project, Project Managers across the globe often struggle with various issues such as vague customer specifications and poor organizational structures. In a few cases, project funding and team responsibilities are not clearly specified. This may seem like small issues, but all together they cause a huge ambiguity which ultimately leads to conflicts and project failures. So how do Project Managers work their way around this mess?
This is where Project Management Methodologies comes into the picture. There are a number of methodologies available in the market. Each of these methodologies has its own set of rules, processes, principles, and practices. Now which methodology you need to implement, will completely depend on the type of your project. If you are able to correctly identify and select the best methodology, it will help you in optimizing the allocated time and resources for your project.
Below I have listed down 8 most popularly implemented project management methodologies around the world:
PRINCE2

®

Kanban

Six Sigma

Lean
In this article, I will be solely concentrating on PRINCE2®. So, let's move ahead with this article and find out exactly what is PRINCE2®.
What is PRINCE2®?
PRINCE2® stands for PRojects IN Controlled Environment. With over 1 million certified practitioners based in 150 countries across the globe, PRINCE2® has ascended to become the de-facto standard in the field of project management. Irrespective of the type of industry or size of the project, PRINCE2® serves all with impressive outcomes. It is a process-based approach that majorly concentrates on the organization and has firm control over the project from its initiation until completion. The projects developed using this methodology, often begin with a detailed and thorough plan. It provides a proper structure for the project where each stage is clearly defined with a start, middle and end. It focuses more on the delivery of products rather than carrying out activities. Once the project finishes, everything is neatly wrapped up and all the loose ends are tied up.
PRINCE2® History
PRINCE2® was originally based on PROMPT which stands for Project Resource Organisation Management Planning Techniques. It was a project management method developed by Simpact Systems Ltd in 1975. In 1989, PRINCE2® meaning PROMPT II IN the CCTA Environment was released which effortlessly superseded PROMPT in the public domain projects. It was until 1996 that PRINCE2® was released which was introduced as a generic project management method. Later in 2009 PRINCE2® acronym was changed to mean 'PRojects IN a Controlled Environment' along with few other major changes in the methodology. After this revision, PRINCE2® become more simple and light. In July 2013, ownership of PRINCE2® was transferred to AXELOS Ltd. Later in 2017, a major update was published by Axelos Ltd. According to this update, the new guidance now focuses more on scalability and flexibility.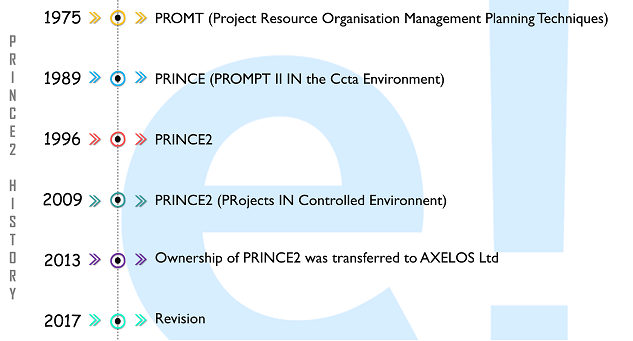 Now that you are aware of what is PRINCE2® and what kind of history it withholds, let's move ahead and learn about its core elements.
PRINCE2® Elements
PRINCE2® is composed of four integrated elements which are:
7 Principles

7 Themes

7 Processes

Project Environment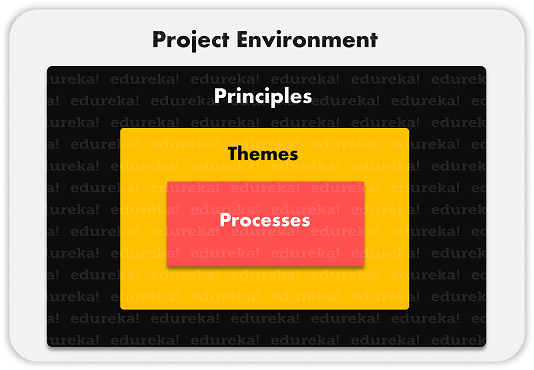 If any project, lacks the implementation of even any one of the above elements, it won't be considered to be a PRINCE2® project. Here, the Principles will tell why while themes will be responsible for what and finally the Processes for how.
Let's now discuss, each of these elements one by one:
Principles
There are 7 guiding principles in which ensures that your project is completely based on PRINCE2® methodology. If you miss out on any one of them, your project will not be considered as a PRINCE2® Project. I have listed down the 7 principles below:
Continued business justification

: Your project should have a justifiable reason for its execution and management during any point in its lifecycle. In case it fails to do so, it will be closed.

Learn from experience: For the successful execution of the PRINCE2® project, the involved teams must always seek and draw lessons from the historical data.
Defined roles and responsibilities: In any PRINCE2® project, a proper organizational structure must be constructed where the right people must be involved and their responsibilities must be clearly defined.
Manage by stages: The PRINCE2® methodology tends to divide the entire project into smaller stages for better and efficient planning, monitoring and control.
Manage by exception: In your PRINCE2® project, involved people should be provided with enough authority which will help in working effectively within the project environment.
Focus on products: The main focus of PRINCE2® projects is on the product definition, delivery, and quality requirements.
Tailor to suit the project environment: PRINCE2® methodology must be tailored by the project manager in order to accommodate the project's environment, complexity, size, importance, risk, and capability.
Let's now learn about the 7 Themes of PRINCE2®.
Themes
There are 7 Themes in PRINCE2® methodology which describe the various aspects of project management. These aspects are used as a point of reference throughout the project to reach the desired goal.
PRINCE2® helps the project managers to apply these themes in their projects by presenting the minimum requirement for each theme and providing specific guidance on tailoring the project environment. Below I have listed down the 7 themes of PRINCE2® methodology:
Business case: In any PRINCE2® project a business case must be created and maintained to keep a record of the business justification.
Organization

: This helps in clearly defining the individual roles and responsibilities of each member of the project team.

Quality: This specifies the quality requirements and measures of the PRINCE2® project and how it will be delivered.
Plans: This contains the list steps which are required to create a detailed project plan and the PRINCE2® techniques that would be implemented.
Risk

: This helps in identifying the potential risks, threats, and opportunities that could make an impact on the project outcomes either way; positive or negative.

Change

: This refers to how a project manager assesses and responds to the unseen changes made to the project while it's on the run.

Progress

: It refers to the ongoing viability and performance of the project plans based on which project's continuation will be decided.
Finally, let's focus on the PRINCE2® processes.
Processes
There are 7 processes in PRINCE2® methodology, which represent the various steps involved in the project lifecycle. Starting from the initial idea until the project closure, each process provides a thorough checklist of the recommended activities, related responsibilities, and proper guidance regarding the tailoring of the environment. Below I have listed down the seven PRINCE2® processes:
Starting up a project

Directing a project

Initiating a project

Controlling a stage

Managing product delivery

Managing stage boundaries

Closing a project
With this, we come to the end of this article on what is PRINCE2®.
If you found this "What is PRINCE2®" article relevant, check out the PRINCE2 certification course by Edureka, a trusted online learning company with a network of more than 250,000 satisfied learners spread across the globe.
Got a question for us? Please mention it in the comments section and we will get back to you. Alternatively, you can visit PRINCE2 Certification in Pune.