For making well-informed business decisions, it is crucial to fetch relevant information from the data and present it in a lucid manner. Microsoft's Power BI suite is designed to quickly turn your data into useful information. This "What is Power BI" blog explains all you need to know about Power BI.
In this blog you will learn about the following;
Interested? So, before I tell you what is Power BI, let's see what is its importance & why organizations are hunting for professionals with Power BI Course.

Why is Power BI Important?
There are a couple of reasons why Power BI is such a powerful BI tool.
Power BI is built on the convention of the best BI products available in the market. I'm talking about SQL Server Analysis Services (SSAS) and Microsoft Excel.
Apart from the legacy, Power BI is Being built/rebuilt using the latest technologies like HTML 5.0, cloud computing, column store databases & smartphone mobile apps
Microsoft has opened the custom visuals gallery for open source contributions which adds value to the community.
The Trend towards self-service business intelligence indicates Microsoft's leading position in this space
Alright, now that you know the importance of Power BI in the Analytics field, let's understand what is Power BI?

Find out our Power BI Training Course in Top Cities
What is Power BI?
Microsoft's Power BI is a cloud-based, business analytics service for analyzing and visualizing data.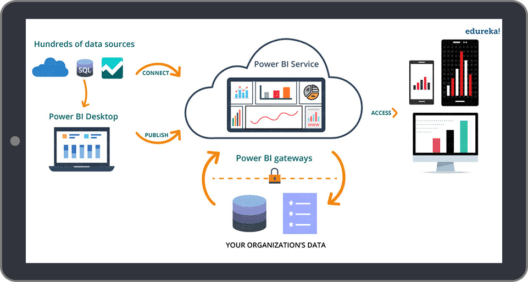 Microsoft Power BI gives you a platform to be productive and creative with reports and analytics. Churning out useful information from the data and creating visual-reports is a multi-step process, let me brief you about the steps. Before that you can check below video to understand what is Power BI.
Working with Power BI
Go from data to insight to option in a series of steps.
Step 1. Connecting to your data
Power BI lets you connect to an extensive variety of data sources. And, you can either use Power BI Desktop or Power BI Services to connect to your data. Your options are to import it into Power BI or to upload your file.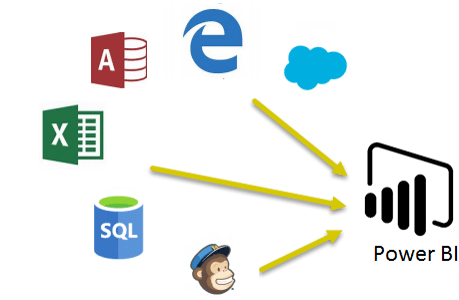 Fig1. Connecting data from various sources to Power BI
Step

2. The preformatting of data:
Once your data has been loaded, you can shape the data according to your needs. This shaping or transforming the data includes renaming columns or tables, changing the text to numbers, removing rows, setting the first row as headers, and so on.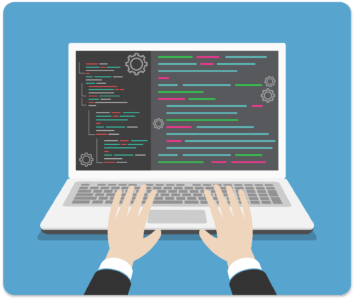 Step 3. Modelling of data:
This step is basically to enhance the data with relationships, calculations, measures, hierarchies etc that can be used to find business insights. Also, you can write a query to enhance data for better visualizations and analytics.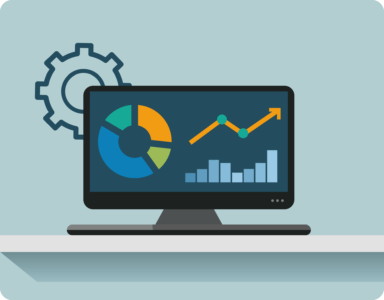 Fig 3. Modelling of data
Step 4.

Data visualization:
This is probably the step where you play around with data and visualization types. With a variety of visual tools and custom visual gallery, you can create stunning reports for your organization effectively. So, a business user simply could mash up the data without writing even a single line of code. Exactly, It's that easy!!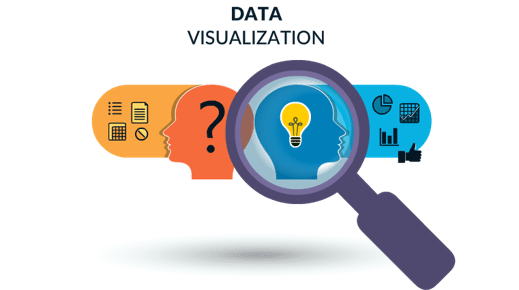 Now, Suppose you want to share these analytics reports with your organization.
Step 5. Publishing data reports:
Well, using Power BI Services, you can export or publish reports securely and set up automatic data refresh which provides near-real-time analytics of trends and indicators for everyone.

With real-time Power BI dashboards, you can get a 360-degree view of your business and you can instantly check when your business needs your attention.
Power BI gateways let you connect with SQL Server Databases, Analytical Services, and many other data sources to your dashboard and reporting portals. These gateways also enable you to embed Power BI reports and dashboards to give you a unified experience.
This is how a dashboard looks like: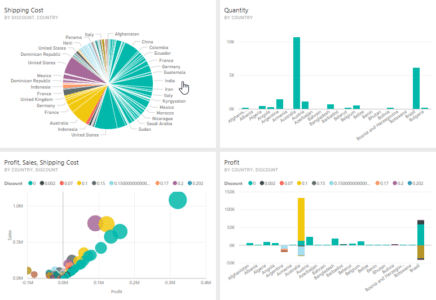 In awe yet? Let me add more to your fascination because the Power BI tool gives you more.
Get Integrated with Power BI
To deliver your solution even faster you can integrate your application or service with Power BI using standard-based REST API.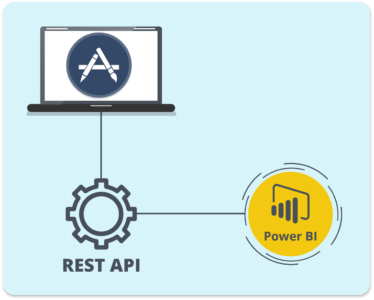 Make business decisions from anywhere
No matter where you are, using Power BI Mobile apps for Windows or iOS you can access all your business data.

Alright so, now having learned what is Power BI, and its processes, I feel you should ask yourself
Do you want to be a Power BI Crackerjack?
Get skilled in the following components of Power BI: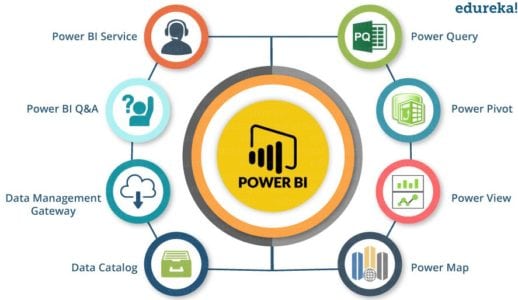 Power Query: Used to search, access, and transform public and/ or internal data sources.
Power Pivot: Used in data modeling for in-memory analytics.
Power View: Analyze, visualize and display data as an interactive data visualization using Power View.
Power Map: Brings data to life with interactive geographical visualization.
Power BI Service: Share data views and workbooks which are refreshable from on-premises and cloud-based data sources.
Power BI Q&A: Ask questions and get immediate answers with natural language queries.
Data Management Gateway: By using this component you get periodic data refreshers, expose tables and view data feeds.
Data Catalog: Easily discover and reuse queries using Data Catalog. Metadata can be facilitated for search functionality.
So, now that you know what are skills you need to master, let's move further and see what are the leading companies where Power BI is being used.
Companies using Power BI
There is a long list of companies using Power BI for analytics, these are just to name a few:

Now the question arises why Power BI is so popular in the market?
To answer that I have compared three cutting-edge self-service BI tools aimed at giving you direct access to all the insights your data can provide.
Comparing leading Analytics tools – Power BI vs Tableau vs QlikView
| | | | |
| --- | --- | --- | --- |
| Metrics | Microsoft Power BI | Tableau Desktop | QlikView |
| Free Version Available | ✔ | ✖ | ✔ |
| Mobile Versions | ✔ | ✔ | ✔ |
| Point-in-time Analytics | ✔ | ✔ | ✔ |
| Real-Time Analytics | ✔ | ✔ | ✔ |
| Predictive Analytics | ✔ | ✔ | ✖ |
| Data Prep Tools | ✔ | ✔ | ✔ |
| Tools to Blend/ Join/ Integrate Data | ✔ | ✔ | ✔ |
| Semantic Querying/ Natural Language | ✔ | ✖ | ✖ |
| Social Media Analytics | ✔ | ✔ | ✔ |
| Visualizations Feature | ✔ | ✔ | ✔ |
| Sharing/ Collaboration Tool | ✔ | ✔ | ✔ |
I think now it's clear why Power BI stands out from other BI tools.
So wait not, download Power BI Desktop and see how Power BI makes it easy to combine your data, find new insights, and share them with others.
If you want to learn Power BI and build a career in data visualization or BI, then check out our Power BI Training in Bangalore and Power BI Training in Hyderabad which comes with instructor-led live training and real-life project experience. This training will help you understand Power BI in-depth and help you achieve mastery over the subject.
Also, If you wish to build a career in business intelligence, our Business Intelligence Course will help you mine that data and enhance the decision-making processes throughout your organization.
Got a question for us? Please mention it in the comments section of " What is Power BI " and I will get back to you.