This blog post is by Suresh GP, Subject Matter Expert at Taub Solutions. You can check out his complete profile here.
What is in for you as an ITSM Professional?
I often encounter this question with my fellow colleagues, friends and community to illustrate in simple words what can one expect in the field of IT Service Management?
This blog is an attempt to clarify some myths and give practical insights to the world of IT Service Management. Before I answer the question, I want to ask, how many of you are in the business of serving customers? This could be external client facing customers or your own Internal IT/Business.
About 95 % of the people agree that they are in the customer service business in spite of being directly or indirectly involved in delivering products and services.
So what is the definition of a Service?
ITIL (IT Infrastructure Library) defines service as follows:
Service is a means of delivering value to customers by facilitating outcomes customers want to achieve without the ownership of specific costs and risks."
ITIL V3 2011 is based on service lifecycle approach where you design your services right from conceptualization, getting requirements from customer until services are delivered to customers. ITIL defines best practice processes to help and deliver services seamlessly and consistently to the expectations of customers.
There are several misconceptions about ITSM. Let me clear the air about them.
Myth 1: People argue that they implement ITIL and interchangeably use it with ITSM
Please remember ITIL is a best practice framework that defines processes under 5 core volumes
1. Service Strategy
2. Service Design
3. Service Transition
4. Service Operations and
5. Continual Service Improvement
IT Service Management (ITSM) refers to the entirety of activities – directed by policies, organized and structured in processes and supporting procedures that are performed by an organization or part of an organization to plan, deliver, operate and control IT services offered to customers.
So you can't implement ITIL but use the principles of ITIL and implement it as IT Service Management in the context of the organization using processes, products, people and partners to deliver services to customers.
Myth 2: ITSM is only for people working in Infrastructure Management.
While the term ITIL as a best practice framework originally targeted people, processes, products, and partners from Infrastructure Management, the current version of ITIL V3 2011 edition has a wider scope to cover areas of Application development , maintenance including Non-IT Services. In fact the ISO 20000:2011 standard has opened up opportunities for Non-IT Services like Facilities, Manufacturing, Construction, Health Care business to also get themselves certified on ITSM standard. You can even check out the details of ITIL with the ITIL Course.
Myth 3: People in ITSM only do support jobs and are limited in scope of career expansion
Whenever people hear ITSM they relate it to Service Desk and support teams like production support, wintel support, database support as part of scope. The scope expands beyond the realm of support to various categories
These could be services catered to Internal IT or to external customers shown in the figure below.
For more information about kick starting your ITSM journey refer to the webinar video below:
Why should someone take ITIL? What are the benefits of getting certified?
The basis of getting an overview of ITIL is critical to get your ITSM journey started. The graphic below from the IP owners of ITIL (AXELOS) indicates a summary of why you need to take ITIL foundation to kick-start your IT Service Management (ITSM) journey
According to career search portal, PayScale, the highest average salary for an ITIL Expert certified professional is ~USD 158,000 in US, ~USD 125,000 in Australia, ~USD 117,000 in UK and ~USD 110,000 in UAE (as on June 27, 2015). The globally recognized ITIL certifications will give you a Launchpad to progress in your career and take it to greater heights.
Certifications alone don't matter – How do I gain experience?
The First and foremost step is to get yourself trained and certified on the knowledge of IT Infrastructure library (ITIL). Many people who undertake ITIL certifications haven't had formal work experience on ITSM. However they make use of the existing roles and opportunities to implement the best practice frameworks and bring value to business. They apply the concepts and learnings to the existing workplace, thereby gaining huge advantage and visibility to move towards upcoming ITSM roles. The other aspect that you can do is to get yourself with community forums like itSMF, Back2ITSM (facebook) where you meet fellow industry colleagues who practice ITSM and can share their valuable insights, learnings and experiences for you to get prepared for exciting roles. By this way to complement your ITIL Certifications with experience from people practicing it.
So what would be your journey to become an ITIL V3 Expert?
ITIL® Foundation
This is the first step towards ITIL certification. This level is suitable for individuals who require a basic understanding of the ITIL framework and how it may be used to enhance the quality of IT service management within an organization.
Pattern: Multiple Choice Questions
Total: 40 Pass : 26 Percentage : 65 % Time Duration : 1 Hour
Prerequisite: None
ITIL® Intermediate
After ITIL Foundation exam, this level is suitable for those who require a deeper understanding of the ITIL Service Management Practice and how it may be implemented to enhance the quality of IT service management within an organization.
Pattern: Scenario-based Multiple Choice Questions with gradient scores
8 questions per paper with 5 marks available per question – total 40 marks available
5 marks: Most correct answer
3 marks: Partially correct answer
1 mark: Least correct answer
Pass marks: 28 marks ~70 %
Total hours: 1.5 hours
Prerequisite: ITIL® Foundation
This has further two options a) Lifecycle Modules and b) Capability Modules.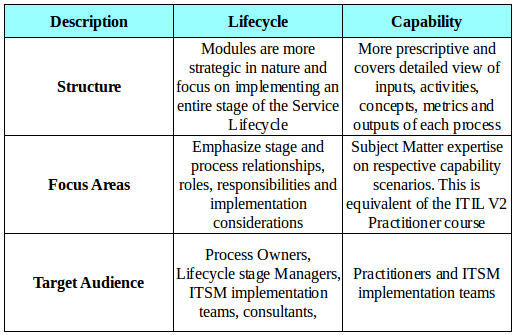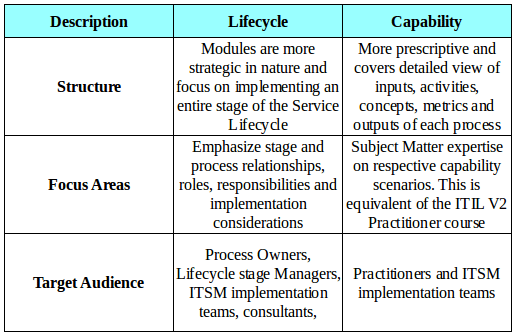 ITIL® Expert
This level is achieved by accumulating 22 credits through the first two levels of the Scheme (ITIL® Foundation + ITIL® Intermediate). One can choose either a complete route of capability /lifecycle or choose a blend of both to accumulate 17 credits. Managing Across Life Cycle (MALC) is mandatory to be completed by all of them irrespective you come via Capability or Lifecycle route.
Hope you now have a better understanding of the myths around ITIL and ITSM and how you can address to become an ITSM professional.
Got a question for us? Please mention them in the comments section and we will get back to you.
Related Posts: