"It always seems impossible until it's done," Anonymous
The year 2019 has been one of, if not the best year in terms of job and career trends in decades. Hiring statistics are on the rise and the number of job openings in most companies, giants and startups seems to be hitting an all-time high. Even though most of these trends are obvious and professionals can find and understand them easily, some stories go unnoticed. So, just like every other fortnight, Edureka Career Watch is back with the most compelling career and job news in the industry.
So, without any more delay, let's look at what the job market has in store for us this week.
Union Budget 2019: Focus on Technology Skills and Research
The Indian government Union Budget for the year 2019 is out and presents some intriguing facts. With a focus on making India a $5 trillion economy within a few years, Finance Minister Nirmala Sitharaman stated that it is high time the country focused on training and development of professionals working in technology fields. The new policy hopes to provide skill training to over 10 million people in digital technologies like AI, IoT and big data. The skill shortage in fields like AI, data science and robotic process automation has been prevalent for a while in the subcontinent and this new decision by the central government will help fill the skill gap in these important domains.
India is home to a large population of IT professionals and skilling up is the only way these professionals can secure their jobs.
via CIO
Up-skill yourself today to ensure your job security and to be among the most hireable professionals in the country.
Netrix Expands its Operations in India, Promises to Increase its Workforce by 20 Per Cent
Digital solutions company, Netrix recently acquired four organizations in India; two in Kerala and one each in Mumbai and Pune. The solutions brand is planning to expand its reach and operational coverage in the subcontinent and has promised an increase in its workforce by 20 per cent. Netrix has had an impressive track record over the years, being named Amazon Web Service's Advance Partner in Kerala and also being one of Microsoft Top 10 Gold partners in the United States. The company is looking for "self-motivated IT professionals with an entrepreneurial mindset over the next few months to support our expanding operations," according to Jyothis Joseph, associate director, Kochi, Netrix India.
via Channel World
US Industries are Having a Hard Time Filling Job Vacancies
The US job market has had the best ever year in over half a century but hiring trends still seem to be lower than they should be. A new report by Indeed states that companies are having a hard time filling job vacancies in all domains alike. According to the report, hiring trends are quite low, just 0.8 hires per month for every opening. While all domains, including IT are seeing similar trends, jobs in education and health services, financial activities, and wholesale trade are being reported to be especially hard to fill. The hiring stats over the course of this quarter can be found below: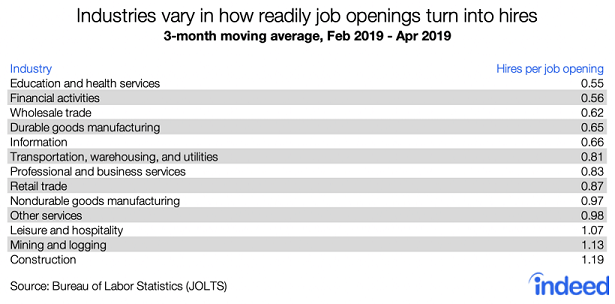 One of the major reasons for these lowering metrics is the skill gap in the market. So, professionals need to skill up in order to ensure they are among the ones who get hired.
via Indeed
Up-skill yourself today to ensure you can take full advantage of these trends.
Indian Employers have Optimistic Hiring Plans for the Next 3 Months: Survey
According to an Employment Outlook Survey by workforce solutions brand ManpowerGroup, Indian employers indicate an upbeat hiring plan for the next three months. According to the survey, India will be seeing a Net Employment Outlook of 13 per cent with the services sector boasting a whopping an Outlook of 16 per cent. This report furthers on the current hiring trends in the subcontinent and the new initiatives taken by the government and companies to boost hiring and skilling in the country. So, professionals can expect an upward trend in hiring for the rest of the year in India.
via India Today
Mphasis is Expanding its Development and Administration Teams
One of the biggest tech giants in the world, Mphasis is looking to expand its development and administration teams. The company listed over 16 job postings in the past week alone for professionals skilled in Java, Software Architecture, and Administration. The job openings include both beginner-level and experienced Java developers, Cloud Architects, SAP and Software Administrators. This means that most of these jobs are open to people coming with different experience and skill levels.
So, if you are someone looking to build a career in these domains at an established company, this is the perfect opportunity for you.
via LinkedIn
Up-skill yourself now to cut the queue and get hired at giants like Mphasis.
We have some more good news for you! Edureka Career Watch is now also available as a video. Follow us on Instagram, LinkedIn, Facebook, and Twitter to never miss out on the latest news.
Make full use of Edureka's expertise in the education and career counselling space. Speak with our course advisors today to get a clearer picture of your career path and more. Call us at: IND: +91-960-605-8406 / US: 1-833-855-5775 (toll-free).
These were the major news stories related to job openings and career trends in the market this week. If you have any questions, suggestions or there are any specific topics you'd like us to cover, feel free to hit us up in the comments section below. Edureka Career Watch will be back next week with the top stories that you need to know. So, make sure you are subscribed to our blog through the subscription button below and never miss these important updates.