14 Aug 2014
Introduction to PMP®
Brief Introduction to PMI®:
Project Management Institute (PMI)® is a not-for-profit association.
Established in 1969.
Global organization based in Pennsylvania, USA.
Over 500,000 members spread across more than 171 countries).
PMI® is actively involved in advocacy for the profession, setting professional standards, conducting research and providing access to a wealth of information and resources.
PMI® also promotes career and professional development and offers certification, networking and community involvement opportunities.
Different Certifications From PMI®:
PMI® offers the following credentials for Project Managers:
Certified Associate in Project Management (CAPM) ®
Project Management Professional (PMP) ®
Program Management Professional (PgMP) ®
PMI® Agile Certified Practitioner (PMI-ACP) ®
PMI® Scheduling Professional (PMI-SP) ®
PMI® Risk Management Professional (PMI-RMP) ®
Portfolio Management Professional (PfMP) ®
The eligibility criteria for each of these certifications are different.
Introduction to PMP®:
PMI's Project Management Professional (PMP)® certification is the most important industry-recognized certification for project managers. It is globally recognized and in-demand, as it demonstrates experience, education and competency of the certified professional. This is one of the reason for large companies to look for certified professionals.
Here's a presentation on this topic:
Job Responsibilities of a PMP® Certified Professional:
The role of a Project Manager includes the following:
Generating plan
Coordinating
Implementing
Finalizing projects according to specifications and deadlines
Keeping the project under budget
Defining the project's objectives and schedules
Ensuring quality control throughout the project
Attaining resources, managing team and consultants
Assessing and minimizing project risks
Pre-Requisites for Taking Up PMP Exam:


When taking up the PMP® exam, one needs to make sure of the following:
Project duration must not overlap
Experience in projects during last 8 years
20% of applications are picked up for random audit
Designation during the specified project management work does not matter
PMP® Exam Pattern:
To successfully complete the exam on time, one must be aware of the pattern of the exam, to plan and execute them accordingly.
It is a Computer based exam are conducted in Prometric centers.
There are a total of 200 multiple-choice questions, mixed randomly across process groups, that needs to be answered in 4 hours.
Out of 200 questions, 175 are for final marking and the remaining 25 are 'Pre-Test' questions.
There are no negative markings in the exam.
The examination is developed by groups of individuals from around the globe who hold PMP® credential.
On clearing the exam, you will receive the PMP® certificate by mail within 2 months.
Examination scores are confidential.
PMP® Examination Blueprint: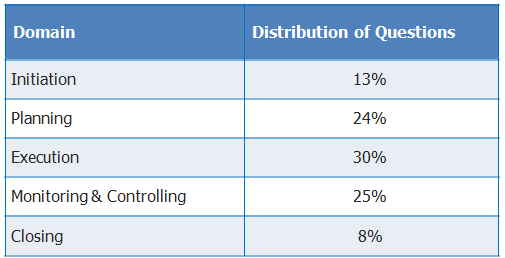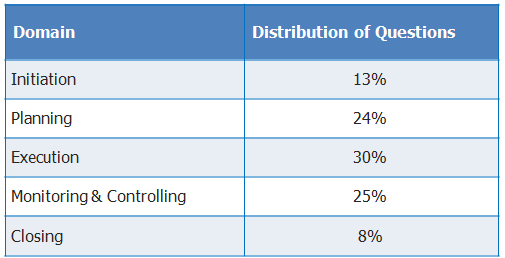 PMBOK® Guide:
PMBOK® Guide is a "distilled version" of Project Management body of knowledge and it coexists with the corresponding application area knowledge, general management skills and interpersonal skills. PMBOK® Guide is published by PMI® and inputs from practitioners and academics have been included.

Got a question for us? Mention them in the comments section and we will get back to you.
Related Posts:
Why Companies Hire PMP Certified Professionals
PMP is a registered mark of Project Management Institute, Inc. Edureka is a Global PMI® REP: ID 4021