A data analytics revolution is under way and the retail banking industry is no exception! Given the tremendous advances in analytics software and the processing power generated by cloud-based utility computing architectures, the banking industry is set for a transformation. Analytics tools are helping banks convert data into knowledge in order to acquire market – and service-differentiating capabilities. Such an effort requires the backing of organization leaders and a cultural shift towards evidence-based decision making built on banking analytics.
If you dream of a retail banking job, there is no way you can get there without training for analytics. Here is why analytics is the new hallmark for a thriving retail banking career.
Top Reasons to Learn Banking Analytics:
1. A big step towards customer intelligence
Traditionally, marketing has focused on branding, awareness and net new customer acquisition. Going forward, we will see more and more CMOs increasingly paying more attention to customer interactions, value proposition and communication. By integrating marketing across all business units, geographies, and functional groups such as sales, products, finance, customer success and service teams, marketers will become instrumental in creating robust grounds for customer intelligence. All of this will only be possible when backed by strategic analytics. Here is how analytics is the key to customer intelligence.
It helps combine banks' internal data with external data to build enhanced customer profiles.
It enables cross-industry pooling of customer behavior modeling resources.
Real-time actions can be built on market insights.
A great collaboration between marketing and analytics leads to global knowledge sharing.
2. Unlock phenomenal career growth with Banking Analytics
In 2015, banks and credit unions leveraged richer analytics-driven insights to enable a more personalized approach to targeting and engaging with consumers. From location-based offers to improved service delivery, organizations have only recently started using spending patterns, product use, and channel interactions to enable improved experience-driven banking.
Customer analytics encompasses key retail banking priorities such as using self-service channels to drive branch foot traffic, improving branch channel efficiency and effectiveness, and learning how to sell and service through digital channels.
In the Indian context, analytics in retail banking is a gold mine.  According to an IBEF (India Brand Equity Foundation) report, the banking industry in India has the potential to become the fifth largest banking industry in the world by 2020. This is seconded by a KPMG-CII report that predicts that India will be in the third position by 2025. With the banking industry itself thriving, it only makes strategic sense to embrace the wave of analytics that is driving this industry.
3. The growing importance of risk management in banks
With the reformed regulation in the global market, banks now need to report information that goes beyond historical data, into risk-based and predictive information. New systemic oversight allows regulators to ask for information on an ad hoc basis too, which means that banks will need systems that can handle such on-demand requests, quickly and effectively.
Traditional techniques are now giving way to sophisticated analytics that can enhance decision-making by predicting a range of business scenarios. For banks, this means a significant investment in revamping the existing IT infrastructure. The 14th annual global survey by PwC on banking industry revealed that risk management was on the priority for a significantly high percentage of respondents.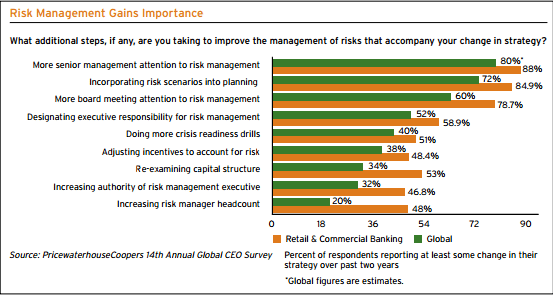 (Source: www.cognizant.com)
4. Shortage of analytics talent in the retail banking industry
Globally, banking institutions are constantly searching for people with the quantitative and technical skills as well as the efficiency to model and generate insights from their data. Banks are  looking for employees who can create and use sophisticated analytical applications to extract data-driven insights that can be used to make strategic, operational and tactical decisions to improve business outcomes.
Banks in India, China and Brazil are the fastest ones in hiring analytics specialists. Within India, China, Brazil and US, retail banks created over 6,200 new 'Analytics Scientist' jobs between 2010 and 2015. The US will see analytics-related jobs grow at a rate of 5.2 percent a year, resulting in 1,500 new jobs by 2018. (Survey Report by Accenture)
With the analytics job market burgeoning, there's an alarming mismatch between supply and demand for skilled professionals.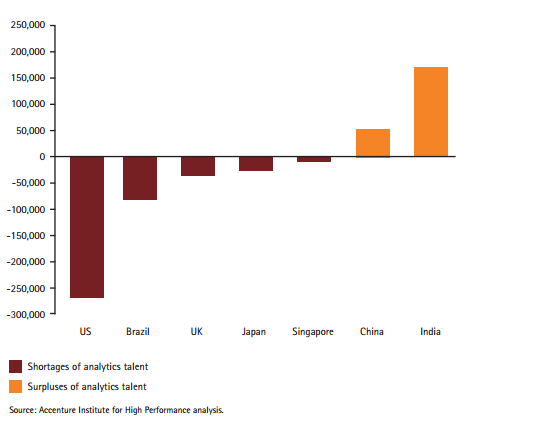 (Source: www.accenture.com)
There's no better time to get trained banking analytics. At Edureka, learn from the best in the industry and ride the analytics wave. Master fundamental concepts such as analytics lifecycle, data requirements, customer life cycle, digital experiences, event-based marketing, omni-channel marketing and campaign analytics, among others. Check out the Edureka Analytics for Retail Banks course here.
Got a question for us? Please mention it in the comments section and we will get back to you.
Related Posts: