With the constant increase of internet users across the globe, the number of online-based/ web-based industries is increasing at a great speed. This calls for the need for Digital Marketing. So, through this article I will talk about the top 10 reasons to learn Digital Marketing and why you should take it up as your career.
Let's begin!
Importance of Digital Marketing
Technology, well again continues to drive business in the 21st century and mastery of Digital Marketing techniques is a must known pre-requisite. Well, you are aware of the term Digital Marketing as a medium to promote your product and your business.
So, how important do you think Digital Marketing is? Let me jot down a few of the important pointers:
Today's marketing strategy completely depends on the Digital Marketing.
Increase in the number of sales results in increases in revenue.
It helps you brand your company.
Easy to get familiar with the marketing channels.
Digital Marketing helps to build a better relationship with your customers/prospects.
Better ROI (Return of Investment).
Has wide and dynamic career opportunities.
It helps your company to appear on the Search Engine Result Pages (SERP).
These are some notable benefits of having a Digital Marketing team in your organization.
Now., let's more forward with this article on the Top 10 reasons to learn Digital Marketing and understand the latest market trends in this field.
Digital Marketing Trends
By 2021, Digital Marketing is all set to increase to a total of $118 billion. Statistics also indicate that Indian Marketing traffic is expected to grow 291 times bigger than it was in 2005. Talking about Digital Marketing Channels, 22% of the world's population is on Facebook. And, 51% of Instagram users are on it every day.
Now, the actual trends of Digital Marketing industry are:
"Artificial intelligence is the biggest commercial opportunity for companies, industries, and countries and will increase global GDP by up to 14% by 2030". This means that "AI latecomers will find a serious competition within the next few years."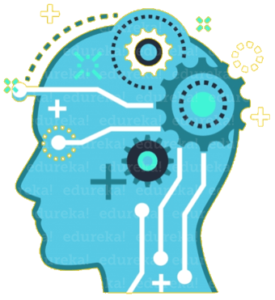 Artificial Intelligence (AI) is actually considered as cutting-edge technology and has numerous potential applications in Marketing. It is deployed for Content Marketing, advertising, and customer service.
Chatbots will power up to 85% by 2020. This AI-based technology uses instant messaging to chat in real-time with your website visitors or customers. This will help businesses save over $8 billion per annum. This is a huge amount!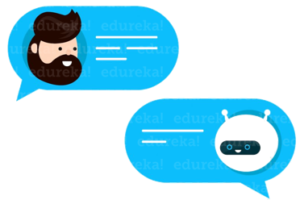 Many people across the globe prefer using Chatbots as their responsive platform for 24/7 support. Mainly for answers, very accurately recall your entire buying history. But most often these are used to answer simple questions or help a user accomplish a simple task.
Video Marketing is one of the most famous and important marketing trends today and is likely to continue for the next 5-10 years. And also, a notable fact is that 70% of the consumers say that they have known a brand by watching their brand promotional video on different marketing channels. Also, in addition to this, 52% of consumers say that watching product videos make them more confident in online purchase decisions.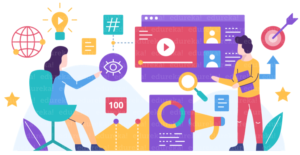 Fun fact: By 2020, just the marketing videos will make up more than 85% of all consumer internet traffic in the U.S. most of the videos.
Talking about Video Marketing, YouTube is not the only way to achieve traffic. There are a plenty of ways to drive higher engagement in terms of video marketing. As you can make a small video post or start a live broadcast on Facebook, Instagram or LinkedIn.
Augmented and Virtual Reality Marketing
Augmented reality advertisements rank among the top applications used by marketers. Using this, you can bring static or unreal environments, something that would integrate the offer with the reality of the buyer.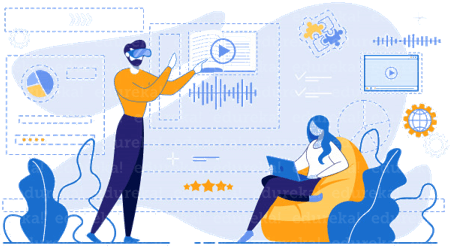 This trend is one of the top highlights of 2019. According to Statista, AR and VR worldwide market size is expected to reach $209.2 billion in only 4 years.
Alexa, find the best restaurant near me!
You can see how easy our lives are! And talking about the stats, 111.8 million people in the US will use voice assistant in a week. And, around 31% of smartphone users across the world will be using a voice-activated search like Siri, Alexa and so on. Also by 2020, 50% of all queries will be voice-based.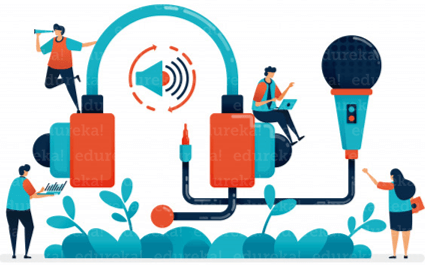 Businesses must always focus on their marketing outreach efforts for using voice engine optimization. This helps in letting you know about your target audience who might use your keywords in their voice queries. Also, do focus on long-tail keywords. This is because the searchers are likely to be more specific when asking a question.
Now, moving on to the most interesting part of this article. What are the top 10 reasons to learn Digital Marketing? Anything special about it? Let's have a look!
Top 10 reasons to learn Digital Marketing
1. The growth rates of Digital Markets are increasing
Digital Marketing is a rapidly evolving technology and statistics also reveal that this field will experience a rapid increase in job opportunities. It is expected to reach approximately 1,50,000 jobs by the end of 2020.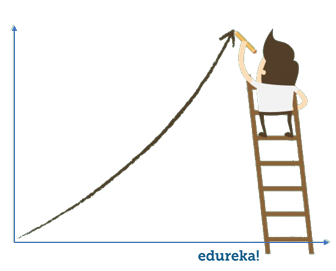 Note: The rate of growth in India alone was approximately 12% in 2016, 14% in 2017–18 and about 24%-37% is expected to grow by 2020–2021.
Since the year 1990s, till date, Digital Marketing has taken up close to half of the livelihood and the technology trends.
2. Has a wide variety of career opportunities
Digital Marketing gives you a huge scope and a multitude of job options right in front of you. A recent report also states that there are over 75,000 job listings on the very famous job portal: indeed.com. This field is in high demand as many Digital Marketers start with the salary starting from $45,000.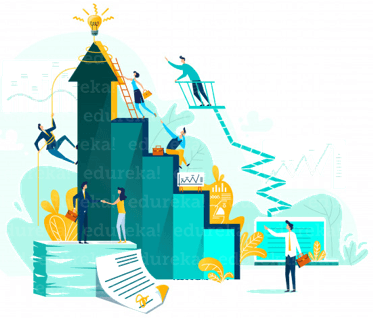 Unlike other fields, Digital Marketing has a lot of opportunities. Not only in terms of jobs but also, one can earn as a freelancer Digital Marketer and make an awesome amount of money. Digital Marketing is evolving and hence creating a lot of opportunities for freshers and experienced professionals.
3. Easy to start a new creative business project
You can easily create your own project by making use of the very commonly used platforms such as YouTube, blog creation and affiliate marketing. These are a part of Digital Marketing.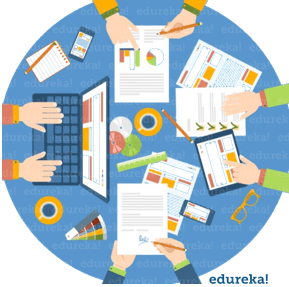 Once you understand how this works, you'll know where to put in more effort, which marketing channel you should prefer to reach your target audience and so on. In addition to this, you'll also have enough knowledge about optimizing your blog and the marketing channel of your choice, so your audience can find you.
4. Easy to generate leads from the digital sales funnel
Social media platforms like Facebook, Instagram, LinkedIn, all so many more are responsible for driving good traffic onto your website. These applications even help in advertising your product.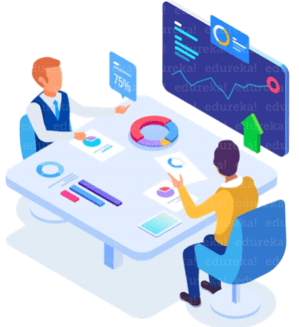 When a user lands on your website, many tend to browse more than the web page you land them on. Once they click out of the page you land them on, you probably lost this potential customer lead that you could have, to follow up on.
5. Easy to drive traffic to your website from Digital Markets
Once you shift your focus to Digital Marketing, there's no turning back. The reason being, having a website and letting the audience know about your product/service is a tedious task and with Digital Marketing, this is made easy! Digital Marketing plays a vital role in generating good traffic to your site.

6. Digital Skills Gap
There is an enormous demand for people with digital skills, especially the soft skills for those under the income bracket. So, sticking with ongoing scope in this area, even if you're not a complete techie, you'll have a look at the foreseeable future of Digital Marketing.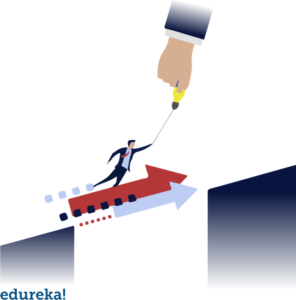 The skills gap actually refers to the difference between the skills required for a job and the skills a person actually possesses. The skills gap is responsible for not being able to perform a complete job. So, by using Digital Marketing, you can up-skill your knowledge about trending technologies.
7. Versatility
Once you master the top skills for the role of Digital marketer, you'll have a lot of exposure to a broad set of skills. This make it easy to change your focus later if you decide to switch to a different specialization. The actual fact is, if you choose a career path or specialization in the field of Digital Marketing and decide to pivot later, you're likely to need a little training in order to make the switch.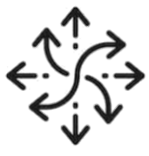 Also, you could work under any specific domain of digital marketing. This can keep your skills sharp and your work interesting. In this sense, you can upgrade existing skills while still learning new ones but still stay in the same field. In this field there are plenty of choices and ongoing learning opportunities, where different skills fit together in different ways.
8. Digital Marketing is evolving
Digital Marketing is one such field where you'll find something new to learn and follow. You'll find it interesting and gives you freedom to be more creative in terms of creating a Marketing plan. It is going to help whether you're taking the lead on these initiatives or not.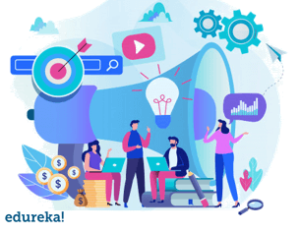 Since there are a variety of specialists working in a given agency, you'll likely be working alongside professionals with a variety of backgrounds and new strategies.
9. Helps you stay ahead of your competitors
Adapting Digital Marketing to your organization is a must. By doing this, it lets you know your own company and also your prospect's interest. Even though you make good content and beautifully design your website, you might still end up not getting enough leads. This might be because you don't know about the current market trends.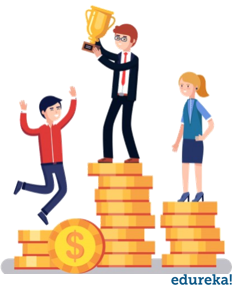 Unless you are up to date with the current market trends and try to adapt them to your company, you'll have a rough time planning your strategy. So, Digital Marketing is one such way through which you can always be one step ahead of your competitors.
10. Certifications
Having a Digital Marketing Certificate is definitely going to help you get better job opportunities in this domain. Also, 60% of professionals feel that the online certifications have helped them a lot in mastering this amazing technology.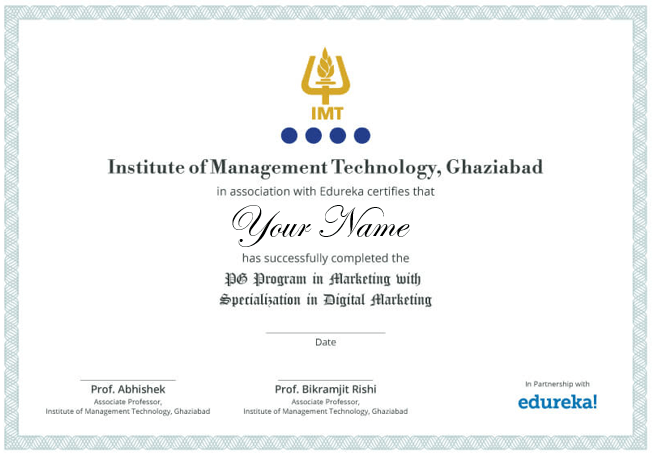 Also, guys, Edureka has recently launched a new Post-graduate program in Digital Marketing, forged in partnership with IMT, Ghaziabad.

Through this course, you'll learn about Content Marketing, Social Media Marketing, Email Marketing, Mobile Marketing, SEO and Digital Campaigns. Also, at the end of each session, you'll be given assignments that will increase your chances of being practical and will help you get hired.
With this information on why you should go for Digital Marketing, you'll certainly be able to pull up the stunt of having a great future in this domain.
This brings us to the end of this article on "Top 10 reasons to learn Digital Marketing". I hope you guys are clear about the topics that are discussed. If you have any queries, please put them across in the comment section and we'll get back to you.
If you wish to enroll for a complete course on Digital Marketing Training, Edureka has a specially curated PG Program in Marketing with Specialization in Digital Marketing which will help you gain expertise in various digital media aspects like Keyword Planning, SEO, Social Media Marketing, Search Engine Marketing, Email Marketing, Affiliate Marketing, and Google Analytics.