Fortune 500 Companies are increasingly reliant on data and are eager to hire data professionals who can make sense of the information the business collects. Data Science Training is a great way to gain an edge because they allow you to validate your skills so recruiters know what they're getting if they hire you. The following blog aims to give you a quick insight into the Top 10 Data Science Certifications for 2023!
We will discuss the following Data Science Certifications through the course of this blog:
Top 10 Data Science Certifications for 2023
If you are a visual learner, you could refer to our video presentation of the Top 10 Data Science Certifications in 2023, too!
Top 10 Data Science Certifications in 2023 | Edureka
This Edureka Top 10 Data Science Certifications in 2023 video will first give tips on choosing a Certificate Program. We will then address the Top 10 Data Science Certifications for the year 2023
So, without much ado, let's begin our list of Top 10 Data Science Certifications in 2023.
1. CAP – Certified Analytics Professional (CAP®)

First on the list is the Certified Analytics Professional Certification examination. CAP® is the premier global professional certification for analytics practitioners. If you meet CAP®'s high standards and pass the rigorous exam you are in for a treat because you will open doors for lucrative career opportunities. This certification is specially designed for analytics professionals in their early- to mid-career.
Requirements
As an Applicant there are some requirements you will need to fulfill:
Bachelor's degree with 5 years of professional analytics experience or a master's degree with 3 years of experience

Sign an ethics code
Skills
Areas of Topic
Business Problem Framing
Analytics Problem Framing
Data
Methodology Selection
Model Building
Deployment
Lifecycle Management
Benefits
They are several benefits of earning this certification, namely:
Find out our Data Science with Python Course in Top Cities
2. Dell EMC Proven Professional Certification Program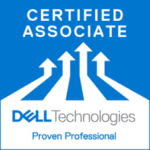 The Dell EMC Data Scientist Associate (EMCDSA) is a foundational certification that exposes you to big data and data analytics basics. As soon as you pass this data scientist certification, you're considered "Proven Professional,". Now it is clear to managers and recruiters that you have the necessary skills they want in a data scientist.
Requirements
Some of the requirements for this certification exam are given below:
Bachelor's degree in Computer Science, Information Technology, Telecommunications, Electronics & Electricals, or any other related field

Pass the following Associate level exam:

DEA-7TT2 Associate – Data Science and Big Data Analytics v2 Exam
Skills
Areas of Topic
Data Analytics
Analyzing and Exploring Data with R
Statistics for Model Building and Evaluation
Theory and Methods of A
dvanced Analytics and Statistical Modeling
Technology & Tools for Advanced Analytics
Operationalizing an Analytics Project
Data Visualization Techniques
Benefits
The Dell EMC Data Science Associate Certification exam holds a high value in the market because it offers the following benefits:
Concentrates on technologies that can be applied to all IT Environments

Learn new IT technologies that focus on emerging operations
Let's move on to the next certification in the Top 10 Data Science Certifications in 2022.
3. SAS® Certified Data Scientist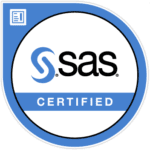 The SAS® Certified Data Scientist certification is designed for individuals who can manipulate and gain insights from big data. Now, with a variety of SAS and open source tools, you can make business recommendations with complex machine learning models, and then deploy models using the flexible SAS environment.
Requirements
The given requirements below are not mandatory but are very important from the examination point of view:
Experience with SAS Programming Basics & Data Manipulation Techniques
Experience with SQL Processing
At least 6 months of Experience in Mathematics & Statistics
Skills
So this certification is very different from the remaining certifications because the SAS Academy for Data Science includes three programs, namely:
Data Curation

Advanced Analytics and

AI and ML
Areas of Topic
Big Data(BD) Preparation, Statistics and Visual Exploration
BD Programming and Loading
BD Programming and Loading
Machine Learning Using SAS® Viya®
Natural Language and Computer Vision
Forecasting and Optimization
Pattern detection
Benefits
They are several benefits one can acquire from this certification, some of them are:
Learn using SAS, R, Python, Pig, Hive, and Hadoop

Hands-On Learning

Globally Recognized Credentials

Real-World Case Studies
4. Microsoft Certified: Azure Data Scientist Associate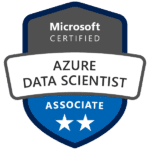 Next on the list is the Azure Data Scientist Associate Microsoft Certification. Here, the Azure Data Scientist applies their knowledge of data science and machine learning to implement and run machine learning workloads on Azure Cloud Platform. Here, you are particularly using Azure Machine Learning Stack of Services. You can get a better understanding with the Data Engineering Certification in Bangalore.
Requirements
There are no specific prerequisites to achieving this certification beyond passing the DP-100: Designing and Implementing a Data Science Solution on Azure exam.
Skills
Areas of Topic
Set up an Azure Machine Learning workspace
Run experiments and train models
Optimize and manage models
Deploy and consume models
Benefits
As an Associate-level certification, gaining the Azure Data Scientist Associate credentials, while challenging, would earn you the recognition to prove that you are a subject matter expert in this field.
Now let us check out the next 5 Certifications on this list of Top 10 Data Science Certifications in 2022,
5. Cloudera Certified Associate (CCA) Data Analyst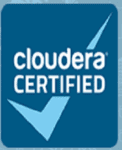 The Data Analyst certification shows you can prepare, structure, and analyze data in Cloudera's CDH environment. You will be able to do things like import data from MySQL into Hadoop, create and alter tables, and make reports with select and join queries.
Requirements
Candidates for CCA Data Analyst can be SQL developers, data analysts, business intelligence specialists, developers, system architects, and database administrators. There are no prerequisites.
Skills
Areas of Topic
Provide Structure to the Data
Data Analysis
Benefits
The increasing demand for professionals who are well versed in the field of data analytics makes this certification even more desirable. The exam offers the following benefits-
We have another Cloudera Certification on this list! Continue reading the next part of this blog to get the details.
6. Cloudera Certified Professional (CCP) Data Engineer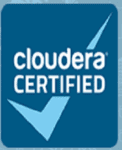 The CCP Data Engineer Certifies that you can "develop reliable, autonomous, scalable data pipelines that result in optimized data sets for a variety of workloads." In other words, you can say that: CCP Data Engineer demonstrates that you can wrangle data into a clean, useful shape that can be used by different people, for different purposes.
Requirements
Candidates for CCP Data Engineer should have in-depth experience developing data engineering solutions and a high level of mastery of the skills above. There are no other prerequisites.
Skills
Areas of Topic
Data Ingest
Data

Transformation
Storage
Data Analysis & workflow
Benefits
The CCP program lets you demonstrate your skills in a rigorous hands-on, live environment. To help you promote your skills, each CCP: Data Engineer receives:
A Unique profile URL on certification.cloudera.com to promote your skills and achievements to your employer or potential employers and integrated into LinkedIn

CCP logo for business cards, resumes, and online profiles
7. Amazon AWS Data Analytics Certification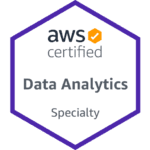 The AWS Certified Data Analytics – Specialty (DAS-C01) examination is intended for individuals who perform in a data analytics-focused role. This exam validates an examinee's comprehensive understanding of using AWS services to design, build, secure, and maintain analytics solutions that provide insight from data.
Requirements
Some of the requirements for this certification exam are given below:
A minimum of 5 years of experience with common data analytics technologies

At least 2 years of hands-on experience working on AWS

Experience and expertise working with AWS services to design, build, secure, and maintain analytics solutions
Skills
Here, you will be tested across 5 different domains, with each domain contributing to a total percentage of your overall score.
Areas of Topic
Collection
Storage & Data Management
Processing
Analysis and Visualization
Security
Benefits
They are several benefits one can acquire from this certification, some of them are:
8. Google Professional Data Engineer Certification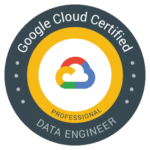 With Google Cloud Data Engineering certification, you can show the world that you are an expert in building data-driven solutions using Google Cloud. As companies are collecting loads of data, the need for skilled professionals who can build data solutions in the cloud is increasing. And there is no better way to prove that you have the skills than having the certificate in your hands.
Requirements
To get the most out of this program, learners should have basic proficiency in:
SQL
Python
Data Modeling
Machine Learning/Statistics
Although not mandatory, It is required for you to have some basic understanding of these concepts.
Skills
Areas of Topic
Design data processing systems
Build and operationalize data processing systems
Operationalize machine learning models
Ensure solution quality
Moving on, let us check out some benefits of this certification.
Benefits
Acquiring a Google Data Engineer certification is not a difficult process, but has a meaningful impact on your career and job in the IT industry. It has been a good track record with benefits for employees and employers which includes:
With this, let us check out the next certification in the blog.
9. Data Science Council of America (DASCA) Senior Data Scientist (SDS)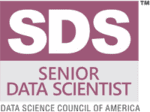 The SDS™ by the Data Science Council of America (DASCA) adds speed to your journey of turning a Data Scientist. SDS™ is the world's most powerful 3rd–party, vendor-neutral certification for accomplished data science and analytics professionals now looking out for the more challenging and bigger-impact roles of data scientists and data architects.
Moving on to the next part of this blog, we will see the various criteria for you to earn this certification.
Requirements
If you're a seasoned campaigner with 5 years plus of exposure in leading Big Data analytics or science function, you are fit for the Data Scientist Credential. You will be required to have at least an Undergraduate/ Bachelor's Degree in Information Technology/ Computer Science or Undergraduate/ Bachelor's Degree in Business/ Management/ Statistics/ Economics/ Mathematics or Diploma in Computer Programming/ Software Engineering or Diploma in Business/ Management from an accredited institution. Learn more about Big Data and its applications from the Azure Data Engineering Course.
Now, we will check out the skills required for you to clear this certification exam.
Skills
Areas of Topic
Advanced Knowledge of Statistical Analysis tools, techniques, and methodologies
Exposure to different Big SDS™ & Analytics Languages and Platforms like SPSS/SAS
Exposure to R
Quantitative Methods
Fundamentals of RDMS and OOPS
Benefits
These are various benefits of this program, some of them are:
Covers the Official DASCA Preparation kit, extensive curricula, easy processing of registration, renewal, and upgrade

You get to fortify the knowledge capabilities of data cubes, multidimensional databases, and big data frameworks
10. Open Certified Data Scientist (Open CDS)

The Open Group Certified Data Scientist (Open CDS) certification has been developed out of a requirement of the IT sector to verify that Data Scientist professionals have the qualities and capabilities required to produce an effective analysis of data for the overall improvement of the business.
Now, let us check out the Requirements.
Requirements
Certification is awarded through experience-based profile assessment by recognized industry experts within their appropriate field, so no examination is required.
Skills
The Open CDS certification requires applicants to demonstrate skills and experience against a set of conformance requirements through written applications and peer interviews. There are no training courses to attend and no written exams to complete.
Areas of Topic
Skills and experience producing analytic models
Skills and experience, including Data Science Breadth
Disciplined, method-driven execution
Full life cycle experience
Leadership
Strong Personal & Professional Skills
This certification can benefit both an individual & an entire Organization!
Benefits
For an individual the benefits are as follows:
Enhances and Evidences Professional Skills

Improves Prospects for Rewarding Assignments

Accelerates Salary and Career Advancement

Results in Greater Peer Recognition
For Organizations, it helps:
Optimize the Staff Recruitment and retention process

Motivate staff to acquire this widely recognized open industry standard to authenticate their skills and experience
That was all about the Top 10 Data Science Certifications in 2022. Hope this article proved useful to you. The need for Data Science with Python programming professionals has increased dramatically, making this course ideal for people at all levels of expertise. The Data Science with Python Course Online is ideal for professionals in analytics who are looking to work in conjunction with Python, Software, and IT professionals interested in the area of Analytics and anyone who has a passion for Data Science.
Transform yourself the way you search for information with ChatGPT. Enroll for ChatGPT course to learn more.
Also, If you are looking for online structured training in Data Science, edureka! has a specially curated Data Science Course that helps you gain expertise in Statistics, Data Wrangling, Exploratory Data Analysis, and Machine Learning Algorithms like K-Means Clustering, Decision Trees, Random Forest, Naive Bayes. You'll learn the concepts of Time Series, Text Mining, and an introduction to Deep Learning as well. New batches for this course are starting soon!!
Got a question for us? Please mention it in the comments section of this article and we will get back to you as soon as possible.
To get in-depth knowledge on any DevOps, Big Data, Cybersecurity, and other trending technologies, you can enrol for our Live Online Certification Training Programs offering 24/7 support and lifetime access to the course material.