In a long line of enterprise architecture frameworks, TOGAF ®is not the first and it's unlikely to be the last. But it is one that's endured for nearly two decades, with worldwide usage – an impressive feat in today's technology landscape.
TOGAF® is the acronym for The Open Group Architecture Framework and it was developed by The Open Group, a not-for-profit technology industry consortium that continues to update and reiterate the TOGAF®.
This article will focus on familiarizing beginners with TOGAF® and the following is the outline of this article;
Understanding enterprise architecture
TOGAF is an architecture framework – The Open Group Architecture Framework. TOGAF provides the methods and tools for assisting in the acceptance, production, use, and maintenance of an enterprise architecture. It is based on an iterative process model supported by best practices and a re-usable set of existing architecture assets.
Enterprise architecture refers to the holistic view and approach of software and other technology across an entire company, or enterprise.
Typically, enterprise architecture isn't just a structure for organizing all sorts of internal infrastructures. Instead, the goal is to provide real solutions to business needs through analyzing, designing, planning and implementing the right technology in the right ways.
What is Architecture in the Context of TOGAF?
ISO/IEC 42010:2007 defines "architecture" as:
"The fundamental organization of a system, embodied in its components, their relationships to each other and the environment, and the principles governing its design and evolution."
TOGAF embraces but does not strictly adhere to the given terminology. In TOGAF, "architecture" has two meanings depending upon the context:
A formal description of a system, or a detailed plan of the system at component level to guide its implementation

The structure of components, their inter-relationships, and the principles and guidelines governing their design and evolution over time
In TOGAF you, basically, endeavour to strike a balance between promoting the concepts and terminology ensuring that your usage of said terms is consistent with the standard – and retaining other commonly accepted terminology that is familiar to the majority of the TOGAF readership.
What Kind of Architecture Does TOGAF Deal With?
There are four architecture domains that are commonly accepted as subsets of overall enterprise architecture, all of which TOGAF is designed to support:
The Business Architecture defines the business strategy, governance, organization, and key business processes.

The Data Architecture describes the structure of an organization's logical and physical data assets and data management resources.

The Application Architecture provides a blueprint for the individual application systems to be deployed, their interactions, and their relationships to the core business processes of the organization.

The Technology Architecture describes the logical software and hardware capabilities that are required to support the deployment of business, data, and application services. This includes IT infrastructure, middleware, networks, communications, processing, standards, etc.
More and more, enterprise architecture also encompasses additional business needs like business process management and data analytics. The goal of organized enterprise architecture, then, is to successfully execute business strategy with efficiency, efficacy, agility, and security.
If all this sounds like it can be complicated – designing and implementing a clear, long-term solution to all enterprise software in a way that solves business needs – it's because it is. That's why enterprise architecture frameworks (EAFs) started emerging informally and formally, as long as five decades ago.
TOGAF history and facts
As a subset of computer architecture, enterprise architecture as a field dates back to the mid-1960s. IBM among other companies and universities spearheaded some explicit ways to build enterprise architecture, knowing that all the pieces involved to run on a network are complicated.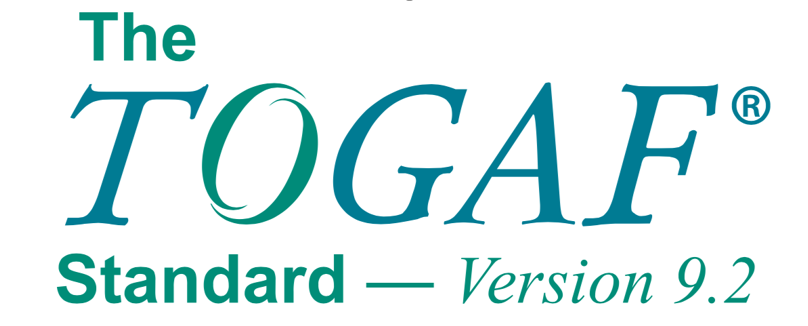 Over the next few decades, technology only became more complicated: today, most companies, regardless of size or product, utilize the internet to make their business processes easier, quicker, and sometimes more transparent. Today, enterprise architecture is a necessary process to make sense of various hardware and software options, on-premise and in the cloud, and to ensure security when sharing data across multiple platforms.
The TOGAF® was initially developed in 1995. As was common in the field of enterprise architecture by then, newer versions or models offered improved iterations and theories. Likewise, TOGAF® took a lot of inspiration from the U.S. Department of Defense's own EAF, called the Technical Architecture Framework for Information Management, or TAFIM for short. Interestingly, the USDoD stopped using the TAFIM within a couple of years of the emergence of TOGAF. Still, TOGAF® implementation and success continues worldwide today, more than 20 years later.
The TOGAF approach to EAFs
The Open Group defines the TOGAF® as the "de facto global standard for enterprise architecture". The framework is intended to help enterprises organize and address all critical business needs through four goals:
Ensuring all users, from key stakeholders to team members, speak the same language. This helps everyone understand the framework, content, and goals in the same way and gets the entire enterprise on the same page, breaking down any communication barriers.

Avoiding being "locked-in" to proprietary solutions for enterprise architecture. As long as the company is using the TOGAF internally and not towards commercial purposes, the framework is free.

Saving time and money and utilizing resources more effectively.

Achieving a demonstrable return on investment (ROI).
3 Pillars of TOGAF
If the four goals are the theoretical outcome of using TOGAF®, then the three pillars are the way to achieve the goals. These pillars help create a systematic process to organize and put software technology to use in a structured way that aligns with governance and business objectives. Because software develop relies on collaboration across various business departments inside and outside of IT, TOGAF's goal of speaking the same language encourages and assists the various stakeholders to get on the same page, something that may not otherwise happen in business environments.
The TOGAF® is divided into three main pillars:
Enterprise architecture domains. These divide the architecture into four key areas:

Business architecture, which defines business strategy and organization, key business processes, and governance and standards.

Applications architecture, which provides a blueprint for deploying individual systems, including the interactions among application systems as well as their relationships to essential business processes.

Data architecture, which documents the structure of logical and physical data assets and any related data management resources.

Technical architecture (also known as technology architecture), which describes the hardware, software, and network infrastructure necessary to support the deployment of mission-critical applications.

Architecture Development Model (ADM). This iterative cycle uses performance engineering to develop an actual enterprise architecture. Importantly, it can be customized to the enterprise's needs, so it's not a one-size-fits-all approach. Once an architecture is developed, the enterprise can roll it out to all teams or departments in iterative cycles, ensuring minimal errors and further helping the company communicate cohesively.

Enterprise Continuum. This classification system tracks architecture solutions on a range, starting at generic, industry-standard options and including customized enterprise-specific solutions.
Proponents say that ADM is the heart of TOGAF – it's this pillar that makes TOGAF both very effective and a standout from other frameworks. The Architecture Development Method offers eight steps as guidance to figure out where the enterprise currently is and determine where the enterprise wants and needs to be in each of the four enterprise architecture domains.
Once business processes are established through the entire lifecycle, the ADM helps the enterprise identify the gaps between current status and long-term goals, and then collates these gaps into smaller actionable and understandable packages that the team can then implement.
Two other areas are sometimes included in TOGAF's main pillars: TOGAF® certified tools and qualifications.
Architecture Development Method
The TOGAF Architecture Development Method (ADM) provides a tested and repeatable process for developing architectures. The ADM includes establishing an architecture framework, developing architecture content, transitioning, and governing the realization of architectures.
All of these activities are carried out within an iterative cycle of continuous architecture definition and realization that allows organizations to transform their enterprises in a controlled manner in response to business goals and opportunities.
Phases within the ADM are as follows:
The Preliminary Phase describes the preparation and initiation activities required to prepare to meet the business directive for new enterprise architecture, including the definition of an Organization-Specific Architecture framework and the definition of principles.

Phase A: Architecture Vision describes the initial phase of an architecture development cycle. It includes information about defining the scope, identifying the stakeholders, creating the Architecture Vision, and obtaining approvals.

Phase B: Business Architecture describes the development of a Business Architecture to support an agreed Architecture Vision.

Phase C: Information Systems Architectures describes the development of Information Systems Architectures for an architecture project, including the development of Data and Application Architectures.
Phase E: Opportunities & Solutions conducts initial implementation planning and the identification of delivery vehicles for the architecture defined in the previous phases.

Phase F: Migration Planning addresses the formulation of a set of detailed sequence of transition architectures with a supporting Implementation and Migration Plan.

Phase G: Implementation Governance provides architectural oversight of the implementation.

Phase H: Architecture Change Management establishes procedures for managing change to the new architecture.

Requirements Management examines the process of managing architecture requirements throughout the ADM.
Deliverables, Artifacts, and Building Blocks
Architects executing the ADM will produce a number of outputs as a result of their efforts, such as process flows, architectural requirements, project plans, project compliance assessments, etc. The TOGAF Architecture Content Framework (see Part IV, Introduction) provides a structural model for architectural content that allows major work products to be consistently defined, structured, and presented.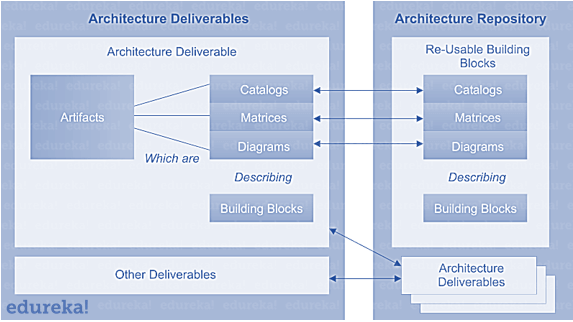 The Architecture Content Framework uses the following three categories to describe the type of architectural work product within the context of use:
A deliverable is a work product that is contractually specified and in turn, formally reviewed, agreed, and signed off by the stakeholders. Deliverables are basically the output of projects in documentation form. It is typically archived at the completion of a project or moved into an Architecture Repository as a reference model, for the Architecture Landscape at a point in time.

An artefact is a more granular architectural work product. It describes an architecture from a specific point of view. For instance, a network diagram, a server specification, a use-case specification, a list of architectural requirements, or a business interaction matrix. An artefact is generally classified as;

a catalogue or a list of things

matrices depicting relationships between things

diagrams
An architectural deliverable may contain many artefacts and artefacts will form the content of the Architecture Repository.
A building block represents a potentially re-usable component of the business. It could refer to IT, or architectural capability that can be combined with other similar building blocks to deliver solutions. Hence, these building blocks can be defined at various levels of detail, depending on what stage of architecture development has been reached.

Architecture Building Blocks (ABBs) typically describe the required capability and shape the specification of Solution Building Blocks (SBBs). For example, a customer services capability may be required within an enterprise, supported by many SBBs, such as processes, data, and application software.

Solution Building Blocks (SBBs) represent components that will be used to implement the required capability. For example, a network is a building block that can be described through complementary artefacts and then put to use to realize solutions for the enterprise.
Enterprise Continuum
TOGAF includes the concept of the Enterprise Continuum, which sets the broader context for an architect and explains how generic solutions can be leveraged and specialized in order to support the requirements of an individual organization. The Enterprise Continuum is a view of the Architecture Repository that provides methods for classifying architecture and solution artefacts as they evolve from generic Foundation Architectures to Organization-Specific Architectures. The Enterprise Continuum comprises two complementary concepts: the Architecture Continuum and the Solutions Continuum.
Architecture Repository
Supporting the Enterprise Continuum is the concept of an Architecture Repository which can be used to store different classes of architectural output at different levels of abstraction, created by the ADM. In this way, TOGAF facilitates understanding and co-operation between stakeholders and practitioners at different levels.
By means of the Enterprise Continuum and Architecture Repository, architects are encouraged to leverage all other relevant architectural resources and assets in developing an Organization-Specific Architecture.
In this context, the TOGAF ADM can be regarded as describing a process lifecycle that operates at multiple levels within the organization, operating within a holistic governance framework and producing aligned outputs that reside in an Architecture Repository. The Enterprise Continuum provides a valuable context for understanding architectural models: it shows building blocks and their relationships to each other, and the constraints and requirements on a cycle of architecture development.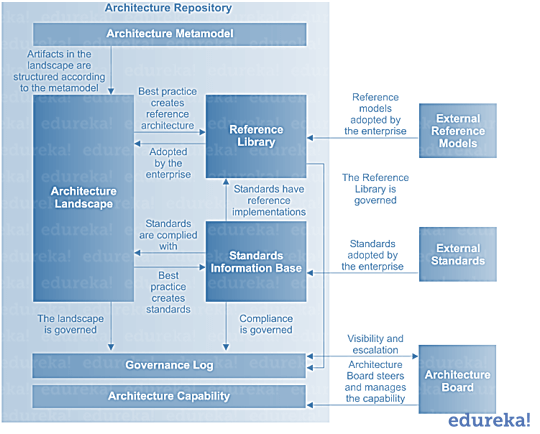 The major components within an Architecture Repository are as follows:
The

Architecture Metamodel

describes the organizationally tailored application of an architecture framework, including a metamodel for architecture content.
The

Architecture Capability

defines the parameters, structures, and processes that support governance of the Architecture Repository.
The

Architecture Landscape

shows an architectural view of the building blocks that are in use within the organization today (e.g., a list of the live applications). The landscape is likely to exist at multiple levels of abstraction to suit different architecture objectives.
The

Standards Information Base

(SIB) captures the standards with which new architectures must comply, which may include industry standards, selected products and services from suppliers, or shared services already deployed within the organization.
The

Reference Library

provides guidelines, templates, patterns, and other forms of reference material that can be leveraged in order to accelerate the creation of new architectures for the enterprise.
The

Governance Log

provides a record of governance activity across the enterprise.
Establishing and Maintaining an Enterprise Architecture Capability
In order to carry out the architectural activity effectively within an enterprise, it is necessary to put in place an appropriate business capability for architecture, through organization structures, roles, responsibilities, skills, and processes.
Establishing the Architecture Capability as an Operational Entity
Barring architecture capabilities set up to purely support change delivery programs, it is increasingly recognized that a successful enterprise architecture practice must sit on a firm operational footing. In effect, an enterprise architecture practice must be run like any other operational unit within a business; i.e., it should be treated like a business. To this end, and over and above the core processes defined within the ADM, an enterprise architecture practice should establish capabilities in the following areas:
Financial Management

Performance Management

Service Management

Risk Management

Resource Management

Communications and Stakeholder Management

Quality Management

Supplier Management

Configuration Management

Environment Management
Central to the notion of operating an ongoing architecture is the execution of well-defined and effective governance, whereby all architecturally significant activity is controlled and aligned within a single framework.
The Open Group Certifications
The Open Group offers two certifications for individuals: the first level is known as the Foundation, teaching basic tenets of enterprise architecture and rolling out TOGAF®, and Level 2 Certified involves business analysis and application. The Open Group also certifies tools that align with TOGAF® from eight organizations.
Benefits of using TOGAF
The benefits of ADM are that it is customizable to organizational need – there's no need to create a structure that doesn't serve your business. These smaller packages are also scalable, so if one team rolls it out, it can successfully be rolled out to other teams without much tweaking. This helps the enterprise establish a process with multiple checkpoints so that there are few errors the wider the architecture is implemented.

There can also be benefits to individuals who certify in TOGAF. A study of industry employees indicates that enterprise architects, software architects, and IT directors, among others, who choose to earn a certification in TOGAF often see an average yearly pay bump of $10,000 – $20,000 over similarly placed colleagues who aren't certified.

Some experts in enterprise architecture point out that while TOGAF may appear very logical, it's actually quite a shakeup to traditionally educated technology consultants today – but perhaps this will change has TOGAF adoption continues along steadily.

As governance has become an increasingly visible requirement for organizational management, the inclusion of governance within TOGAF aligns the framework with current business best practice and also ensures a level of visibility, guidance, and control that will support all architecture stakeholder requirements and obligations.
The benefits of architecture governance include:
Increased transparency of accountability, and informed delegation of authority

Controlled risk management

Protection of the existing asset base through maximizing re-use of existing architectural components

Proactive control, monitoring, and management mechanisms

Process, concept, and component re-use across all organizational business units

Value creation through monitoring, measuring, evaluation, and feedback

Increased visibility supporting internal processes and external parties' requirements; in particular, increased visibility of decision-making at lower levels ensures oversight at an appropriate level within the enterprise of decisions that may have far-reaching strategic consequences for the organization

Greater shareholder value; in particular, enterprise architecture increasingly represents the core intellectual property of the enterprise – studies have demonstrated a correlation between increased shareholder value and well-governed enterprises

Integrates with existing processes and methodologies and complements functionality by adding control capabilities
Using TOGAF with Other Frameworks
Two of the key elements of any enterprise architecture framework are:
A definition – of the deliverables that the architecting activity should produce

A description – of the method by which this should be done
With some exceptions, the majority of enterprise architecture frameworks focus on the first of these – the specific set of deliverables – and are relatively silent about the methods to be used to generate them (intentionally so, in some cases).
Because TOGAF is a generic framework and intended to be used in a wide variety of environments, it provides a flexible and extensible content framework that underpins a set of generic architecture deliverables.
As a result, TOGAF may be used either in its own right, with the generic deliverables that it describes; or else these deliverables may be replaced or extended by a more specific set, defined in any other framework that the architect considers relevant.
In all cases, it is expected that the architect will adapt and build on the TOGAF framework in order to define a tailored method that is integrated into the processes and organization structures of the enterprise. This architecture tailoring may include adopting elements from other architecture frameworks, or integrating TOGAF methods with other standard frameworks, such as ITIL, CMMI, COBIT, PRINCE2, PMBOK, and MSP.
As a generic framework and method for enterprise architecture, TOGAF also complements other frameworks that are aimed at specific vertical business domains, specific horizontal technology areas (such as the likes of security or manageability), or specific application areas (the likes of e-Commerce).
TOGAF Document Categorization Model
A TOGAF document categorization model exists to structure the release management of the TOGAF specification. It is not intended to serve as an implementation guide for practitioners.
Within the model, the content of the TOGAF document is categorized according to the following four categories:
TOGAF Core consists of the fundamental concepts that form the essence of TOGAF.

TOGAF Mandated consists of the normative parts of the TOGAF specification. These elements of TOGAF are central to its usage and without them the framework would not be recognizably TOGAF. Strong consideration must be given to these elements when applying TOGAF.

TOGAF Recommended consists of a pool of resources that are specifically referenced in TOGAF as ways in which the TOGAF Core and Mandated processes can be accomplished (e.g., the SEI Architecture Trade-Off Analysis Method or business scenarios).

TOGAF Supporting consists of additional resources that are not referenced in the other three TOGAF categories itself but provide valuable assistance.
Success and Criticism
According to the Open Group, TOGAF is employed in more than 80 per cent of Global 50 companies and more than 60 per cent of Fortune 500 companies. Though criticism of the framework is often that it is too complicated or theoretical to be applicable, it seems that plenty of companies are using the structure.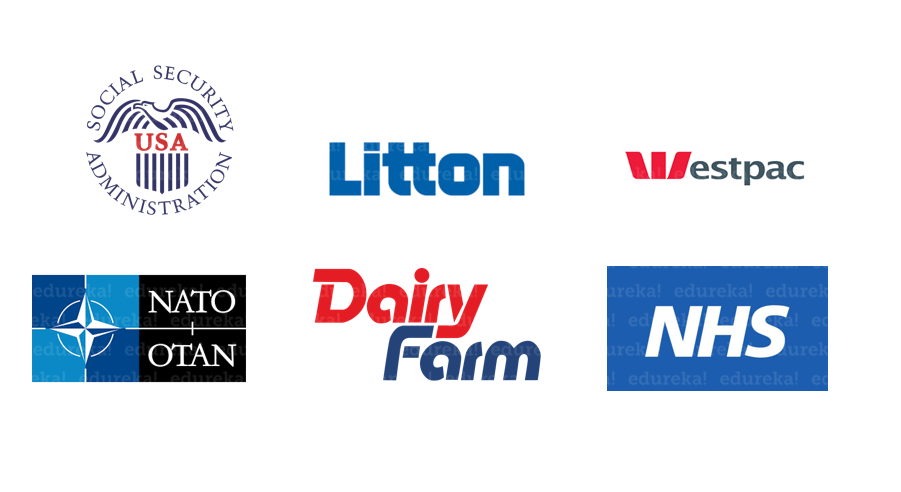 Companies who have successfully implemented the framework admit that failings do happen because this framework cannot be a cure-all for enterprise issues. While the issue can be TOGAF principles or the enterprise architecture itself, others argue that sometimes key stakeholders and C-level management don't always take the time to set up important factors, such as key performance indicators (KPIs), to make the architecture team successful.
This lack of complete buy-in may sometimes be due to the complicated nature of this framework when looked at in its entirety. Indeed, even when the framework feels overwhelming, the best advice may be to pick what works best for your company.
One must understand that TOGAF is no miracle tool. But it definitely can provide structure to help teams and upper-level management from having to reinvent the wheel each time the company wants to incorporate new technology.
Many understand that TOGAF is a work in progress – marked by new releases every few years. Even sceptics of TOGAF and enterprise architecture frameworks, in general, find that the applied use of TOGAF is often successful simply because it is better than doing nothing.
When companies want to jump on board a new technology, it often requires building out the right tech team from scratch and then tracking down all sorts of data. It gets messy – and the rapid pace that technology shifts and improves, these requests occur a lot more often than they used to. This can explain, in part, the bustling IT and architecture teams that are always busy yet somehow always seem behind.
As its widespread use indicates, TOGAF® can help enterprises of any size and any industry – but those who employ it are probably best served by understanding its pros and cons first, and then applying the parts that make particular sense for their own company.
Edureka offers the TOGAF® 9.2 Certification; TOGAF® Foundation (Level 1) and TOGAF® Certified (Level 2) that gives you access to instructor-led, live online classes with high-quality, learning content accredited by The Open Group and designed by industry experts.