Cloud Computing has emerged as an effective solution to the explosive growth across industries for data and processing requirements has led to drastic increase in power consumption and the need to incessantly enhance data center capacity. The 'Cloud' has provided an alternative to large capital investments required for data center expansion, infrastructure hardware and software purchases and application software purchases. For this very reason, cloud computing has been rapidly adopted by businesses across industries around the world.
In the year 2008, the cloud computing industry was estimated to be worth $ 46 billion and the industry crossed $150 billion by the end of 2014 i.e. it more than tripled in scale within a short span of 6 years. Such drastic growth only implies that cloud computing is not just a technology but a phenomenon promising to transform business capabilities around the world. According to a recent survey by Forbes, 7% of global data is currently stored in the cloud and by 2016 it will rise to 36%. Such nascent promising potential of cloud computing makes it an immensely thriving tool for businesses and an equally flourishing career opportunity for IT professionals.
In this blog, I will discuss the three categories of services over which businesses deploy the cloud, career horizons  and some astounding statistics about how cloud computing is rapidly empowering businesses and conquering the IT sphere but first of all, let us start from the basics.
The meaning and importance of cloud computing
In very simple terms, cloud computing encompasses each and every service be it subscription based or pay-per-use, that helps in enhancing and extending its capabilities in real time over the internet. It is important because it does all that it does without having to invest in infrastructure, intensively training the workforce and licensing softwares. According to IBM's Chief Technology Officer Katharine Frase, cloud computing reduces IT labor costs by almost 50%.  While encapsulating all the advantages of cloud computing will be quite challenging, in general using the cloud helps the business in
Simplifying IT management process
Improving end-user experience
Decreasing IT performance challenges
Reducing cost of infrastructure
Making collaboration easy
Facilitating rapid development of new products and services
Alleviated internal resource pressures
Accessing and managing big data for analytics
While traditionally thought of as an IT decision, cloud is increasingly being considered a business decision to enable company functions and empower strategies.
IaaS PaaS & SaaS
There are three categories of  services that encompass the potential of cloud computing – IaaS, PaaS & SaaS. These categories stand for infrastructure, platforms and applications that are available from cloud providers as online services.
Infrastructure as a service (IaaS):  This is where pre-configured hardware is provided through a visualized interface or hypervisor. IaaS may be provided to the client in the form of virtual-machine disk image library, block and file-based storage, firewalls, load balancers, IP addresses, virtual local area networks etc.
Platform as a service (PaaS): PaaS goes a stage further and provides the client computing platforms which typically include operating system, programming language execution environment, database, web server etc.
Software as a service (Saas): This service offers fully functional applications on-demand to provide specific services such as email management, Customer Relationship Management, Enterprise Resource Planning, web conferencing and a whole lot of applications specially curated according to the client's needs.
Ultimately, all these three services attempt to solve the same business problem – provide function, scale, service, and business value with little or no capital expenditure.
There are a number of vendors that provide training in cloud computing services with Amazon Web Services (AWS) leading the market. It is a complete suite, which involves a whole bunch of useful web services and thus offers intensive training for each of the three elements of cloud computing.
Cloud computing: The global job churner
Already standing mighty at $150 billion, the cloud computing industry is expected to reach $241 billion in the next 5 years (Source: Salesforce).
Naturally, IT service providers are consistently striving to be prepared for the burgeoning demand and offer the best in class service in terms of the technology for cloud computing. In this endeavor, IT service providers are vouching for experts in cloud computing to support the transforming environment. Otherwise, as well, much of the way IT services are being offered now are converging to the cloud model requiring IT professionals to adapt themselves to this new phenomenon.
A 2012 study released by International Data Corporation (IDC) expects nearly 14 million cloud related jobs worldwide by the end of 2015.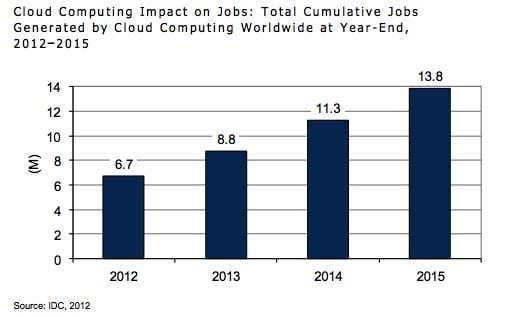 This study also shows that China, India, USA, Indonesia and Brazil will continue to lead the growth scenario in this regard. By 2016, the Asia-Pacific market is expected to account for 1.5 billion terabytes of global cloud computing usage, making them the highest users worldwide (Source: Survey by Endurance International Group)
If statistics are any indication, curating a career in cloud computing can be the best decision of your professional life. In spite of steady evolution and rapid acceptance across industries, this concept is still at a nascent space with only exponential growth as the next step. There is no reason why, as an IT professional you would not want to be a part of this wave. However, the crux here is to thoroughly understand the basic elements of cloud computing in order to steer your career towards the right direction.
Within each service i.e. Infrastructure (IaaS), Platform (PaaS) and Software (SaaS),   there are three main categories of technical careers in cloud computing:
• IT Architects who design main solutions
•IT Administrators who maintain service provider infrastructure
• IT Consultants who assess clients' needs and plan as to how the different offering within cloud computing can help fulfilling those needs.
A majority of IT professionals who work in specific cloud positions either learned on the job or are self –taught. However, as business are increasingly understanding the importance of cloud computing services and allocating heavy budgets for the same, employers are increasingly preferring professionals with certifications. Job postings seeking AWS skills lead by a large margin, followed by those requiring Google and Microsoft expertise. These jobs include configuration, development and operations positions with salaries ranging from $110,000 to $220,000 annually, depending on the location.
According to technical recruiters, there are about 100 jobs chasing each individual certified professional in the current scenario and this disparity is only going to grow in the year 2016. Let's just say that with expertise in cloud computing, you can be anywhere at any point of time and yet be at the right place at the right time in your career.
Got a question for us? Please mention them in the comments section and we will get back to you.
Related Posts:
Get Started with AWS Development Certification Training 
Get Started with AWS Architect Certification Training