At this point of time when smartphones and tablets are flooding the market and replacing older computer systems like our beloved PC or even the laptop, there comes a war to dominate any screen you operate. Be the iOS, Windows 8 or even BlackberryOS (which is so dead!) or even the current forerunner Android, they all want to be your favorite OS for apps. Let's look at the one operating system that raised the benchmarks for others, namely Google's Android OS.
What is Android?
Android is an operating system based on Linux kernel designed primarily for touchscreen mobile devices, such as smartphones and tablet computers. Despite being primarily designed for touchscreen input, it has also been used in televisions, gaming consoles, digital cameras and other electronics.
From Cupcake to L
Android, Inc. was founded in Palo Alto, California, in October 2003 by Andy Rubin, Rich Miner, Nick Sears, and Chris White.  The early intention of the company was to develop an advanced operating system for digital cameras. When they realized that the market for the devices was not large enough, they diverted their efforts into producing a smartphone operating system to rival Symbian and Windows Mobiles. Google acquired Android Inc. on August 17, 2005.
Since then, the journey of Android has been phenomenal, from taking baby steps with Android Cupcake to matching and possibly overtaking the fluidity of iOS 8 with Android L.
Structured Android Training forms an important component in developing Apps for the Android OS. Here is a sample video to get you started:
Android OS : The Developer's Favorite
It's becoming increasingly evident that Android is the no.1 platform for not just the leading smartphone manufacturers but also a majority of developers, who are moving to Android platform for developing applications ranging from utility, communication, games and entertainment.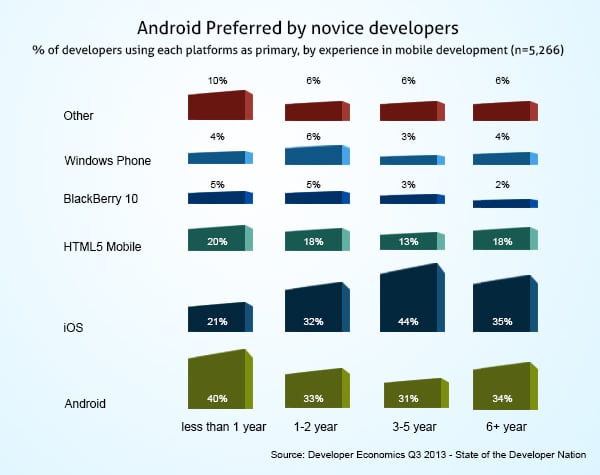 If we look at the developer community in general, Android has caught the eyes of not only the early adopters and newbies but also the seasoned developers. A survey by Developer Economics indicated that Android as a platform is seen as the preferred option significantly among developers. Although Apple iOS always had a good community of developers, Android has for sure pulled a major share, primarily due to its open source nature, ease of Google Support, documentation and the growing technical community willing to assist programmers & developers
Structured Android Training in 2014?
A structured training program helps in learning Android holistically. The instructor can assess the knowledge of a student on Java, XML etc., also guide the student to set up the environment, helping students to learn to fend for themselves when they are stuck.
The 6 modules Android Development course is primarily designed for beginners and experienced programmers who want to learn how to create applications in Android. The step-by-step video lessons start from Java Essentials for Android and cover all that one needs to learn to develop professional Android Apps.
To get trained on Android one has to have some prior experience on Java and Object Oriented Programming.  If someone is not too familiar with Java or OOPS concepts, they can be covered as a prerequisite in the initial few classes of the training.
Stages in Android Training
Stage 1: Android Training provides insight and hands-on to develop applications which are rich in features, robust and provide good user experience. It helps in understanding the basic structure of Android operating system. The next step is to learn about the user interface design and development of Android apps.
Stage 2: It then moves into communication and media to create applications with multiple activities and you can convey information among multiple activities, to be able to use audio and video files in your project and generate notifications in Android.
Stage 3: Post this, the focus is on storage and animation techniques to create applications, which can make use of internal and external storage (SD Card). One can learn how to use Animation in Android and the interesting DrawingBrush Application will be explained in detail.
Stage 4: Web Services and customization of widgets form an important cog in the wheel to learn Android so as to parse JSON data in one's applications and learning widget customization with buttons, spinners and  list/grid views.

Stage 5: Finally, one learns to Android Applications powered by SQLite Databse and deploying them in the Google Play store.
Future of Android
There are several companies, which are actively working on Android. So what would Android be like in the next five to ten years? Android is expanding; it's not just a platform now, but is also making its mark in non-mobile markets, such as the Internet of Things, television, wearable and so on.
There are reports that Android is going for a huge redesign. These reports indicate that Google is working on a new design language that will give all Google apps a unified look-and-feel across the web, Android and iOS. This design framework, called as "Quantum Paper" is being released to a selected group of developers and design firms. Google has also released a new framework for developers called "Polymer" to help meet the new guidelines.
 At the Google I/O this year, they introduced a new design language called Material Design. This is Google's first design manifesto, and elaborates on how they see users interacting, with everything from watches to cars, which is another step in going beyond smartphones and tablets. So, the developers, keen on learning the Android of future, need to be cognizant of this.
Google has also introduced the Android L at the I/O this year. Android L introduces a refreshed notification system. It also contains a new platform for developers.
Got a question for us? Mention them in the comments section and we will get back to you.
Related Posts:
Android – the most sought after platform
ISRO Scientist learns Android!