The challenge of life, I have found, is to build a resume that doesn't simply tell a story about what you want to be, but it's a story about who you want to be. – Oprah Winfrey. In this article, I shall take you through creating an impressive Tableau Developer Resume that will help you grab your dream opportunity.
The post shall be broken down into the following segments;
So, If you're here, I believe you now have a good understanding of what is Tableau and how it works. Never forget that you only have one opportunity to make the first impression in front of the recruiters with your resume, so be sure to make the best use of it.
If not, I would suggest you go through our Tableau Tutorial to understand Tableau and the skills required to become a successful Tableau Developer;
Tableau Developer Job Descriptions
Now, it's only fair to show you a couple of job descriptions before I explain how a Tableau Developer resume looks like.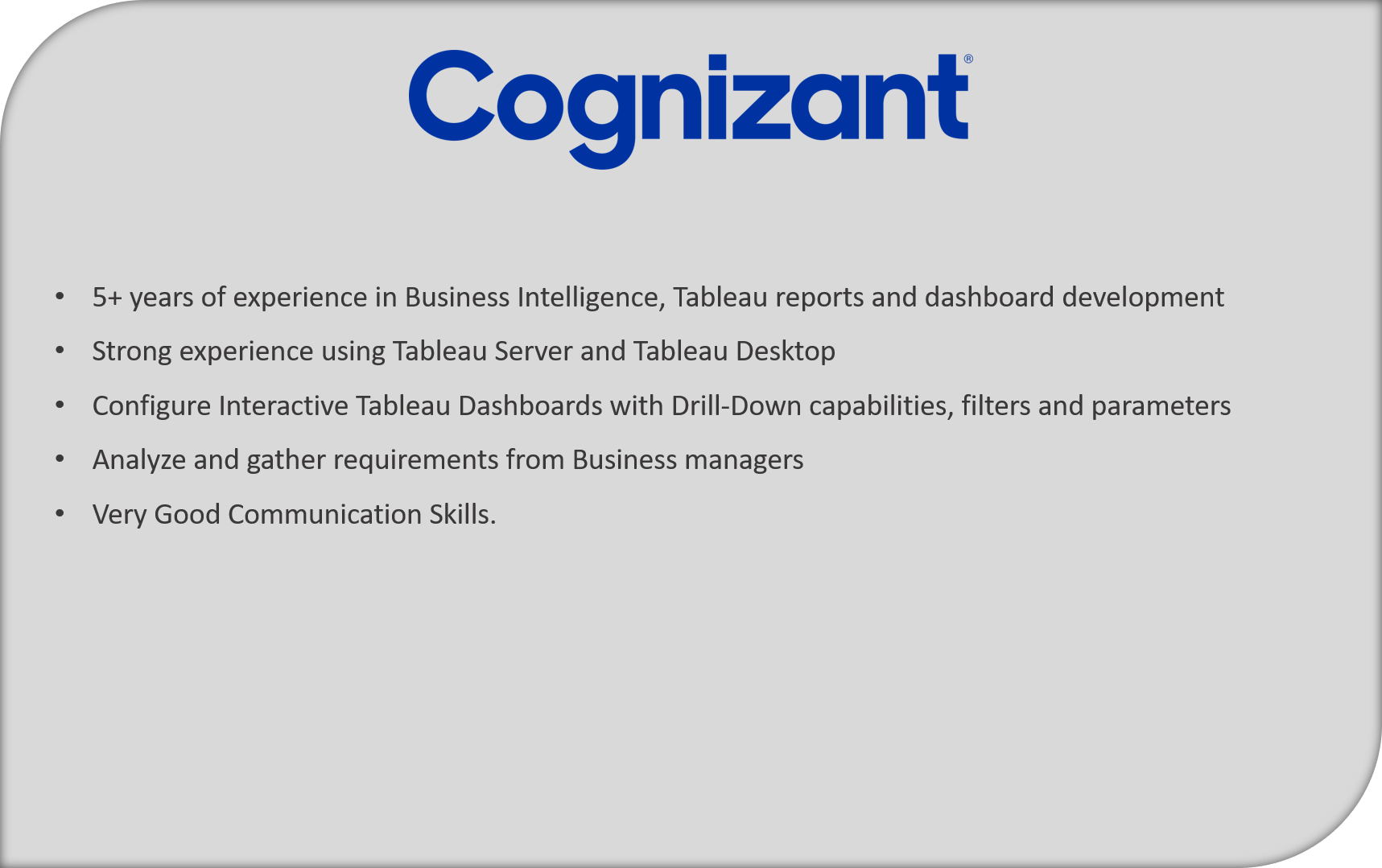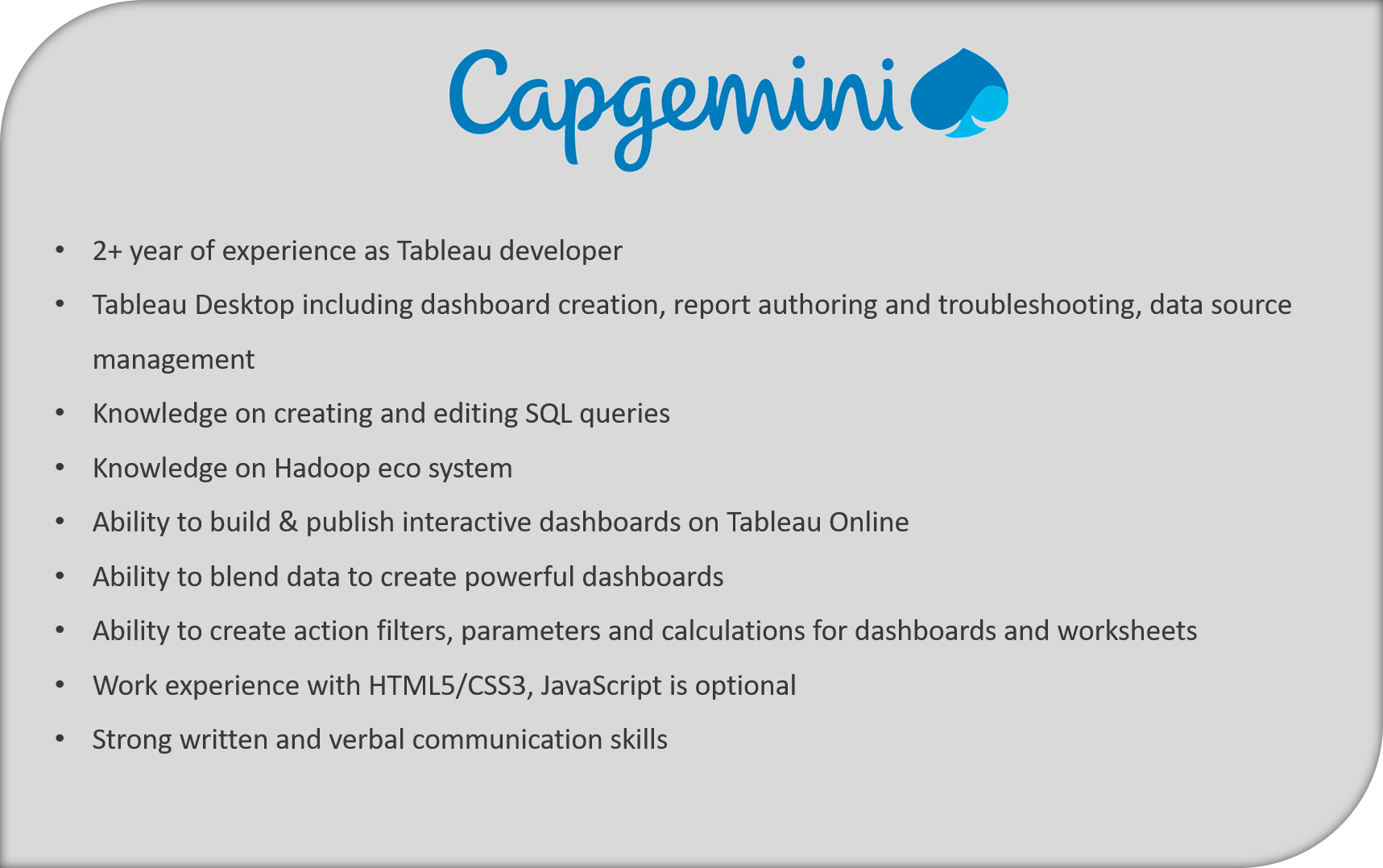 Now there are a few key skills that might have caught your eye from both of these job descriptions.
A Tableau Developer should possess the following skillset;
Tableau Developer Resume Example
Now, let us create a sample Tableau Developer resume. You can alter it based on your experience and the job requirement.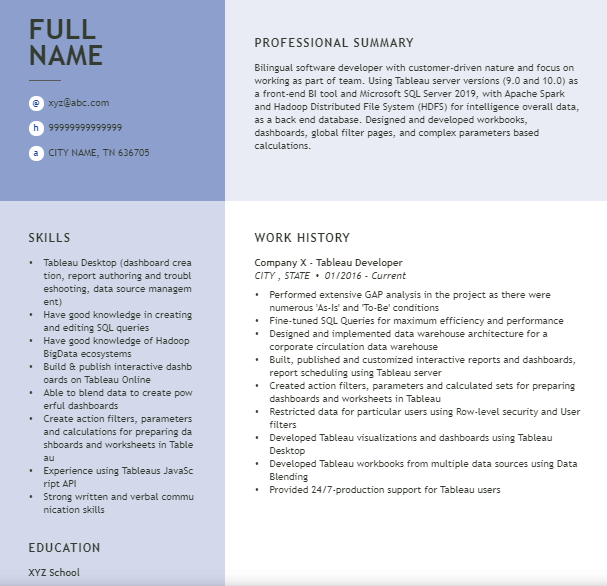 Future & Scope of Tableau
One reason why tableau stands out amongst its contemporaries is that there's a good variance of choices in terms of connectivity-starting from spreadsheets, databases and even massive knowledge. Plus, you'll access warehouses, cloud applications like Salesforce, and even connect with cloud information using Amazon Redshift.
Tableau will connect with any knowledge you'll probably admit. except for this, Tableau is provided with an internet knowledge instrumentation, and it's wont to pull API directly from the net so as to attach any desired knowledge supply.
With new cutting-edge features in the tool such as launching hybrid data connectivity for the cloud and live query agent acting as a tunnel to on-premises data, the scope for Tableau is broadened with every version update.
In conclusion, I'd say, the opportunities for Tableau Developers are endless. So go ahead and get started with Tableau.
Edureka's Tableau Certification training is aligned with the Tableau Qualified Associate Level Examination. It is specially curated to help analytics and data professionals create insightful visuals, dashboards, perform scripting, and create Network Diagrams on Tableau to present the data in a much better and insightful manner. The live and interactive course is co-created by industry practitioners and covers critical aspects of data visualization with Tableaus such as conditional formatting, scripting, linking charts, dashboard integration, and Tableau integration with R.