Operations management is the study and practice of managing the operations of a company or organisation. It encompasses everything from the strategic planning of operations to their day-to-day management of them. Operations management is critical for any organisation, ensuring that all operations are running efficiently. This blog post will explore the syllabus, courses, and certifications in operations management. It will give you insights into what is required to pursue a career in this field and whether it is the right fit for you.
What is Operations Management?
It is the process of managing the day-to-day operations of a business. It includes overseeing the production of goods and services and managing the supply chain and resources. Operations managers work to improve efficiency and quality control while also ensuring that all safety regulations are met.
An operations manager's role is vital to a business's success. They are responsible for ensuring that all aspects of the operation run smoothly and efficiently while meeting customer demands. Operations managers must have strong problem-solving skills and must think on their feet to make quick decisions in a fast-paced environment.
A successful operations manager must possess excellent leadership qualities and be able to motivate a team. They must effectively communicate with other departments and with external suppliers and customers.
Also Read: Operations Management: Strategy & Impact
Scope of Operations Management in India And Other Countries
Operations management is an important and often undervalued business discipline. It's responsible for coordinating, planning, and executing all activities related to a company's operations. It includes everything from product design and development to resource allocation and customer service. The scope of operations management in India has been expanding over the past few years as companies strive for higher levels of efficiency and productivity.
In India, operations management is critical in the manufacturing, retail, hospitality, and finance industries. With the rise of e-commerce and digital technology, more companies are leveraging operations management to streamline processes and ensure optimal customer service. Indian organisations have also embraced new technologies such as artificial intelligence (AI) and automation to make operations more efficient.
In other countries, operations management plays an essential role in many different industries. For example, in the United States, many large companies use high-tech systems to track inventory levels, optimise supply chains, and monitor customer service performance. In Europe, operations management is becoming increasingly popular as organisations adopt new approaches to enhance efficiency and performance.
No matter the country or industry, operations management is an essential business discipline that can help companies achieve greater success. By streamlining processes and leveraging new technologies, operations managers can ensure that their organisations are running at peak levels of efficiency and profitability. As the scope of operations management continues to expand in India and other countries, so too will it's potential to help organisations reach new heights of success.
The operations management profession is also growing in popularity as more and more students pursue it as a career. With the increasing complexity of business processes, operations managers are becoming increasingly valuable assets to companies across India and around the world. For those interested in a career in operations management, there are many opportunities to learn and grow. From specialised certifications to master's degrees, those interested in taking their careers to the next level have plenty of options available.
What Are The Different Entrance Exams For UG & PG of Operations Management?
CAT:

The Common Admission Test (CAT) is the entrance exam for MBA/PGDM. It is carried out by the (IIMs) Indian Institutes of Management on an alternating basis every year.

XAT:

The Xavier Aptitude Test (XAT) is another popular entrance exam for admission to PG programmes in management, including Operations Management. XLRI Jamshedpur conducts it on an annual basis.

MAT:

The Management Aptitude Test (MAT) is a national-level entrance exam for admission to MBA/PGDM and other management programmes. It happens four times a year in both online and offline modes.

CMAT:

The Common Management Admission Test is a national-level entrance exam carried out by the National Testing Agency. It is held once a year and offers admission to various management courses, including Operations Management.

JMET:

Jawaharlal Nehru Technological University Hyderabad conducts the Joint Management Entrance Test (JMET), a popular entrance exam for admission to various management programmes, including Operations Management.

NMAT:

The Narsee Monjee Management Aptitude Test (NMAT) is an entrance exam carried out by the Graduate Management Admission Council (GMAC). It is open to all graduates and postgraduates who wish to pursue a career in Operations Management.

ISMAT:

The Indian School of Management and Technology (ISMAT) conducts its entrance exam, the ISMAT Entrance Exam, for admission to Operations Management courses.

ATMA:

The Association of Indian Management Schools (AIMS) conducts the AIMS Test for Management Admissions (ATMA). It is an all-India level entrance exam for admission to various management and operations management courses.

IBSAT:

The IBS Admissions Test (IBSAT) is carried out by the ICFAI Foundation for Higher Education (IFHE), Hyderabad. It is a popular entrance exam for admission to MBA/PGDM programmes, including Operations Management programmes.

Operations management is the business area concerned with producing and delivering goods and services. It includes the management of resources, processes, and information systems.
Syllabus for Operations Management: What are the Course Subjects in Operations Management?
Operations management is the field of business that is responsible for the planning, scheduling and controlling of production and manufacturing processes. It includes the strategic and day-to-day decision-making that ensures that an organisation's operations are efficient and effective.
The course subjects in operations management can vary depending on the program or school you attend but typically include topics such as supply chain management, project management, quality control, statistics, and accounting. There may also be courses specific to the industry you wish to work in, such as healthcare or hospitality.
It is a field of study that focuses on the efficient and effective use of resources to ensure the successful operations of organisations. It covers various activities, including inventory management, distribution systems, quality assurance, customer service, forecasting and planning.
The subjects studied in an operations management course typically include: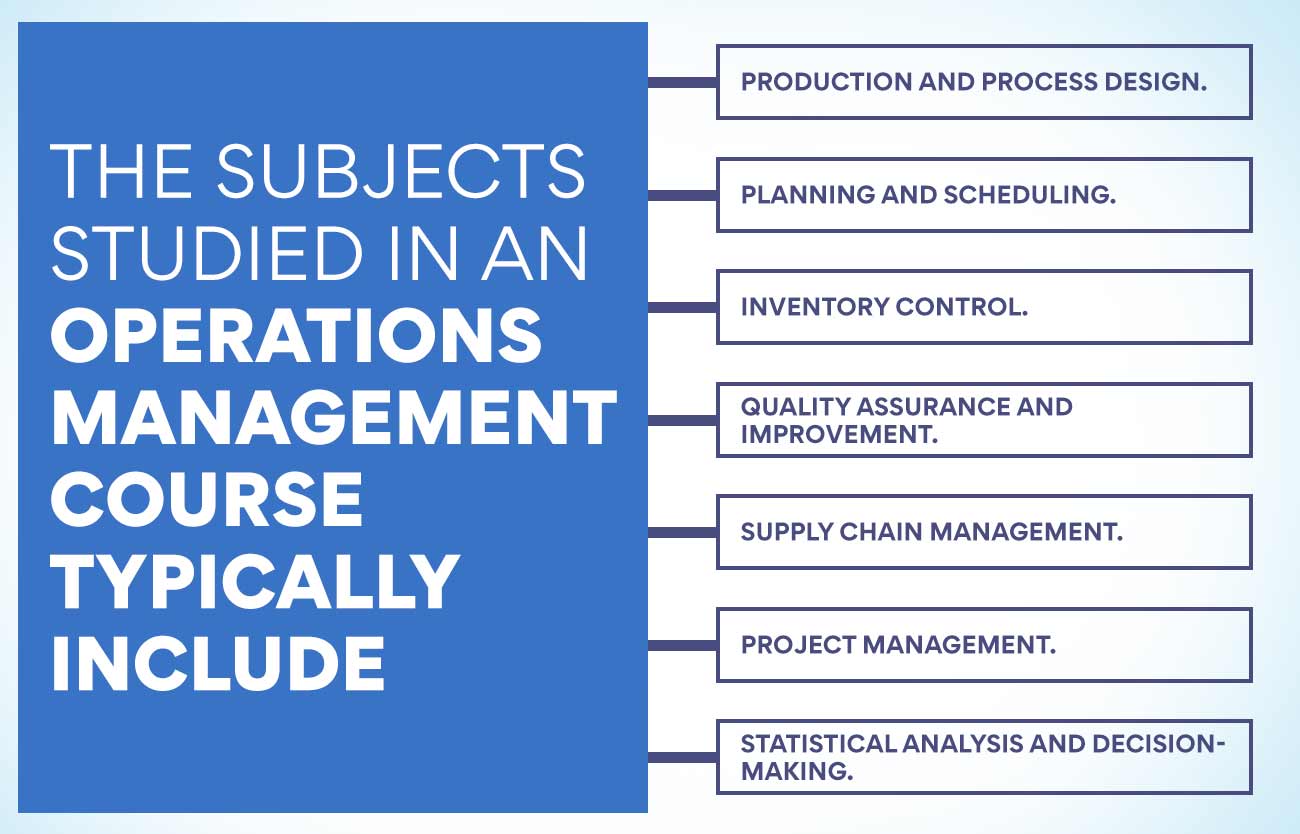 Production and process design.

Planning and scheduling.

Inventory control.

Quality assurance and improvement.

Supply chain management.

Project management.

Statistical analysis and decision-making.
Operations managers oversee the day-to-day operations of organisations to ensure that they run smoothly. Therefore, courses may also cover leadership skills and effective communication, cost control, goal setting and problem-solving.
In addition to operational management principles, an operations management course may also discuss concepts such as total quality management (TQM), Six Sigma, Just-in-Time (JIT) production systems and Lean manufacturing. These topics are significant for managers in today's globalised and competitive business environment.
Operations management courses often emphasise the use of technology in operations, including information systems and software applications that can help streamline processes and increase efficiency. Students may also learn how to design effective organisational structures and workflows to improve productivity.
Ultimately, an operations management course teaches students the skills they need to manage an organisation's operations successfully. By understanding and applying the principles of operations management, students can become better equipped to be effective and efficient managers.
What Are The Different Career Options After Operations Management Course?
Operations managers are responsible for the smooth running of a company's operations. They plan, coordinate, and control the resources and processes needed to produce a company's goods and services.
Operations management is a broad field that offers many different career options. Some operations managers work in specific industries, such as healthcare or manufacturing. Others may specialise in areas such as supply chain management or project management.
The skills learned in an operations management course can be applied to many businesses. Students who complete an operations management course should have a good understanding of how businesses operate and can use that knowledge to improve efficiency and effectiveness.
If you have completed a course in operations management, you may wonder what career options are available to you. There are many different paths open to you.
Check out the most common career paths for someone with an Operations Management degree: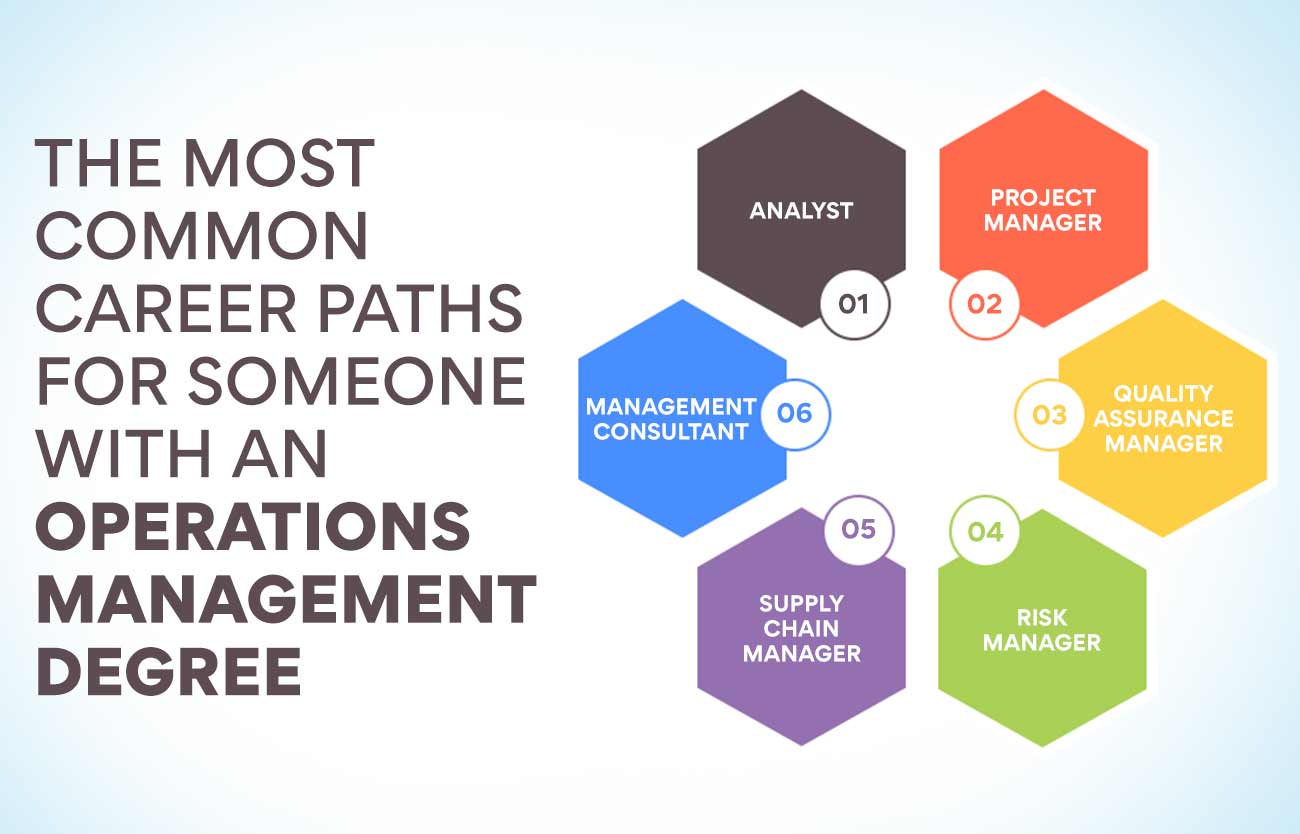 Analyst:

If you pay meticulous attention to detail and have a skill for problem-solving, you may want to consider becoming an Operations Analyst. Analysts gather data, analyse processes and operations, and make recommendations to improve efficiency.

Project Manager:

Project Managers are in charge of supervising all the aspects of a project. They must be able to plan and execute projects, manage resources, coordinate tasks, and monitor progress.

Quality Assurance Manager:

Quality Assurance Managers ensure that all products meet customers' expectations and requirements. They must be able to recognise potential problems and take the necessary steps to prevent them from happening in the first place.

Risk Manager:

Risk Managers are responsible for identifying potential risks and taking steps to mitigate them. They must be able to analyse risk factors, develop strategies to reduce potential losses, and monitor operations to ensure that risks are minimised.

Supply Chain Manager:

Supply Chain Managers manage the entire supply chain. It includes managing inventory levels, optimising delivery routes, and ensuring that products are delivered on time and within budget.

Management Consultant:

Management Consultants are hired by organisations to help them increase efficiency and reduce costs. They conduct research, analyse data, recommend solutions, and develop strategies to help companies improve their operations.
Whichever career path you choose to pursue, an Operations Management degree can open up a realm of new opportunities. With the right skill set and experience, you could soon lead projects and drive efficiency in your chosen field.
Explain The Syllabus For Operations Management
Operations management is the study of how businesses produce goods and services. It includes managing the process of turning raw materials into final products and managing the distribution of those products to customers. Operations management aims to streamline these processes to be as efficient and productive as possible.
Operations management is a course designed to provide students with the knowledge and skills to manage an organisation's operations effectively. The syllabus usually covers process analysis, capacity planning, quality management, inventory control, production scheduling, and project management.
It may also include topics related to supply chain management and logistics. Depending on the institution, the course may also include lean management, risk management, and/or sustainability topics.
The syllabus typically begins with an overview of operations management and its associated concepts. This is followed by a discussion of process analysis, which involves understanding how efficiently resources are used in the production process. Afterwards, students learn about capacity planning, which involves assessing the optimal use of available resources.
Inventory control is another key topic in operations management syllabi. Students learn about different inventory models and techniques for monitoring stock levels. Quality management is also discussed, which covers topics like ISO 9001 and Six Sigma. Production scheduling follows, covering topics like job sequencing and scheduling algorithms. Finally, students learn about project management, which covers topics such as the planning and execution of projects.
The syllabus for an operations management course may also include topics related to supply chain management (SCM). This includes understanding external factors that affect SCM, analysing the cost of inventory and transportation, and managing customer relationships through effective supply chain processes. Finally, some syllabi may include topics related to lean management and/or sustainability.
Overall, the syllabus for operations management is designed to offer students the necessary knowledge and skills needed to become effective operations managers. By covering a wide range of topics, students can gain a comprehensive understanding of the field and its associated concepts.
It is important to note that the syllabus for operations management courses may vary from institution to institution. Therefore, checking with your instructor or school for an up-to-date syllabus is important. It will ensure you have all the information needed to be successful in the course.
Also Read: What Is Product Design In Operations Management?
What Are The Different Certifications For Operations Management?
There are several different professional certifications for operations management, each with its specific focus and area of expertise. The most popular and widely recognised certification is the Certification in Production and Inventory Management from the Association for Operations Management (AOM). Other popular certifications include the Certified Supply Chain Professional (CSCP) from APICS, the Six Sigma Black Belt from ASQ, and the Project Management Professional (PMP) from PMI.
Each of these certifications has different requirements in terms of eligibility, experience, and education. However, they all require passing an exam to receive the certification. Additionally, many of these certifications must be renewed within a few years to stay current.
Operations management is a critical area of expertise for any organisation that seeks to optimise its production and inventory processes. These certifications can help individuals stand out and demonstrate their commitment to excellence in this field.
Conclusion
Operations management is a critical aspect of any business, and many resources are available to help you learn more about it. This article has provided an overview of operations management and some key concepts. It has also outlined different options for learning more about this critical topic, including syllabi, courses, and certifications. Increasing your knowledge of operations management will undoubtedly benefit your career regardless of which route you decide to take.
Want to discover more about a specific topic in operations management? Check out our Advanced Certificate in Operations, Supply Chain and Project Management, which covers all the key topics in the field. You can also find out about our courses and other learning resources on our website.
More Information:
Roles and Functions of Operations Management
What Are The Objectives Of Operations Management?
What is Operations and Supply Chain Management (OSCM)?