The supply chain is the most complex operation in a business. There are multiple components and people involved in this task. Most supply chains also include entities from outside the companies. That makes it even more difficult to keep track of all the activities in the process. But if the various participants in the job cannot have an overall view, it may sometimes lead to disruptions. Everyone may not be on the same page, and this can cause them to have different goals. Good supply chain visibility is the solution to avoid such a situation.
Understanding Supply Chain Visibility
The supply chain has many components, and in recent times, companies have resorted to outsourcing various jobs. It has led to a reduction in costs, but the chain's visibility has become more difficult. Suppose the company is unable to see how each component of the supply chain functions, it will be difficult to handle disruptions in the system. To solve this problem, companies set up systems that will improve supply chain visibility, leading to more transparency and efficient functioning. It also helps the company to enhance internal business processes.
Supply chain visibility applies not just to the internal elements but also partners like suppliers and distributors. It involves all movements from raw materials till the finished goods reach the customers.

Modern supply chains are more complex as companies source raw materials from around the globe.

Having visibility of the complete supply chain helps in better customer satisfaction, improved relationships with suppliers, a more efficient supply chain and increased profits.

Improving visibility across the supply chain is possible by automating the processes, including software packages and making better decisions from insights gathered from the data.
Understanding supply chain visibility is essential to make one an efficient logistics management. The Advanced Certificate Course In Operations, Supply Chain and Projects Management is an excellent program to learn more about this. You can visit our website and understand what the course teaches and how it benefits you.
Also Read: What is the difference between logistics and supply chain management?
Why Is Supply Chain Visibility Important
Tackle Complexity – The modern supply chain is highly complex, with suppliers and customers spread across many countries worldwide. It means that every activity in the chain must always be on track. Supply chain visibility offers complete transparency that helps to solve problems in the chain immediately, ensuring customer satisfaction and preventing erosion of profit margins.
Ensure Customer Satisfaction – Today's customers are very demanding. They expect immediate delivery of quality products. Complete visibility of the supply chain helps ensure that the right products are available at the right locations to make quick deliveries. It helps to retain customers and acquire new ones.
Remain Compliant -There are various rules and regulations that companies must follow. It is a difficult task, especially for those firms that have dealings beyond the border. Supply chain visibility helps to keep track of all changing components in the supply chain, like changing rules, exchange rates and weather conditions. It will ensure that you remain compliant in all matters.
Remain Competitive – Supply chain visibility helps companies remain competitive. As the competition heats up, companies need to maintain reasonable prices that may not offer a high-profit margin. The supply chain eats up a significant portion of every company's budget. But having a complete view of the process helps to make savings wherever possible.
10 Tips To Improve Supply Chain Visibility
The modern customer is highly demanding, with expectations of near-immediate delivery of goods and real-time tracking of goods. This has forced managers to review their supply chain operations and see how they can improve visibility across the process.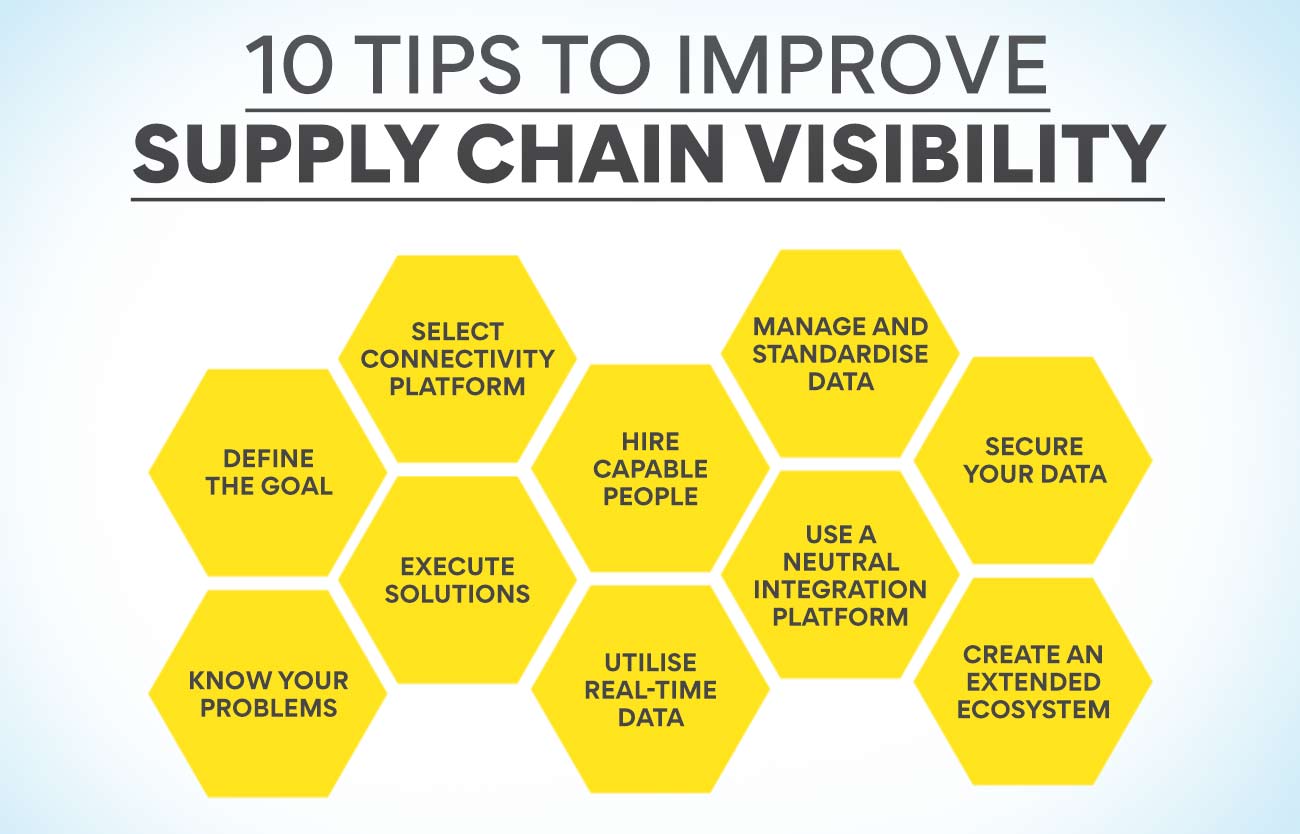 Define The Goal
You should start your supply chain visibility process by defining the goals. What should such visibility mean to the customers? It is necessary to decide what experience companies want their customers to have. Companies must also lay down what results they want to achieve by improving visibility.
Select Connectivity Platform
The platform you choose is very important to ensure good visibility. The program should allow all entities in the supply chain to have easy access to information. It should allow you to gather data for analytics.
Hire Capable People
Having the most advanced program for improved supply chain visibility is not enough. You must have people who can use the data that the system generates to gain insights into the operation. This will help make better decisions. If such people are not already present in your company, it is best to recruit those who have an analytical mind and can interpret data to arrive at smart decisions.
Manage And Standardise Data
Companies must have a clear data strategy to improve visibility across the chain. It is necessary to decide how the firm will use the data and what models will be created. The organisation must also decide how it will translate the insights into decisions.
Secure Your Data
All the entities in the chain must trust the data that is generated by the system. This means that there must be adequate security for the information that is shared by the players in the chain.
Know Your Problems
If you desire to improve your supply chain, it is essential to know the problems in it. With good supply chain visibility, it is possible to get information that helps to find out where the issues occur and also manage the problems. This is sure to keep customers happy and improve your profits.
Execute Solutions
Where there is ample visibility across the chain, and you know where the problems lie, it is essential to make quick decisions to solve them. The company must also act upon those decisions without any delay.
Utilise Real-Time Data
With increasing business, companies are bound to see a large amount of data being generated by the system. They must be able to use this information on a real-time basis if they want to improve their supply chains. Supply chain visibility helps in providing real-time information to all the partners in the chain.
Use A Neutral Integration Platform
Companies must be able to easily scale up or down and quickly adjust and speed up the development of new capabilities. It requires the installation of an Enterprise Integration Platform that allows companies to integrate without consideration for the execution system.
Create An Extended Ecosystem
Increasing the capabilities of your system is one thing. But the company must be able to take a collaborative approach to managing the supply chain. It is best to create an extended ecosystem that will bring the capabilities of all the partners into a single ecosystem.
Now that we have seen what supply chain visibility is and how to improve it, the time has come to consider this process's importance. One can study it in detail at the Advanced Certificate Course in Operations, Supply Chain and Project Management. A visit to our website can enlighten you more about this program.
Types Of Supply Chain Visibility
There are various areas where visibility will benefit organisations. This will vary from company to company. However, some parts of the supply chain can be considered by almost all firms for improved visibility. There are four main types of supply chain visibility based on the components where visibility is improved.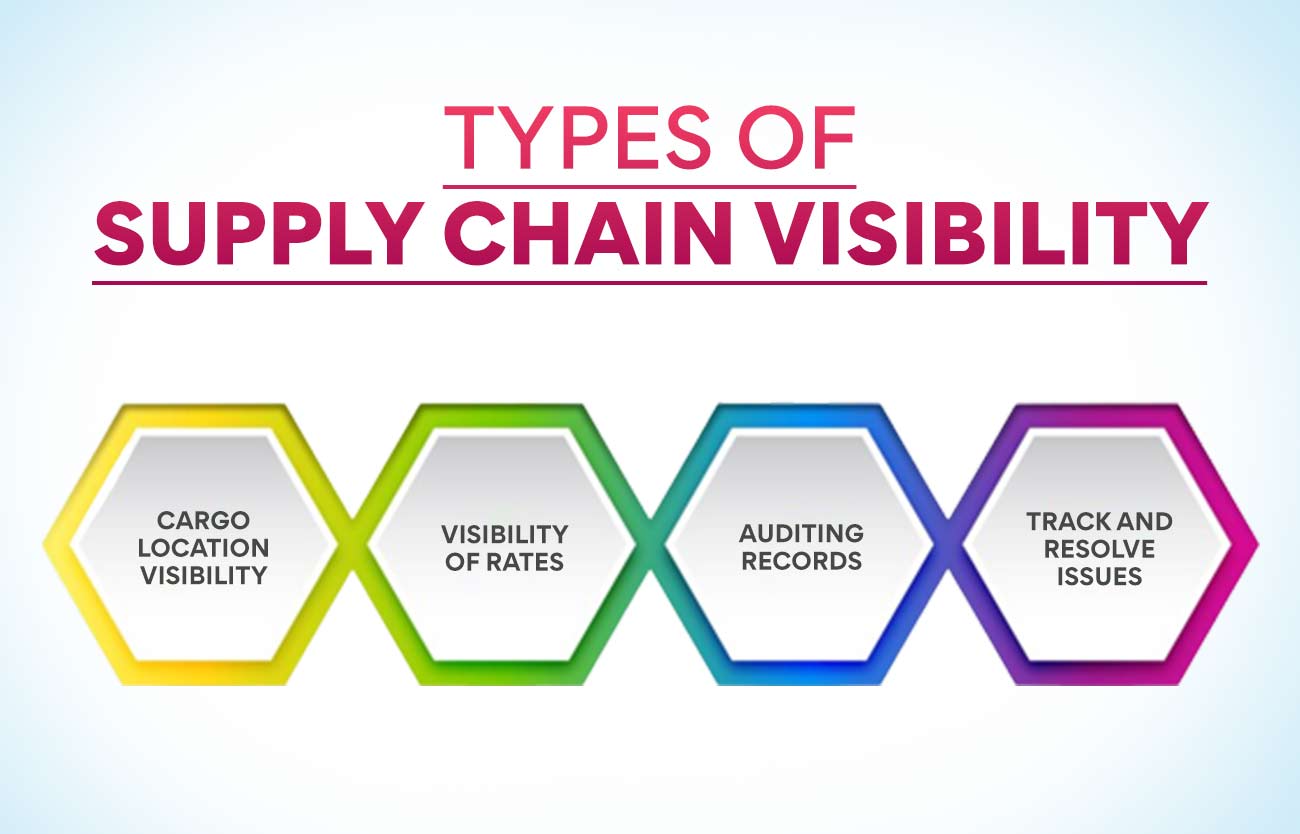 Cargo Location Visibility
Knowing the exact location of the products is very useful. When the position of goods is unknown, it helps the company plan repurchases and also stays on top of collections. It also helps to keep the stakeholders informed of the exact status of the order. It is very important to understand how fast orders are being fulfilled. Such visibility also helps in the overall improvement of operational efficiency. But the main benefit is that customers can know the exact status of their orders as this has become one of their main demands.
Visibility Of Rates
Rates in supply chains are defined as the cost incurred for the transportation of goods. It is a major expense, and all companies would like to be informed of it constantly. As businesses grow and more customers are earned, companies increase the number of carriers and locations. It becomes difficult to monitor this closely. Supply chain visibility helps companies keep a close track of such expenses. It helps to reduce the costs wherever possible resulting in improvement of profits. Such close tracking of expenses also aids in preparing the cost-benefit analysis.
Auditing Records
Companies that operate across several countries must follow a variety of regulations. It is not easy keeping pace with all these and ensuring that they are always compliant. This is easy when there is better transparency in the auditing process. Improved visibility into the supply chain helps companies have a better view of all the transactions and documentation. It helps the company inspect all past orders and validate them. Supply chain visibility is crucial for keeping the company compliant with all rules.
Track And Resolve Issues
A complete view of your supply chain shows every activity that has happened in the process. Total transparency helps to check every quote, order receipt, bill of lading and proof of delivery. It means that everyone involved in the process can see if there has been any issue in any part of the supply chain. This helps to address problems immediately and solve them quickly.
Also Read: Objectives Of Supply Chain Management Explained
Benefits Of Supply Chain Visibility
Quick Response To Problems
Supply chain visibility allows you to see the problems as soon as they arise. The company can track the source of the issue and ensure that it is properly solved. Good quality control and compliance platforms help firms collect data on a real-time basis and provide immediate communication. This means that the quality control team can watch the inspection as they happen and respond to any deviations as and when they happen. Having updated data helps them convey their decisions immediately. Such collaboration between the teams helps save time and ensure that every item conforms to quality standards.
View Supplier Performance
Having enough data about the product quality will also help to know the presence of any deficiency on the part of the suppliers. Having a large amount of data provides insights into changes in product quality and supplier performance. This may not be evident in disjointed inspection reports. Supply chain visibility allows you to see every supplier's performance at a glance. One can also see the corrective actions taken and whether the suppliers have implemented the recommended changes. Based on this information, companies can reward high-performing suppliers and drop those who don't improve.
Consistent Quality And Regular Improvement
Supply chain visibility ensures that all the entities in your supply chain can view the quality standards that you follow. Task-specific quality control checklists will make sure that everyone is on the same page. Even if the suppliers are following the quality standards that the company is following, they may not have experience with the markets that the company is operating. The custom-made checklists in the platform help to deliver better results. It is also possible to train those who are unable to follow the firm's quality standards. This means that the organisation can maintain consistent quality.
To know the various other benefits that the visibility of the chain offers, it is best to join the Advanced Certificate Course in Operations, Supply Chain And Project Management conducted by reputed institutions. Our website can throw more light on the course and how it will benefit every supply chain professional.
Conclusion
The supply chain is a crucial operation in every firm. Any disruption in this process can have far-reaching consequences that affect the company's profits. Supply chain problems can also greatly reduce the customer experience, forcing them to think of other products. The best way to prevent such an occurrence is to have constant monitoring of all tasks in the supply chain. Keeping a close watch helps companies immediately resolve the issue and ensure that there is no cause for customers to complain.
More Information:
What Is The Scope Of Operations Management?
What is Green Supply Chain? An Overview
Green Supply Chain Management: What It Is and Why It Matters?