There are many functions in an organisation, but the one that occupies the prime position is the supply chain. It is because this is what ensures prompt delivery of goods to the customer at the least cost. It helps to satisfy the user and improve profitability for the company. These are the most important goals for any firm. With the increasing demand for reduced delivery time, companies are looking at ways to optimise their supply chain. A good supply chain design is crucial for a smooth transition from raw materials to finished goods and prompt delivery to customers.
You will learn a lot about supply chains and how to design them in the Advanced Executive Certificate Course In Supply Chain Strategy And Operations Management offered by reputed institutions. Our website contains all the details about this programme.
What Is A Supply Chain?
Before looking at how to create a supply chain design we must understand what a supply chain is and how important it is for an organisation. In simple words, a supply chain is a process of producing an item and selling it to customers. It means that all activities, from sourcing the raw materials to reaching finished goods to customers, come under the supply chain. Another important element of supply chains is information. Apart from goods travelling from one end to the other, information must also promptly travel in both directions.
Management of the supply chain is very important because any issues in this function can result in poor quality of goods, shortage of raw materials and finished goods and delay in delivery of goods to the customers. All these can affect the company's profitability and damage its reputation in the market. In a competitive market, organisations must look at ways to reduce costs and meet customer requirements regarding delivery. To ensure the efficiency of the supply chain, the supply chain design must be perfect.
Understanding Supply Chain Design
Supply chain design is the process of making critical decisions about the various elements of the supply chain. A good design will ensure a smooth process and benefit the company. There are various elements in a supply chain, and each must be in the right place for the organisation to benefit from them. The goal of having a good design is to optimise the flow of goods and ensure maximum efficiency. Various factors will influence the creation of the design.
The company must locate its facilities to ensure prompt delivery of goods to the customer at the lowest cost. It must also look at its suppliers' locations before designing the supply chain. Other factors include regulatory requirements, infrastructure availability, and other utilities. Companies must also look at the availability of a skilled workforce when deciding on the production facility. Transportation is another element that influences the creation of supply chain design. Before looking at how to design the supply chain, you need to understand the different supply chain models.
Supply Chain Models
You must get answers to various questions when designing your supply chain.
Where is your market?

Where will you have your production facility?

Where are your suppliers located?

How will you ship the goods?

How will you store and distribute the goods?

How will you manage your inventory?
One must consider the above basic questions when creating a supply chain design. The design must allow you to perform the below activities because they are important to achieve business goals.
Control inventory levels

Reduce cost

Increase efficiency

Meet customer demands

Respond to demand.
Keeping all these in mind experts have designed six supply chain models for different requirements.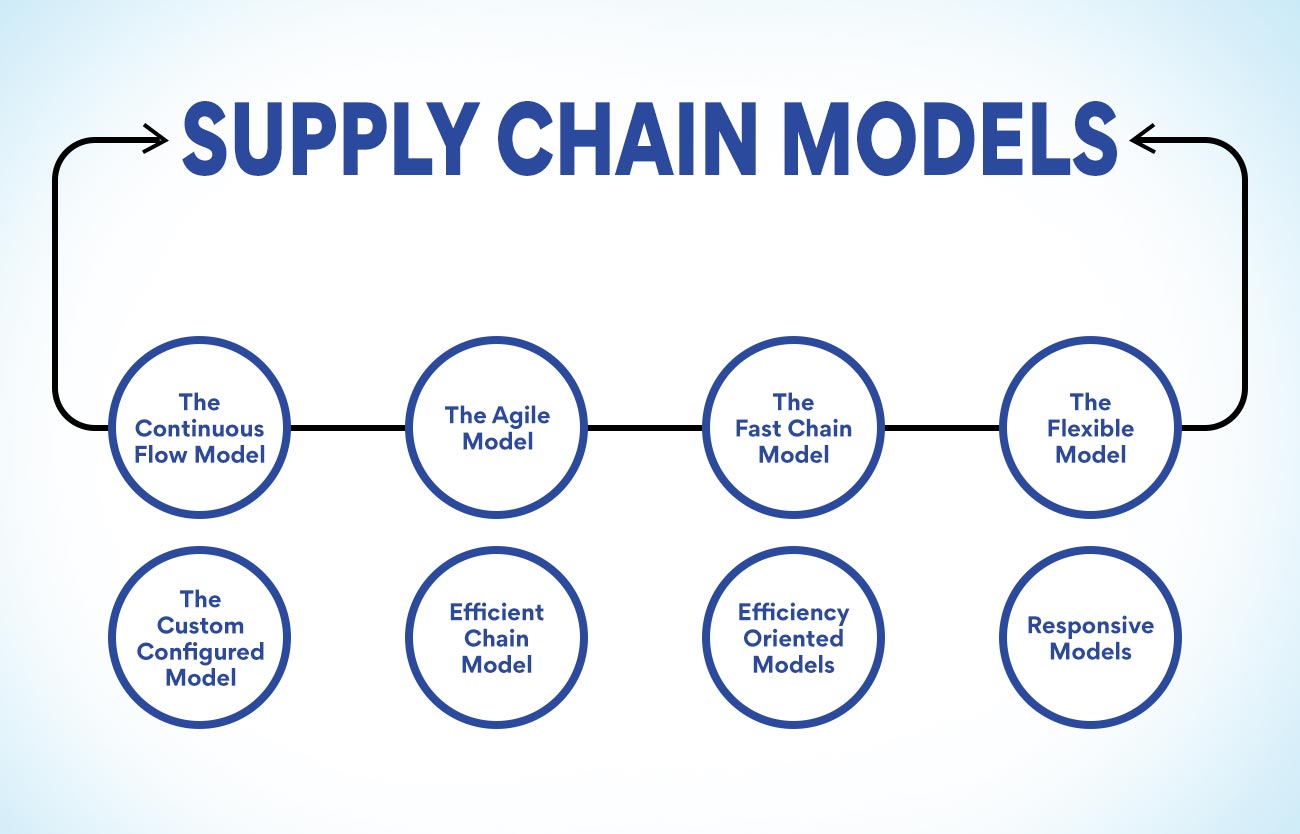 The Continuous Flow Model
This traditional supply chain design is most suited for mature industries with a good level of stability. It is ideal for companies that produce the same item throughout the year. There may be highs and lows in demand for the product and this model allows the company to operate smoothly during both events. This type of design is suitable for organisations having customer profiles that don't change much. The performance of this model depends on continuous demand and supply. The processes ensure a regular flow of information and products.
The Agile Model
This supply chain design supports companies that have highly fluctuating demand. It is also good for those making products on a made–to–order basis. The model's success depends on the company's ability to ramp up production when there is high demand. It must also be able to remain static during periods of low demand. While the production can be increased when needed, this model can make very small batches of the product. A keen eye on the market to know demand changes is essential to use this design best.
The Fast Chain Model
This supply chain design is most suited for companies making trendy items with a very short life cycle. They must be able to quickly produce and deliver the materials to their customers before the trend dies. There is a good amount of flexibility in this design. The company must be able to go from concept to market in a very short time. It must also possess the ability to make accurate demand forecasts. Cost reduction is another aspect organisations must concentrate on as customers demand a low price.
The Flexible Model
This is suitable for companies with periods of high demand and low demand. But there are no unexpected demand peaks for these organisations. They know when the demand will be high and when it will be low. Companies making stationary articles are best for this supply chain design as they have high demand when the schools reopen and then a steady but slow demand during the other months. They can manage this by having diversified suppliers who work on short-period contracts. Having proper algorithms for managing inventory will help them produce only goods that will be sold in low-demand periods.
Also Read: Top 16 Supply Chain Management Interview Questions & Ans
The Custom Configured Model
As the name suggests, this supply chain design is best for companies offering customisation of their products. It is a combination of agile and continuous flow models. Automobile manufacturers use this model. They offer a level of customisation in some parts of the vehicle. This will require keen attention and takes a lot of time for assembly. But the other parts are common for all customers, and this portion of the assembly line can work like the continuous flow model. This model is also suitable for companies offering other products that have a certain level of customisation.
Efficient Chain Model
This model is used by companies that sell products in highly competitive markets where pricing is the main criterion for customers' choice. All the companies making similar products compete for the same set of customers. In this market, the users are not very much concerned about minor product differences between different competitors. What is most important in this supply chain design is that the company must be able to use its machinery to its maximum capacity. They must ensure the optimum efficiency of all assets for a reduced cost. The focus is on inventory management and order fulfilment.
Apart from these supply chain models, they can also be divided into efficiency-oriented and responsive supply chains. The Advanced Executive Certificate Course In Supply Chain Strategy And Operations Management deals with this in detail. You can find all the details about this course on our website.
Efficiency Oriented Models
As the name suggests, these models aim at achieving maximum efficiency in their supply chains. Of the above models, the Efficient Model, the Fast Chain Model and the Continuous Flow model come under this category. These models are used in various industries like paper, steel, cement, commodity manufacturing and budget fashion industries. This supply chain design is ideal where there are many similar products in the market, and the customers are the same for all companies. The focus here is on speed and cost reduction.
These models allow the company to have enough inventory to manufacture products continuously and quickly. The steady demand in the market helps organisations produce goods in bulk. This helps in reducing the cost to a great extent. Most companies using this supply chain design make low-value products that are made in high volumes. These firms don't generally move away from their traditional production lines. Using this model can lead to a build-up of inventory. It may not always be cost-effective.
Responsive Models
The agile, flexible and custom-configured models fall under this category. As you can see all these models have one common factor. The demand is not steady, and there can be a need for customising the product. These models provide excellent flexibility for the company to make changes in the products when needed. This supply chain model is ideal for industries making custom products and trendy items. An example of companies in this category is those making components for different industries.
These models have a lot of advantages as they can change their inventories and production patterns to meet changes in customer demands. But there are also certain disadvantages with this type of supply chain model. They rely heavily on the forecasting capability of their employees to predict trends. If there are employees not fully trained for the job, they can make mistakes that can be very costly for the company. These models require a lot of human intervention. This can lead to incidences of human error.
How To Design The Right Supply Chain?
Having the correct supply chain leads to efficiency, cost reduction and prompt delivery. All these are important for making a company achieve its financial goals. The organisation must create the correct supply chain design to ensure profitability and customer satisfaction. So how do companies design the perfect supply chain?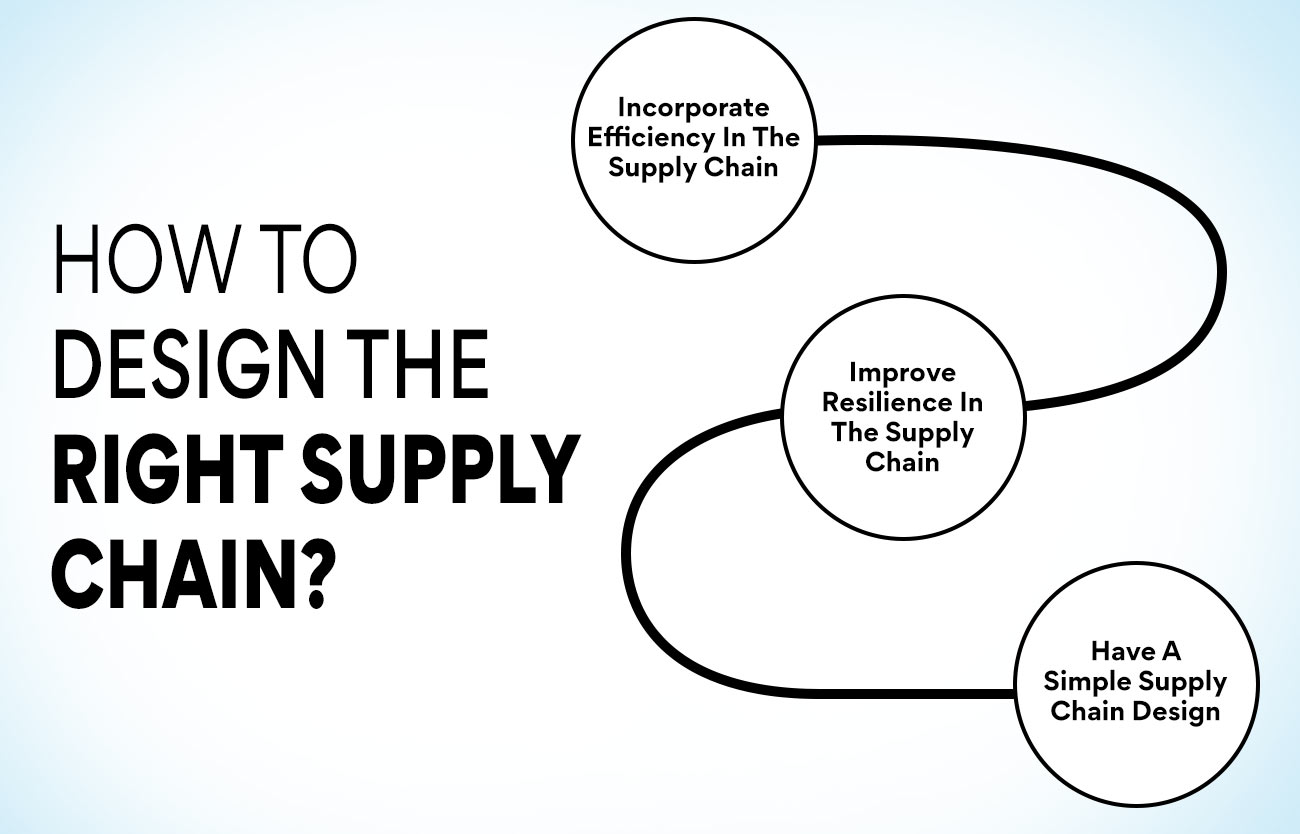 Incorporate Efficiency In The Supply Chain
Efficiency must be in-built into every supply chain design because that is one of the main aims of having a good supply chain model. As the main goal of the supply chain is to reduce costs and improve deliveries, you must ensure that every aspect of your supply chain is efficient. The below steps can help in bringing efficiency.
Understanding Delivery Time – You must have a good idea about how long it will take for raw materials and finished goods to reach their destination. Knowledge about the location of your suppliers and distributors is crucial for this.
Transportation – It is a major component in a supply chain design both in terms of time and cost. Bringing efficiency to this part of your supply chain can greatly improve delivery time and reduce cost. You will end up having happier customers who will come back to you.
Operations – Automation is the best way to improve efficiency and reduce cost. This can be successfully implemented within the distribution centre.
Forecasting & Planning – Forecasting is crucial to the success of your supply chain. There are various modern techniques to improve the accuracy of forecasting demand. This will help you plan your production in a better way and help improve delivery and customer satisfaction. Better planning of production helps to reduce costs.
Improve Resilience In The Supply Chain
Creating resilience in the supply chain helps to improve your operational flexibility. Going into the details of the weak spots in your supply chain design in the initial stages will help you resolve them quickly or formulate contingency plans. This will prevent them from becoming more serious issues later. While building resilience you must make sure that the design incorporates adaptability to disruptions and flexibility in inventory capacity and positioning.
Also Read: What is Supply Chain Visibility? 10 key points
Overcome Disruptions – You must be able to find alternate routes when there is a disruption in your transportation. You must use a different port or another transport mode or modify the shipments to avoid disruptions.
Flexible Inventory Positioning – You must position your inventory strategically based on normal supply and demand. But you must also have flexibility in how and when you can take materials from the stock when there is a demand increase or decrease. It is also better to consider weather changes when positioning your inventory.
Flexible Capacity – Make your capacity change with the seasons. They must also be ready for change depending on the availability of carriers. Ensure that your variable costs can change with supply and demand variations.
Have A Simple Supply Chain Design
Supply chains are complex systems, especially if you have customers out of the country. Your supply chain design must not push more complexity into it. Make the design as simple as possible so that you can operate efficiently with less manpower and overhead cost.
Design For Primary Volume – Create the design for the primary volume you will be selling so that it becomes easy to adjust to changing demands.
Enable Continuous Improvement – A simple design is easy to change with changing requirements of the market. It allows for regular audits and improvement, making it more efficient.
Choose Collaborative Partners – Your partner selection must be made carefully to ensure they will work with you during changing demands.
Ensure Better Visibility – Visibility is important if you want to see what is happening and make adjustments to overcome disruptions. Simple designs come with better visibility.
Benefits Of Designing An Effective Supply Chain
Supply chains are a critical function in an organisation. Designing an effective supply chain will give various benefits to the organisation. Here are some of the important benefits.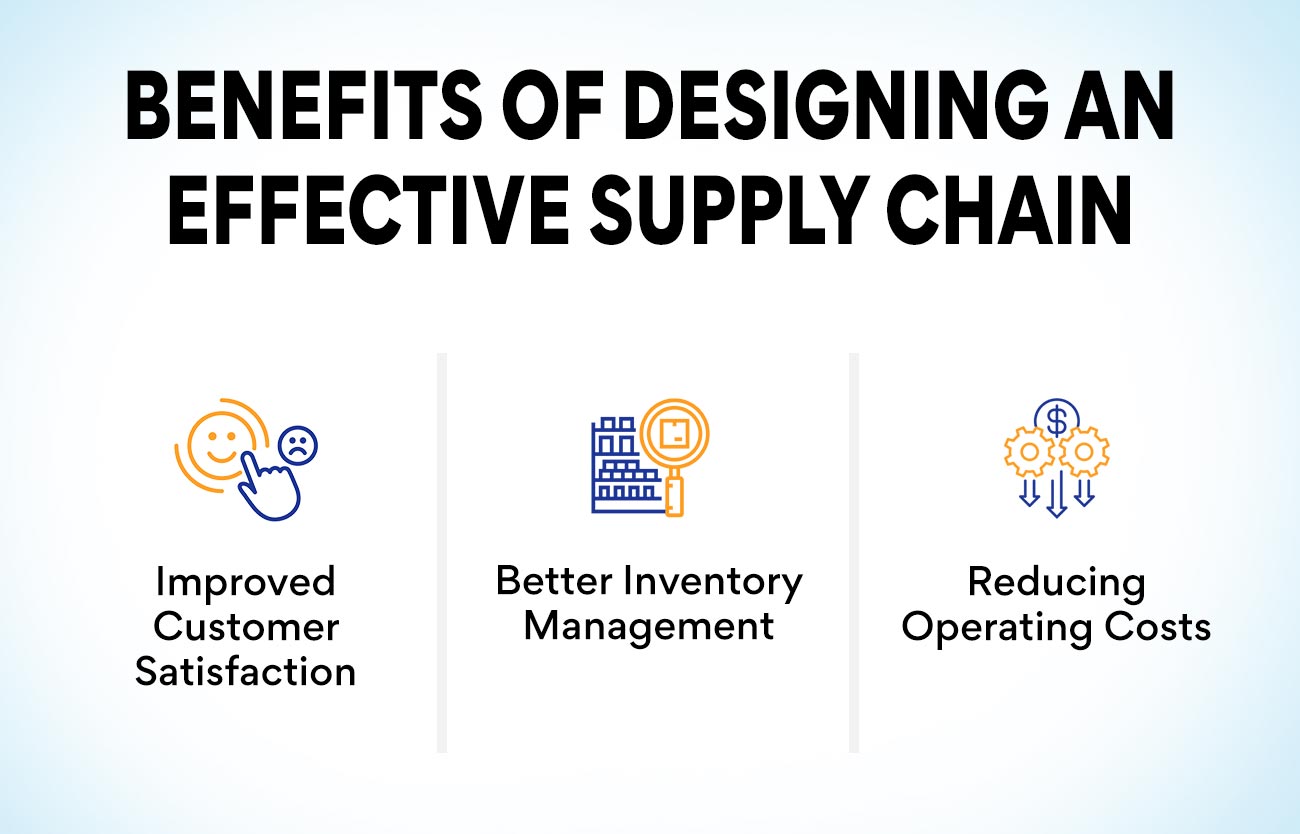 Improved Customer Satisfaction
Customer satisfaction is critical for the success of any organisation. With a better experience, customers are more likely to make repeat purchases and recommend the brand to their friends. One of the main demands of customers today is quick delivery. When you have an effective supply chain design, you can optimise your logistics and distribution system resulting in faster deliveries.
Better Inventory Management
Maintaining correct inventory helps the company deliver goods on time and save costs. When there are enough materials to fulfil all the orders in hand, customers will receive their items on time. Good supply chain design helps in managing inventory correctly and avoiding delays in fulfilling orders. Accurate demand forecasting is a result of good supply chain management, and this ensures the availability of goods when needed.
Reducing Operating Costs
An effective supply chain design helps reduce costs in various ways. Locating the facilities close to suppliers and customers will reduce the transportation cost greatly. Maintaining optimum stocks of both raw materials and finished goods will also help in saving a lot of money. Planning your deliveries well in advance helps to save transportation costs. All these lead to reduced expenses and increased profits.
The Advanced Executive Certificate Course In Supply Chain Strategy And Operations Management deals in detail with the benefits of having a good design for your supply chain. You can learn more about this course on our website.
Summing Up
We all know how critical supply chains are to the profitability of an organisation. An effective supply chain is possible only if it is designed well, taking into consideration all the elements in it. Expert supply chain professionals will design the function in such a way that customers are satisfied, and the company makes good profits. A good supply chain design also ensures better efficiency and lesser human interference resulting in lesser errors. It is possible to create a good design after attending a course in the subject by reputed institutions.
More Information:
What is Supply Chain Consulting? Meaning and Frameworks
What is Supply Chain Finance? A Detailed Analysis
Supply Chain Management And Retail Industry: An Essential Relation
What is supply chain analytics? Importance, usage & examples