Companies need to sell their products and services to achieve their business goals. Before selling their products to customers, they must attract buyers by conveying their product's features and how it differs from competitors. It is called marketing. But it can be effective only if it is used in the right manner by the right people. The company must know who it should target to sell its products.
It must be clear where the product can be sold and how it must be positioned. Having this information and putting them into use is called strategic marketing.
The Executive Diploma Course In Advanced Business Strategies For CXOs deals extensively with this subject. You can learn more about this program on our website.
Understanding Strategic Marketing
Strategic marketing is different from marketing because it aims to differentiate the products from competitors and helps the company achieve its business goals. While the latter is an activity to promote the company and its products to customers, the former aims to show the customers how it differs from that of competitors. Strategic marketing uses the company's strengths to differentiate the firm's products from others.
It also helps the organization achieve business growth and success. The activity aims to ensure that marketing focuses on the right audience and highlights the product's unique characteristics.
The Strategic Marketing Process
The Planning Phase
Without planning, none of your activities will be successful, and this is true with strategic marketing, also. Firstly the company must identify the goals and objectives it wishes to achieve through the activity. The top management must specify the purpose of the business and what it needs to reach the goal.
It is of utmost necessity as none of the following steps will make any sense without this information. Planning will include assessing one's present position and considering the changes and developments in the market. It leads us to the next phase in this process.
The Analysis Phase
Analyzing the company's strengths and weaknesses is crucial for implementing any plan. It is even more true with marketing because, without this information, it cannot decide what markets and customers to target. The company must also do market research to understand the situation in the market and what changes have occurred.
Market research will help the organization understand the demand for the product and which customer segments are best to target. For strategic marketing, such information is vital, and the company should gather as much market information as possible.
The next activity in the analysis phase is to conduct a competitor analysis. It is not enough to know the market; the firm must also know its competitors and the positioning of its products. Knowing the competitors will allow you to know if there are any gaps in the market that your product can take advantage of.
Looking at the testimonials of your competitor's customers will tell you if their products do not fulfill any needs. Creating a product to satisfy those needs can place you at an advantage.
Read More: What Are General Management Courses?
You must also include a study of the target audience in your analysis phase. Not knowing your audience can result in a waste of all your effort. You need to know to whom you are selling your products to make your marketing effective. For implementing strategic marketing, you must have complete knowledge of your target audience and their behavior in the market.
Analyzing all these factors will give you an idea of where you stand vis-a-vis your competitors and help formulate the strategy to outshine others.
Development Phase
You have defined your goals and have complete information about the market and customers. It is now time to develop your strategic marketing plan based on your collected information. Developing the marketing plan is closely related to the general marketing activity. You will define the marketing mix based on your objectives and the results of your analysis.
It is here that you will be defining the four Ps of marketing. It is worthwhile going through them at this stage though they are familiar to everyone.
Product – This is what the company sells to satisfy the customers' needs. It can be a physical product or a service offered by the firm. Though it is the job of the product managers to develop it, the research and analysis in the second phase are used here. Such research will also help to develop a product launch timeline.
Price – The price is the amount you will collect from the customers in exchange for the product. Various factors help the company decide what price it must charge the customers. The company's financial goals, the competitors' prices, the value the product gives customers, etc., are some factors that affect product pricing.
Place – This is where the company will sell its products. Based on the analysis, the company will decide where exactly it can sell the product well. It could be a physical location or on the internet.
Promotion – This is very important because it is essential to get your customers excited about it even before the product is launched. The company must look at the best place to convey information about the new product. Social media platforms offer excellent exposure to products and enhance engagement with buyers.
Implementation Phase
The final phase in strategic marketing is where you will implement your plans. The strategy you have developed based on analysis is implemented in this stage. In this phase, suitable people are assigned to different tasks. It is done after careful consideration of their skills and available resources. They will also be given deadlines to complete different tasks.
The management will set realistic expectations for everyone involved and assess their performance. The team that implements the plan should also document the process in detail. You must also monitor the progress regarding time, resources, and budget.
Evaluation Phase
In this stage, the marketing team will evaluate each step of implementing strategic marketing plans. They must make sure that the steps have been executed correctly. The team must monitor the performance and change plans according to changing market conditions. Sometimes, a deviation from the plan yields better results.
It must also be recorded so that you can make suitable changes to the plan. You can also use it for future reference.
You will learn the strategic marketing process in more detail in the Executive Diploma Course In Advanced Business Strategies For CXOs offered by reputed institutions. More details about this course are available on our website.
Benefits Of Strategic Marketing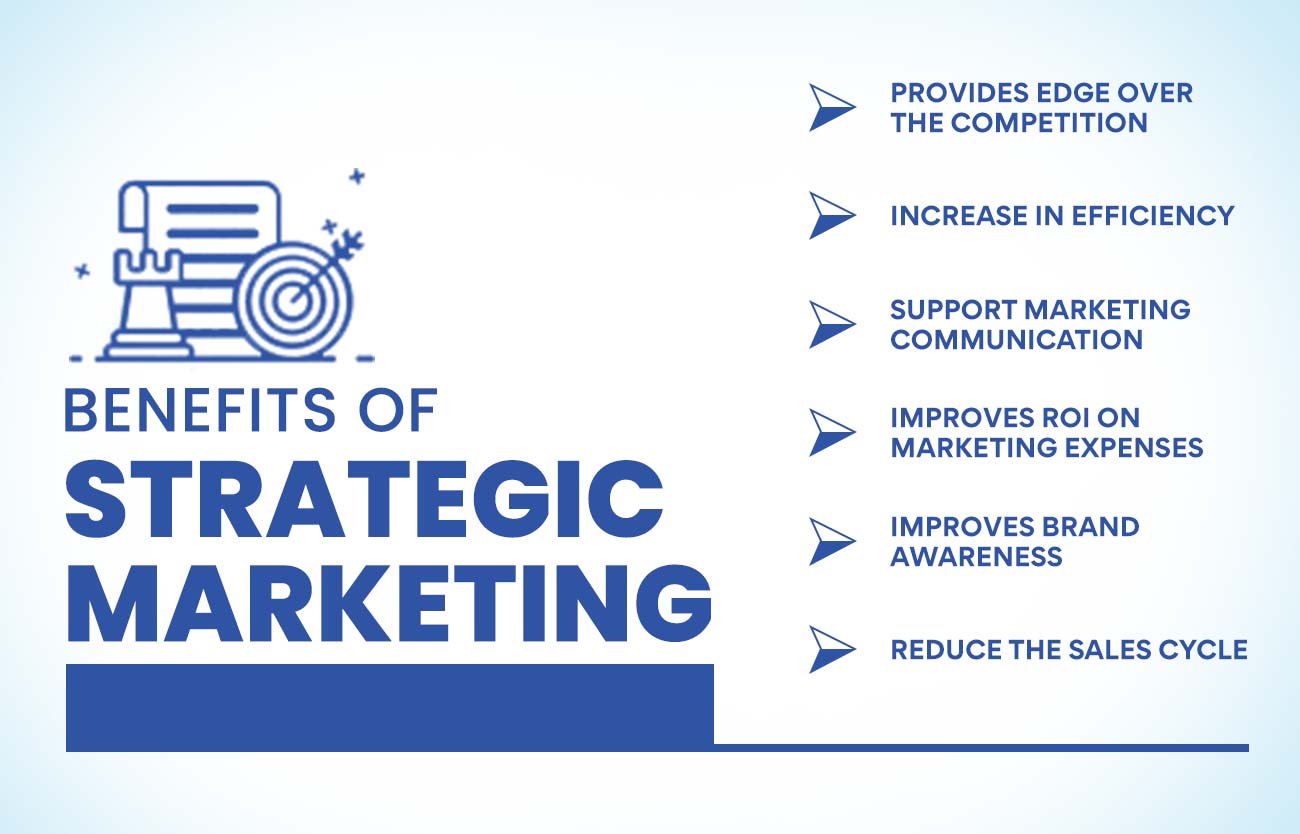 Provides Edge Over The Competition
There is competition for every product in the market. Customers are spoiled for choices so much that every brand has to offer something unique if it wants to survive in the market. In such a competitive market, strategic marketing helps to place your product apart from others.
This activity helps to identify the features and qualities that make it different from others in the market. The product needs to attract customers and continue to grow in sales. It helps the company gain an advantage over the existing competition and new entrants.
Increase In Efficiency
Marketing is an expensive activity, and companies must carefully use resources. They must ensure that every effort spent on marketing the product yields results. The organization must also ensure there is minimum wastage of resources while marketing the product. It is here that strategic marketing plays an important role. It provides the clarity to make better business decisions. Organizations can identify their target audience and the budget for marketing. They can also know what messages will most effectively attract their target audience. As it also helps track performance, companies can reduce wastage and attain more efficiency.
Support Marketing Communication
One of the most important components of marketing is communication. Without conveying messages to the customers, companies can't attract them and get them to try their products. While implementing strategic marketing, the organization is clear about its target audience. It leads to the creation of effective communication aimed at their target audience.
It is not just enough to inform the customers about the launch of a new product. Buyers must regularly hear about the product and its features to continue purchasing it. It is also made possible with market research, which is part of strategic marketing.
Improves ROI On Marketing Expenses
Companies spend a lot of money on marketing each year. In a competitive market, it is not possible for firms to stop doing marketing activities. But companies must ensure that the money they spend is bringing them results. Companies always look at the return on investment for all their expenses.
A strategic marketing plan helps the organization spend money wisely in marketing and get better returns. It is because they know their target audience, the right market, and what to communicate from the analysis. They can earn high returns on the money spent on marketing.
Improves Brand Awareness
Brand awareness is the ability of the company to make people remember and recognize the brand. It is possible by making the audience more familiar with the company's logo, message, and products. Strategic marketing makes this possible as the company is clear about the target audience. They can concentrate their marketing communication on these people and improve brand awareness. The company can share more high-quality content on social media targeting the audience they have identified. It helps to increase brand awareness greatly and helps in higher sales.
Reduce The Sales Cycle
One of the other advantages of strategic marketing is that the company has a clear idea about the target customers. It is a process that integrates the production process and buyer behavior. Apart from improving the ROI on marketing expenses, this process also helps in minimizing the sales cycle. The company implements specific steps and evaluates the results of its actions. It allows them to precisely target customers and enjoy better returns with specific purposes. Companies improve their market share and enjoy better revenues and profits with strategic marketing.
Read More: Key Objectives of Human Resource Management
Factors Affecting Strategic Marketing
Understanding The Target Market
Knowing the target market is crucial for creating an effective strategic marketing plan. Unless you know that, you will not be able to start your market or competitor analysis.
If there is no clear idea about what market to target, the best thing to do is to input available data. The best way to begin is to use the information to find the demographics of your customers. It will help you create a buyer persona.
Once you create the buyer persona, you will have more data about the customers' age, income, gender, etc. These can be the starting point to knowing your target market.
Once you know the target market, then it is easy to create your marketing strategy. You will know how to reach your target audience and what medium to use for your communication. The available information can also help you decide the message you will communicate to them.
Communicating Product Value To Customers
Most strategic marketing plans fail because the company fails to communicate the value its products offer to the customer. Buyers need to understand what benefits they will get by buying your product. They must know in what way it will help solve any of their problems. You must also be able to tell your customers how your product is better than that of the competitor.
To achieve this, the company must have clear information about competitive products and what features they offer. The organization must be able to tell their customers what additional features the product has which can solve a specific problem for the customer. You must be able to convince customers that your product is better if you want them to try it. Your communication about the value the product offers must be clear.
Watching Marketing Data
With modern analytical tools, it is not difficult to watch marketing data and analyze it for your purpose. It is essential for companies to know which marketing medium offers them better returns and which one is more effective. With marketing data, companies can find out which pages are attracting more visitors and how much time they spend on each page. It is also possible to know which social media platforms are getting more engagement with prospective buyers.
This information is very important for creating strategic marketing plans as you will know the preferences of your prospective buyers. If they are not spending much time on your web pages, you probably need to alter the content and make it more interesting. Another important result of watching data is that companies can reduce their expenditure on media that are not effective and change their strategies.
Focus On Customers
Though returns on investment are important, companies must focus on what value they are providing to customers. Many companies spend time trying to improve their profits instead of focusing on customer satisfaction. It is important that organizations give more importance to their customers instead of what money they earn. When you give more value to people, you can spend less on marketing as the customers will become your marketing agents.
Your strategic marketing plans can fail badly if you concentrate only on the profits. If you want to grow your business, it is essential to improve focus on the human component. One of the methods of doing this is to involve the sales team in R&D meetings to understand what extra value you can provide to the customers. You can include such features in the product and make it more valuable to your buyers. This will certainly go a long way in improving your business and profits.
Be Passionate
Whatever strategies you work on, unless you are passionate about it, no good result will come out of it. You must be passionate about your company, product, and the strategic marketing plan you create. If you are even one percent less caring about your work, it will show in the result. It doesn't matter what product you are trying to sell or what customer segment you are focusing on. You must put your heart completely behind the project.
Your marketing strategy is a long-term investment that can make or break the product. Any lack of enthusiasm in the product strategy will certainly show in your product or the marketing efforts. It is not just your colleagues who will notice it but also the customers. Buyers will not support a company that doesn't put its complete efforts behind the product or its customers.
The Executive Diploma Course In Advanced Business Strategies For CXOs deals extensively with the subject of marketing strategy. You can find more information about the course on our website.
Conclusion
Having a clear strategy for your marketing activities is essential for the success of your products. It helps companies identify their target audience and send the right communication. This activity allows organizations to build an edge over their competitors. It brings better returns from marketing activities and helps reduce expenses. A good marketing strategy helps improve brand awareness and earn loyal customers. Having knowledge about strategic marketing can make you highly valuable to your employer. It will also improve your chances of advancing in your career quickly.
More Information:
Objectives & Nature of Human Resource Management
Top 21 Effective Team Management Skills: Key To Become a Good Manager