For a few years now, Spring Framework has been one of the most popular server side frameworks in the Java world. Needless to say then that Spring Framework jobs are constantly on the rise. The Spring Framework became popular in the Java community as a potential competitor to Java, and its popularity is also reflected in Github, where out of the 100 most popular libraries, 15 are Spring related. Today, developers are able to create Spring-Powered applications and services with minimum turnaround times. In its core nature itself, Spring is non-intrusive, and does not have a bearing on the main framework. Today, Spring Framework training is a must for Java developers since it presents an impressive career path for the months to come. Features of the Spring Framework can be used by any Java application, along with extensions that can used for building web applications on top of the Java EE platform. This is precisely what makes Spring the framework of choice for Java developers all over the globe. In this blog post, let's discuss Spring Framework career opportunities and career path.
Spring Framework Job Roles 
Some of the popular job titles are Java Developer (Spring), Java Software Engineer with Spring, Applications Developer (Spring Framework), J2EE Mobile App Developer (Spring) and Programming Led (Spring Framework).
Java and Spring Framework Salary
According to PayScale.com, the median salary for an entry-level Java-based job role in India is Rs. 3,59,034. An interesting trend to note is that with every additional year of experience, Java professionals with knowledge of the Spring Framework earn multi-fold. Compared to a professional with less than four years of Java experience, somebody with knowledge of Spring can expect to earn around Rs. 7,66,601.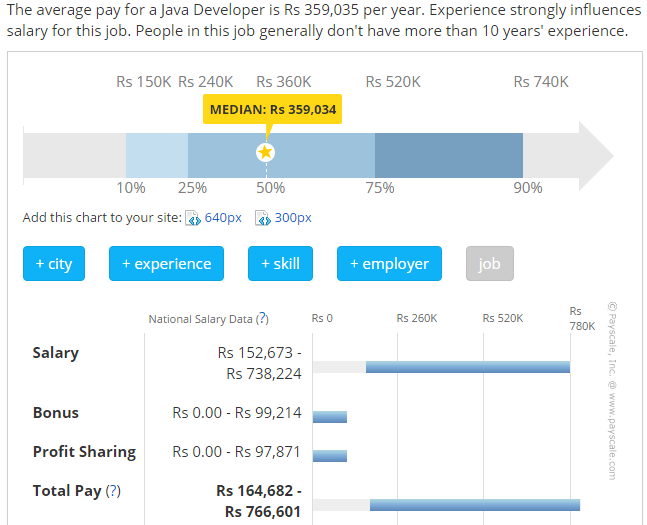 Source: Payscale.com
In the US, the Spring Framework saw a spike in popularity in mid-2014 (according to Indeed.com), after which it seemed to fizzle out. Interestingly, the beginning of 2016 saw a steady rise in job opportunities, and the upward surge is continuing.
The Middle East and Saudi Arabia are witnessing increasing demand for Java professionals, and since Spring is the preferred framework for Java development, job opportunities for Spring enthusiasts are on the rise. Even in Austalia and New Zealand, a similar trend is seen.
Java and Spring Framework Career Path
As a beginner, it makes sense to have basic knowledge of core Java after which you could pick a framework to master. Currently, Spring offers the highest career prospects in comparison to J2EE, Servlets, Struts, Tapestry and others. Once you have sufficient experience in working on a framework, say one to two years, you can choose to master a new framework, and in the meantime, you would have become an experienced Java professional.
Got a question for us? Mention them in the comment section and we will get back to you. 
Related Posts:
Get started with Spring Framework