"Splunk careers are extremely lucrative with paychecks of up to $148,590" – Indeed
As someone who has been closely following the SMAC (Social, Mobile, Analytics & Cloud) revolution since the last couple of years or so, I used to wonder where all the 'waste' data that SMAC generated was going. Was somebody even trying to see if it contained stuff that was useful in some way? Voila! My hunch was right. Unstructured data is apparently a treasure trove of information that can be leveraged by businesses all over the world. What's more? They even provide invaluable insights about customers, their behaviour, their expected future behaviour etc. It didn't take too long for the brainy ones to create tools that helped you get these insights, and Splunk leads the pack of such tools. Consequently, Splunk careers are one of the most sought after, in the industry today. Enroll in the Splunk training to begin your career in this field.
This blog is intended to briefly understand the growth of Splunk and the massive career opportunities it presents in possibly every domain of big data. Just in case you didn't know already, Splunk is a platform that is used to monitor and analyze big data generated by an organization's technology infrastructure, security systems, business operations, and other sources. Of course, SMAC from your organization generates a truck full of data that Splunk is hungry for. Splunk collates, indexes and processes all of this data to help organizations gain valuable operational intelligence from huge quantities of machine-generated data. Let me try and explain this is some detail. Get a better understanding from the Big Data Hadoop Certification.
Splunk uses the Splunk Search Processing Language (SPL), and the platform collates and indexes data regardless of format or location. Splunk also identifies relationships between events or activities from logs, clickstreams, sensors, web servers, cloud servers, custom applications, among others. Currently, Splunk has 1200 odd apps that help make sense of different formats of log data, providing visibility across on-premise, cloud and hybrid environments. Between these apps and the sudden proliferation of Splunk in organizations — big and small — careers around Splunk have skyrocketed in the last couple of years, and there is a fair indication that things will only get better from here on.
Splunk careers
Forbes says that big data related jobs pertaining to unstructured machine data and Internet of Things (IoT) have seen unprecedented growth percentages in excess of 704% globally over the last five years. Specific job roles that promise lucrative Splunk careers include:
Software Engineer

Systems Engineer

Programming Analyst

Solutions Architect

Security Engineer

Technical Services Manager
According to Indeed, Splunk related jobs dictate paychecks of up to $148,590 for a solutions architect and $120,000 for a senior systems engineer. Even starting salaries are attractive in comparison to other software development and IT jobs across the world. I've pulled out the numbers for you and they do look promising.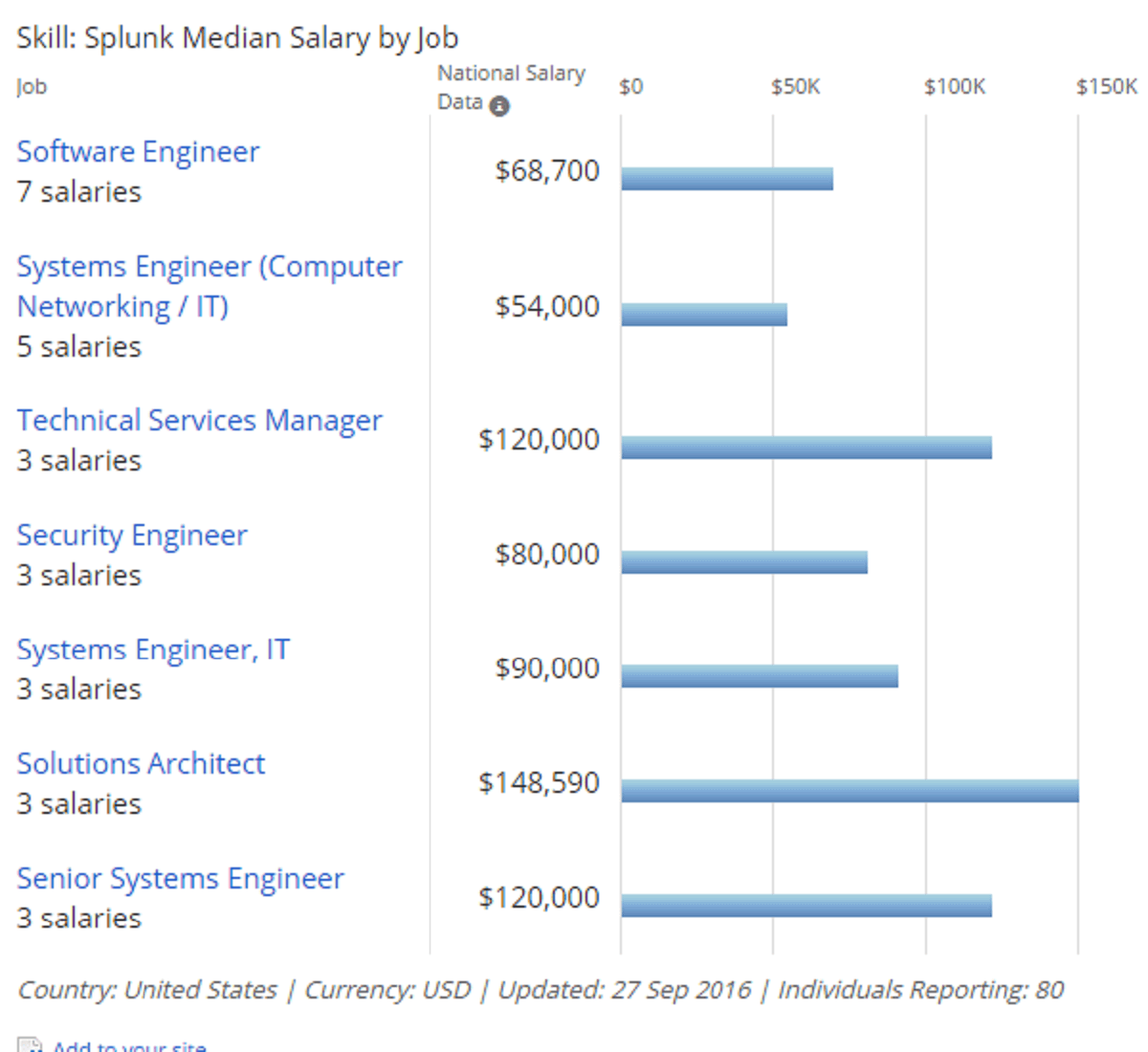 I did a bit of digging around to see who actually uses Splunk. While you can have a flourishing Splunk career in virtually any domain of technology, five industry sectors have been the flag-bearers of Splunk in recent times. These include Finance and Insurance, Manufacturing, Information Technology, Retail Trade, and Technical Services. More than 9,000 enterprises, government agencies, universities, and service providers in more than 100 countries currently use Splunk for in-depth business and customer understanding, mitigating cyber security risk, prevent fraud, improve service performance, and reduce overall costs. The rate at which Splunk is being adopted by organizations worldwide, the number is only slated to grow exponentially.
Take a look at the graph here (Source: Indeed). This shows how Splunk jobs have been skyrocketing since the last couple of years, with no signs of slowing down: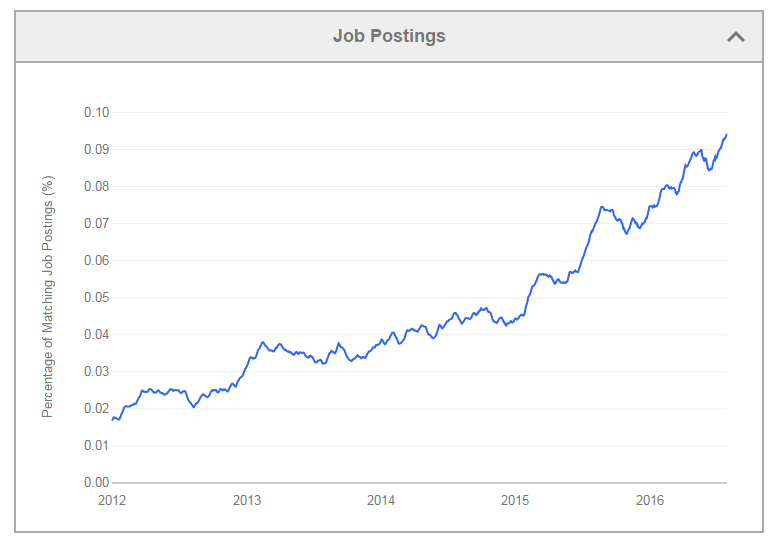 Splunk career tracks
If you are a Splunk enthusiast (or aspire to be one anytime soon), the future is filled with possibilities that are challenging and lucrative. This is just the perfect time to learn and master Splunk. A career in Splunk has three primary spokes – Architect, Administrator and Developer. If you decide to bring Splunk on to your resume, here are the list of tasks you'd be expected to perform, depending on the job title you choose: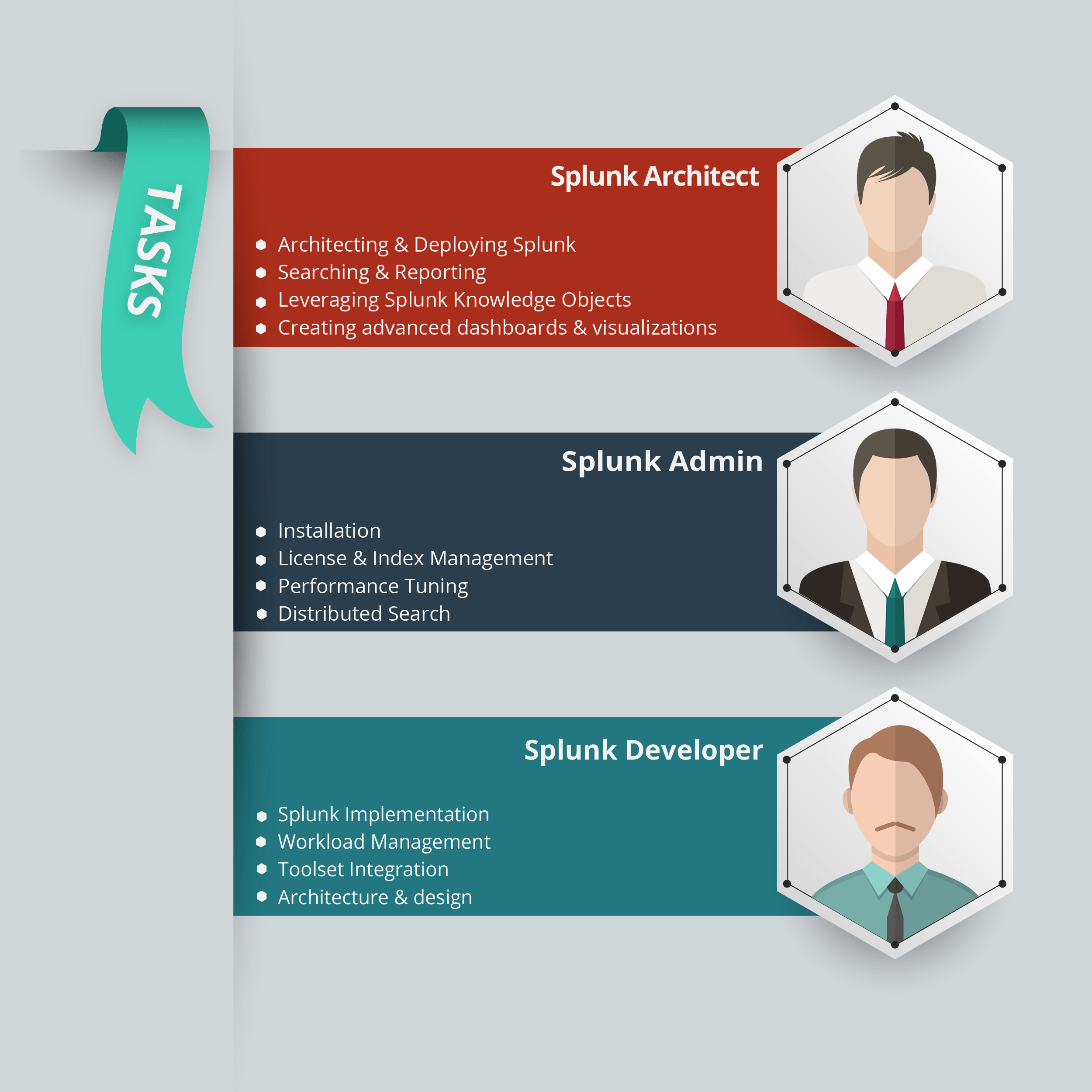 If you are a Splunk Architect, your organization will expect you to leverage Splunk for searching and reporting data, creating Splunk Knowledge Objects, operating Dashboards and Visualizations, Architecting and Deploying Splunk across your organization. On the other hand, if you decide to become a Splunk Admin, you need to perform Installation, License Management, management of Splunk Apps, Configuration and Index Management, Event Parsing, Distributed Search and Performance Tuning. Finally, if you aspire to be a Splunk Developer, you are entirely responsible for end-to-end solution development as well as maintenance. Primary responsibilities of a Splunk developer include implementation, workload management, architecture, design and estimation.
Organizations are committed to Splunk
As on October 2016, the following companies had attractive openings for Splunk competencies worldwide. Take a good look at these companies, that are a mix of industries ranging from technology to IoT to manufacturing, and everything in between. With the right knowledge and training of Splunk, you can soon have a business card with one of these big names on it.
Bright future for Splunk
As some wise soul once said, "Inefficiency is the mother of all opportunities". Looks like the wise soul had Splunk in mind! Earlier this year, Gartner sounded a warning alarm – Unstructured data growth is rapidly outpacing structured data and is poorly controlled, stored and managed on file shares, on personal devices and in the cloud. This realization stems from the fact that 50% of IT teams in the world are completely unprepared for the humongous growth of unstructured data. What is more shocking is the fact that by 2022, 93% of all data in the digital universe will be unstructured in nature (Source: IDG). It doesn't take rocket science to understand that enterprises cannot survive with insights from just 7% of data. Data from social chatter, usage logs, customer clickstreams etc. are critical data that are invaluable to organizational strategies and success, and the evolution of offerings like Splunk are heavily capitalizing on the mismanagement of unstructured data. In simple words, this means just one thing — There is a pressing need for Splunk specialists in the world. Needless to say, you can be in the forefront of this revolution of sorts.
Having learned about career opportunities with Splunk, it will be a good idea to understand how Splunk works with the help of a use case.