In this Tableau blog, I have explained about 'Sets in Tableau'. If you want to brush up with Tableau basics, which I recommend you to do so before going ahead with this Tableau Actions Tutorial.
Sets in Tableau
Before proceeding further, lets first answer most important question:
Why sets?
Sets are basically a subset (or part) of data that meets certain conditions based on dimensions specified. Sets really play a major role in dimensionality reduction. Suppose you are a manager of sales & production department and the annual general meeting is near in which you have to be ready for various questions such as least performing market, least performing product, top 3 performing markets and so on. In such scenarios, sets can be your saviour!
Moving on with this article on Tableau Actions,
Why sets and not filters for dimensionality reduction?
On a single worksheet, sets and filters work more or less in a same way. But there is an added advantage of using sets than filters, that is sets can be used in all the worksheets of the workbook, but filters can just be used in a specific worksheet. For using the same filter in different worksheet, one needs to go through the exact procedure and place each dimension on filter shelf to get the worksheet filtered. But in sets, you need to do it once!
Moving on with this article on Tableau Actions,
Tableau Sets With Demonstration
So cutting the crap, we will now learn about Sets.
In this tutorial I have used the Global Superstore data.
Step1:Creating a Set: First, go to Market-wise Sales & Profit worksheet and sort that in descending order w.r.t. Sum(Sales). Then select top 3 markets. After selecting you will automatically get a small dialog box like this:
Step 2:Click on 'Create Set' option. The icon is somewhat like this:
Step 3: Give appropriate name to your set and press OK.
Step 4: Now, you can notice your set is created and is present in bottom left of your screen. If you drop the set on your row shelf, then you will notice that a separate field is added to your viz. – 'In/Out of Top 3 Markets by Sales'. This will display that whether the country is present in the set or is not.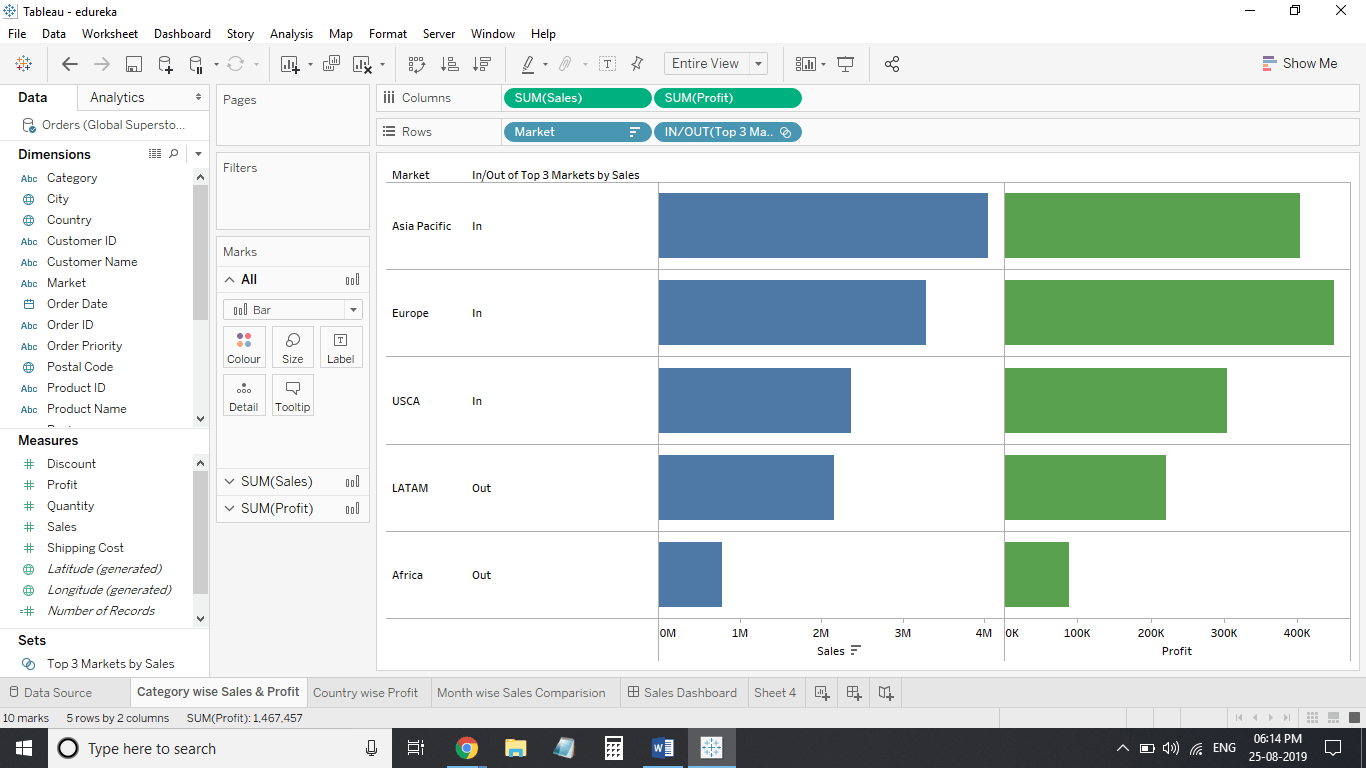 Now, let's use the power of sets. We know that if we create a set in one worksheet then we can use the same set in other worksheet (which is the major advantage of using sets over filter).
Step 5:Suppose if you are marketing manager at a firm, and you want to compare month-wise sales of top 3 markets and sales of other markets (which are not in top3). It is really a walk on cake using sets: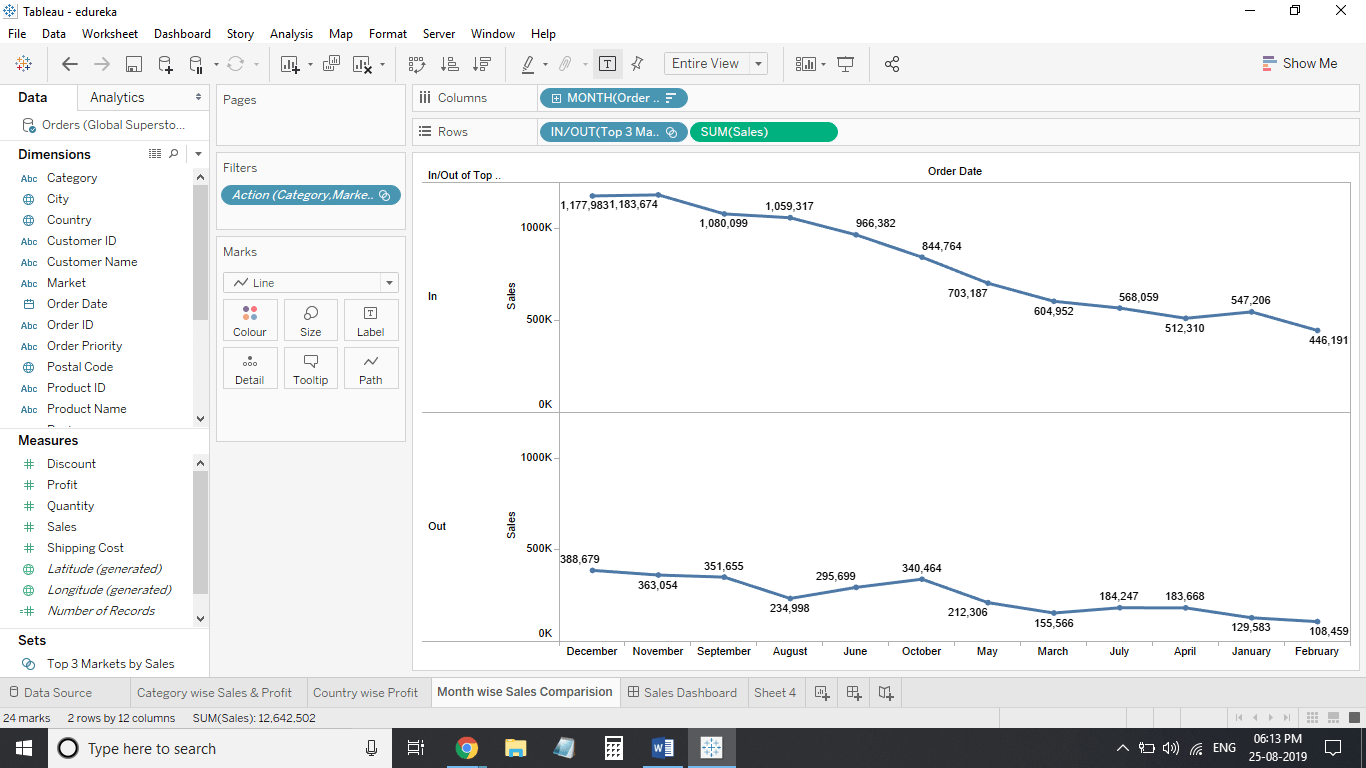 You can also add Set to filter shelf if you wish to filter out outputs within your set: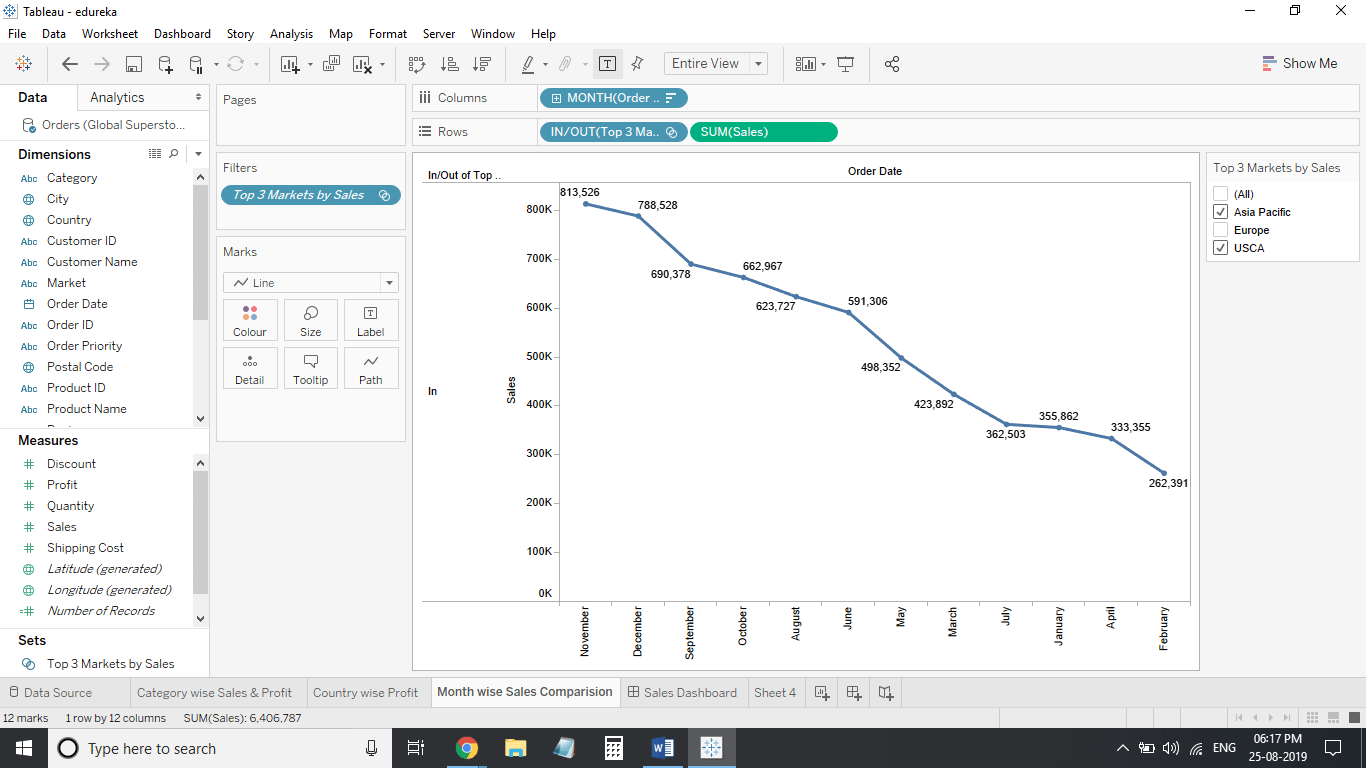 Step 6:Comparing Sales, Shipping Cost and Profit between top 3 Markets and other markets: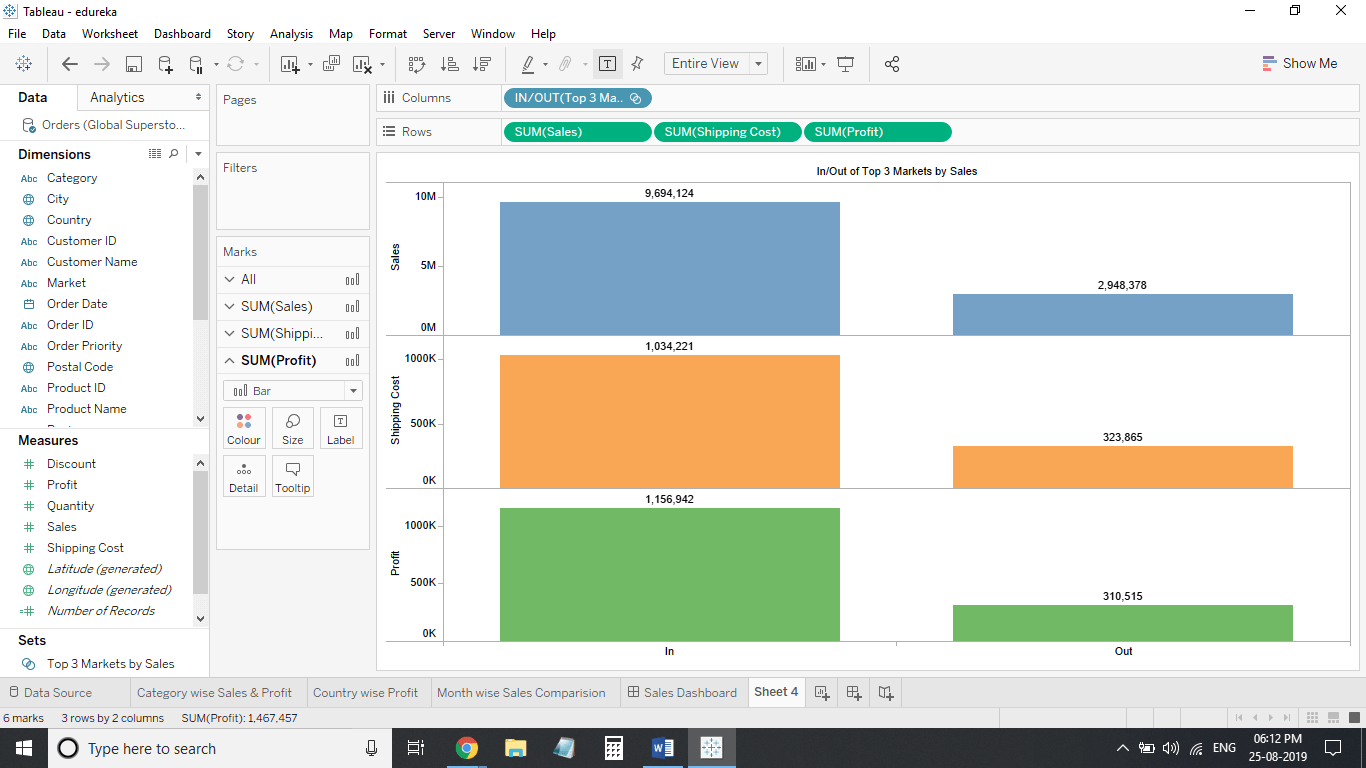 This brings us to the end of this article on Sets In Tableau. This brings us to the end of this article on Actions in Tableau. If you wish to master Tableau, Edureka has a curated course on Tableau Training & Certification which covers various concepts of data visualization in depth.
Got a question for us? Please mention it in the comments section of this article and we will get back to you at the earliest.