ServiceNow is the most popular ITSM tool in the market which automates the various business processes. One of the reasons ServiceNow is so popular is the ease with which you can use ServiceNow and this can be done using ServiceNow Developer Instance. This blog specifically talks about ServiceNow Developer Instance.
What is ServiceNow Developer Instance?
ServiceNow developer instance can be considered as a sandbox for the developers to extend the knowledge and experiment with ServiceNow platform to create valuable assets.
ServiceNow Developer Instance lets you learn, explore and experiment with the platform. It also lets you test ServiceNow Applications without hampering customer or non-production instance.
How To Get A ServiceNow Developer Instance
Step 1: – SignUp
Complete the Registration Form with your name, username and password

Step 3: – Account Validation
Validate your account by clicking the link you received on your registered email id. After clicking on the link shown in the image below.

Step 4: – Login to your ServiceNow Developer Platform
Following SignIn window will appear. You can also open the link and click on "Sign In" for Signing In. Enter the Login credentials you filled in the registration form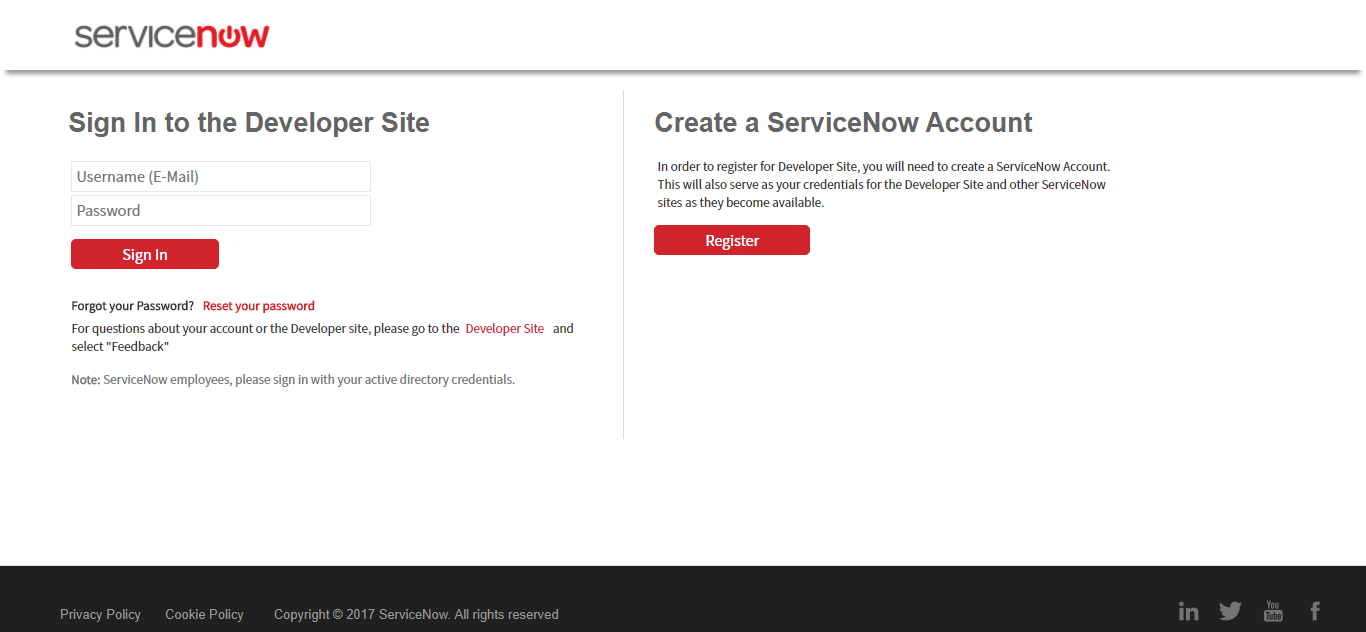 Check the "Click here to accept the ServiceNow Developer Agreement" checkbox and click on Submit. Fill the form and Click on Submit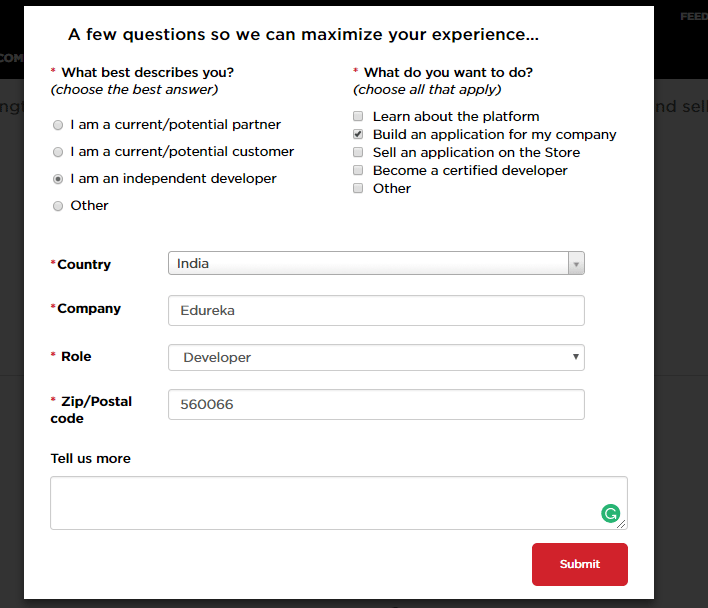 After completing the form below screen will be displayed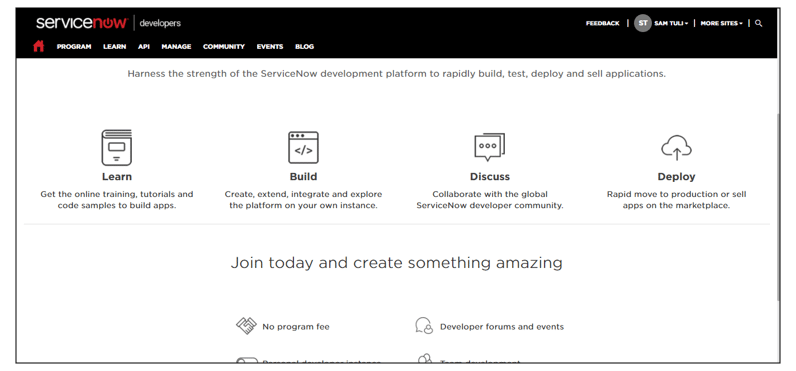 Step 5: – Further you have to Request/Create Instance
Now click on Manage –>Instance –> Click on "Request Instance" and fill the "Please Note" form and click on "I understand"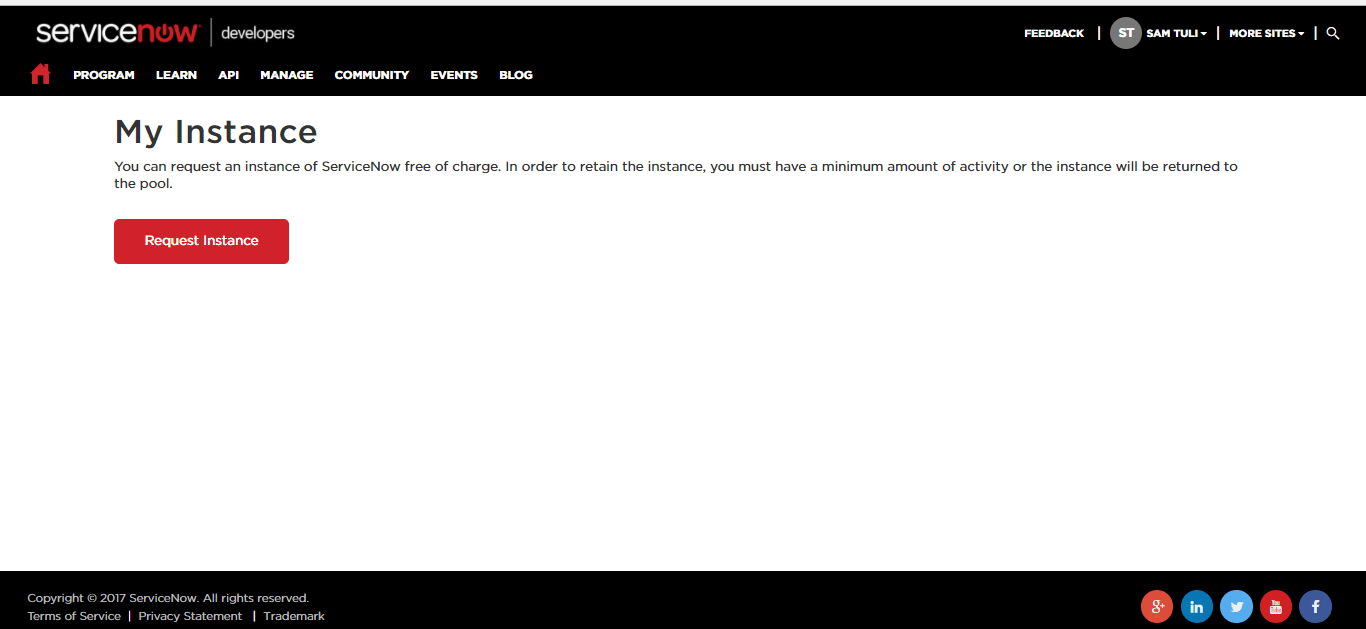 Step 6: – Select the Version of ServiceNow Developer Instance
Select the version you want to work on. The latest version is Kingston.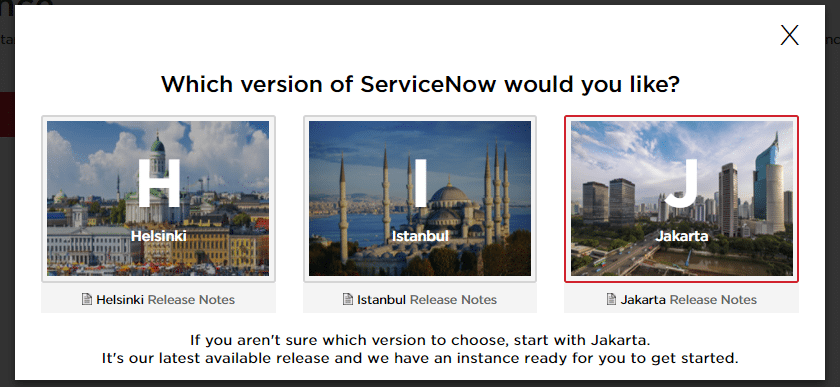 Step 7: – Instance Credentials Info
URL and the login credentials will be provided for your Instance
Step 8: – Login into your ServiceNow Developer instance
Open the URL and login with the given credentials and you will be on the ServiceNow platform

Instance Activity
If you want your ServiceNow developer instance to be active, following points should be noted: –
If the instance remains inactive for 10 days, the instance is released
Released instances and their data cannot be recovered

You must use it regularly to keep the instance active
In case your instance remains inactive for more than 24hrs, your instance may go into a state of hibernation. To wake the instance, navigate to Manage –> Instance on the ServiceNow developer site. After few minutes your developer instance will be awake.
Note: – All the work/data is saved on the hibernating instances.
So, this was about how to create ServiceNow instance and few things to keep in mind.
Let us look at the most sought-after questions concerning ServiceNow Instance.
Q1. How many ServiceNow developer instance can a registered account have?
ServiceNow allows only one instance per registered developer account.
Q2. How can I reset my ServiceNow Developer Instance password?
Step 1: – Go to My Instance Page and select Action button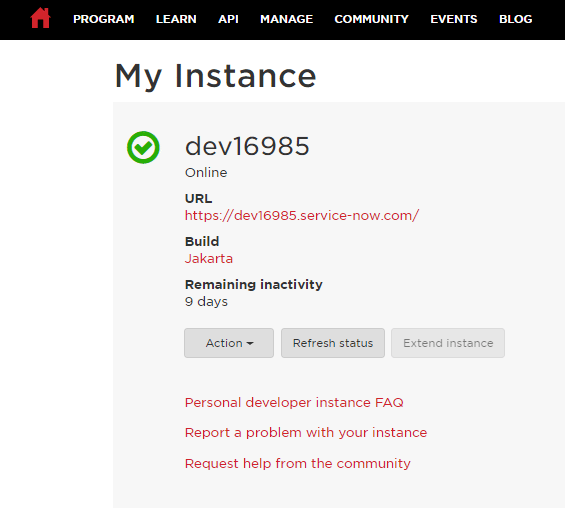 Step 2: – Select Reset admin password under Action option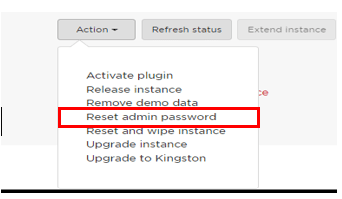 Step 3: – Click on Yes button

Step 4: – After confirming, the developer site resets the admin password and provides you with a temporary password in green text

Step 5: – Click on URL text in the green box or type the URL in the browser. You will be prompted to your personal developer instance to set a new password. Use the temporary password for the current password and provide a new password.
Q3. Once I upgrade the ServiceNow Developer Instance, can I revert/return to the previous release?
ServiceNow doesn't have any option to revert/return to the previous release. I can request a new instance of my choice of version and have to wait up to 15 min after the release of my instance to request a new instance.
Q4. What can I do to transfer/save my data/work which is present on my ServiceNow Developer Instance?
I can export my work as an update set which is in the form of XML file that can be saved to my local machine. The update set can be uploaded to another instance. For example: can export my application as an update set to another instance.
Q5. Is there any option to reset my instance to initial state?
Yes, Go to My Instance page. Under Action Option Select the "Reset and wipe instance".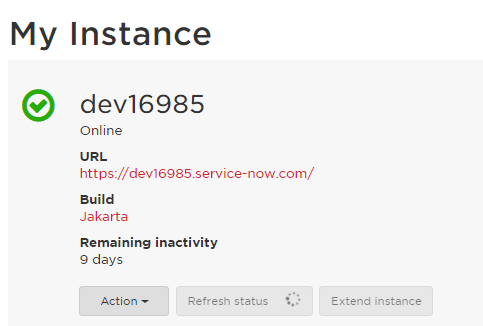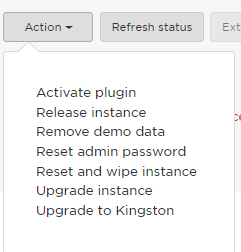 Note: – After reset, all the customizations and configurations will be lost.
Q6. What are the various versions available for ServiceNow Developer Instance?
(A) Aspen 2011
(B) Berlin 2012
(C) Calgary 2013
(D) Dublin 2014
(E) Eureka 2014
(F) Fuji 2015
(G) Geneva 2015
(H) Helsinki 2016
(I) Istanbul 2016
(J) Jakarta 2017
(K) Kingston 2017 (Current)
All the names of the versions are based on City name.
This brings us to the end of ServiceNow Developer Instance blog. Hope this was informative and helpful to you. Happy Learning!!
Want to be an expert in ServiceNow?? Become a ServiceNow Expert starting from Edureka's ServiceNow Admin Certification Training and ServiceNow Developer Certification Training which helps learners become expert in Administering the SN platform, Develop the Scripts for the Business processes, Workflows, Import Sets using real-time use cases on Banking, Sales, Finance domain.
Got a question for us? Please mention it in the comments section and we will get back to you.