According to Business Wire, web testing in 2016 continues to become increasingly popular, especially with the widespread use of web components and shadow DOM in apps, as well as Chrome, Mozilla and Edge blocking APIs. Selenium has gone on to become the poster boy of web testing tools, with a whopping 300 percent increase in job postings over the past three years.
Popularity of Selenium WebDriver
The most popular testing tool to work with Selenium – the Selenium WebDriver – provides a friendly API which is easy to explore and understand, and helps to make tests easier to read and maintain. Selenium WebDriver is a sought after skill in the testing ecosystem with massive traction in the US, UK, the Middle east and Australia, where jobs have skyrocketed and consequently, pay packages are more than attractive.
Selenium Job Roles
Some of the popular software testing job titles that Selenium WebDriver experts can look for include:
Quality Engineer
Automation Test Lead
QA Engineer
Selenium Automation Analyst
Senior Test Engineer, among others.
Selenium Salary Trends
According to Indeed.com, the median salary for a Selenium WebDriver competency job role in the US is 94,000 USD. An interesting trend to note is that the first half of 2014 saw a mammoth upsurge in Selenium job opportunities, and while experts expected it to be a temporary phenomenon, the graph stabilized and even today, two years later, the opportunities only continue to grow.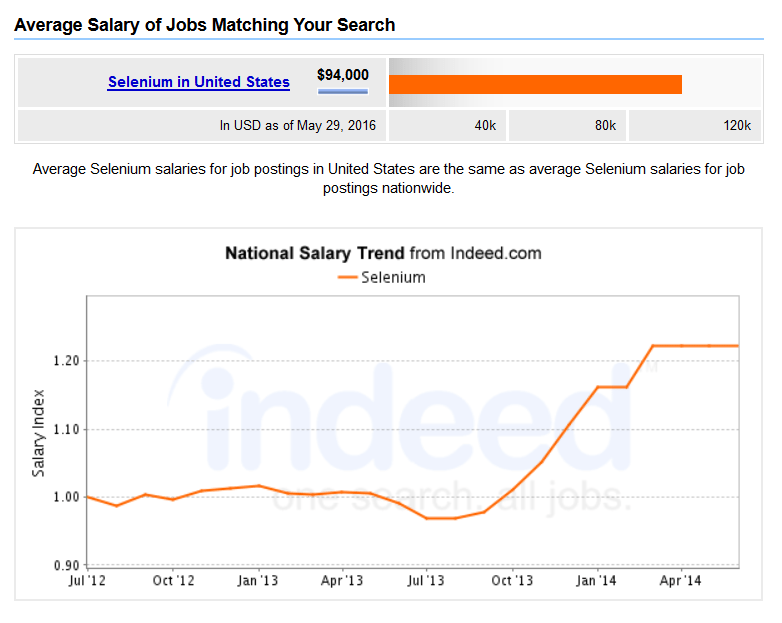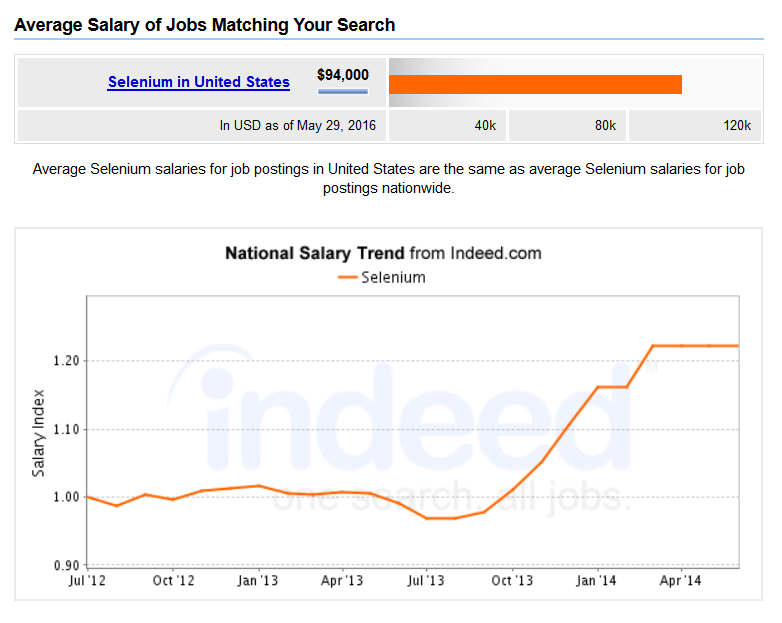 In the UK as well, jobs that require Selenium WebDriver knowledge saw a raise of 24% in just 2 years, with impressive median salaries of around 45,000 Pounds.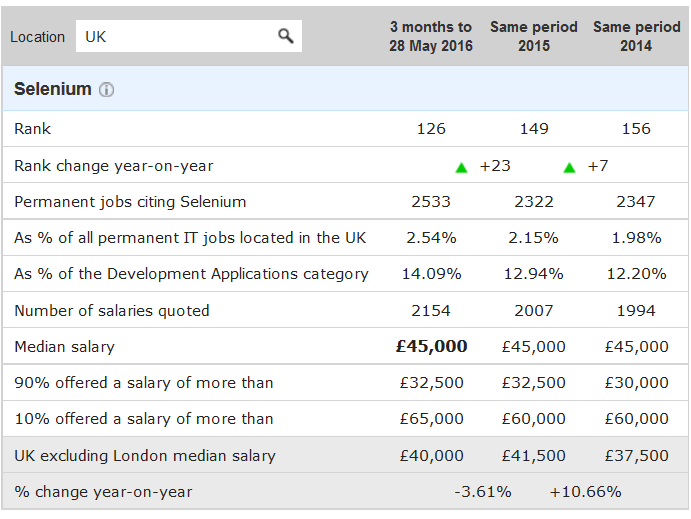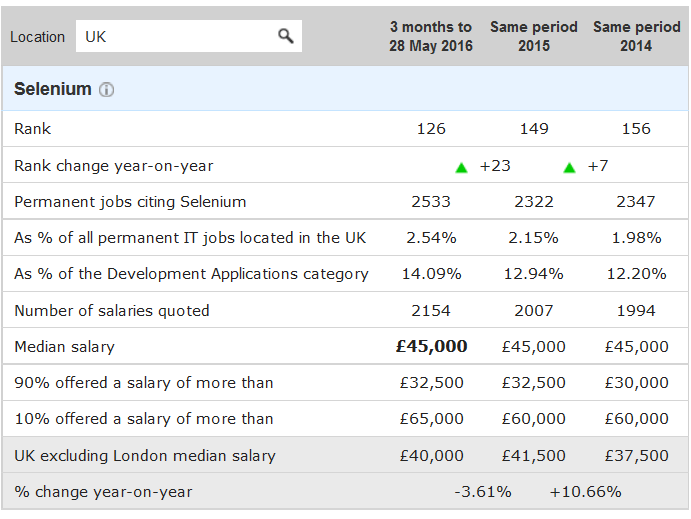 The global picture may not be of dramatic growth as seen in individual regions like the US or the Middle east, but there is a a definite and healthy growth ever since Selenium became a respectable name. While there have been temporary slumps, Selenium has picked up and only grown stronger. (indeed.com/payscale.com)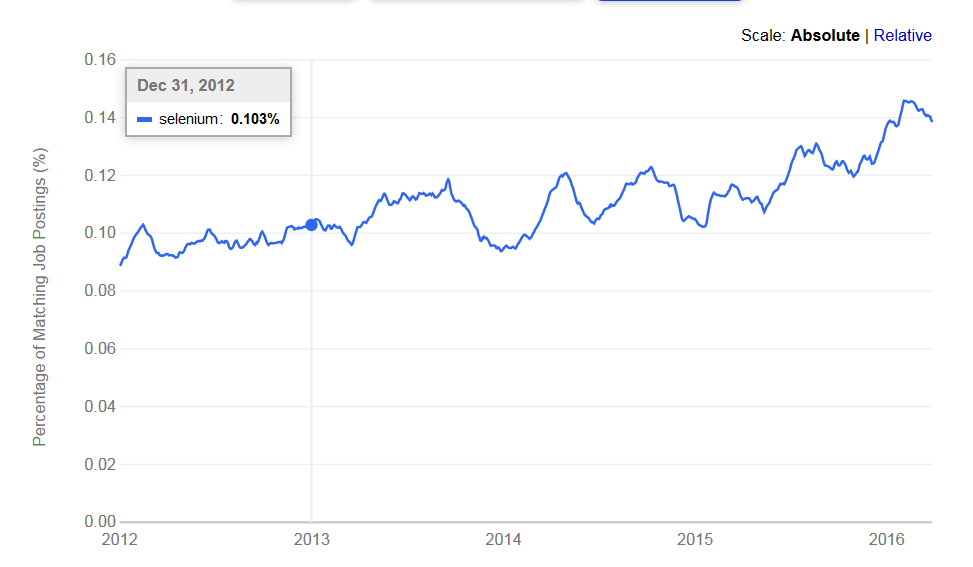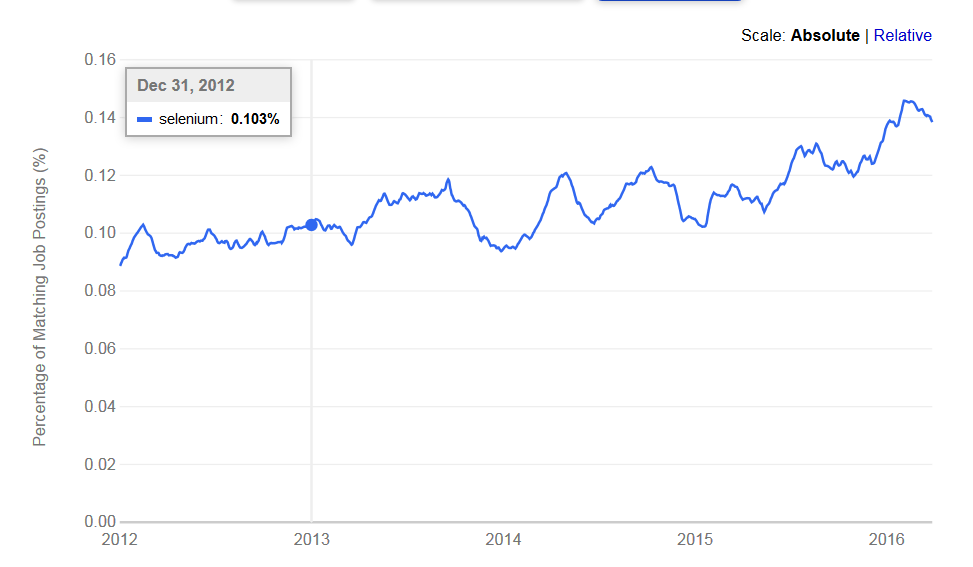 Selenium and AngularJS
Since Selenium is suitable for both web and mobile applications, someone who knows WebDriver can go on to master Protractor, a testing framework built on top of WebDriver in order to test the AngularJS framework. Of course, one can choose to make a career entire on testing and Selenium, especially in organizations that have a long term vision for using WebDriver for all their test automation initiatives. One thing is for sure, Selenium WebDriver is here to stay for a reasonable time to come. So, its worth your while to add it to your skills repertoire.
Got a question for us? Mention them in the comment section and we will get back to you.
Get Started with Selenium WebDriver