Over the past few years Agile approaches, Scrum and Scaled Agile Framework, have gained a lot of popularity in the project management industry. Unlike Scrum, SAFe is the perfect technique for adopting Agile at an enterprise scale. In this article, we'll look at Scrum vs SAFe, and their differences and similarities. If you want to go beyond this blog & understand Scrum, you can visit our CSM Certification. Once you know more about how each approach is unique, you'll be able to choose the best framework among them.
What is Scrum?
Scrum is a lightweight agile framework, within which people can address complex adaptive problems, while productively and creatively delivering products of the highest possible value.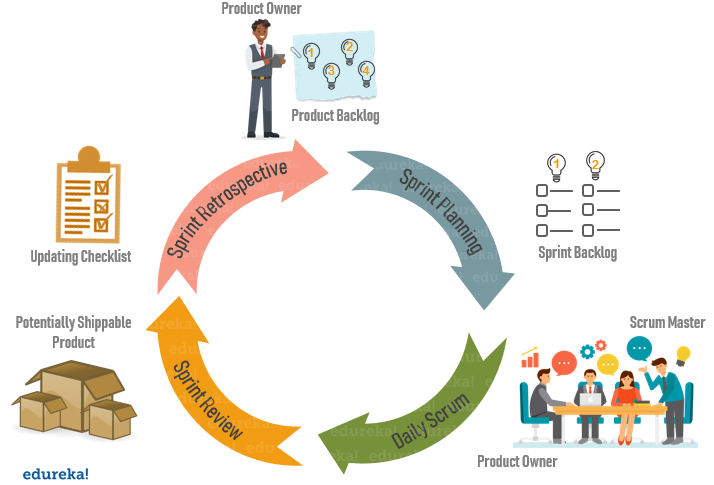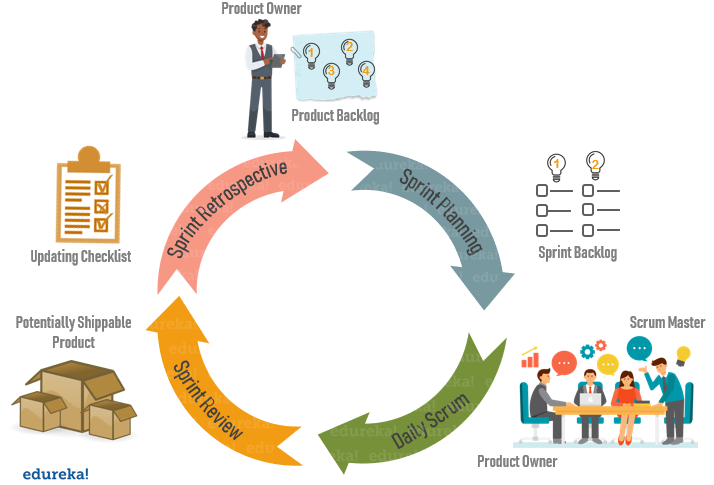 Scrum relies on three important roles (Product Owner, Scrum Master, and Development Team) in order to plan, organize, administer and optimize a process. The product owner creates a list of tasks to be completed and the scrum team breaks the list down to smaller pieces known as sprints. A sprint typically lasts two to four weeks and results in project deliverables ready to be shipped to the customer. The team repeats this process over several sprints until the project is complete or the budget is exhausted. It is a highly successful and widely used agile approach with multiple benefits.
Scrum at Large Scale
A big challenge with Scrum is scaling it to larger and more complex projects that require multiple teams to work on. Also integrating it with enterprise-level management functions such as program management and overall project portfolio management. That is why a lot of agile frameworks are now available for large-scale enterprise projects. Scaled Agile Framework (SAFe) is one of them.
There are expert scrum masters, if you want to get into that list you must visit CSM Training by Edureka.
What is the Scaled Agile Framework(SAFe)?
Scaled Agile Framework (SAFe) is an enterprise-scale development framework which uses a combination of existing lean and agile principles and combines them into a templated framework for large-scale projects.
It is based on three primary bodies of knowledge:
Agile Development
Lean Product Development
Systems Thinking
SAFe adds extra layers of communication and controls to allow people to use agile frameworks (like Scrum) with very large groups. It attempts to incorporate core values like alignment, built-in quality, transparency, and program execution. Using these values SAFe brings substantial improvements to delivery time, employee engagement, work productivity and mainly, quality of the product. SAFe focuses on portfolio management, value stream management, program management, and team management.
Now, that you are aware of both the frameworks, let's check out how Scrum and Scaled Agile Framework are different.
Scrum vs SAFe: Key Differences
Factors

Scrum

SAFe

Context of Implementation

Scrum is a framework for Agile projects and works best when used by companies with a simple organizational structure

SAFe is an agile framework usually applied when large companies want to expand the "agile way of working" beyond the teams

Teams Structure & Roles

Scrum Team usually has 7-11 persons with the following main roles:

Product Owner
Scrum Master
Development Team

SAFe has different key roles at four different levels. Some key roles include:

Releaser Train Engineer
Program Management
Value Stream Engineer
Solution Architect
Epic Owners, etc

Team Dependencies

In Scrum, the level of dependencies between teams tends to be lower than within SAFe. Development Teams are given the freedom to organize themselves and manage their own work

SAFe requires a high level of coordination and alignment across teams and management levels which increase work dependency

Ceremonies & Time Frames

Within Scrum, projects are conducted during a sprint, a specific timebox where various ceremonies occur. A cycle lasts from 1 to 4 weeks

SAFe follows more or less the same structure. A cycle lasts for about 2 weeks (Iteration in Team level). During this, they follow a plan-do-check-adjust method
To conclude, if you want to use Agile, but you work in a large organization that deals with large scale and mission-critical projects then SAFe would serve you better than scrum.
How to Choose the Right Agile Framework?
There is not a framework which is better than the other. There are a few elements to consider when selecting an Agile framework that suits your needs better, like:
The context of implementation and objective of the organization
Level of involvement of management within the project
Size: How many employees are working within the company?
Company structure
The type of project to manage
Stakeholders requirements and opinions
This brings us to the end of 'Scrum vs SAFe' article. Hope you are clear with all that has been shared with you in this article. Make sure you are well versed with the Scrum terminology before you start using it. There can be no better time than right now to get certified in Scrum through our Scrum master Training.
Got a question for us? Please mention it in the comments section of this "Scrum vs SAFe" article and we will get back to you as soon as possible. Alternatively, you can also check out CSM Training in Bangalore.