Agile and Scrum are two terms that have become very popular in recent years and for many good reasons. Together, they make developing and managing a project streamlined, systematic, faster, and cost-effective. At times the terms Agile and Scrum are used interchangeably and this makes you wonder if they are one and the same. Are they? Let's us check it out in this 'Scrum vs Agile' article.
Listed below are the topics discussed in this article:
Here we go!
Agile and Scrum: Are they the same?
Building a new product isn't an easy task and to make it a hit in this competitive market is even more challenging. It can be difficult to decide which of the many tools and techniques available are appropriate for your product. In that aspect agile and scrum usually top the list. These buzzwords seem to be used interchangeably but there is an important distinction between them.
A good analogy would be the difference between a recipe and a diet. A diet is a set of methods and practices based on the principles and values that you follow. A recipe would be a framework you can use to implement your vegetarian diet. This is similar to the relationship between Agile (the diet) and Scrum (the recipe you follow). If I have to put that in technical terms:
Agile is a set of methods and practices based on the values and principles expressed in the Agile Manifesto, which includes things like collaboration, self-organization, and cross-functionality of teams.
Agile comes in a number of forms, meaning there are a number of subsets to the Agile Project Management philosophy. Scrum is one of them.
So agile and scrum are not the same after all. To understand the Scrum methodology we should know what Agile is. Let's start by understanding the buzzword, Agile.
What is Agile?
Agile is a mindset, a philosophy, more like a way of thinking, a movement focusing on communication, team-thinking, intrinsic motivation, empowerment, innovative walks, flow, and value creation while developing a product.
At its core, Agile is a set of principles for actions that keep a software development team organized and efficient. Agile started when in 2001, a team of software developers got together in Utah for a weekend of fun and discussion. They compiled their views and principles into a document that is easy to understand and apply. Which we refer to as Agile Manifesto.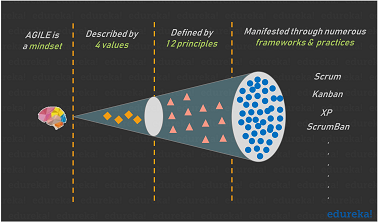 So, agile is more of a philosophy and set of values and principles to follow, rather than a process to apply to a project. It comes in a number of forms, scrum being one of them. Let's explore scrum in detail.
What is Scrum?
Scrum is a lightweight agile framework, within which people can address complex adaptive problems, while productively and creatively delivering products of the highest possible value.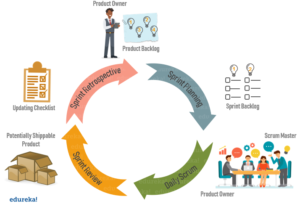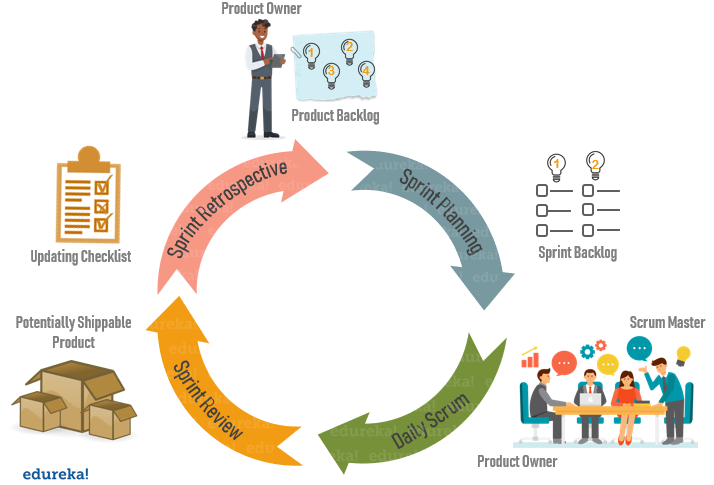 In the Scrum process, the product owner creates a list of tasks to be completed and the scrum team breaks the list down to smaller pieces known as sprints. A sprint typically lasts two to four weeks and results in project deliverables ready to be shipped to the customer. The team repeats this process over several sprints. It is a highly successful and widely used agile approach with multiple benefits.
Now that you know agile and scrum are not the same, let's check out the key differences between agile and scrum.
Key Differences Between Agile and Scrum
The table below lists the key differences between Scrum & Agile.
| | | |
| --- | --- | --- |
| Features | Agile | Scrum |
| Nature & Scope | Agile is a mentality and a set of principles | Scrum is a framework that implements agile principles |
| Planning | Planning occurs at three levels: release planning, iteration planning, and daily planning | Next sprint is planned after the team has completed the current sprint activities |
| Flexibility to Changes | Agile is very flexible and hence adapts to changes very quickly | Rigid framework & there is no much room for frequent changes |
| Design & Execution | Agile execution is quite simple and it usually something that isn't done before | Works on trying new and creative ideas, which yields concise and smart outcomes |
| Monitoring Process | Requires detailed tracking & it takes place after every milestone of the overall design | Monitoring takes place after compilation of certain features rather than after each design |
| Leadership Role | A leader is accountable for the work done (or not done) by the team | There is no 'team leader', instead its fosters a multi-functional and self-organized team |
| Mode of Communication | The effective mode of communication is face-to-face within a team on a regular basis | Communication is done on a daily/weekly basis with respect to the schedule |
| Estimation Time & Delivery | The priority is always to satisfy the customer by providing continuous delivery of valuable software | Delivers build to clients to get their feedback, after each sprint |
| Customer Feedback | Encourages regular feedback during various processes from business users | Regular feedback is taken from end users but in a more orderly fashion, like after every sprint |
This brings us to the end of 'Scrum vs Agile' article. To conclude you can think of Agile as an organizational mindset and Scrum as the tools and techniques that a team can use to work toward that new mindset and, ultimately, organizational success. Hope you are clear with all that has been shared with you in this article.
Make sure you are well versed with the Scrum terminology before you start using it. There can be no better time than right now to get certified in Scrum.
Got a question for us? Please mention it in the comments section of this "Scrum vs Agile" article and we will get back to you as soon as possible.