A Scrum Board's main objective is to enable teams to function efficiently by managing products and service projects with the help of the Scrum Project Management framework. A board can be anything ranging from a whiteboard with colorful sticky notes to a sophisticated technical board used by product development teams. Since transparency is key in a Scrum environment, all team members have access to the board.
What is a Scrum Board?
To simplify the concept, a scrum board gives information regarding the sprint backlog of user story cards that need to be achieved in sprints in order to complete a project. The Scrum team's work is projected with the help of vertical columns through stories, to-do's, work in progress and done.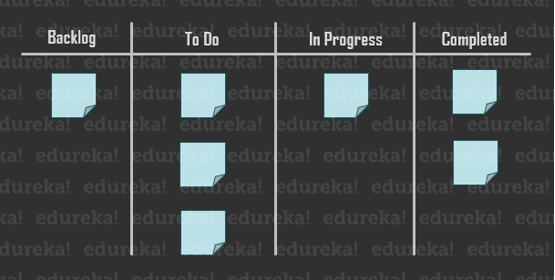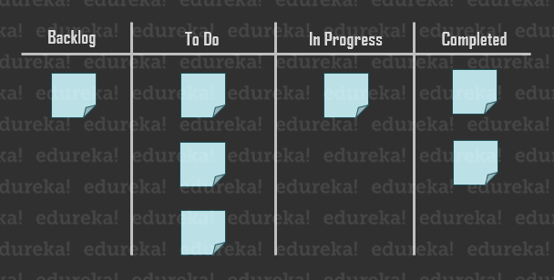 Each row tells a story regarding the project. The cards or sticky notes are displayed and moved across columns during a sprint, which makes the storyboard significant to Scrum.
The columns that constitute the Scrum board are:
Stories: List of all user stories in the current sprint backlog

To do: Tasks that are set for a story which has not commenced yet

Work in progress: Tasks for ongoing work

Done: List of completed tasks
Sprints are short intervals of time ranging from one week to four weeks during which a Scrum team is responsible for delivering noticeable progress in the project to the customer. The image below depicts a sprint in the Scrum framework.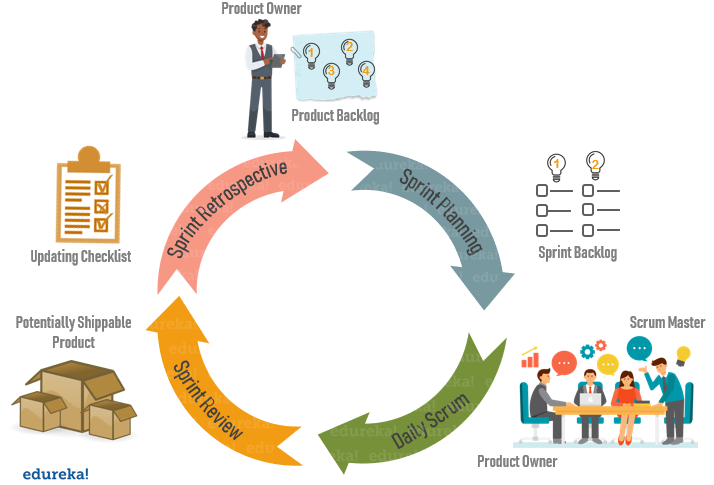 The team members move cards from left to right on the board as and when needed.
Importance of a Scrum Board
Scrum boards are utilized by teams in particular who adopt the project management methodology called Scrum. Scrum can be used by any team that has to manage projects, whether its product development or to provide marketing services. A Scrum board's benefits are:
Project Managers – They can stay organized and follow up with their team in a better manner with respect to the progress of work every week.

Marketing teams – Marketing team members and roles consist of content, technical, SEO, design, and account executives. Scrum boards help to maintain a systematic approach and are more able to adapt to change regarding client deliverables.
Core Features
Essentially, a Scrum board is made up of vertical columns depicting the phases of work in a sprint. These columns are mainly:
User Stories

To Do

Work in Progress

Done. Hence
Each row constitutes a different user story with story points. The process also includes events like sprint, planning and daily Scrum. The burndown chart is a report that shows the sprint's performance. Although these are the core features and parts of a Scrum framework, yet not all of them will make an appearance on the Scrum board. But in order to create the board, they should be considered and kept in mind.
Sprint is the heart of Scrum. It is a time interval between one and four weeks, during which a task is completed under the Scrum method, usually, a product or a service is worked on in order to send to the customer. Once a sprint commences, the duration of the sprint is usually fixed and cannot be changed. As soon as one sprint is completed, another one follows. A sprint is displayed on a Scrum board with the help of vertical columns labeled – User Stories, To Do, Work in Progress and Done. Sticky notes are used to represent tasks revolving around a particular user story. They are moved from the left to right by team members only when required. The end goal is to have the tasks under the Done column at the end of the sprint.
A user story is the smallest unit of work in Scrum. They are tiny yet concise descriptions of service from the perspective of the user or customer. Story points measure a user story's level of effort. A user story aims to throw light on its value which will be delivered to the customer. Customers can also be internal users who rely on the Scrum team. Details can be added to a user story after all the team members agree to the requirements. These are then added to the sprints and completed within the duration of that sprint. An epic refers to a larger body of work which is further broken down into stories which will be approached in multiple sprints.
A standard template for a user story is:
As a <type of user>, I want <some goal> so that <some reason>

A story point is a unit of measure that provides an estimate of the entire effort required to complete a product backlog item. Story points are also agreed on by all the team members which in turn refers to the relative efforts of each item. Velocity refers to the number of story points a team can complete during the sprint.
Sprint planning refers to the extensive planning about the work that has to be completed in a sprint that is conducted by the entire Scrum team. The sprint planning period for one-month sprints is a maximum of eight hours. A shorter sprint will require a smaller sprint planning period. Sprint planning is carried out by the Scrum master and the product owner who is responsible for confirming the details of the product backlog items.
A daily scrum is a daily, regular 15-minute meeting in which the Scrum team discusses and plans for the day's work. It is a transparent overview and an insight into the team's understanding of what work has been completed and what needs to be achieved in that particular sprint. It helps to identify various obstacles that the team might run into as well while completing the task.
A Sprint review is carried out at the end of a sprint in order to analyze the amount of work completed and adjust the product backlog. The entire Scrum team and the stakeholders are a part of the meeting to discuss the proceedings of the task. This activity is extremely essential and of importance for the next sprint planning.
The sprint retrospective is required to identify areas of improvement. This meeting is usually carried out in an hour's time and is a good opportunity for every team member to reflect on the sprint. The Scrum master heads this meeting as well.
Advantages
Improves the efficiency of the organization. Adopting the Scrum framework and using the board gives a chance for the entire team to be updated together and promotes transparency as well as better interaction.
Leads to increased accountability.

Implementing scrum especially in marketing and sales immediately leads to an increase in accountability as responsibilities can be shared.

Affordable for smaller businesses.

Whiteboards and sticky notes are affordable tools that can be of help to a team's management.

Relatively easy setup and deployment.

It is one of the easiest setups to use and needs no training.
Disadvantages of Scrum Board
Challenged witnessed in the staff: Scrum board can be a new way to manage projects under the Scrum framework and can require extra tie and effort in its understanding as well as implementation.
This brings us to the end of this 'Scrum Board' article. I have covered all the basics that you should be aware of if you are planning to use scrum methodology. Hope you are clear with all that has been shared with you in this article.
Make sure you are well versed with the Scrum terminology before you start using it.
Got a question for us? Please mention it in the comments section of this "Scrum Board" article and we will get back to you as soon as possible.