Are you finding it difficult to connect and build relationships with your customers? Is your organization in need of software to market goods and services online? If your answers to the above questions are yes, then you should consider getting yourself certified in Salesforce marketing cloud. In my previous blogs, we have learnt about Salesforce, different certifications available in Salesforce, how to create an application on Salesforce platform and about Salesforce service cloud.
In this blog, I will be introducing you to Salesforce marketing cloud. I will provide you with details as to why you should choose Salesforce marketing cloud, the different platforms and channels that it provides. Finally, we'll take a look at an use case which explains how the marketing cloud is being utilized at Peak Games for advertising. You can learn more from the Salesforce certification training.
A Brief History
Before Salesforce came out with marketing cloud in 2012, there were various challenges in digital marketing. I have listed those challenges below:
It was difficult to harness the information on customers and audiences from social networks.
The growth of online conversations and metrics required a platform that could manage the huge amount of content being produced.
Conversations between organizations and customers were scattered across various channels.
All the data that was available on a customer was stuck in silos and was not being utilized.
Companies struggled to find return-on-investment across multiple channels.
To solve these challenges, Salesforce came up with the marketing cloud – one platform to integrate all social programs and data.
Why Choose Salesforce Marketing Cloud?
Salesforce marketing cloud is one of the market leaders in the marketing cloud domain along with other clouds like Adobe marketing cloud, IBM marketing cloud and Oracle marketing cloud. Salesforce marketing cloud has a total market share of 24%, second only to Adobe marketing cloud. Below is an image from google trends showing the interest in different marketing clouds over time. As you can see, the interest for Salesforce marketing cloud has been increasing rapidly. If you interested in making a career in Salesforce, then this is the best time in our masters program to become the Salesforce Certified Solution Architect!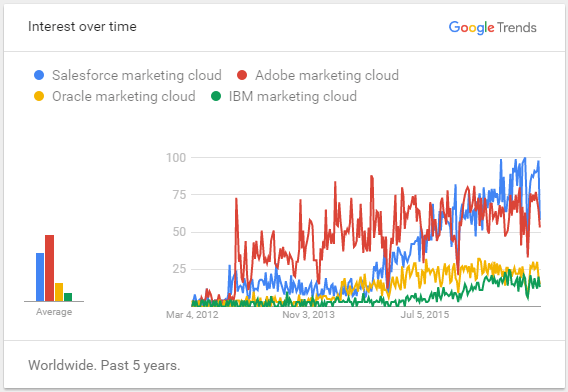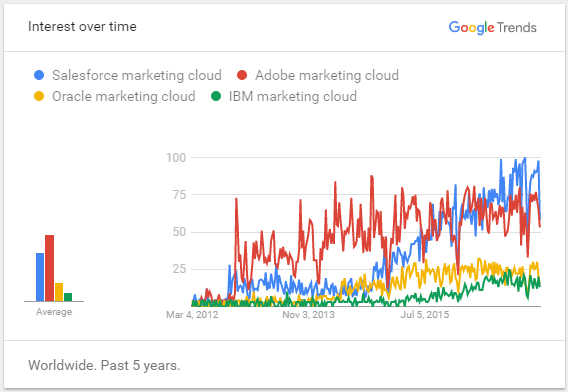 If you are wondering what makes the marketing cloud stand out, then you should take a look at the benefits given below:
Salesforce marketing cloud provides you with a platform to plan, personalize and optimize customer journey.
You can map customer journeys across multiple channels, devices and customer life-cycle stages all in one software.
Salesforce marketing cloud can be integrated with other software like Salesforce CRM, Salesforce Sales cloud, Workfront and other applications to provide deeper and better insights of customers.
Companies like Aston-Martin, Vodafone, Philips, Western-Union, General Electric etc, who have huge customer base use Salesforce marketing cloud to connect with their customers. Businesses that adopt these tools have a dramatic advantage, not just now, but well into the future.
What Is Salesforce Marketing Cloud?
Marketing cloud is the platform for delivering relevant, personalized journeys across channels and devices – enabling marketers to deliver the right messages to the right people via the right channel. Below is an image that shows the different functionalities that Salesforce marketing cloud provides your organization – journey builder, contact management tools, content management tools, analytics builder and various channels like email and mobile.

We have seen as to why Salesforce brought the marketing cloud into the market and why your organization should consider using it. Now, let's dive deep into the product and take a look at the different platforms and channels that Salesforce marketing cloud provides.
Below is an image from www.salesforce.com which describes the complete Salesforce marketing cloud product. The Salesforce marketing cloud is built on Salesforce infrastructure and on Fuel platform. It consists of various other platforms which you can utilize for your organization's marketing purpose. A Customer Data Platform which you can use to store your customer's data. A predictive intelligence platform which you can use for building predictive models of 1-to-1 customer's journey. It also consists of a platform for maintaining your organization's content and messages. It also provides tools for performing analytics and marketing operations on data obtained from customers. You can connect with your customers across various channels like email, mobile, ads, social networks etc. You can also use applications listed on hub exchange to add additional marketing features to your marketing cloud.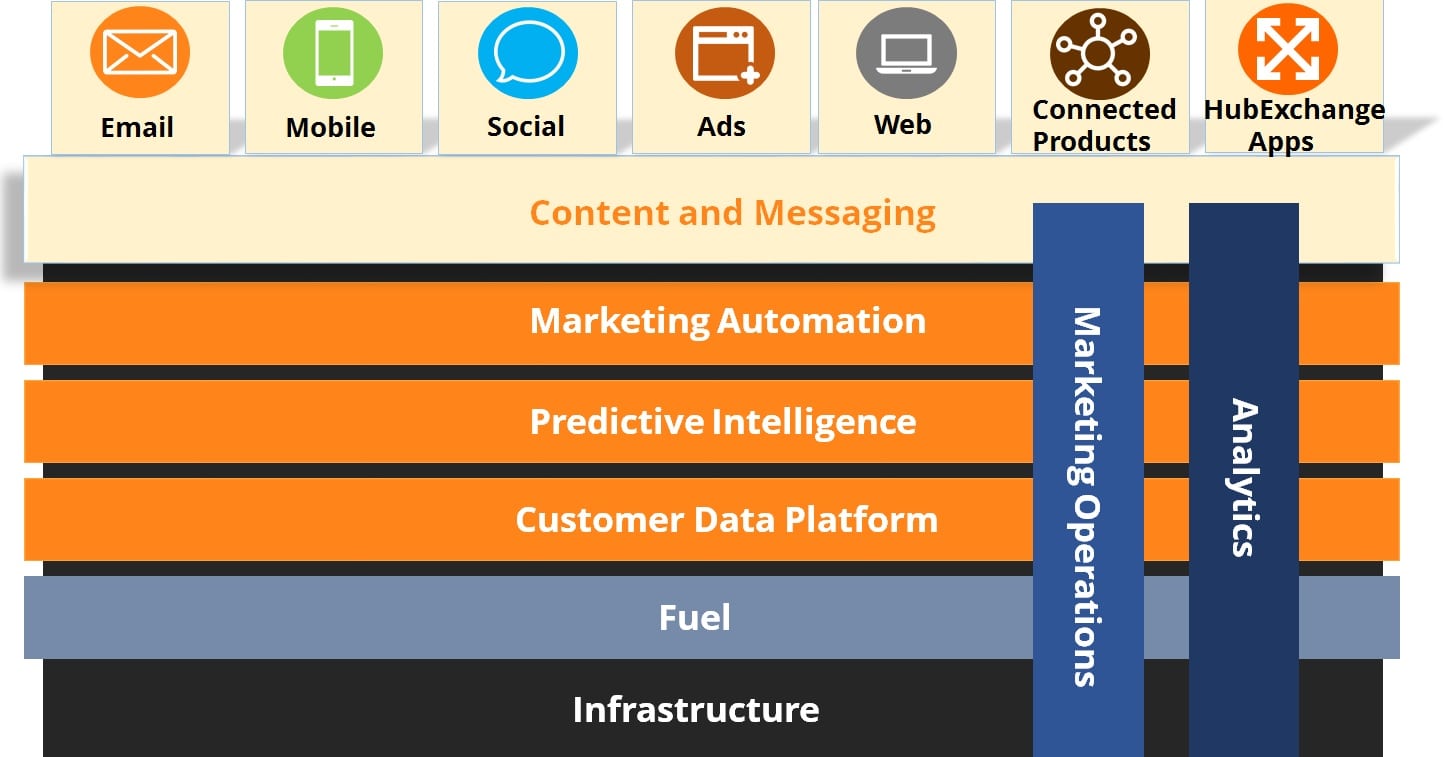 Now, let's take a look at the different platforms and channels that Salesforce marketing cloud provides and how your organization can benefit using these powerful features.
Platforms – Salesforce marketing cloud provides you with 6 different platforms which your organization can utilize to build effective marketing strategies. I have described each of the different platforms in detail below:
| | |
| --- | --- |
| | Journey Builder – With Journey builder you can build 1-to-1 journeys at scale. You can deliver simple or complex journeys for every individual, no matter the size of your customer base. You can incorporate sales and service activities right into the journey. Using the journey builder you can define specific goals and measure CTRs, timing, channels, conversions and more. You can evaluate your progress and optimize the performance as you go. |
| | Audience Builder – With audience builder, you can build a single view of your customer using data from different sources like Sales cloud, Service cloud and other data sources. Audience builder provides you with the functionality to filter data from multiple sources instantly. This can help your organization to target smart audiences. Not only this, but you can also validate audiences and engage with them at the right moment. |
| | Personalization Builder – Your organization can use the power of personalization builder's predictive analytics and predictive modeling, to understand each customer's preference. This enables your organization to build profiles of customers. You can then use these profiles to tailor personalized content and deliver it across different channels. |
| | Content Builder – With content builder, you can create, manage and track content across all your digital channels from a single location. The content builder provides you with drag-and-drop smart content blocks so that you can create content once and use it at various places. Content builder comes with sophisticated algorithms to determine and deliver the best content for each customer. |
| | Analytics Builder – Using the analytics builder you can uncover new insights about your customers. With analytics builder you can display your reports using bar graph, pie charts, scatter plots and other visualization techniques. Analytics builder also comes with email analytics and reporting using which you can understand whether a customer has opened, clicked, unsubscribed and more for each of your campaigns. |
| | Marketing Cloud Connect – With marketing cloud connect you get access to all of your Salesforce customer data – data in different Salesforce products. You can trigger activities that connect interactions across Salesforce sales cloud, Salesforce service cloud and other Salesforce products. |
Channels – Salesforce marketing cloud provides you with 5 different channels using which your organization can interact with its customers. I have described each channel below:
| | |
| --- | --- |
| | Email Studio – Your organization can use the email studio to create customer engaging emails. Using email studio, you can keep tabs on your email campaigns. You can further boost your return on investment with built-in A/B testing capabilities, integrated predictive intelligence and email delivery tools. Also, using email studio you can filter your subscriber base and send targeted email messages based on customer data. |
| | Social Studio – Social studio provides your organization with social listening tools to hear conversations from different sources. You can plan, execute and track social media marketing campaigns. Using social studio you can monitor your owned social channels and participate in conversations at scale. |
| | Mobile Studio – With mobile studio your organization can get a mobile-first mindset with SMS, MMS, push messaging and group messaging. You can engage with customers in the moment, send real-time alerts and notifications. With mobile studio you can build powerful APIs to automate mobile marketing solutions. Using geo-location technology, you can interact with your customers at the right place and time. |
| | Advertising Studio – With advertising studio you can power digital advertising and manage ad campaigns. You can use customer data from multiple sources to securely reach customers and lookalikes across various platforms like Facebook, Google, Instagram, Twitter etc. Your organization can use the advertising studio to manage ad campaigns at scale. |
| | Web Studio – Web studio provides you with tools to create beautiful, dynamic web-pages and personalized content. You can track real-time customer interaction on your website and gain insights from it. Using the web studio, your organization can deliver personalized content and recommendations. |
Well that's a lot of things that you can do using the Salesforce marketing cloud. Generally organizations utilize only few of the features described above. First Midwest Bank leverages Mobile studio to engage with its customers, Stanley Black and Decker uses email studio and social studio to understand its customers. Below I have described in detail how Peak Games, a mobile gaming company is utilizing Salesforce marketing cloud to reduce cost of their social advertising.
Salesforce Marketing Cloud Use Case – Peak Games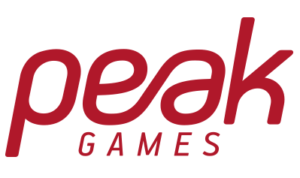 Peak games is a household name in the mobile gaming industry. They have over 275 million users across 150 countries. You may have played some of their popular games like Okey Plus, War Of Mercenaries and Lost Bubble. Currently, Peak games run over 175 marketing campaigns every day and they use Salesforce marketing cloud to do so. In this section, I will describe the challenges that Peak Games faced and how they used Salesforce marketing cloud to overcome them. We'll also take a look at the impact that Salesforce marketing cloud had at Peak Games.
The challenges that Peak games faced were:
Peak games used to run high volume of marketing campaigns. Therefore, they required a tool for bulk campaign management.
Peak games marketed their games using paid social advertisements. Peak Games wanted to scale their social advertising.
Peak games used tactics like A/B Testing, ad segmentation and audience targeting optimization. They wanted to make better use of these tactics so that they could achieve better return-on-investment.
Peak games required a powerful reporting center to handle their reporting.
As a solution, Peak games turned to Salesforce marketing cloud's advertising studio platform.
Peak games used the bulk campaign management feature to handle their marketing campaigns.
Peak games were able to iterate the process of A/B testing for images to gain insights as to which image is effective.
Using the marketing cloud, Peak games advertising team was able to develop best practices to attract high quality game players.
Using the marketing cloud Peak games team was able to look at its players holistically and optimize advertising depending on their actions.
Below is an image which clearly outlines the challenges that peak games faced and the solution that Salesforce marketing cloud provided them.

The marketing cloud didn't just solve these challenge, it also had a positive impact on the company. The results of Peak games using the Salesforce marketing cloud were:
Peak games were able to reduce their cost per engagement and identify their best audience.
Peak games was able to compare the success of two separate images with regard to Click Through Rate (CTR) and Cost Per Install (CPI).
Peak games also found out that:

Using 20% text allowance in images reduces CPI by 27%.

Images showing a user interacting with a game doubled CTR and reduced CPC (Cost Per Click) by 50%.
Salesforce marketing cloud has enabled Peak games to more effectively harness the power of social advertising, while also getting a better understanding of its audiences and their preference.
I urge you to see this Salesforce marketing cloud video tutorial that explains all that we have discussed in the blog. Go ahead, enjoy the video and tell me what you think. You can also go for Salesforce PD1 certification to become a certified developer.
Salesforce Marketing Cloud Training Video | Edureka
This Edureka Salesforce marketing cloud training video for beginners will help you learn Salesforce marketing cloud benefits, what it is, its various features, use case along with marketing cloud demo.
From this blog, I hope you have got a complete understanding of the Salesforce marketing cloud, the different channels and platforms it offers and how to use them for your organization's benefit. Feel free to leave any questions you have in the comment box below.
Check out our Salesforce Training in Sydney, which comes with instructor-led live training and real life project experience. Feel free to leave any questions you have in the comment box below.
Also, If you wish to master Cloud Computing and build a career in this domain, then check out our Cloud Computing Certification which comes with instructor-led live training and real-life project experience. This training will help you understand Cloud Computing in depth and help you master various concepts that are a must for a successful Cloud Career.