Salesforce experts are in great demand as companies are on the lookout for well-certified professionals in this field. Statistics reveal that nearly 60% of Salesforce implementations pose some challenge or the other, often making them a letdown and heightening the need for a trained team. Salesforce impacts changes faced by employees in terms of processes to be followed and also in their behaviors and expectations. Hence the need for a foolproof adoption, led by a qualified team.
Why is a Salesforce certification valuable?
Companies that hire well-certified specialists often experience error-free deployments
As demand for Salesforce.com is on the rise, the demand for certified professionals too is on the rise
Getting certified helps professionals to boost their careers
For increasing your marketability in the IT job market
Increasingly, employers or customers expect that their team has some level of certification in Salesforce
Certifications in Salesforce and Career Tracks
The graphic below lists the various certifications available in Salesforce and also their corresponding career tracks.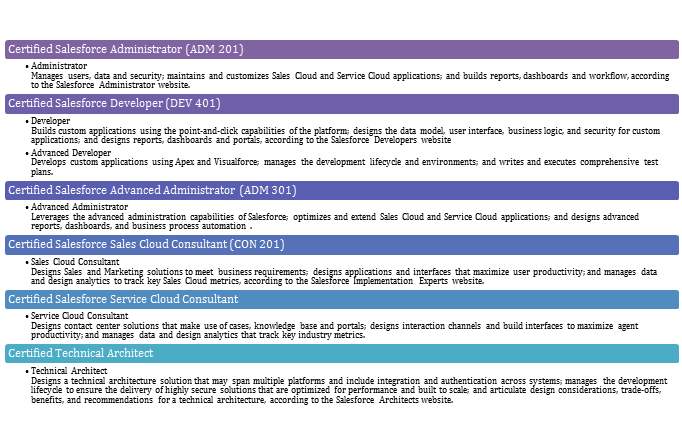 (Adapted from certfication.salesforce.com and runconsultants.com)
How Do You Start A Salesforce Administrator Career?
If Salesforce is a big part of your business, investing in a certified administrator is inevitable since the certification ensures a certain level of understanding of the platform. The greater the hierarchy, complexity and users, the administrator's role becomes more and more critical.
A career in the field of Salesforce administration involves:
Ensuring that the Salesforce system is running efficiently at all times
Making the requisite changes and edits to the system from time to time
Generating reports and dashboards on the effectiveness of the functioning of various departments
Testing and updating the system when required
Developing training manuals for users
Managing an ongoing development process of the system to meet the future requirements of the organization
Maintain good relationships with vendors and partners
A successful Salesforce must display certain traits and qualities. These have been listed below:
Must be a logical thinker, with the ability to grasp details on processes and how changes get escalated and effect various departments
Someone who is respected amongst the team and is also authoritative to get things going
The administrator has to be someone who enjoys coaching and helping his/her team. After all, a Salesforce implementation may be very alien to certain teammates
The primary role of any CRM like Salesforce is to augment the sales process. For its highest success, being familiar with the sales funnel is a prerequisite for a Salesforce administrator
Inclination towards technology is another must-have for this role as an administrator should be someone who is willing to get his/her hands dirty and fiddle around the system for minor problems
Believing in the powers of CRM is another key aspect to ensure that the CRM infrastructure is put to complete use
Complete understanding of the processes within the company to be able to have an insight into a comparison between 'what is' to 'what it should be' situations
A project manager with a great deal of experience and skills to meet deadlines, deal with multiple stakeholders and relate to multi-faceted issues
The ability to see the big picture and not be shunted by hurdles that come along the way
It is no rocket science then, that proper training and certification will ensure that the Salesforce implementation for your company has been done in the best possible way. Choosing the right Salesforce administrator for the job is just the starting point of this journey.
Edureka offers a specially curated course on "Salesforce Admin & App Builder Certification Training". The course enables you to get a comprehensive view of the Salesforce platform by understanding the core topics related to administrator and developer foundation level topics. This course is aligned to the ADM 201 and App Builder Certification. New batches are starting soon, so do enroll now. Check the link here.
Powered by Ivyclique
Got a question for us? Please mention them in the comments section and we will get back to you.
Related Posts:
Get Started with Salesforce Admin & App Builder Certification Training
Everything You Need to Know About Salesforce.com Certification