Scaled Agile Framework, also known as SAFe, uses a combination of existing lean and agile principles and combines them into a templated framework for large-scale projects. Given the growth in the fame of the Scaled Agile Framework, it should come as no surprise that this growth is also fueling an unprecedented demand for SAFe Certifications. In this article, let's explore SAFe Agile Certification exam requirements.
The topics discussed in this article are:
SAFe Certifications
Scaled Agile Framework (SAFe) is the widely used agile framework across the globe. Scaled Agile, Inc. the certifying body of the Scaled Agile Framework® (SAFe®) provides a myriad of certification programs. These professional certification programs provide a valid, reliable, and consistent method of assessing SAFe skills, knowledge, and mindset. Check out the SAFe certifications below: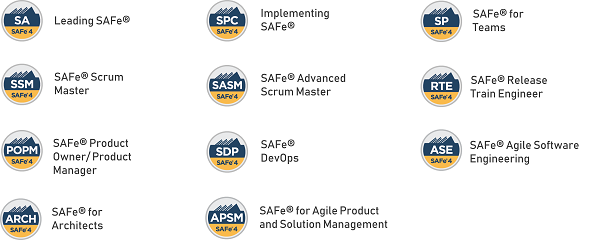 Certified SAFe professionals are globally recognized for their ability to successfully execute large-scale projects based on Lean-Agile principles. Earning Leading SAFe® 4.6 certifications will give you a major lead over your peers and places you at the helm of Agile transformation in enterprises. Next part of this SAFe Agile Certification exam requirements article discusses one of the most popular certifications, SAFe® 4 Agilist Certification.
Leading SAFe® – SAFe® 4 Agilist Certification
SAFe® 4 Agilist Certification is for the candidate who wants to gain the knowledge necessary to lead a Lean-Agile enterprise by leveraging the Scaled Agile Framework® (SAFe®). Also from utilizing SAFe underlying principles derived from Lean, systems thinking, Agile development, product development flow, and DevOps.
A candidate has to attend a 2-day SAFe training course that will prepare him/her for the SAFe® 4 Agilist Certification Exam based on SAFe version 4.6, which is the latest version of SAFe. The roadmap to becoming a certified SAFe® 4 Agilist (SA) is: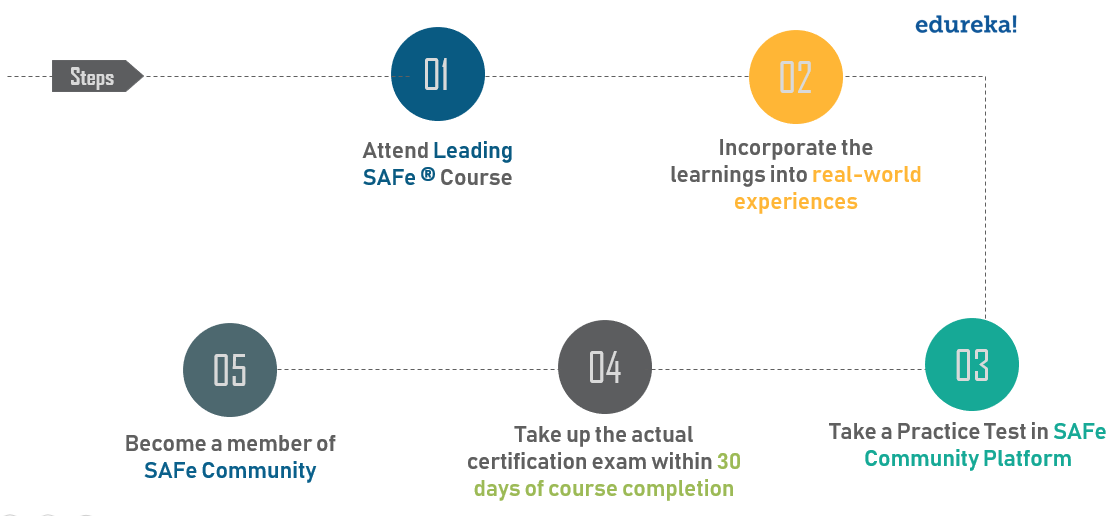 This certification can be taken by anyone who aspires to work in an organization based on Lean-Agile principles at large scale. From team leads, product managers, project managers, development managers, architects, analysts, and testers. Now let's discuss the certification exam details.
SAFe ® Agilist Certification Exam Details
Prerequisites
All are welcome to attend the 2-day SAFe training course, regardless of experience. However, the following prerequisites are highly recommended for those who intend to take the SAFe® 4 Agilist (SA) certification examination.
5+ years of experience in software development, testing, business analysis, product, or project management
Experience in a Scrum
Exam Specific Details
The details of SAFe® 4 Agilist Certification Exam are as follows.
| | |
| --- | --- |
| Exam Features | Features Details |
| Name | SAFe® 4 Agilist Exam |
| Access | Candidates can access the exam within the SAFe Community Platform |
| Delivery | Online (single-browser), closed book, no outside assistance, timed |
| Format | Multiple Choice Questions |
| Duration | 90 minutes (1.5 hours) |
| Number of Questions | 45 questions |
| Passing Score | 34 out of 45 (75%) |
| Cost | Cost for 1st attempt is part of the registration fee |
| Retake Cost | $50 per attempt |
Let's discuss more of exam retake policy.
Exam Retake Policy
The following applies to only SAFe® 4 Agilist Certification Exam:
The first time an exam is taken is considered a "first attempt" and not a retake

Second attempt on exam (first retake) can be done immediately after the first attempt

A third attempt requires a 10-day wait
A fourth attempt requires a 30-day wait
Note: Exam retakes are not allowed after successfull completion. The candidate may not take the same exam again unless there has been an announced update to the exam.
What is your take away from these certifications?
SAFe Certification Kit
Attendees who pass the certification exam shall receive the following;
Certified SAFe® 4 Agilist certificate
SAFe® 4 Agilist digital badge to promote your accomplishment online
A one-year certified membership as a SAFe-Agilist, which includes access to the SAFe-Agile Community of Practice
Access to Meetup groups and events that connect you with other SAFe certified professionals
A certification usage guide with SA certification marks
A variety of learning resources to support you during your SAFe journey
Now that you have a clear picture of exam details, you must be wondering how do you prepare yourself for SAFe® Certification Exams, aren't you? Well, if yes, check out these simple steps that will help to pass the exam.
How to Prepare for the SAFe Certification Exams?
The first step towards becoming a SAFe certified professional is to attend the

Leading SAFe® course.
Go through study guides as they provide relevant and content-specific exam information
Take plenty of practice tests and sample tests. They

simulate the actual certification exam in duration, difficulty, and topic area.

Leverage experience.

Combining a person's studying and learning with their real-world experiences is key to becoming SAFe® Certified.
Do keep in mind that becoming SAFe certified is one step towards the beginning of an ongoing pursuit of learning and knowledge. That's it, folks! With this, we have reached the end of the article. You could also take a look at Scaled Agile Interview Questions while you're at it.
Got a question for us? Please mention it in the comments section of this article and we will get back to you as soon as possible.