Robotic Process Automation is a new age technology in today's market used to automate mundane tasks, and to do this we need RPA Tools. To upskill your career in RPA, getting a RPA online training or Automation Anywhere Certification training is a must, as this can help you land as an RPA developer. In this article on RPA Tools, the following topics will be covered:
Before I give you a detailed list of the top RPA tools in today's market, let me tell you the different types of RPA tools available.
Types Of RPA Tools
All the RPA tools can be segregated into 4 different types of tools that are built as the extension of the previous generation of bots. Refer to the following table for the same.
| | |
| --- | --- |
| Type of RPA Tools | Description |
| Excel automation and Macros | Simple automation solutions to automate basic processes. |
| Programmable Solution bots | Interact with other systems based on the client's requirements /inputs. |
| Self Learning Tools | Analyze human actions and perform the same on various platforms |
| Cognitive automation bots | Self-learning bots which can handle unstructured data, and make decisions based on complex, unstructured input. |
Since you must have got an idea about the types of tools available, let us look into the list of the top RPA tools present in today's market.
List of RPA Tools
Vendor/Tool
Free Version Available/ Not
Pricing
Usability
Selected Partners

Another Monday

30 days free trial

–

Smart process tracking, Drag & Drop cognitive automation

KPMG, PwC

AntWorks

–
–
Collaboration tool provides Bot cloning
CyberArk, Vincix

Automation Edge

30 days of free trial
–
Drag and Drop technology and Cognitive features
Wipro, Keyvrox

Automation Anywhere

Provides a community edition/ free edition
–

Drag & Drop and provides AI-Augmented RPA

Ernst and Young, Cognizant

BluePrism

30 days of free trial

–

Drag & Drop features, used for enterprise automation

Accenture, Capgemini

Contextor[Acquired by SAP]

–

Price per block of 1,000 transactions per month [OR]

Pay-per-use

Provides cloud deployment, and a visual designer to create bots
Worldline

,

IBM
Jacada
–
–
Desktop automation with high accuracy
Priceline.com, DirecTV

Kofax

Provides free trial
–
Unified Design Environment, and provides built-in analytics

BMW, Dominos

Kryon Systems

Provides free trial
–

Provides strong analytics &deployment efficiency

PwC, EY

NICE Systems

30 days of free trial
–
–

Accenture, Cognizant

Pega

30 days of free trial
–
Visual designer studio

Accenture, Capgemini

Redwood Software

30 days of free trial
–
–

Heineken, Airbus

UiPath

Community Edition

Studio License

(Annual): $2000 – $3,000

Drag and Drop functionality, Easy to use visual designer

Cognizant, Deloitte

Visual Cron

45-day free trial

per server

Integration and task scheduling tool

Amazon, Apple

WorkFusion

30 days of free trial

per process

Drag and drop builder and provides machine learning capabilities

Bank of America, PNC
Well, as you can see above that each tool has its own positive and negative factors. But, if you talk about the market leaders, it is the famous trio i.e. Blue Prism, UiPath & Automation Anywhere. Refer to the following table for the differences between these tools.
RPA Tools Comparison: UiPath vs Blue Prism vs Automation Anywhere
| | | |
| --- | --- | --- |
| UiPath | Blue Prism | Automation Anywhere |
| Has Community Edition / Free Edition | Has recently launched a free edition. | Recently launched a Community Edition |
| Most Popular Tool | Popular than Automation Anywhere | Less Popular than others |
| No programming knowledge required | It provides functionality that allows the user to write code, but users can manage without it. | No programming knowledge required |
| Has free online training and certification programs | Provides official certification program | Recently launched a certification of 50$. |
| Provides desktop, web and Citrix automation | Designed for Citrix automation for BPO. | Reasonable across all mediums. |
So, now that I have explained the differences between the top tools, you can consider the following checklist to select the right tool for you.
Checklist for Selecting The Right Tool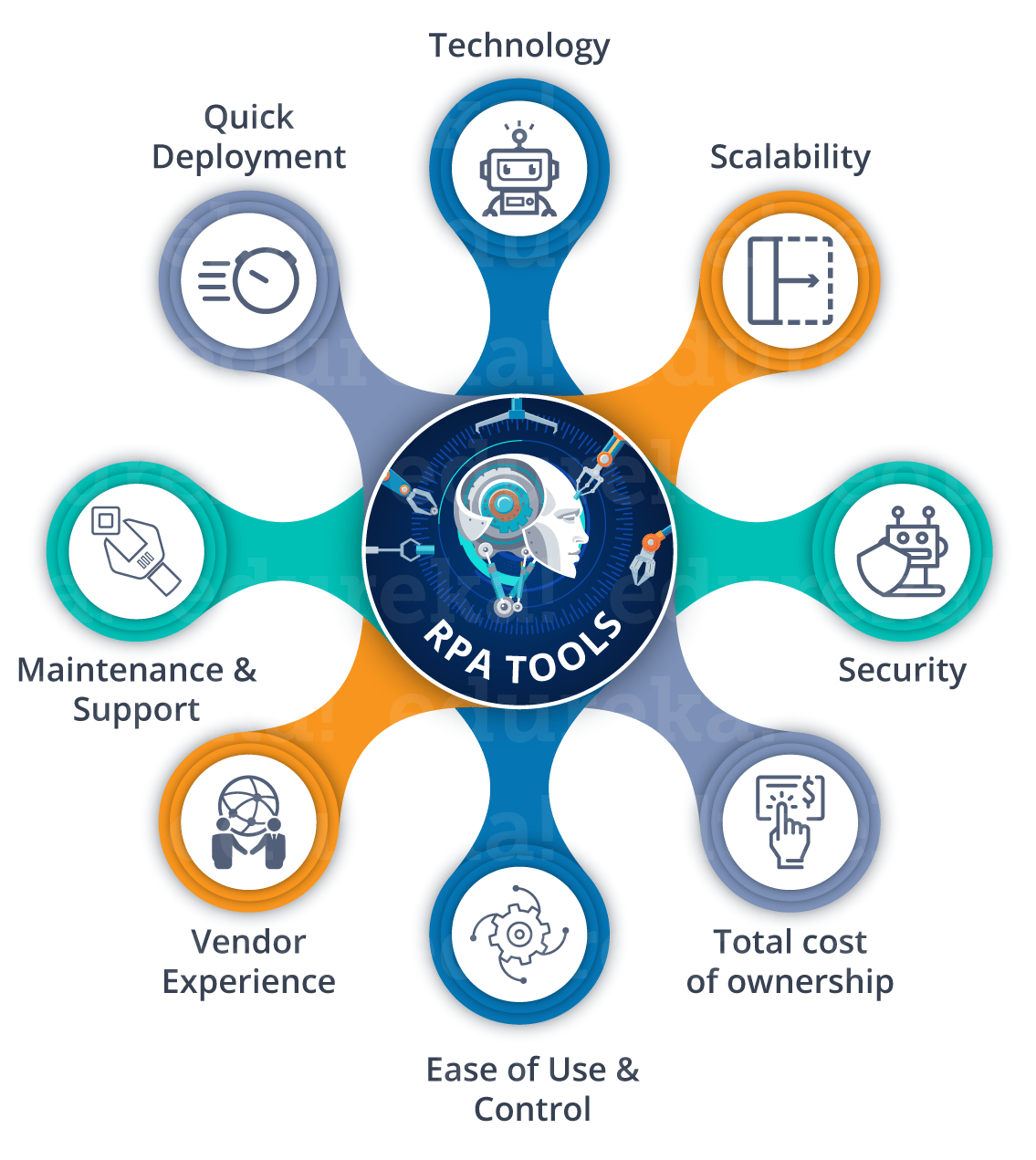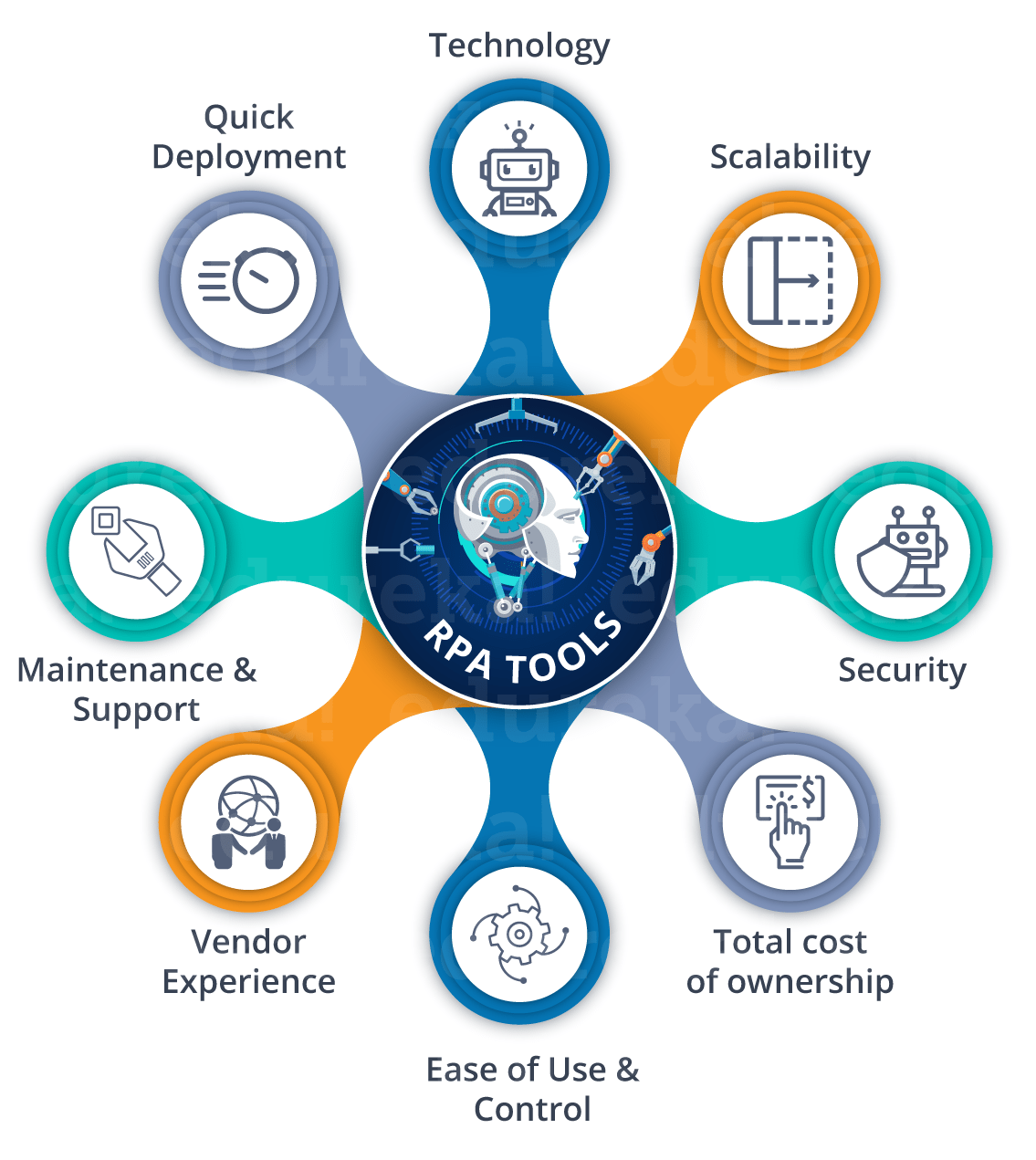 Technology: Most of the organizations perform their day to day tasks outside the local desktop either by using virtual machines or Citrix environments. So the tool should support any type of application and must be platform-independent.
Scalability: While selecting an RPA tool, you must consider how easily the tool can respond to clients/business requirements and changes with high efficiency.
Security: Security is an important aspect in any field of technology. Since RPA tools are software, you need to consider a lot of security measures while deploying bots in production.
Total Cost of Ownership: Includes the initial setup cost, maintenance cost, and ongoing vendor license fees. This is a very important parameter that must be considered while selecting a tool.
Ease of Use & Control: Any tool that you choose must be user-friendly to increase employee satisfaction and efficiency.
Vendor Experience: It is advised to choose a vendor that serves a company similar to yours both in terms of size and industry. This will help you improve the speed of implementation.
Maintenance & Support: The vendor must follow a support model t

o ensure that the required Service Level Agreements are met.
Now that you know the parameters you have to consider while selecting the tool, you should have an understanding of when to choose which tool. Refer to the following image to understand which tools suits your needs the best.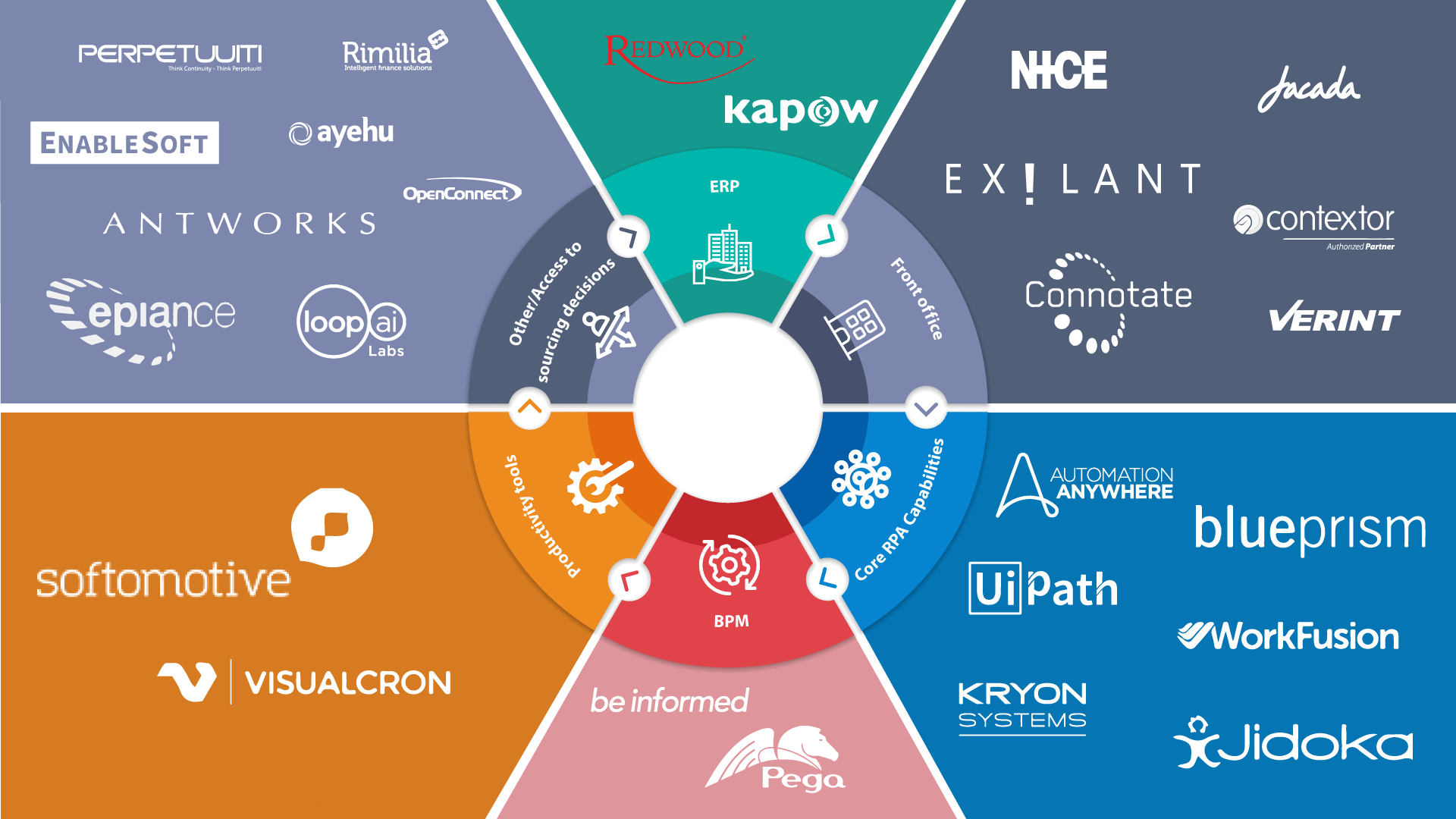 Looking at the above tools, if you want to upskill your career in the field of RPA, then we at Edureka provide a structured curriculum on UiPath to help you master the tool. We are also one of the official training partners of Automation Anywhere, where we will provide you with the Enterprise Edition. If you wish to master, then check out our courses on Uipath advanced developer certification.
Got a question for us? Please mention it in the comments section of this RPA Tools article and we will get back to you.