Introduction
Risk Management has become an important component in the Project Management domain. According to PMBOK, Risk Management is one of the 10 knowledge areas where a project manager must be competent. So why is Risk management important?  In simpler terms, risk is an aspect that is present in every domain. It's a part of the innate human nature to plan, assess risk and make sure the objective is complete in a smooth fashion.
Decoding Risk Management
Risk Management is the process of identifying, analyzing and responding to risk factors. It involves the control of possible future events and is proactive rather than reactive. It helps avoid likelihood of events occurring and also to study the magnitude of impact.  The term 'plan ahead' is often closely related to being proactive.
Possibilities within an organization
Before adopting or implementing risk management as a process, an organization could face the following challenges:
Top Management not recognizing risk management as a project

Too many projects going on at a time
Impossible schedule commitments
No function input into the planning phase
No one person responsible for the total project
Poor control of design changes
Problems with team members
Poor control of customer changes
Poor understanding of the Project Managers' Job
Wrong person assigned as Project Manager
No integrated planning and control
Organization's resources are over-committed
Unrealistic planning and scheduling
No project cost accounting ability
Conflicting project priorities
Poorly organized project offices.
The following possibilities are often eminent when adopting project management and assessing risk. Often organizations that are large and have significant manpower/projects in hand face numerous issues in implementation. The above possibilities provide Project Management professionals a better insight into risk management & project management.
Process of Risk Management
The risk management process is a simple one with primary steps that involve:
Identify possible risks

Reduce or allocate risks
Provide a rational basis for better decision making regarding all risks
Most Importantly. 'PLAN'
When it comes to studying the risks involved in a project, it's important to bring concerned people on board in order to do a risk identification session. It then involves eliciting members from the most senior members to the most junior tester/developer. They in turn help identify things that can go wrong in a project (scope, time, cost, quality) or the functional components where quality might be an issue.  The objective is to collect the wisdom and expertise of all members along with their personal opinion. This will ensure the degree at which your project will be delivered.  The next step would be identifying items (factors) in the risk register.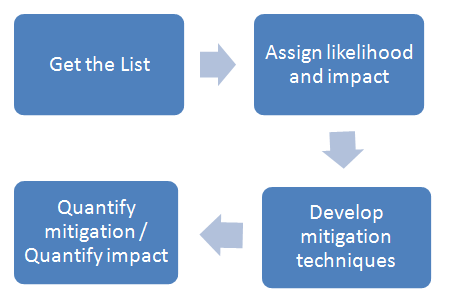 The next would be a follow-on session to see the likelihood of the items with risk impact. The degree of likelihood and impact both can have scores of low, medium or high. Then it is important to develop the mitigation techniques followed by medium, medium impact, medium likelihood and so on.  One can start with the most likely high impact risk to the most likely lowest impact risk. It's important to have all mitigation techniques in the risk register.
The final step is to quantify the cost of what the mitigation technique might be and quantify the impact of the risk  Once all the steps are complete, it is important to revisit the steps periodically to assess new risks.
Risk Register
As a part of the Risk Management, it's important to have a Risk Register.
Wikipedia states that "A Risk Register is a Risk Management tool  commonly used in Risk Register and organisational risk assessments. It acts as a central repository for all risks identified by the project or organisation and, for each risk, includes information such as risk probability, impact, counter-measures, risk owner and so on. It can sometimes be referred to as a Risk Log'
For example let us take an example where you and your friends are taking a long trip to a hill station.
There are different factors that can be combined to assess the risk mentioned below: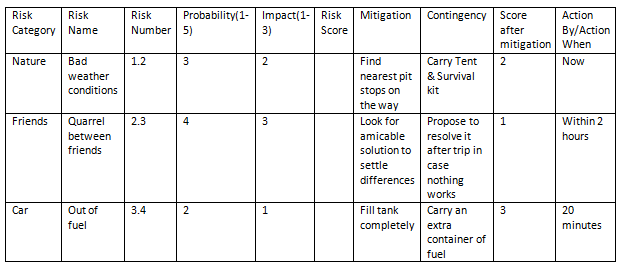 Continuous Risk management:
The vital step in Risk Management is to ensure that it remains a continuous process throughout the project execution. An organization must ensure high priority risks are aggressively managed and that all risks are cost-effectively managed throughout the project. It is ultimately important to provide management at all levels with the information required to make informed decisions on issues critical to project success.
Got a question for us? Please mention them in the comments section and we will get back to you.
Related Posts
PMI-ACP Tips and Tricks for Preparation