Celebrating Ridiculously Committed Mentors
Success is an amalgamation of hard work and persistence. However, one crucial ingredient for success that cannot be ignored is appropriate guidance and support by mentors. Whether it was Dronacharya's resolve in moulding Arjun or Savitri Bai Phule's dedication in uplifting the education system of India in the pre-independence era, examples of great mentorship stand-out.
India, today, is a knowledge superpower, and we owe it to our whip-smart and hard-working IT professionals, people like you! And behind every successful IT professional is a committed, no, Ridiculously Committed Mentor. Whether it's colleagues who've always got time for you, managers who help you learn on the job, Team Leads who lend you ropes to climb, HR managers who made sure you did not feel left out in a new office; there was always someone whose support and aid helped your career grow.
And the truth is, you wouldn't be where you are today, without them!
We at Edureka! have always believed in Ridiculous Commitment. And this year, we wish to honour mentors and the mad drive that makes them Ridiculously Committed.
Exciting, isn't it?
We want your help to acknowledge the contribution of your Ridiculously Committed Mentor to your success. Nominate your mentor for the Ridiculously Committed Mentor Award and you could help them win the following:

But that's not all! By simply nominating a mentor, you'll also win Rs. 1,500 in Edureka cash that you can use to upskill in the hottest technologies of 2018.
So, how do you participate?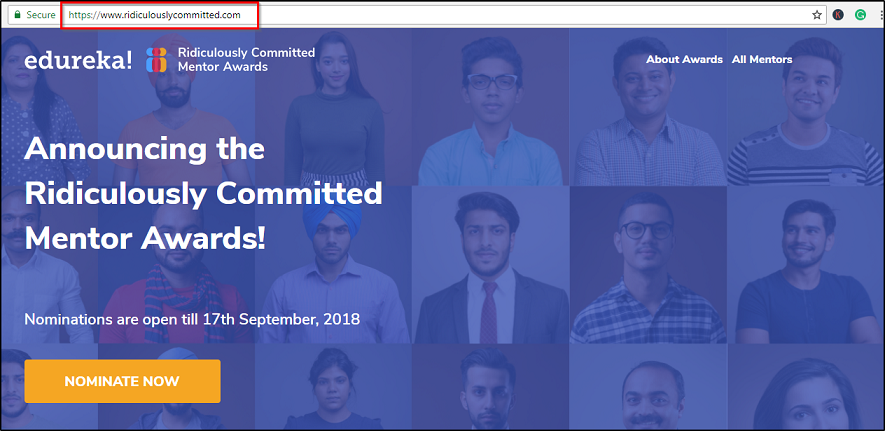 You can simply click on the button "Nominate Now" and fill in the details. Once you do that, give us some time to verify your nomination and… that's it!
P.S: Nominations are open till 17th September, 2018.
So what are you waiting for? Hurry up…