In this dynamic world where everything changes at a rapid rate, the popularity of Python never seems to cease. Today, Python Certification is one of the most sought-after skills in the entire programming domain. But have you ever wondered if it is really worth it? If yes, where can it take you? Apart from these, there are few other questions which might be bothering you. In this article, I would be answering all such questions regarding Python Career Opportunities and the growth it gifts you.
Python, as a programming language is easy and simple to learn. Python cuts development time in half with its simple to read syntax and easy compilation feature. Also, it has plenty of libraries that support data analysis, manipulation and visualization. Therefore, it has evolved as the most preferred language and considered to be the "Next Big Thing" and a "Must" for Professionals. Today, we will discuss various Python career opportunities available for a Python programmer.
Python Career Opportunities
Inclination towards being curious and hands-on is desired as Python demands that we get our hands dirty and like to fiddle around the system for errors and other issues.

In an independent 3rd party survey, it has been found that the Python programming language is currently the most popular language for Data Scientists worldwide. This claim is substantiated by IEEE, which tracks programming languages by popularity. According to them, Python tops the list of the most popular programming languages in 2018. Not only this, Python is finding its application in diverse domains, as illustrated below.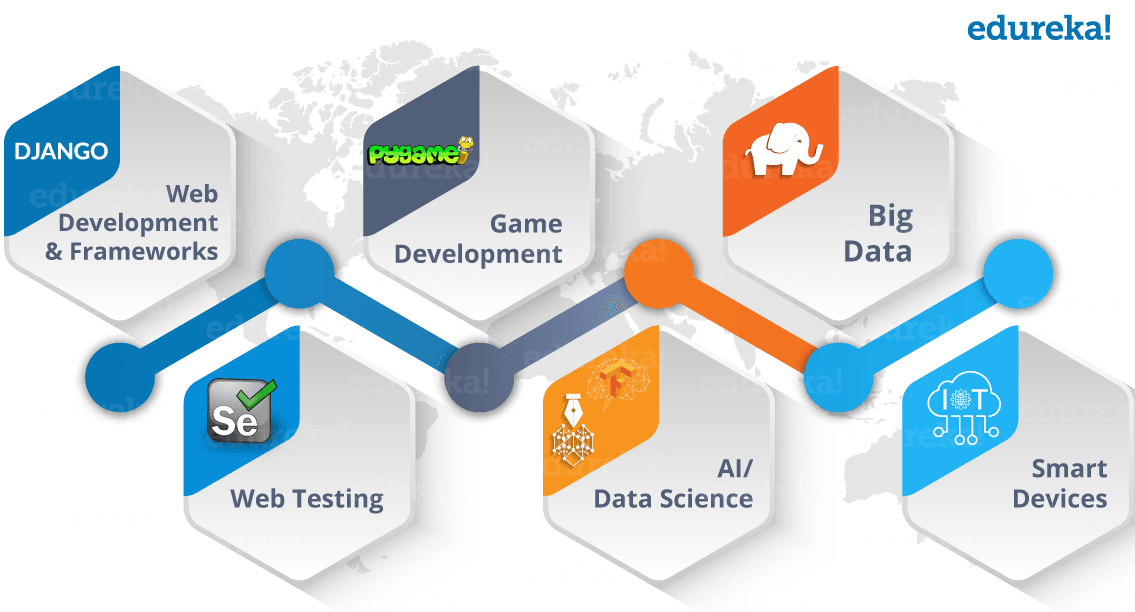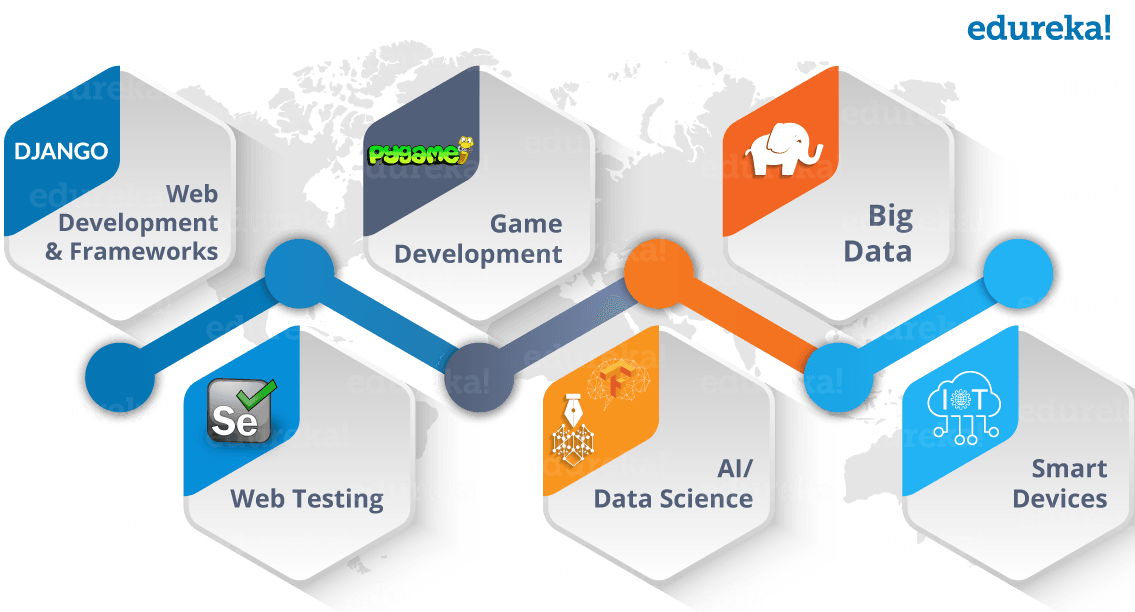 In India and other countries of the world, an alarming skill-gap is making enterprises look at talent from more expensive countries. A recent article in Times of India states: "One of India's top software companies was faced with a tough situation". It had won a $200 million (Rs. 1,200 crores) contract to develop an app store for a large US bank, but did not have adequate numbers of programmers who could write code in Python, the language most suited for the job. Eventually, it paid thrice the billing rate to a group of freelance Python programmers in the USA and learned a valuable lesson about the importance of a language named after the British television comedy series "Monty Python!"
Thankfully, this is changing now, with developers realizing the need to add Python to their resumes, both for faster programming and lucrative global careers.
Python Job Profiles
Software Engineer

Python Developer

Research Analyst

Data Analyst

Data Scientist

Software Developer
Python Salary
By the end of 2017, Python was delivering some impressive numbers. A recent Indeed.com inquiry also revealed at least 55,000 Python jobs in USA with exponential salary figures.
According to Payscale.com, below are graphs depicting average Python salary for India and US.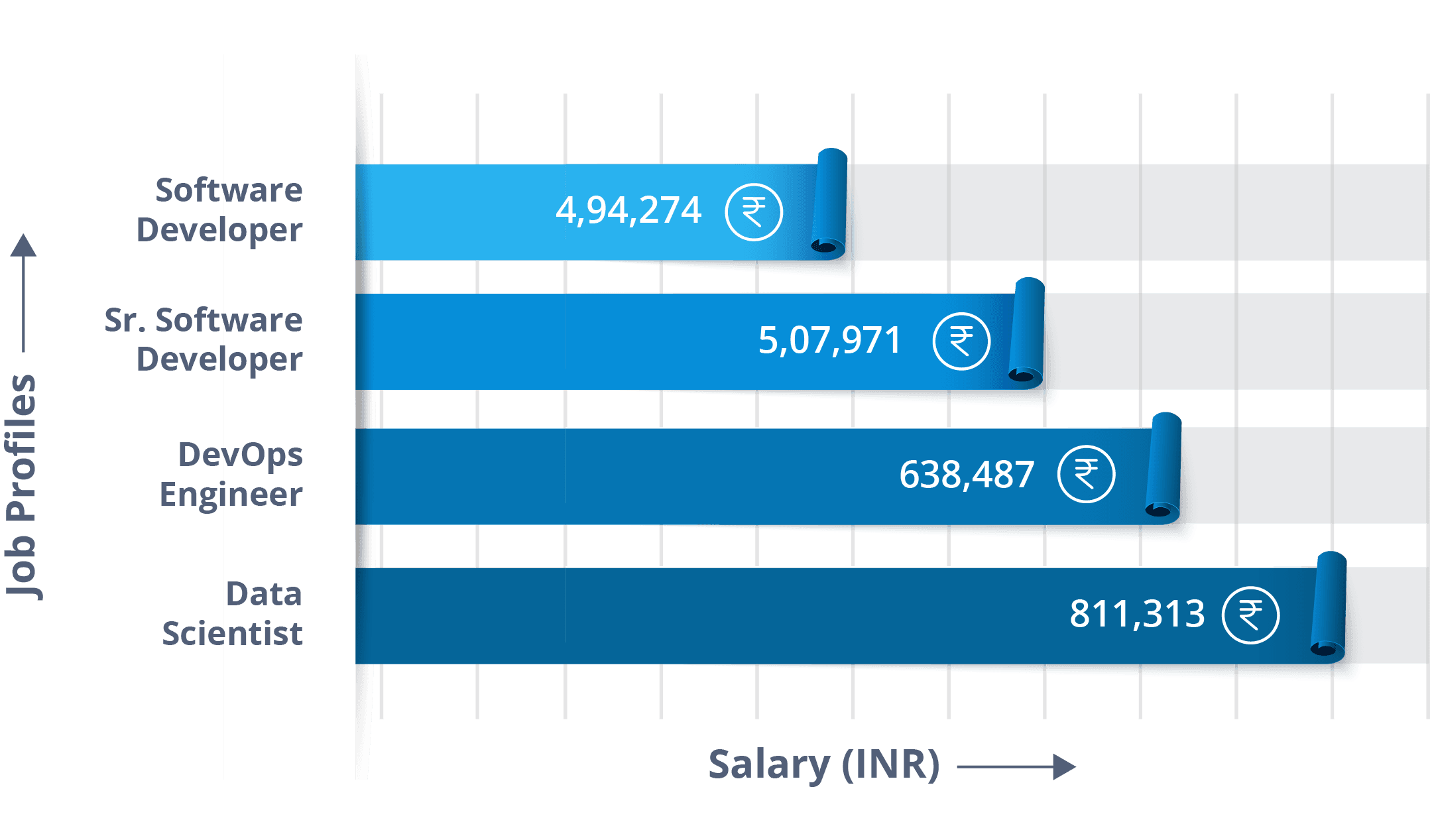 Job Profiles IND – Python Career – Edureka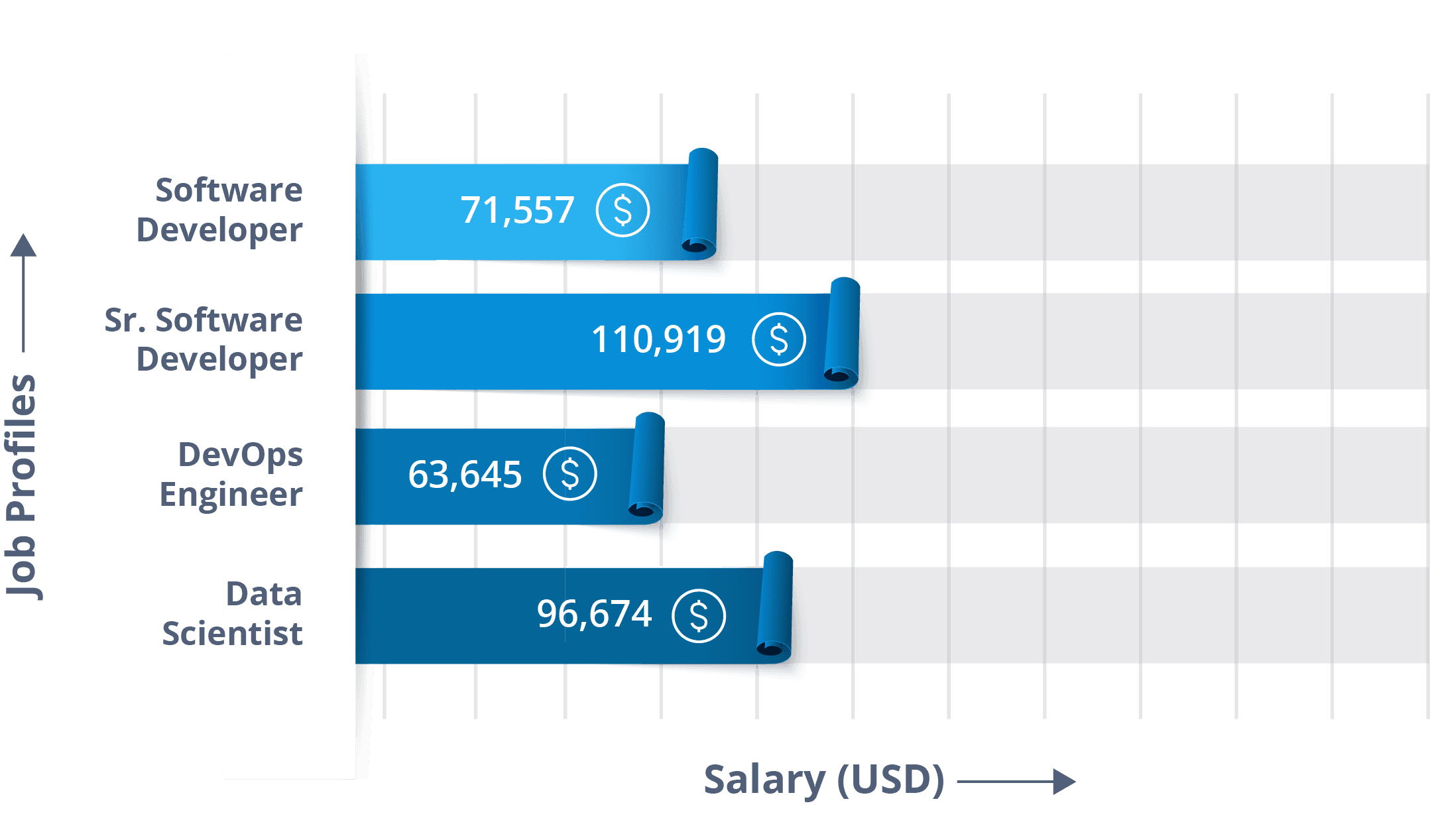 Job Profiles US – Python Career – Edureka
Popularity of Python Programming
The popularity of Python programming is steadily rising and so are Python career opportunities.
According to TIOBE Programming Community index, which tracks the popularity of programming languages, Python has leaped four places in the last one year alone to rank at No. 4 in the index!

TIOBE Index for Aug 2018 – Python Career
It is quite impressive that 41 large organizations in the world have adopted Python as their primary programming language in a very small span of time. Some of the big players like Quora, Facebook, YouTube, SlideShare, Dropbox, Pinterest, Reddit, and Netflix have most of their new code written in Python. It is an open secret in the developer world that Google has now adopted Python as its secondary coding language, and has committed to using it more in its new product offerings.
Edureka has specially curated a course aimed at helping developers master the Python language. The live and interactive course that is co-created by industry practitioners, covers critical aspects of Python such as integration of machine learning, Hadoop, and Web Scraping, among others.
Got a question for us? Please mention it in the comments section of "Python Career Opportunities" blog and we will get back to you.