In today's world where competition is so high, it is very necessary to stand out of the crowd to get noticed. This implies the same when it comes to job hunting. Thus you need to build a resume that can market your strengths and sell your strongest skills and accomplishments all while catching the eyes of an employer or recruiter. This is why I bring you this article on the Project Manager resume which will guide you in building an effective resume.
Below are the topics covered in this article:
Who is a Project Manager?
Project Managers are the main catalysts in any organization. They are mainly responsible for driving a project through various phases of Project Management in a controlled manner. The various phases of Project Management include planning, executing, monitoring, controlling and closing projects. They also shoulder the responsibility of the entire project scope, project team management, risk estimation along with the various resources needed in the project.
Job Description
Below is a sample job description for a project manager posted by a reputed organization on indeed.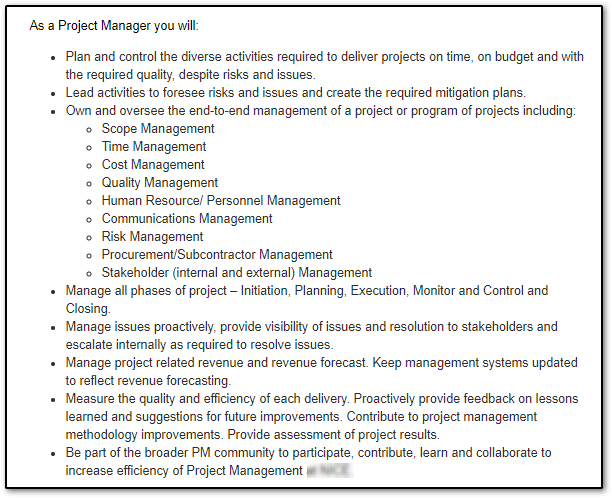 The job description may vary based on the organization's requirements and needs. Remember that since project management is not domain-specific, the day to day activities and responsibilities of a Project Manager may vary.
Roles & Responsibilities
Depending on the level of expertise and the type of industry, Projects Managers are expected to:
Coordinate internal resources and stakeholders
Ensure timely completion of the project, within the scope and within budget
Develop project scopes and objectives
Ensure resource availability and allocation
Develop a detailed project plan to track progress
Use verification techniques to manage project scope, schedule and costs changes
Measure project performance using appropriate systems, tools, and techniques
Report and escalate to management as needed
Manage the relationship with the client and all stakeholders
Establish and maintain relationships with third parties/vendors
Ensure resource availability and allocation
Create and maintain comprehensive project documentation
Skillset Required
To perform all the above-listed duties as a Project Manager, you must have a definite skill set. Below I have categorized the major skills required to become a successful Project Manager into two sections; Soft Skills and Technical Skills, which are:
Soft Skills
Leadership is

really important for a Project manager to be able to inspire others, set the vision and lead effectively.

Strong communication skills

go hand-in-glove with leadership skills. You can't be an effective leader if you're not able to articulate what it is you need your team to do.

Time Management is one of the key aspects which a Project manager needs to excel in order to

successfully concluded the project on time all while dividing and scheduling the project activities fairly.

Critical Thinking is another most demanded skill of a Project manager as it helps in

analyzing and evaluating a situation to form an unbiased judgment.

Strong problem-solving skills are required by a Project Manager so that he/she can help out his/her team members from any ordeal or guide them in the correct direction.
More than anything, a Project Manager must have the risk assessment skills in order to foresee the risk and take steps accordingly to mitigate it.
A good project manager must have excellent negotiation skills for grabbing the best deal and keep together a disparate group of people to achieve the project goals.
Technical Skills
Project Scheduling is very necessary in order to keep the project on track and hand it over within the promised time frame for a project to be successful.
Strategic planning

helps

project managers in making informed decisions by evaluating, monitoring, and adjusting project resource allocation to propel the project

forward.

Subject Matter Expertise is an essential skill for a project manager

in order to come up with a plan in the first place and then to execute and manage it properly, to lead the team into success.

Project Lifecycle Management is the core responsibility of a project manager where he leads a project from its inception to execution. This also includes planning, execution and managing people, resources, and scope of the project.
Strong knowledge of agile software to deal with projects based on the iterative development approach.
Understanding of Scrum Management is required as it helps a project manager

to self-organize and make changes quickly, in accordance with agile principles.

The Kanban approach helps a project manager in

managing the flow of tasks as the project team works toward shared objectives. It also helps in keeping a track of the project related documents, task information, and provide access to them when required.

Lean Thinking is one of the critical skills of a project manager as it helps in achieving t

he project goal by maximizing value while minimizing waste.

For a Project Manager having the knowledge of proper budget management strategies is very necessary in order to keep the project budget under control and stakeholders happy.
Project Manager Salary Trend
According to Payscale.com, below are graphs depicting the average Project Manager salary for India and US.

Project Manager Salary (US)

Project Manager Salary (IND)
As you can see, the average salary of a project manager ranges between $63,411 and $109,000 in the US and approx ₹4,28,560 to ₹2,000,000 in India. But their salary ranges can vary depending on various factors like certifications they hold, additional skills, years of project management experience, type of industry, geography, etc.
Some of the major certifications in the field of Project Management that are preferred by most of the big brands across the globe are:
CAPM® Certification
PMI-ACP® Certification
CompTIA Project+ ® Certification
Six Sigma® Certification
MPM® Certification
PPM® Certification
PMITS® Certification
Sample Project Manager Resume
Below is a sample of how a project manager resume should look like: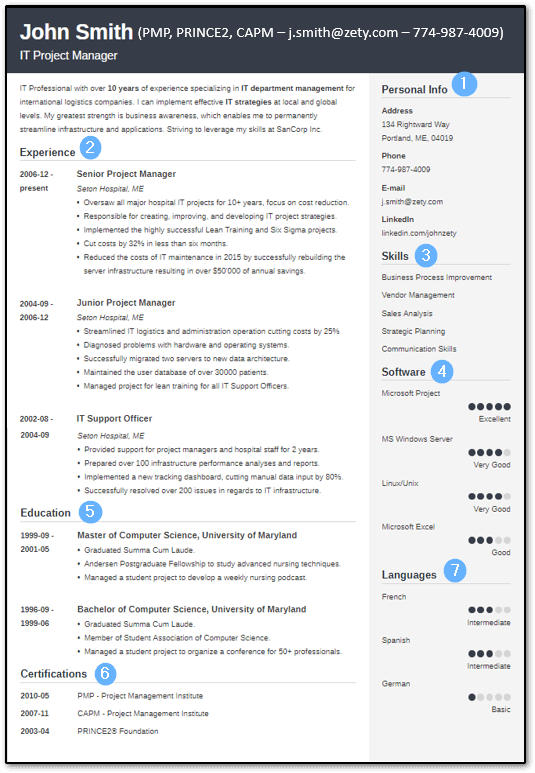 Let me now explain each of the sections one by one.
Personal Details
This section should contain the following details:
Full Name
Up-to-date phone number
Professional email address
Add certifications and degree titles
LinkedIn profile link
Experience
This section should clearly convey the amount of experience you hold:


Your Project Manager experience must be described in terms of Achievements not Responsibilities
Three to six past projects that best showcase your ability

Skills
This is the most important section in your resume which will help the employer to judge you better based on your capabilities:

Technical Skills
Soft Skills

Software
Here, you must list down the software you have worked on and are proficient with. For example:


Microsoft Project
Microsoft Excel
Skype
Trello
Evernote

Education
This section will contain basic education knowledge such as:

High school diploma
Bachelor's degree in management, business or a related field
Post-bachelor's certificate or a master's degree in project management
Relevant certifications

Certifications
Last but definitely not least is the Certification section. List down the name of the certifications you have under your belt. This will help you in proving your expertise in each of the certification domain.
With this, I will be concluding this article on the Project Manager Resume. I hope I was able to give you clear knowledge on who is a Project manager and how important of a role does he follows in an organization.
Edureka has a specially curated PMP® Certification Exam Training which will help you to prepare for the certification exam and gaining the required number of contact hours. Here you will be guided by the certified industry professionals throughout your training. The curriculum has been determined by extensive research on 5000+ job descriptions across the globe.
Got a question for us? Please mention it in the comments section of "Project Manager Resume" article and we will get back to you.