Risks and uncertainties are an integral part of any project, which decides its success or failure. To minimize the risk and increase the success rate, a systematic process is required, which will be controlling the project development from its conception till its delivery. Such a practice is called Project Management. This Project Management article will give you a complete insight of this process and various other concepts related to it.
Below are the topics, I will be discussing in this project management blog:
Before I explain what is project management, first you must know, what actually a project is.
What is a Project?
A project is a temporary endeavor that is undertaken to produce a unique product or solution. By temporary I mean, it has a definite beginning and ending whereas unique means that the final product must be specific to a project. A project that doesn't have these properties can be harmful to your organization as it will be eating up your time, space and other resources.


But, now you might ask, why a project starts in the first place?
Well, to answer this question, I have listed down few points:
Market demand

Strategic opportunity for organizations

Customer requirement

Market's adaption to technological advancements

A legal requirement has come to notice
With the question being answered, the next question that will arise is, why do the projects end? Well, there can be only two situations for a project to end:
I hope this gives you a clear context of a project. So, now let's move on to our next topic, i.e., Project Management.
What is Project Management?
Project management is the discipline that helps you in implementing various processes, methods, knowledge, skills, and experience for achieving the objectives of a unique project.
One thing that you need to understand here is, project management is nothing like usual management. One key factor which differentiates these two is that project management has a final deliverable and a definite timeline whereas management is an ongoing process.
Projects have always had to adapt to market changes. In past project management followed a "Triple Constraints" or "Iron Triangle" concept to bring about this adaption. It was a combination of three key components which acted as the most significant restrictions on any project. Each of the constraints formed the vertices of the triangle with quality as the central factor: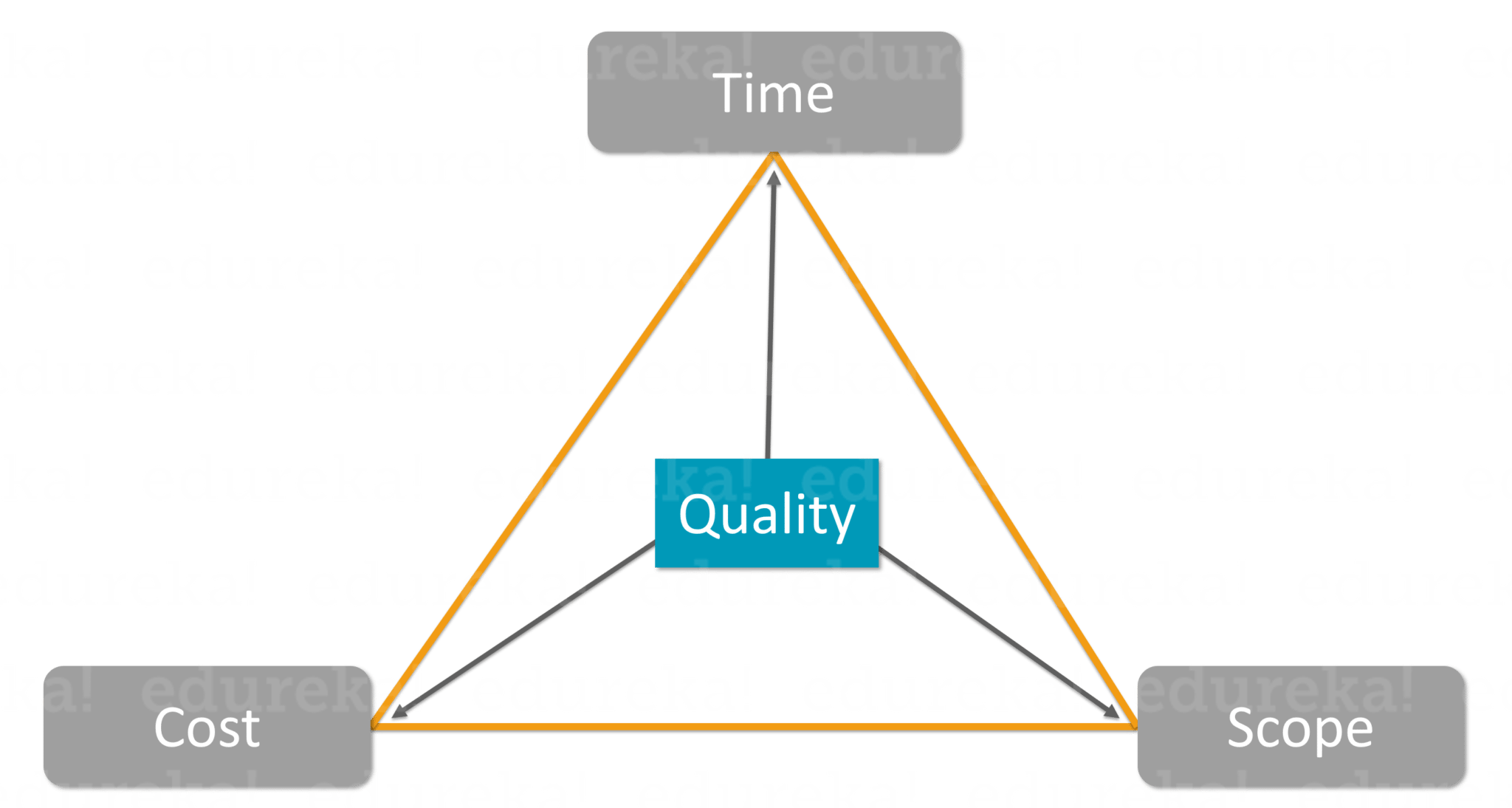 Time: The total time we need to deliver the project.
Cost: Total amount of money required to create the product.
Scope: The total amount of work needed to be done to finish the product.
Quality: The quality you need to meet without compromising with any of the above three factors.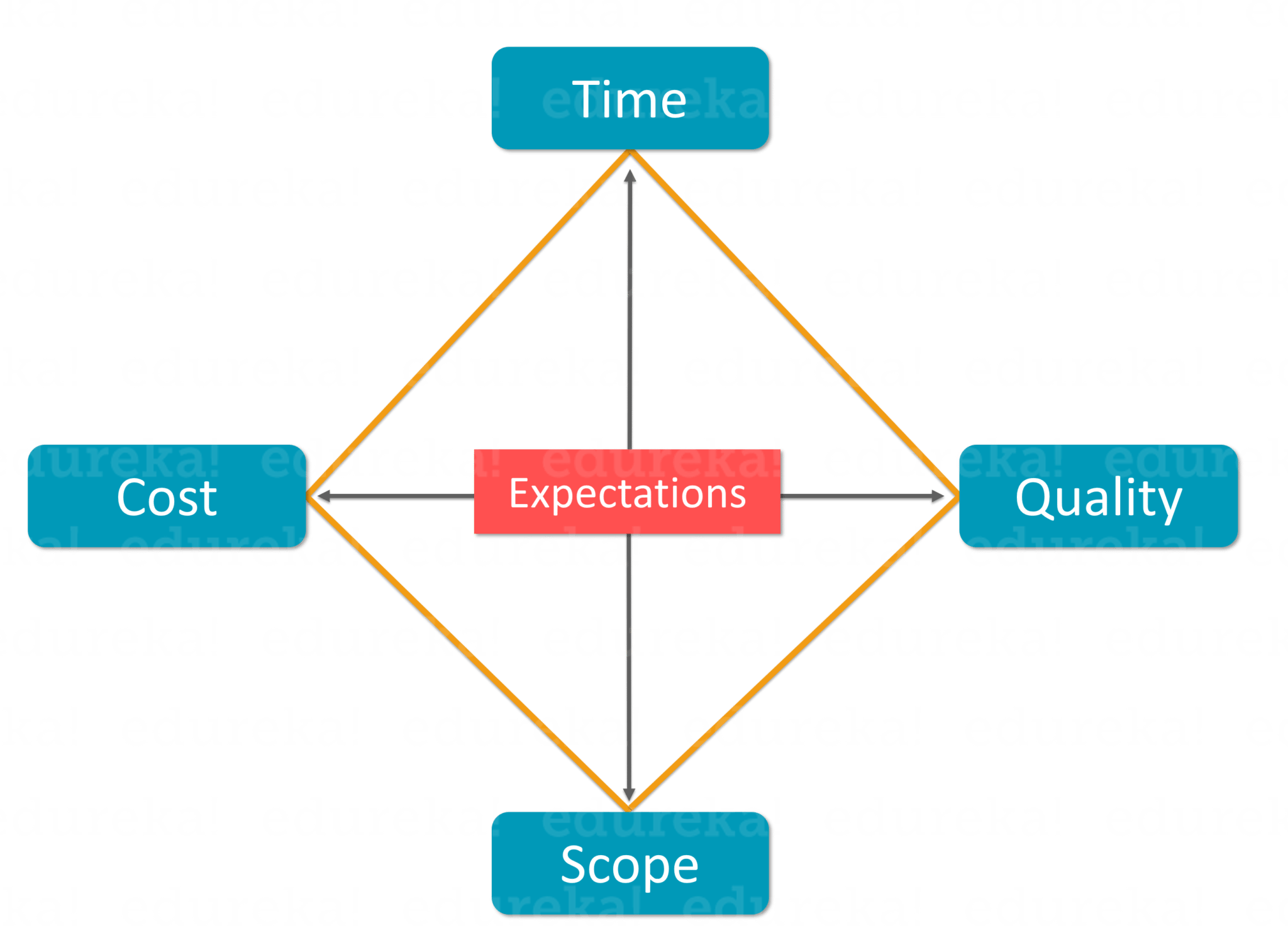 However, this was a traditional method, which gave way to a new constraint model called "Project Management Diamond". In the new model, there are 4 vertices (time, cost, scope, quality) along with customer expectations as a central theme. You might be thinking, why do we need a new constraint? Well, this factor was much needed as no two customers have the same expectation, thus you have to be specific about the expectation to deliver the optimum product.
PMP® Training Video – 1 | Edureka
Now, that you are familiar with project management, let's find out few of the advantages of implementing it.
Advantages of Project Management:

Now, let us continue with this project management blog and find out what are the various phases of project management.
Project Management Phases
Since the entire process of directing and controlling a project can be hectic and cumbersome, it has been broken down into 5 simple phases, which are also known as process groups. This helps in structuring the efforts and simplifying them into a series of logical and manageable steps. Moreover, these phases wrap together the processes that often operate around the same time on a project, or with homogeneous inputs and outputs. These groups are:
Initiating:

It's the first and most vital step in the life-cycle of your project. In this process group, the initial scope of the project gets defined, as well as resources are committed. Thus performing this process group well ensures the success of your project.

Planning:

In this process group,

an appropriate level of detail is planned for the project. It's done to plan time, cost and resources. It helps you to estimate the work needed and manage risk effectively during the execution of a project.

Executing:

This process group

consists of the processes which are used to complete the work defined in the project management plan. It's about achieving the project's objectives.

Monitoring and Controlling:

This process group involves tracking, reviewing and regulating the performance of the project. In order to deliver a successful project, it is essential to keep track of various baselines like time, cost, etc. Also, you need to identify the potential problems quickly and take corrective actions.

Closing:

This process group is an important part of project management, performed to finalize all project activities to complete the project. This means

finishing all activities across all the process groups, disbanding the project team and signing off the project with the customer using the project closure report.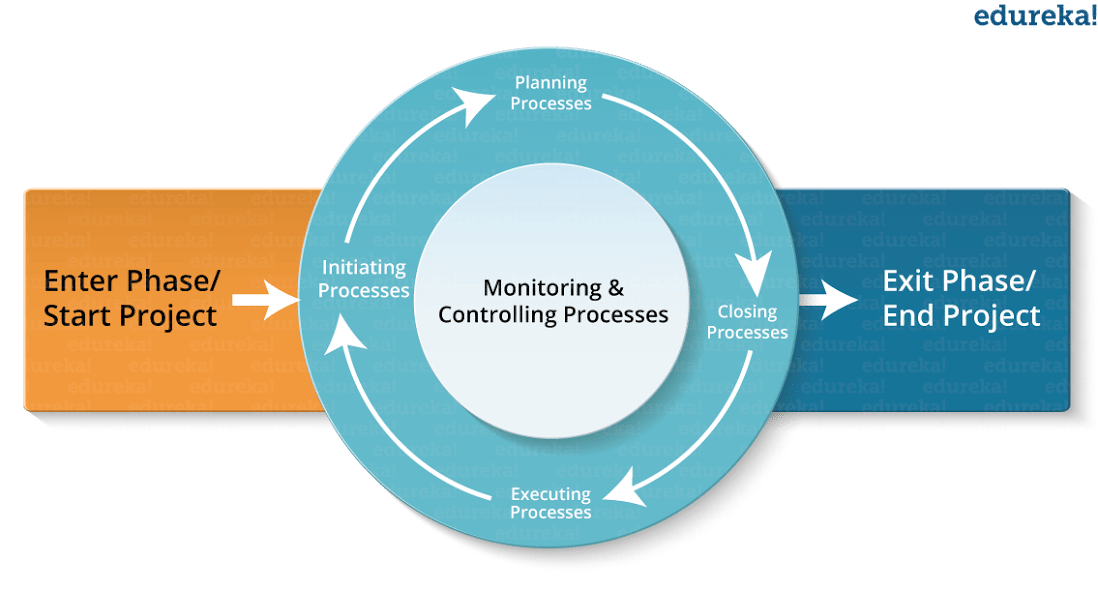 Let's now dive a little deeper into project management and find out the various knowledge areas and processes mapped into these process groups.
Project Management Knowledge Areas & Processes
Project Integration Management:

Involves the processes which ensure that different elements of the project are synchronized and coordinated properly.

Project Scope Management:

Involves the processes which ensure that the project includes all the work required to successfully complete the project.

Project Time Management:

Involves

the processes which ensure the completion of the project within the predefined time frame.

Project Cost Management:

Involves the processes which ensure that the project is completed within the given budget.

Project Quality Management:

Involves

the processes which ensure that the project will satisfy its goals.

Project Human Resource Management:

Involves

the processes which are needed to make the most use of the people involved in the project.

Project Communications Management:

Involves

the processes which ensure the timely and proper generation, collection, dissemination, storage and disposition of project knowledge.

Project Risk Management:

Involves the processes which are concerned with identifying, analyzing and responding to the risks related to the project.

Project Procurement Management:

Involves

the processes which are required to gather the goods and services from outside.

Project Stakeholder Management:

Involves the processes which are concerned with the individuals or organizations who will be impacted by the project's progress/ outcome.
Above mentioned knowledge areas are formed by grouping the 47 processes of project management. Below image depicts all the processes and their respective Knowledge Areas.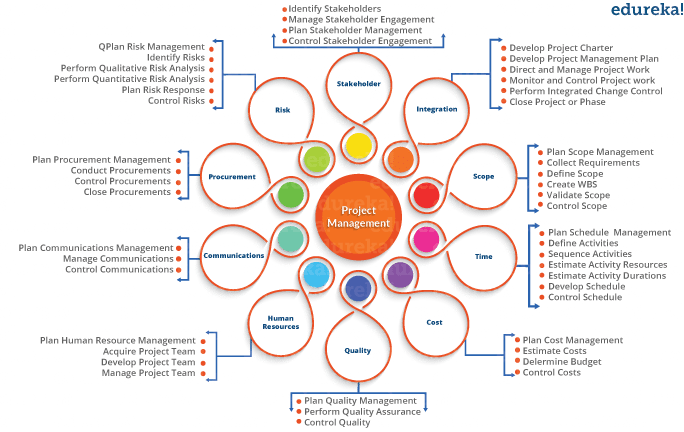 In the next section of this Project Management blog, let's find out what skills are required to become a project manager.
Project Manager Skills
By now you know that project management is a prolonged process and requires proper planning, plotting, and direction. But who is responsible for leading a successful project from its conception to execution?
Well, the sole person responsible for the entire process of project management is the Project Manager. And trust me, this surely is not an easy job. To become a project manager, you need years of experience and hard work. Not only this, in order to lead a successful project you need a specific skill set, few of which I have listed below:

Since Project Management is a lengthy and complex process, Project Managers often use various project management methodologies to simplify their job. In the next section of this blog, let's take a look at the list of project management methodologies available.
Project Management Methodologies
Project management methodologies act as an aid to the project managers in controlling and directing a project towards the specified goal. These methodologies usually comprise a system of practices, techniques, procedures, and rules. There are various kinds of methodologies available, which a project manager chooses according to his project needs. Below I have listed down few of the major PM methodologies:
Traditional Methodologies

Waterfall

PERT

Critical Path Method

Critical Chain Project Management

PMI Methodology

Project Management Book Of Knowledge (PMBOK)

Agile Methodologies

Agile

Scrum

Kanban

eXtreme Programming (XP)

Adaptive Project Framework (APF)

Change Management Methodologies

Event Chain Management (ECM)

eXtreme Project Management (XPM)

Process-Based Methodologies

Lean

Six Sigma

Lean Sigma

Others

PRINCE2®

PRiSM
This brings us to the end of this Project Mangement blog. I have tried my best to keep the concepts crisp and clear. Hope it helped you in understanding Project Management and various other concepts surrounding it.
If you found this Project Management blog, relevant, check out the PMP® Certification Exam Training by Edureka, a trusted online learning company with a network of more than 250,000 satisfied learners spread across the globe.
Got a question for us? Please mention it in the comments section and we will get back to you.