Touted as the fifth highest paying certification in the world in 2016, according to Global Knowledge, PMP® has continued on its decade-long trajectory of growth. Between 2010 to 2020, the global economy is set to see 15.7 million new project management roles created in seven project-intensive industries, according to Project Management Institute's Project Management Talent Gap Report 2013. A Project management career path has never looked more promising!
Project management certification is worth the cost and effort. Whether you are looking to make a career switch, want to perform better in your current project management job or stand apart from your peers, PMP® can be your leg up to career growth and success! PMP® also equips you with the exclusive know-how of standardized set of project management best practices, helping you become a far better project manager who adds real value to the organization. In this blog post, let's discuss the benefits of getting PMP® certified and the career opportunities that are available for a PMP® certified professional.
Project Management Career Path
Project Management Institute (PMI) estimates that India needs 5,00,000 new project managers in 2016-17. Also, growing globally at an average of 12% (Source: PWC Survey), PMP® certification is a wise career move and paves the way for faster career progression. The biggest advantage of PMP® certification is no doubt the competitive advantage that it provides. By setting you apart in the corporate playing field, your PMP® credentials will help you get into top organizations, many of whom only hire PMP® certified project managers. Here are a few statistics that will give you a clear idea about the project management career opportunities awaiting you.
The US-based PMI saw a ten fold increase in the number of members over the last decade.
PMI estimated that India needs at least 5,00,000 project managers in 2016-17 and this year there will be over 2,00,000 project managers.
With approximately four million project management roles created in India this decade, employment for PMPs will increase a whopping 60 percent by 2020, according to PMI.
Here is a graphic representation of the projected demand for project management professionals by 2020. Source: www.pmi.org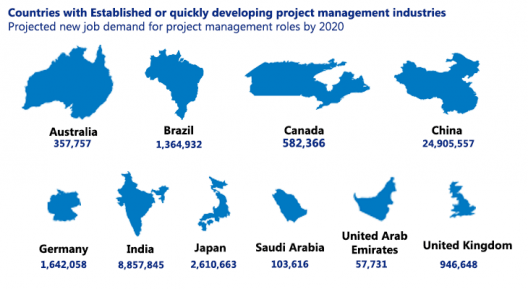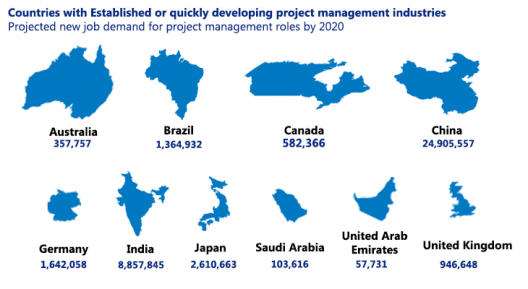 You can find out why companies prefer to hire PMP® certified project managers in this blog.
Project Manager Salary
It pays to be PMP® certified – literally! PMP® credentials empower you to command a higher pay over non-certified project managers and also higher salary figures than most certifications.
According the Project Management Talent Gap Report, the median salary for project managers in the USA is $108,000, with finance, construction and healthcare sectors creating the highest demand. Given below is a Indeed.com chart depicting average salary of PMP® certified project managers in the USA.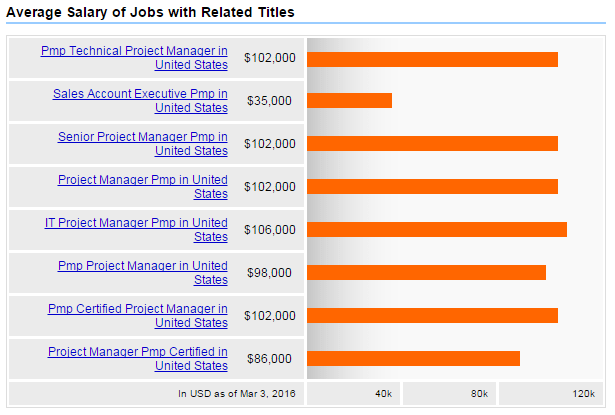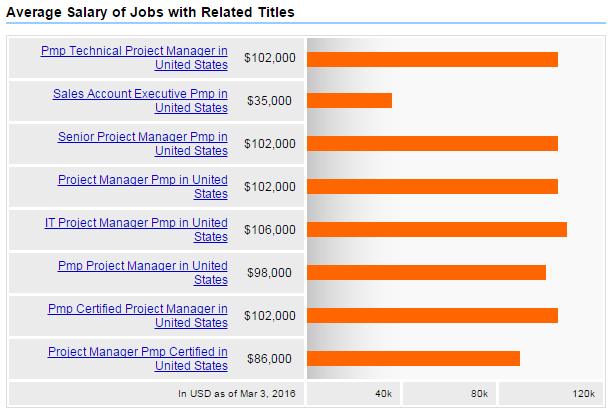 India is not far behind with hot sectors such as IT, construction, healthcare, oil and gas, contributing to a median project practitioner salary of US$27,052 according to PMI. The chart below sourced from Payscale.com depicts the median salary by job title in India.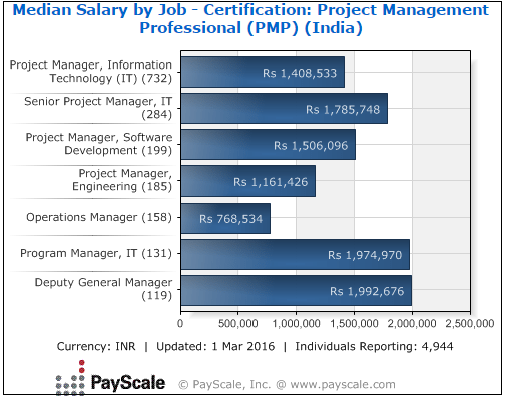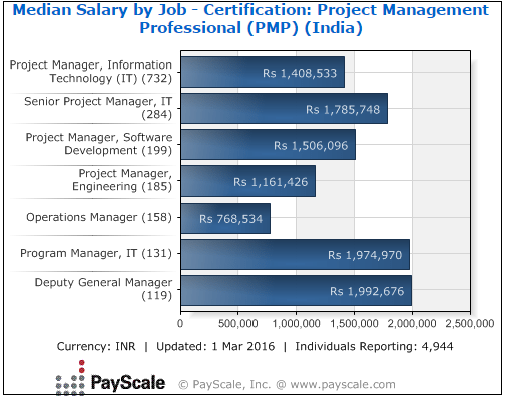 Essential Skills for Project Managers
PMI describes project managers as, 'change agents' and that "they are organized, passionate and goal-oriented who understand what projects have in common, and their strategic role in how organizations succeed, learn and change." PMI goes on to say that the ideal project manager will be "comfortable with change and complexity in dynamic environments" and that he/she will cultivate the people skills needed to develop trust and communication among all of a project's stakeholders.
In addition to these traits, a few good-to-have skills are:
Ability to understand the political culture and principles of the organization
Ability to think and act strategically
Experience in architecture led Project Management
Duties of a Project Manager
Some of the job roles that a project manager is expected to shoulder are:
Plan the project, project scope and objectives
Staff the project and ensure resource availability
Coordinate with internal and external resources
Execute the project
Control the project, manage changes in scope, cost, deadlines etc
Monitor the project and report back to management and client
Risk management
Client relationship management
The demand is high for PMP® certified project managers and the scope is not limited to any one industry. Countries around the world are rapidly developing project management industries and are in need of skilled PMP® certified managers. As a result there is a constant demand for individuals who are skilled in overseeing the planning, smooth execution and desirable closure of the project. China leads the demand for project managers, with India, Mexico, Nigeria, UK and USA having sunny forecasts according to PMI. You can learn more about the growing PMP career opportunities in different industries in this blog.
There has never been a better time to become a PMP® certified project manager. The career prospects for project managers are immense and more so for PMPs. Get certified now to take advantage of project management career opportunities that come your way!
Edureka is a PMI REP. With its innovative course delivery backed by industry-renowned practitioners, Edureka has helped more than 250,000 professionals upgrade their skills across 80+ specially designed courses. From its inception in 2011, more than 50,000 hours of classes have been delivered on the Edureka platform. To know about Edureka's PMP Exam Preparation course, please visit https://www.edureka.co/pmp
Got a question for us? Please mention them in the comments section and we will get back to you.
Related Posts:
Get Started With PMP®Exam Preparation
Top 30 Project Management Interview Questions