If you're considering project management as a career, you're on the right track! Project management is one of the fastest-growing and in-demand professions in the world. It's a perfect career for anyone who wants to have a lot of control over their work life. This blog post will discuss everything you need to know about project management careers. We'll cover education requirements, job prospects, and salary information. Are you ready to learn more about project management careers? Keep reading!
Is Project Management A Thriving Field In India?
Project management is among the most in-demand professions in India, with a skills shortage that is only projected to grow. By 2027, it is estimated that there will be 22 million project management job openings worldwide.
The project management field is growing rapidly in India. This can be attributed to the country's booming economy and increasing infrastructure projects. With the government's focus on initiatives such as 'Make in India', there is a need for project managers who can take up these large-scale projects and see them through to completion.
In addition, the project management field is also growing due to the rise of digitalization and globalization. With more and more companies expanding their operations globally, there is a need for project managers who are skilled in managing cross-cultural teams and projects.
Also, the pandemic has forced many businesses to re-evaluate their operations. In particular, they were compelled to adapt to the new reality of working remotely.
It means there is a greater need for project managers who can oversee remote teams and ensure all work is completed complying with all standards. Another reason for the boom in project management is the increasing popularity of agile working methods. Agile project management is a flexible and adaptable project management approach that has proven successful in today's ever-changing business landscape.
As more and more businesses adopt agile methods, the demand for project managers with experience in this area is also increasing. If you are considering project management as a career, now is the perfect time to make a move.
There has never been a good time to enter the project management industry. With the right skills and experience, you can secure a well-paid and rewarding role in this exciting and fast-paced industry.
So, if you are considering project management as a career, then it is a field you should consider. There are plenty of opportunities available, and the demand for project managers is only set to grow in the future.
Why Is Project Management As A Career Rewarding?
When it comes to project management, there are a lot of different responsibilities that come along with the role. Not only do you have to ensure that the project is completed promptly, but you also have to ensure that it meets the stakeholders' expectations.
While this may feel like a lot of pressure, project management can be a gratifying career. Here are some of the reasons why: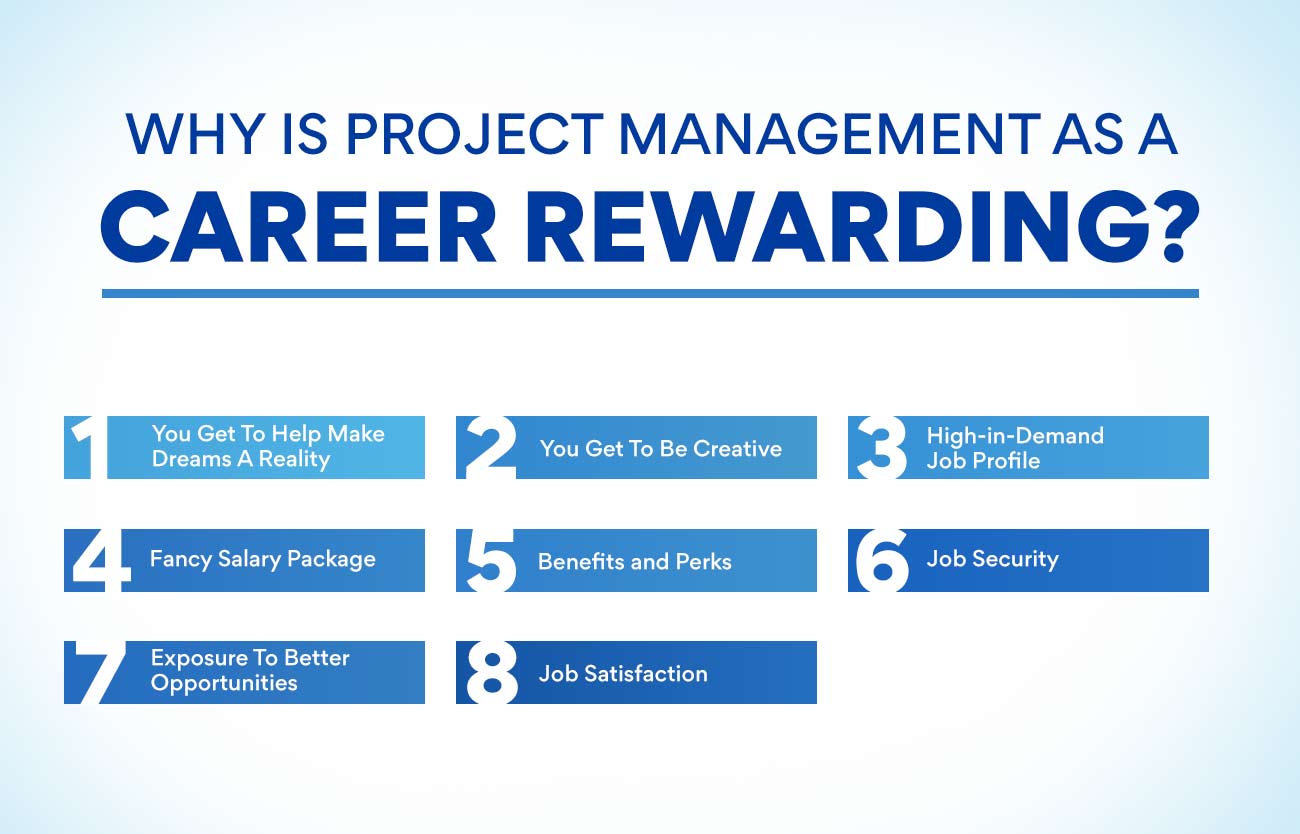 You Get To Help Make Dreams A Reality
As a project manager, one of your main responsibilities is to help bring the project vision to life. It means working with a team of highly skilled individuals to bring the project to fruition. You will be ensuring that the project stays on track and that all goals are met. Every day there will be a new dream that you will turn into reality with your project management skills. Irrespective of the project size, project managers play a pivotal role in the success or failure of a project. You will always be an integral part of something truly remarkable.
You Get To Be Creative
While project management may not seem like a creative field, it requires a lot of creativity. After all, you are charged with coming up with new ways to complete project goals within constraints. It means that you have to be able to think out of the box and bring lucrative solutions to problems.
In project management, you will also need to be able to sell your ideas to stakeholders. You must articulate your vision in a way that is convincing and inspiring. If you can fulfil this, you will get buy-in for your project plans, which is essential for successful project delivery.
High-in-Demand Job Profile
More than ever, businesses require project managers to ensure that their operations run smoothly. Project managers are tasked with planning, executing, and monitoring projects from start to finish. Project managers are in huge demand across all industries, making this an excellent career choice for those interested in project management. According to the Project Management Institute, project management is one of the fastest-growing occupations, with a predicted growth of 33% by 2027.
Also Read Project Management Processes And Phases Explained!
Fancy Salary Package
No matter what field you are in, project management is always an in-demand job and commands a good salary. In the US, the average project manager earns around $90,000 annually. In the UK, project managers make an average of £45,000. Similarly, there is a good salary package for project managers in India. The average salary of project managers in India is Rs. 6-26 lakhs per annum, depending upon their experience and skills. As you step up the ladder, project management becomes one of the highest-paying jobs.
Benefits and Perks
In addition to a good salary, project managers often enjoy several benefits and perks. These include health insurance, paid vacation days, and retirement savings plans. Some project managers also receive bonuses based on the success of their projects. For instance, the project manager may receive a bonus if a project is successfully delivered or exceeds the expectations of clients. Some of the common benefits offered are:
401(k) Plans:

Many project managers have the chance to a 401(k) plan. It is a retirement savings plan that many employers offer.

Health Insurance:

Project managers usually have access to health insurance plans. It can include medical, dental, and vision coverage.

Paid Time Off

Project managers typically receive paid time off, including vacation, sick, and personal days.

Bonuses:

Some project managers receive bonuses based on the success of their projects. There are different kinds of bonuses for each company.
Job Security
There is no other management job that will offer you the stability and appreciation project management does. In any project, the project manager is the go-to person responsible for its success or failure. Companies will always need project managers to ensure that their projects are completed on time, within the guidelines and according to specifications. For eternity, there will be a need for project managers who can get the job done no matter what.
Exposure To Better Opportunities
Pursuing project management as a career exposes you to many better opportunities. For instance, you will get to work with different teams and people with diverse backgrounds. It will help you better understand the business world and how project management affects various aspects of businesses. Additionally, you will be able to learn new skills and knowledge that can benefit your career. You will get to work on different types of projects. It will allow you to develop a more well-rounded skillset that can serve your future.
Job Satisfaction
A project manager's job is challenging and comes with much satisfaction. Project management is a career that is growing in popularity, and project managers are in high demand. If you enjoy being challenged and working on various tasks, project management may be your career. Project management is an excellent career choice for many people, with ample benefits and job satisfaction. Irrespective of the industry, you will always get to work with different teams and people, which can be both exciting and challenging. However, the sense of accomplishment and pride that comes with completing a project is worth it.
How To Become A Successful Project Manager?
"Project management as a career " is a viral keyword on the internet these days. People are searching for it because they want to know how you can become a project manager or what project management is all about. There is a lot of information on project management, but it can be hard to find the right information. We have created a roadmap to help you understand project management and how to become a successful project manager.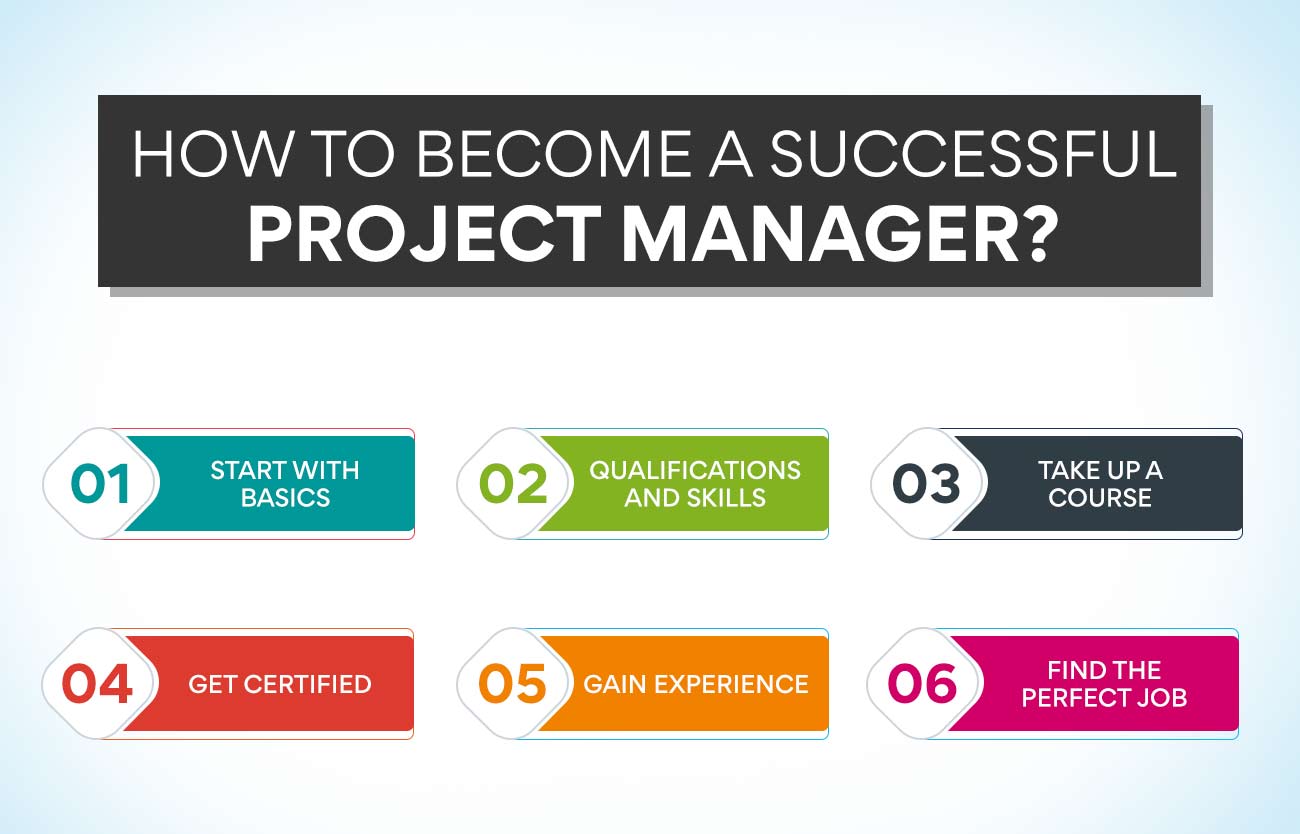 Start With Basics
When you are new to the world of project management, starting with the basics is essential. You must understand the fundamentals of project management and what it involves. You also need to understand the different project management methodologies and how they can be applied to your project. Once you understand the basics well, you can move on to more advanced topics.
Qualifications And Skills
To qualify for most project manager roles, you will need at least a bachelor's degree in project management, business, or a related field. Many employers also prefer that you have a master's degree or higher. You will also need to have strong project management skills and excellent communication, organizational, and leadership skills.
Take Up A Course
There are many project management courses available these days. These courses will get you closer to the basics of project management and how to apply them to your project. You will also learn about the different project management methodologies and how to use them in your project. To become a successful project manager, you should take a course.
Get Certified
Once you have completed a project management course, you can get certified by the Project Management Institute (PMI)®. To become certified, you must pass an exam and meet specific experience requirements. There are different project management certifications, such as the Project Management Professional and the Certified Associate in Project Management. Each certificate has different requirements, so check the requirements before deciding which one to pursue.
Gain Experience
Finding project management experience can be difficult if you don't have much professional work experience. Luckily, there are a few things to gain the experience you need. One way to gain project management experience is to volunteer for projects at your current job. It will give you a chance to test your project management skills and see if it's something you're interested in pursuing.
Another way to gain experience is to take on side projects. These can be anything from managing a small event to organizing a group project at your child's school. Taking on small projects will allow you to hone your project management skills.
Also Read: What is Project Lifecycle? Know All The Phases
Find The Perfect Job
With a stellar experience in project management, you can qualify for a variety of different types of project manager roles.
A project manager is the key driver of any project. He/she is responsible for ensuring that the project is completed within budget and to the required standard. You can search on job boards such as Indeed or LinkedIn for project manager roles in your area.
Project management positions are available in a wide range of industries, including construction, IT, healthcare, and retail. No matter what industry you choose, there is likely a project manager role that would be a good fit for you.
The Bottom Line
With an ever-evolving project landscape, a project manager's role is pivotal in ensuring the successful completion of project goals. If you're considering project management as a career, know that it can be both gratifying and challenging. The key is to stay up-to-date on the latest project management trends and best practices. With the right skill set and attitude, you can be a project manager that drives project success.
If you want to start your career on an insightful level, consider our Advanced Certificate in Operations, Supply Chain and Project Management, which gives you a detailed overview of project management from initiation to close and its application in various industries. You will also develop project management skills essential for a project manager. So get ready to start your project management career journey with a firm foundation!
More Information:
Understanding Project Selection And Its Importance
Why are PM Tools Crucial to Project Success?
Major Project Management Activities – You Must Know