The prospects for product managers are at their best in India now with a fast-growing economy, several startups and eCommerce companies. The profession existed for a long time but was never so exciting or offered such excellent growth prospects as it is now. The current market conditions demand that a product is launched only after a lot of research to find out what the customer needs. This is why a product manager is needed. Through this article, we shall see the product management career path. But before that, we must see what product management is.
What Is Product Management?
Unlike in earlier days, products are not just launched in the market and left to their fate. A product has to be managed right from the idea till the end of its journey in the market. Companies must continuously follow their path and see that it provides profits to them. There are critical decisions that the firm must make about the item. It includes pricing, features, marketing activities, positioning, etc. This is called product management and every organisation today has a product manager in charge of each product or product portfolio.
You can learn everything about product management in the Advanced Certificate Course In Operations, Supply Chain and Project Management conducted by reputed institutions. One can get more information about such courses on our website.
Understanding The Role Of The Product Manager
While looking at the product management career path, it is essential first to understand what duties a product manager must perform. A product manager manages the product life cycle from start to end. It involves forming the product idea from customer feedback, giving it a vision and setting up goals and strategies, generating revenues and coordinating with the sales and marketing teams. Given below is a list of duties of the product manager.
Creating a product from customer needs.

Conducting thorough market research to know the demand for the product.

Defining product strategy and roadmap.

Coordinating with sales, marketing, engineering and design teams.

Positioning the product.

Analysing competitor activities.

Pricing the product and managing revenues.

Performing product demos.

Exploring partnerships for distribution.

Leading, trained and managed team members.

Collecting and analysing data to make key decisions.

Monitoring consumer demands and market trends.
The product management career path begins with the Associate Product Manager and can go up to the level of Chief Product Officer. However, you must possess important skills to embark on this career.
Skills Required In Product Management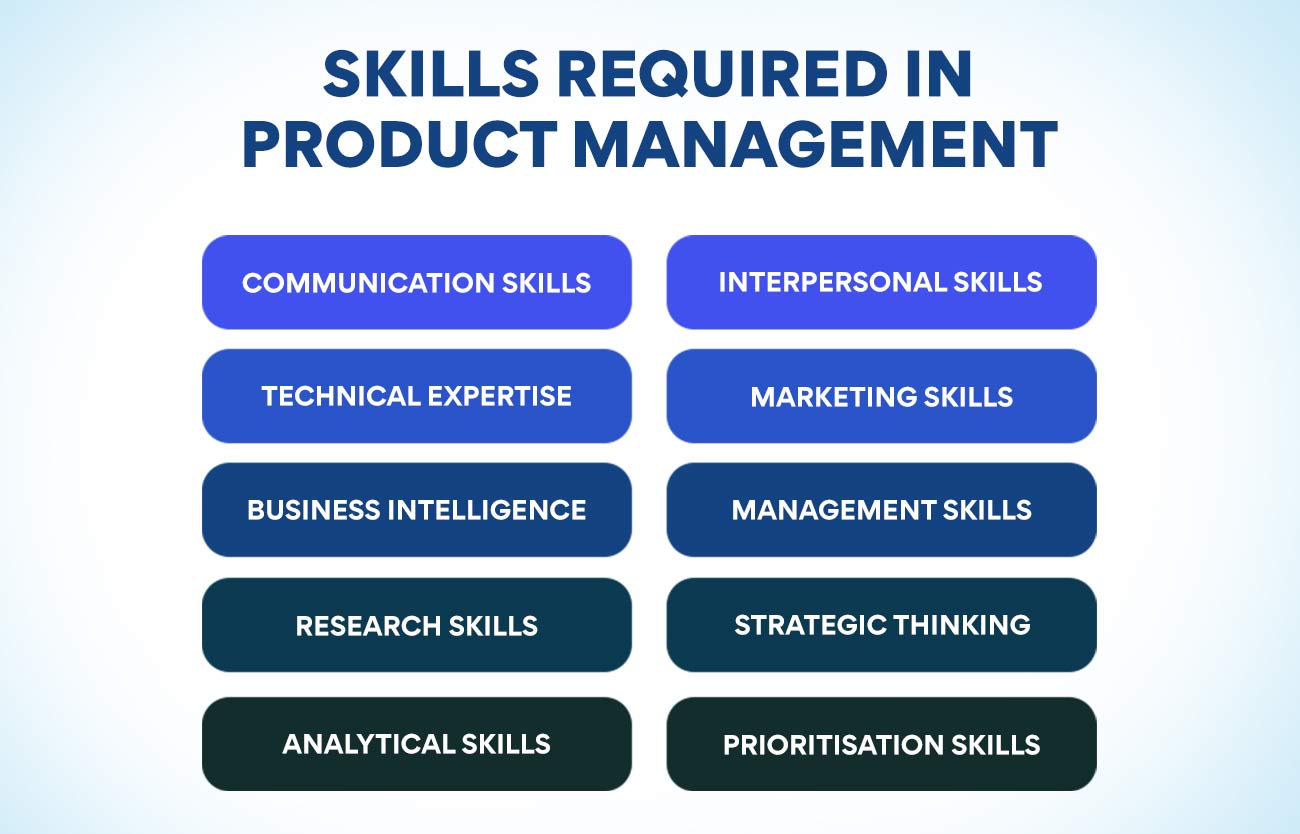 Communication Skills
This skill is crucial for a product manager because there are various activities, from conducting meetings to making presentations, that the person must perform. These officials regularly communicate with clients, stakeholders and team members. They also must convey the goals and strategies to ensure that the product performs as expected. Guiding team members is also one of their duties. It means that product management needs communication skills in written and oral forms.
Technical Expertise
Though they are not required to engineer the product, these professionals are constantly in touch with those developing it. It is better to have the necessary technical knowledge that helps them convey the features and characteristics they need in the product. Moving up the product management career path also demands these officials to identify performance issues with the product and ensure that it meets customer seaboard to design function and user experience.
Business Intelligence
To earn profits from the product, a product manager should have basic business intelligence. They must know how profits, budgets, cash flow and sales projections are worked out. It helps them have a better product roll-out strategy. Product managers must also justify the cost of developing and delivering a product. Knowledge of business intelligence helps them achieve their professional goals.
Research Skills
Market research is a critical task for all product managers. They must conduct extensive research on the market to understand customer needs. This skill also helps them understand competitor activities and how it helps them. Good research skills can result in launching a product that excites the customers. Such capabilities help these people move up the product management career path by understanding market opportunities and threats.
Also Read: Product Management Frameworks Every PM Must Know
Analytical Skills
Analysing available data is crucial to taking a business to success. This is true in the case of product management too. There is much data available in the market for product managers to analyse and understand what product will succeed. Using this information, they can understand consumer preferences and the ideal customer segment to target. Market analytics also helps to know what the competitors are doing and how successful their strategies are. They can use these skills to create strategies for development, business growth and pricing.
Interpersonal Skills
If you want to move forward in the product management career path, this skill is of utmost importance. Gathering information is crucial for a product manager, and having good interpersonal skills help with this. It also helps professionals stay in touch with employees from various departments like sales, engineering, marketing, and finance. Product managers with this skill are good at influencing and leading the professionals they work with. This skill is also useful for making the team do its job well.
Marketing Skills
The product manager must develop marketing strategies for the product. This professional needs to work with the marketing team and make sure that the product is accepted well by the customers. They must be able to promote and deliver products and services to consumers. Another reason why they must possess marketing skills is that these professionals must understand the changing market trends and respond to them quickly. A product manager with this skill can effectively convey the product qualities to the market.
Management Skills
Management skills are essential for the product manager to lead the team and get the most out of them. The product development team consists of people with different skills. The product manager must identify the strengths of each member and use them to the maximum benefit. Product managers with good management skills can make the team work cohesively and achieve goals quickly. This skill is also crucial for the professional to move up the product management career path and reach higher positions.
Strategic Thinking
It is essential for all product managers as they must devise the methods for launching and rolling out a product. Almost all of the duties of these professionals need them to think strategically and make the right decisions. This skill also enables them to correctly understand consumer needs, the target audience and the product life cycle. Product managers possessing this skill can also make correct sales forecasts.
Prioritisation Skills
Changes keep happening in the life cycle of a product. Priorities keep changing and product managers must be able to keep up with them. They need to know what tasks are important and which ones to complete first. A product manager with this skill can guide the team to work on those tasks that they must complete first. Those with this skill can ensure that work is completed within the deadline.
We have seen the skills that help a person move forward in the product management career path and achieve success quickly. You can learn all these skills and much more at the Advanced Certificate Course In Operations, Supply Chain and Project Management. You can visit our website to learn more about this course.
Travelling On The Product Management Career Path
We now come to the main topic of the article. We will see where the product management career starts and how it moves up to the highest position. This article will also briefly describe the duties to be performed in each of these positions.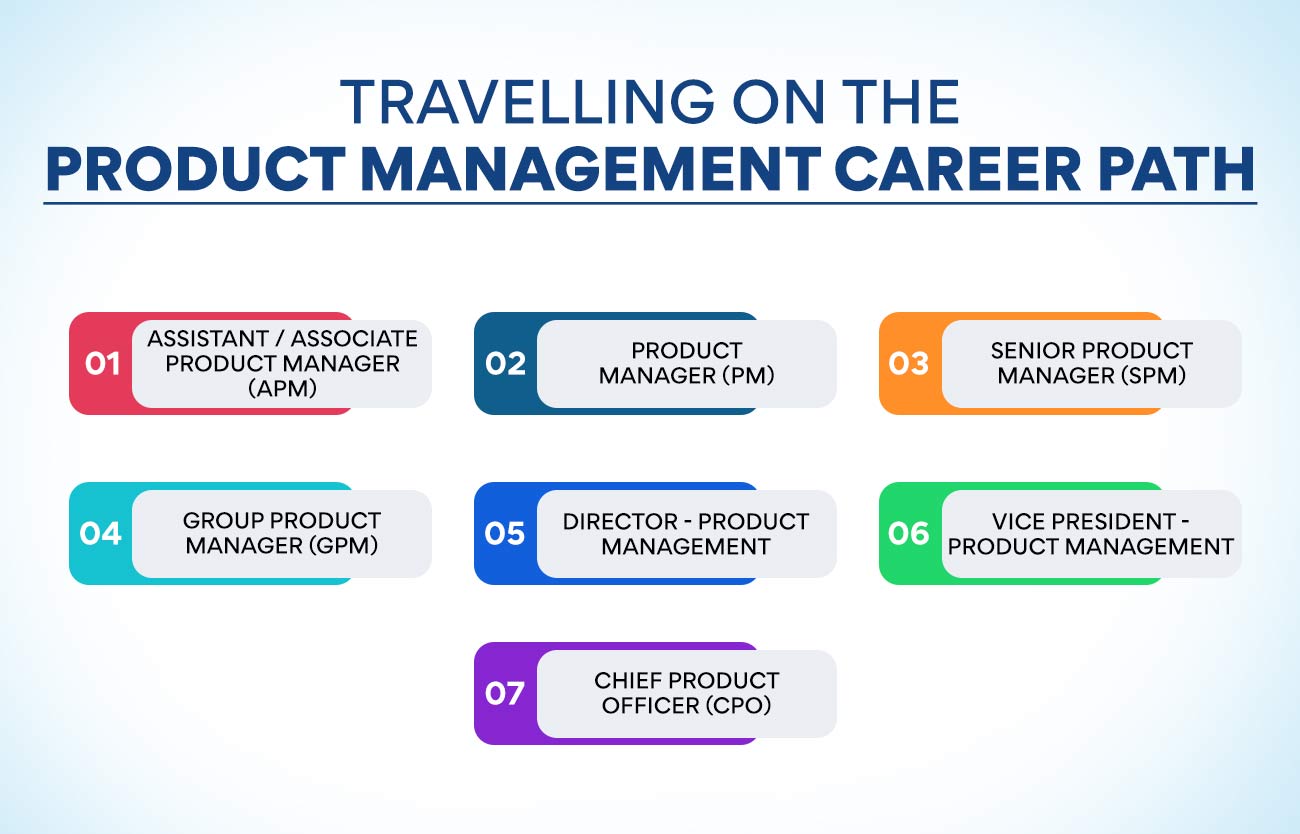 Assistant / Associate Product Manager (APM)
It is the first post in the product management career path. It is an entry-level position that requires the person to be willing to adapt, change and learn with changes in customer preferences. The APM typically reports to the product manager and does everything the PM does but on a much smaller scale. This position offers people a great opportunity to learn a lot as they report directly to the product manager. The responsibilities are as below:
Market research

Data analysis

Coordination with stakeholders

Working on developing product strategies and roadmaps

Preparing project reports and monitoring the progress
Product Manager (PM)
This post is a middle-level position, and most employers demand prior experience in product management for this post. PMs own the product and work with other departments for its success. They are responsible for everything needed for the product. They must be aware of market trends and competitor activities. Performing well in this position helps one move forward in the product management career path. Their duties include:
Defining product strategy and roadmap

Developing positioning and vision for the product

Coordination with various teams

Conducting product demos

Managing stakeholders and team members

Understanding competitors
Senior Product Manager (SPM)
The post of SPM is a senior position in the product management career path, and the responsibilities include coordination with the senior managers of sales, marketing and design teams. These managers are also responsible for managing the product managers, associate product managers, engineering managers, analysts and the complete product team. Their duty includes budgeting and promoting the product. Their tasks include:
Developing a business strategy and managing budgets

Creating an effective process for end-to-end product lifecycle management

Coordination with senior managers of different departments

Managing stakeholders

Understanding competitors

Analysing and reporting big data

Handling hiring for the product team
Also Read: What Is Product Planning And How Is It Done?
Group Product Manager (GPM)
These officials are regularly in touch with the top management of the company. They are also constantly updated about market trends and everything that happens in the product space. The group product managers anticipate problems in the market and take necessary steps to mitigate risks. They must negotiate with external stakeholders for various collaborations. They manage the entire product team and resolve conflicts. They perform the following tasks.
Formulating business strategies and managing budgets

Managing end-to-end product lifecycle process

Coordination with senior department managers

Risk analysis and mitigation

Negotiations with external stakeholders

Managing the team and handling recruitment
Director – Product Management
This position in the product management career path requires leadership experience. They make critical decisions regarding product strategy, vision and marketing. They must possess excellent communication skills and must be skilled in making presentations to the executives. They must be capable of building a team and getting the best out of them. Their responsibilities include:
Driving critical capabilities from concept to consumer

Translate product strategies into user stories and prototypes

Work with stakeholders to understand problems and provide solutions

Identify new challenges and opportunities in the market
Vice President – Product Management
At this juncture in the product management career path, there is less hands-on involvement in product development. Those in this position are responsible for the product set and how it contributes to the organisation's objectives. They represent the company at events and conferences. Their tasks include:
Hire and develop the best team for product management

Coordinating with the business leaders

Driving market research to collect information for building new products

Interacting and meeting costumes, media and product experts
Chief Product Officer (CPO)
The CPO in most organisations oversees the activities of VPs in charge of different product sets. They report to the Chief Executives and play a major role in long-term goal setting. They are responsible for everything related to products. Their duties include:
Setting long-term goals

Reporting to C-suite officers

Identifying and building partnerships

Managing budgets, revenue and profits
We can see from the above that the product management career path is highly lucrative, and one can achieve great heights in this career. The Advanced Certificate Course in Operations, Supply Chain and Project Management is an excellent place to learn everything that will help you embark on this career. You can visit our website to learn more about this course.
Conclusion
A career in product management is highly rewarding while being challenging. You get paid well and are satisfied with driving the company to its goals. Product managers can also take satisfaction in solving problems for customers. One needs the drive to understand customers, work with team members, and be one step ahead of the competition. The job can look difficult, but with the right certification and skills, it is not difficult to achieve success.
More Information:
Product Management Learning- Key Areas
11 Crucial Product Management Metrics and KPIs
Why are PM Tools Crucial to Project Success?