Process of Integrated Marketing Communication: Every company needs a process of integrated marketing communication (IMC) for long-term success. The planning of an organisation's integrated marketing communication has an impact on the success of all of its marketing activities. But it's easy to become lost in what it implies. Universities throughout the country provide degrees in marketing communications. Additionally, more media outlets and marketing channels are available than ever, which helps with effective marketing communication. Only read further if you still have queries about the significance of integrated marketing communications; we'll assist you with the key ones.
Integrated marketing communication: what is it?
From just communicating a message through memorable jingles, marketing has significantly evolved. Brands are searching for new methods to interact with consumers worldwide today. A remedy for this is integrated marketing, which blends conventional and contemporary marketing techniques. To target the right audience, it offers the best of both worlds.
According to Don and Heidi Schulz, the process of integrated marketing communication aids businesses in accelerating returns via the use of a customer-centric strategy and aligning their marketing and communication objectives with their corporate or institutional goals. It is a tactical strategy that directs communication across all marketing platforms. It must be unified to make a company's messaging consistent across all media. This helps a business draw in the correct audience.
Integrated marketing communication: principles
All channels are properly integrated into the marketing pipeline and aligned with the organisation's business plan when a company's marketing communications system operates at maximum capacity. To accomplish a predetermined goal, the marketing communications strategy is meant to function as a cohesive unit like a well-built machine.
The organisation's plan must be adhered to by all components of the marketing communication system, which comprises three key parts of a reliable and effective marketing communications system: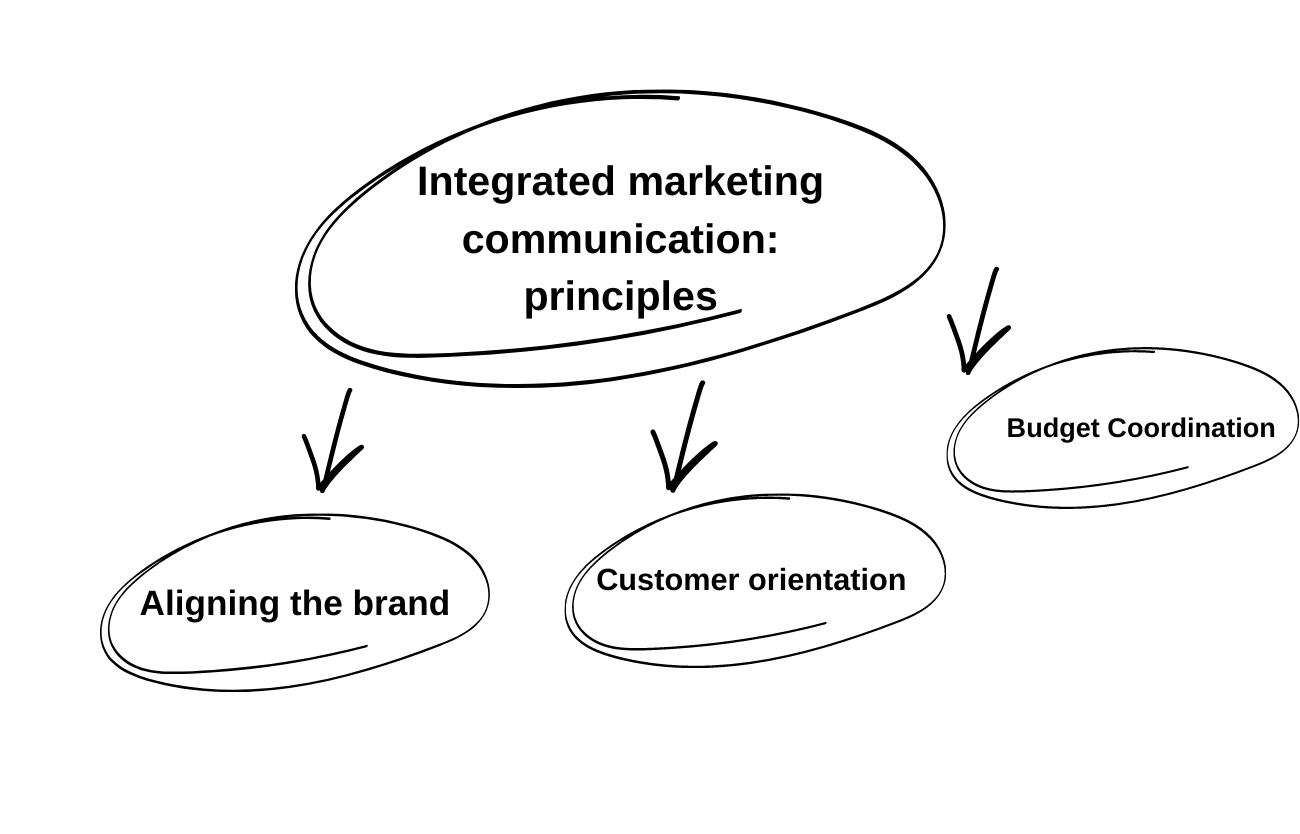 Aligning the brand –

The company's brand promise affects brand alignment. It ensures that the business uses all relevant brand-related resources to give clients the most competitive service possible. Ultimately, it comes down to matching the brand's marketing strategies with its strategic aims.

Customer orientation –

Expressed customer alignment refers to a business's ability to use its marketing tools to satisfy customer expectations, including matching its services and goods to what consumers want and need.

Budget Coordination –

It is a financial objective that connects all marketing phases within the whole funnel with budget objectives, investment arrangements, corporate strategy, and available overhead to enable the most efficient marketing and sales operations.
The marketing communication system may reach the greatest number of targeted consumers while needing the lowest overhead and the best ROI when all marketing communication elements align with the abovementioned aspects.
Also Read: Business Policy and Strategic Management: An Encyclopedia
Integrated marketing communication: why is it important?
There were just a few "conventional" media outlets in the past, including radio, TV, newspapers, mailboxes, and out-of-home advertising. However, an organisation in the modern digital age has so many possibilities that it can take time to keep track of all the media it might employ to reach its potential clients. And an intelligent company use a variety of channels to interact with its customers. Focusing on several marketing channels is necessary since consumers are dispersed across them. A strategic strategy is necessary to make this type of marketing work toward attaining its goals. When this happens, the process of integrated marketing communication (IMC) comes into play.
Ideally, four primary factors emphasise the significance of integrated marketing communication:
IMC aids brand building for an organisation –

An integrated marketing strategy makes it easier for customers to connect the many initiatives and ultimately form positive associations with the company. However, organisations must send the appropriate message at the appropriate moments. To create distinctiveness, brand-building also necessitates adding brand codes (such as the brand logo) to marketing communications.

The firm benefits from IMC by maintaining consistency across the client experience –

Building a brand involves a lot of regular and identifiable communication. All your marketing platforms should communicate in a recognised, consistent manner to ensure a seamless consumer journey across the purchasing process. In an ideal world, a company would want to create the product and brand before assisting potential customers in purchasing. Integrated marketing communication makes a significant contribution to this.

When properly planned and executed, IMC increases campaign effectiveness –

IMC helps a company to reconsider how it might use its marketing channels more effectively. Brands may now contact customers in various ways, both online and offline. However, companies must work hard to maintain a strong presence across all pertinent media and platforms. A brand's limited resources may be distributed across its different social media possibilities thanks to integrated marketing channels. This mixture also reflects the ideal balance a brand needs between the media alternatives that support brand development and increase sales.

IMC helps marketing channels work together more effectively –

When a corporation develops an effective integrated marketing communication strategy, the business expands. The cumulative influence of word-of-mouth marketing, SEO, and content marketing across numerous media channels results in long-term growth.
Integrated marketing communication vs Omnichannel marketing communication
To the untrained eye, integrated and omnichannel marketing are the same. This is because both of these communication processes are employed to provide consistency. On the other hand, a marketer understands the distinction between the two.
In a nutshell, omnichannel marketing focuses on the customer experience by combining numerous communication channels to deliver smooth consumer engagement with a business. Integrated marketing, on the other hand, is the seamless integration of everything from advertisements and sales promotions to public relations and social media to target clients. Although the execution varies between mediums and markets, the core premise stays consistent.
It's vital to remember that while they are special marketing efforts, they should complement one another. It would be futile to focus entirely on a customer's multidimensional brand experience rather than their buying experience, or vice versa.
Integrated marketing communication: 7 steps for proper planning
An integrated marketing strategy is just as crucial for every firm, big or little, B2B or B2C. The IMC planning process generally consists of seven significant phases, which may be used in almost any type of company. The general concept is the same even if the strategy could use each marketing communications function differently. The key stages of bearing in mind when creating your IMC strategy are listed below: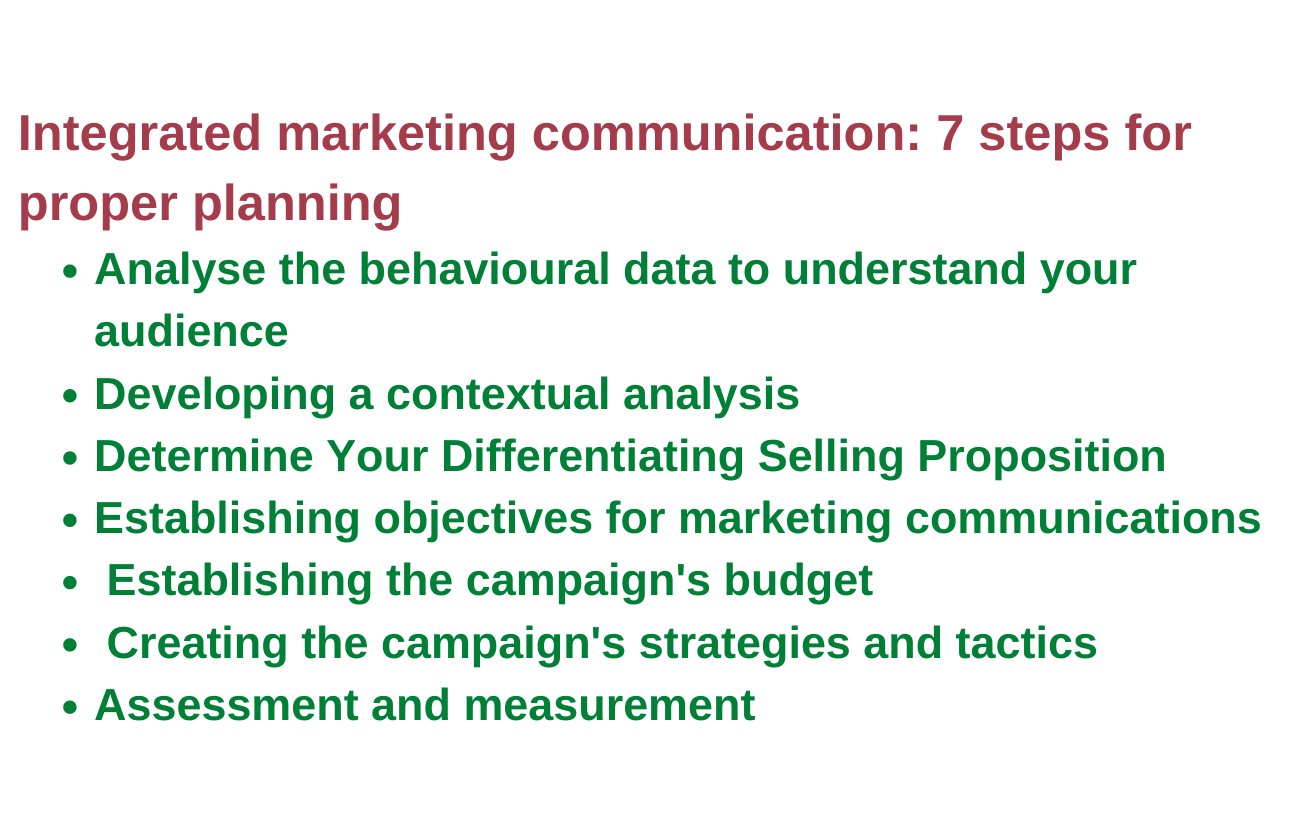 1. Analyse the behavioural data to understand your audience – Knowing your target audience is the first step in developing any communications strategy. To make the most use of its resources, a company always wants to communicate with a certain target. Businesses may determine which target consumers are most likely to buy their goods and services by categorising target customers into groups based on shared traits.
A thorough market analysis ensures that the target market is accurately identified for the company. They can get insights into their genuine prospects and preferences about their items thanks to the consumer behavioural data they can collect via this study. Analysing consumer profiles, previous purchasing patterns, churn rates, and the full range of client demographics is all part of this process. Based on what they are promoting, this helps the company categorise the people they want to reach. This distinction is crucial since the aim might be customers vs prospects or unqualified leads against qualified leads, etc.
2. Developing a contextual analysis – This process of assessing your brand's internal strengths and weaknesses, exterior possibilities and threats is also referred to as a SWOT analysis. Additionally, it highlights the weaknesses that companies should address and the advantages that may be taken advantage of. Businesses will gain more knowledge while developing their marketing communications plan by analysing the internal and external surroundings.
3. Determine Your Differentiating Selling Proposition – A company must use strategic differentiators to differentiate itself from its competition. When a brand identifies a distinct selling offer, it can attract a larger audience and grow into new areas. This enables them to find more interested prospects, raise conversion rates, and boost the enterprise's bottom line.
Knowing what sets you apart from the competition is crucial since it distinguishes your product from others on the market. Such distinguishing features may include additional functions for your product, a reduced price-to-quality ratio, and so on.
4. Establishing objectives for marketing communications – If organisations want to track the efficacy of their marketing campaigns, they must recognise that their objectives must be quantifiable. Before beginning marketing communication, it is vital to determine the campaign objectives. It entails writing out what the brand wishes to express to its target audience. This stage assists companies in documenting their goals for their integrated marketing communication strategy. Some of the common goals are as follows:
Increasing a product's sales.

Increasing brand recognition in the market.

Improving the image of a brand.

Confirm a customer's decision to stick with the brand.
5. Establishing the campaign's budget – Financials are critical at all stages of marketing communication strategy. The execution of a planned communication plan necessitates budget approval from senior members of an organisation, who monitor all areas of the strategy and guarantee that the firm stays within budget. A realistic budget is essential since it will help you develop your plan properly. This budget should be based on the size of your firm and can be either a proportion of sales or a percentage of profit.
6. Creating the campaign's strategies and tactics – Now that a brand has identified its targets and financial resources, it is time to design strategies for achieving those objectives through marketing communications. While strategies are simply concepts for achieving goals, tactics are detailed steps to carry out a strategy. This stage allows the organisation to flesh out its concepts and specify its strategies to align with its overall aims. This would outline how their promotional strategies would seem.
7. Assessment and measurement – Checking a campaign's effectiveness are almost as vital as creating the strategy. As a result, a company must have a plan to evaluate its IMC strategy's performance. Frequently, a component of the communication strategy needs to function properly. It is critical to comprehend what worked and didn't work, understand why some things failed, and create notes for future planning. This is where assessment and measurement come into play. Other measures for evaluating a process include
Visitor traffic to your website.

Social media metrics, such as a rise in your social media page's engagement or follower count.

Sales figures have shifted.

Evaluating the performance of your plans can help you understand their efficacy.
Because IMC is cyclical, the evaluation also aids in determining any improvements to your approach that may be required in future iterations.
Also Read: What is Business Administration Course?
If a firm meticulously follows all of these phases, its integrated marketing message will be well-defined. They will also be able to perform their marketing operations more efficiently as a brand. It will also allow them to connect easily with their target audience and give them the greatest experience.
Integrated Marketing: Is it the best option for your company?
The effectiveness of the process of integrated marketing communication is unparalleled. It is estimated that integrated marketing initiatives spanning more than four channels outperform single or dual-channel campaigns by 300%. Here are some of the reasons:
You get better outcomes –

Marketing effectiveness is increased when communication technologies and messaging are combined. The more coherent, purposeful, and focused a customer's experience, the greater the possibility of a sale and brand loyalty

You increase brand awareness –

Increase brand recognition by using similar images, headlines, and keywords across numerous mediums and platforms. By enhancing the number of times customers see or hear the same content, creative uniformity helps to cement marketing themes. You leave your imprint.

You save cash –

Concentrating on a single theme saves money on campaign creation and avoids the budget waste of inconsistent advertising.
Why should one study integrate marketing communications?
In today's fast-paced environment, firms must have a clear brand message. Furthermore, disseminating the information across several platforms allows clients to become aware of your brand and, eventually, purchase. Furthermore, integrated communication provides clients with timely notifications of deals, updates, and other pertinent information. As a result, learning about integrated marketing communication is essential for any entrepreneur or marketing professional.
Consider the following advantages of knowing integrated marketing communication: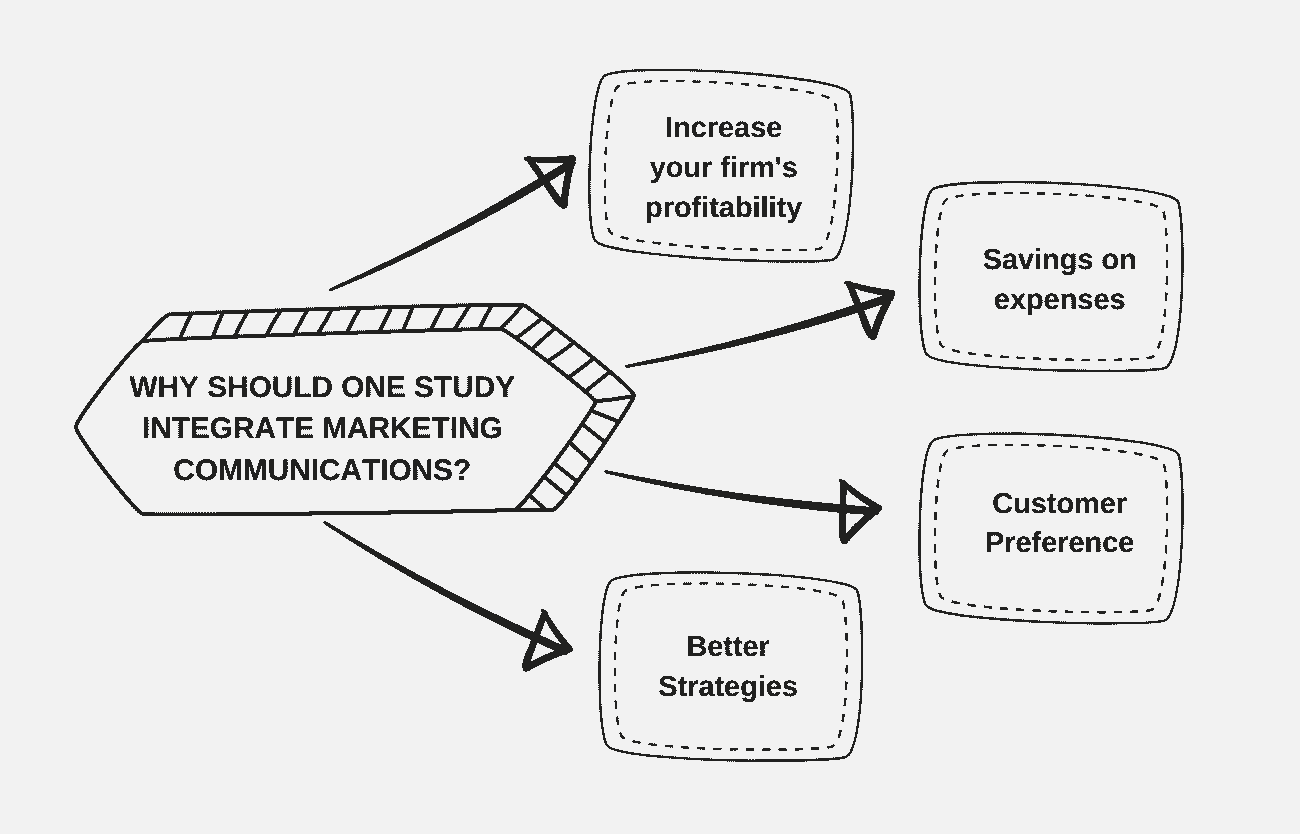 Increase your firm's profitability –

Previously, businesses developed distinct campaigns for advertising, public relations, direct selling, and promoting sales. However, IMC uses the same communication strategy across all marketing media. A brand, for example, may utilise its advertising power to raise product awareness and create leads for the sales staff. Thus, IMC teaches you the need for uniformity in marketing.

Savings on expenses –

Standardisation in an IMC campaign may help a corporation save money. Using the same imagery and marketing materials saves time and money on text, design, and photography. Furthermore, one may use a marketing automation platform to automate repetitive operations. Due to this, they will have additional time to experiment and eventually take the firm to new heights.

Customer Preference –

IMC provides customers with information in the manner they choose. Companies can also ask their clients if they want to receive information by email, direct marketing, text message, or phone. Once that information is accessible, it may be utilised to guarantee that the appropriate information is delivered to the appropriate consumer. Furthermore, IMC can improve the customer experience at each stage of the customer lifecycle.

Better Strategies –

With IMC, you can choose the right metrics for your marketing campaign based on your goals. They may then analyse the type of material attracting the target audience's attention and adjust their strategy and goals appropriately. As a result,

the process of integrated marketing communication

guarantees that individuals learn to develop better tactics.
Integrated marketing communication: career ahead
An integrated marketing communication bachelor's or master's degree from a reputed institute opens up many job options in market research, digital and social media, information technology, consultancy, public relations, and more. People with degrees in integrated marketing communications frequently land jobs in marketing agencies, consulting organisations, design studios, social media and digital agencies, and any other company that operates in the marketing or communication industry.
Establishing customer relationships, sharing information for product development, preserving brand reputation, and advertising goods and services depend on effective marketing communication. To increase audience engagement, integrated marketing communication helps to synthesise and unify messages for a business, its brand, and its goods. Although employment opportunities differ by industry, people with master's degrees in this field can choose from the professional options listed below.
Public Relations Director

Marketing Director

Director of Consumer Affairs

Marketing Specialist
More Information:
Sales & Distribution Management: Overview and Applications
Top Interview Questions on Change Management in 2023
What is an Executive MBA For Working Professionals?
Best IIT Certificate Courses For Working Professionals in 2023