We live in the times of ever-expanding data. And where there's data, there's analytics on top of it. Anyone who has ever worked with data or aspires, needs to have hands-on experience with a few tools. One such tool is the Microsoft Power BI Desktop.
I guess that is why you all are here. Because you've either heard or read about this new end in-analytics tool by Microsoft. Well, you've come to the right place. This blog, specifically, will help you with all you need to get started with Power BI certification training. Hope you enjoy learning this new piece of technology.
In this Power BI Desktop Tutorial, you will be learning the following topics:

So, let's begin by understanding a little bit about Power BI.
What is Power BI?
It is a cloud-based, Business Intelligence Service by Microsoft which provides non-technical Business users with tools for Aggregation, Analysis, Data-Sharing and Visualisation.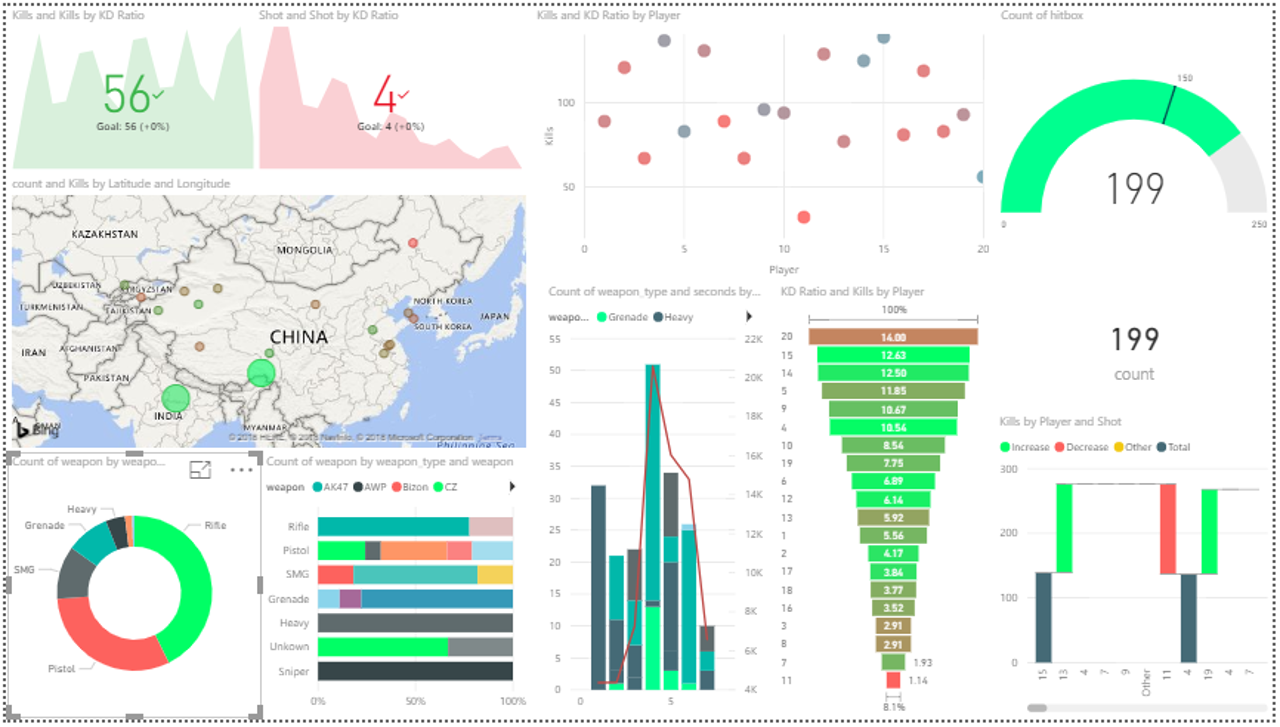 What is Power BI Desktop?
Power BI Desktop allows you to ingest, transform, integrate and enrich your data. Connecting to all your data sources, Power BI Desktop simplifies data evaluation and sharing with scalable dashboards, interactive reports, embedded visuals and more.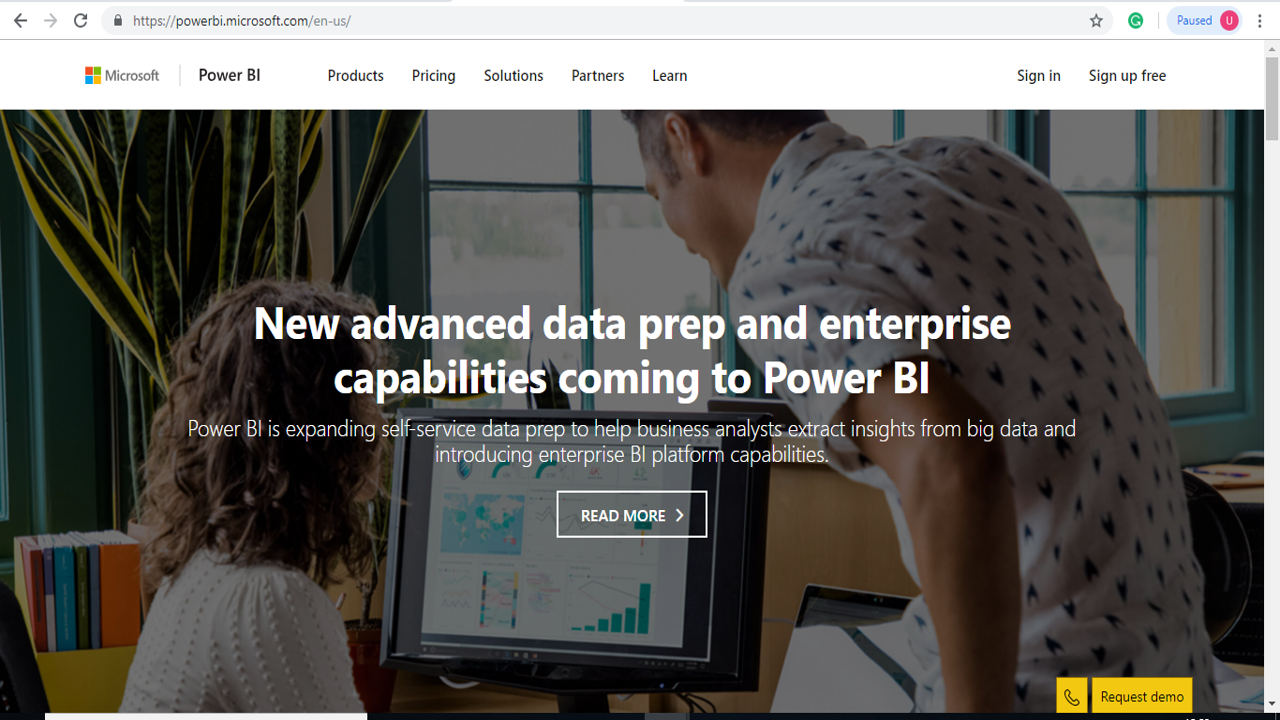 Creating a Report on the Power BI Desktop basically consists of 3 steps:
Import Dataset to Model

Play around with Visualizations

Create a Report
The more you use it, the better you'll get at it. So, let's get started.
Power BI Desktop Installation
It's a pretty simple process. All you have to do is:
Go to powerbi.com
Products >> Power BI Desktop >> Downloads page
Click on the Download Button
You could just be a free user at first and then download a paid version later if you like. You can see the differences between being a free user and a paid user at the Pricing page. The basic difference only arises with data usage capacity.
You can open your Power BI Desktop directly from here. So, what you see when open the Power BI Desktop are these tutorial videos on building reports, query concepts, etc.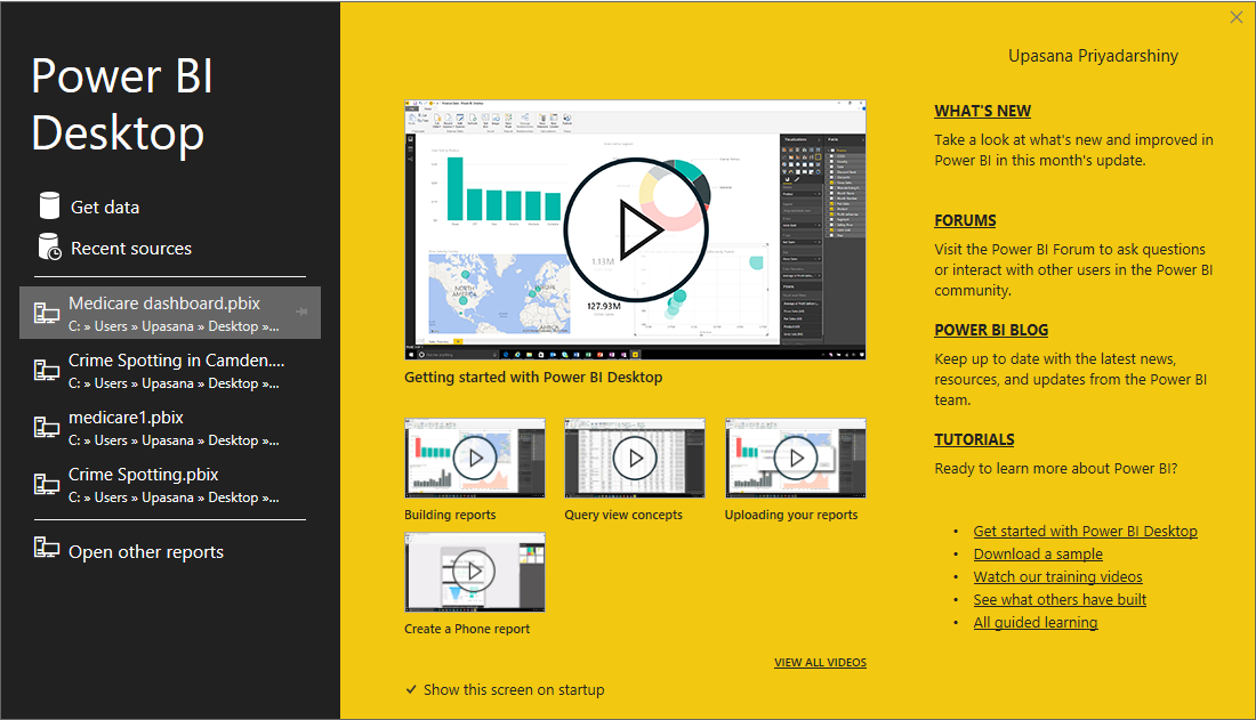 Importing Datasets into Power BI Desktop
The first thing you do in order to build a dashboard is, you connect to data sources. Following are the steps you need to follow to import the datasets.
Click on the Get Data button

Select the data source you want to connect to. You've got excel, csv, azure, etc. You can even scrape data off web pages, so lots of neat stuff.
Basic Views in Power BI Desktop
So, when you first load your data you see a blank screen. On the left, you see these 3 basic views you have here.
Report View

Here you'll create the dashboard.

Data View

Here you get a preview of your data and make changes if you want to. This is also where you can create a new calculated column.

Relationship View

Here you can see the relationship in the objects.
Pro-Tip
It's always advisable to begin with the data view. You basically get the preview of what your data looks like. Here are a few things to take care of, before you actually start creating the dashboard.
Rename columns

We're building the dashboard for the user. All the naming conventions and data types are going to appear at the surface and we want it to be as interactive as possible.

Delete Columns

Anything that's not absolutely necessary in the model – delete it. Because it's going to contribute to the size of the model and take up more system resources whilst processing.
Once you're done with all the transformations, you can directly go to the report view of your Power BI Desktop.
Building a Dashboard
Now, you're ready to start the fun part. That is creating the dashboard. It's pretty easy to work with. So, if I want to create a chart, all I have to do is select your data fields, drag and drop them where it says drag data fields here.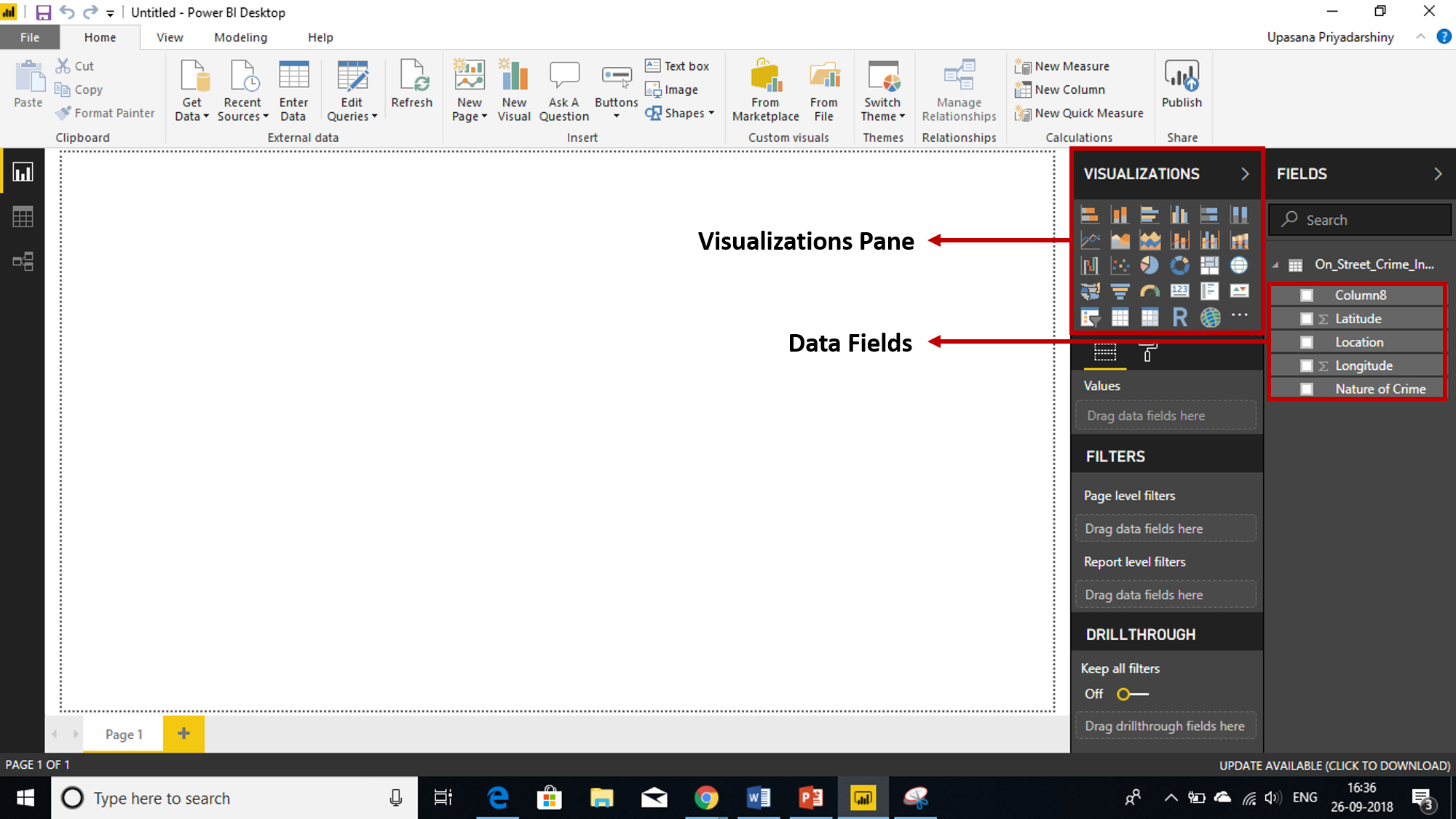 You can follow the table given below to help you choose the most appropriate visualization for any case.
Requirement

Charts you can use

Use Cases

Comparison on a common axis

Clustered Bar/Column Charts

Annual per unit sales of a company, Life expectancy stats of 15 countries

Changes in an initial value over time

Waterfall Charts

Inventory Audits, Difference in profits per year per sector

Displaying and Comparing trends over time

Area charts, Line charts, KPI,

Ribbon Charts

Growth in sales over a period of time, Trends over a period of time

Track and Display Up-to-date figures

Cards, KPIs

Absolute numbers, Last Updated Dates

Values breakdown as parts of a Whole

Pie Charts, Tree Maps, Donut Charts, Stacked Bar/Column Charts

Categorical charts, Percentage breakdowns

Stages of a linear process

Funnel Charts

Potential to Sales Chart

Progress to a measurable goal

KPIs, Gauges

Targets, Progress towards Targets

Data with numerical values along both axes

Bubble Charts

Risk Analysis of projects with the highest values

Quantitative data that is relevant to physical locations

Maps, Filled Maps, ArcGIS Maps

Viewer Density in different states, sales in a particular State
I would also recommend you to watch this video to get a better idea of how these charts would look like on the desktop.
Power BI Desktop | Edureka
Publishing a Report
And now you're ready to deploy this to the Power BI site. All you must do is click on the Publish Button on the right top corner of the screen.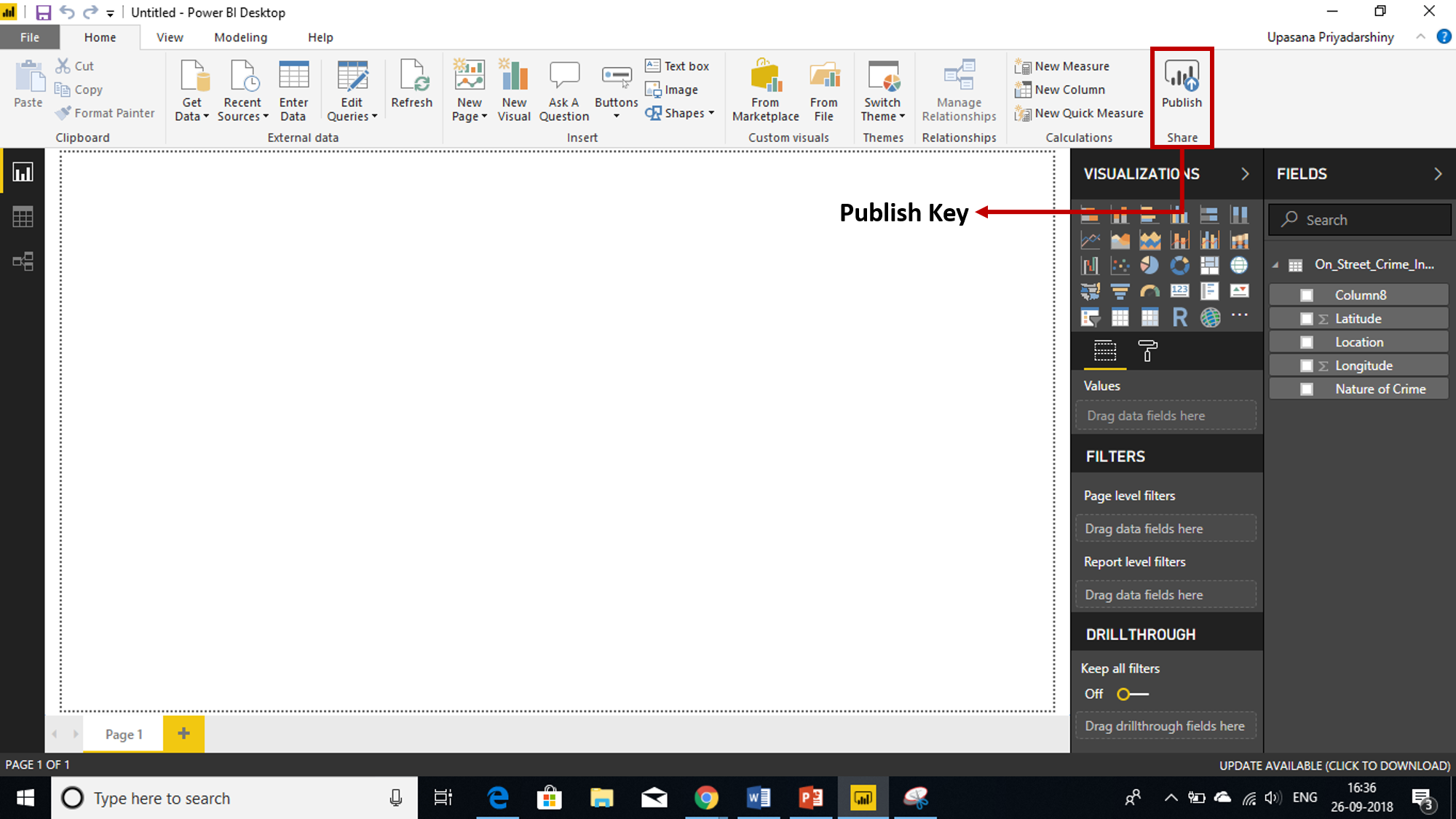 Now that you've learned all about the Power BI Desktop, go on and create comprehensive and powerful visualization reports with this technology.
You can use these sample datasets to start experimenting with Power BI Desktop.