In the previous article, we spoke about Hadoop and MongoDB® and how they work together (link to post on Hadoop and MongoDB®). In this post we learn more about the growing stature of the Hadoop and mongoDB® combination of skills in the industry and what this means for you in terms of career growth and salary hikes.
How popular is MongoDB® in the industry?
MongoDB® is the most popular NoSQL database, with significant adoption in the top 500 organizations in the world.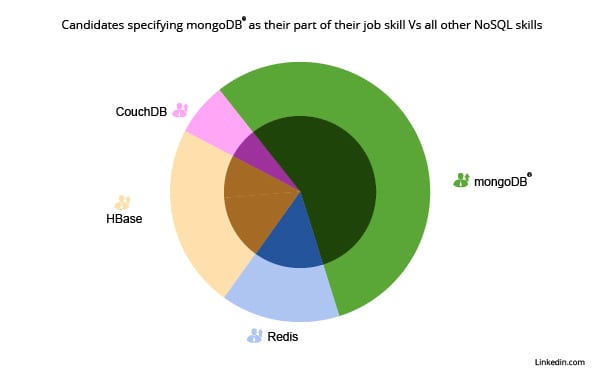 Salaries for those with NoSQL skills in the Industry:
The demand for database management skills has expanded beyond Web or software companies and into industries such as retail, hospitals, and even government. These industries are seeking individuals with skills in managing and analyzing large data sets. And when it comes to the most desired skills, it should come as no surprise that NoSQL and Hadoop knowledge is highly desired.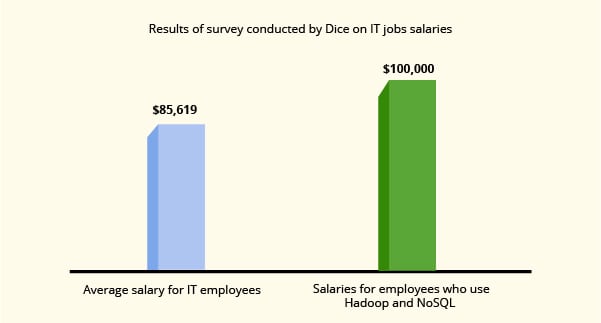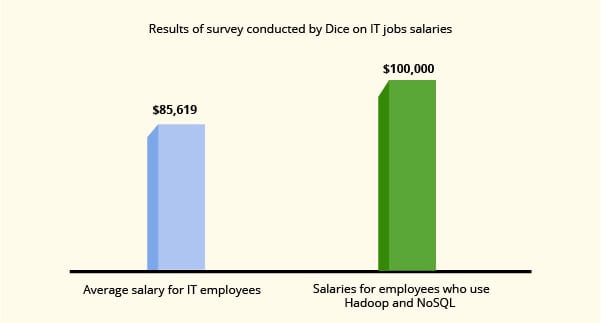 The average salary for big data/NOSQL related jobs is over $113,000. With large companies such as Amazon, Apple, Dreamworks, Nokia, and more looking for experts, it's no wonder the average salary is so high.
Learning a NoSQL along with Hadoop definitely boosts your career, however this would be a good time to learn more about the training for MongoDB® here since it's one of the most desired NoSQLs out there.
Immerse yourself in the world of NoSQL databases with our MongoDB Certification.
Careers that require NoSQL and Hadoop skills + their salaries:
There is no shortage of uses for NoSQL and Hadoop in the business sector. Here are some of the specific careers that these skills are being put to use for:
DBA or Database Administrator:
Huge demand for DBAs in the industry.
Average salary of $81,000 according to Indeed.com. With experience this can go up to $100,000.
Data Architect:
Average salary of $107,000.
Required to have some experience in creating data models, data warehousing, analyzing data, and data migration.
Data Scientist:
Data scientists gather data, analyze it, present the data visually, and use the data to make predictions/forecasts.
Average salary for a data scientist is $104,000.
Data scientists are currently in high demand and the demand will likely continue to increase.
Systems Engineer:
Average salary for systems engineers is $89,000.
Software/Application Developer
One of the more popular careers for people with NoSQL and Hadoop skills is software development. People with these skills can get ample freelance work or can launch their own startup if they have the entrepreneurial spirit. Requires database management experience and programming skills
Average salary of $107,000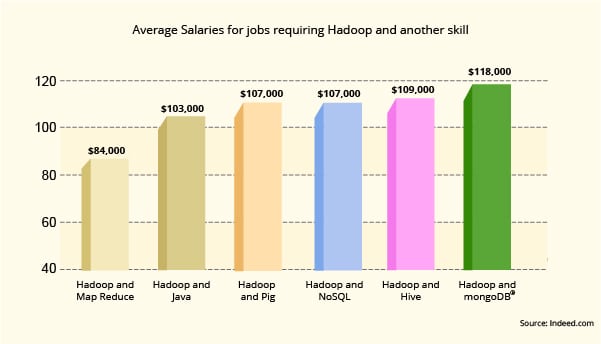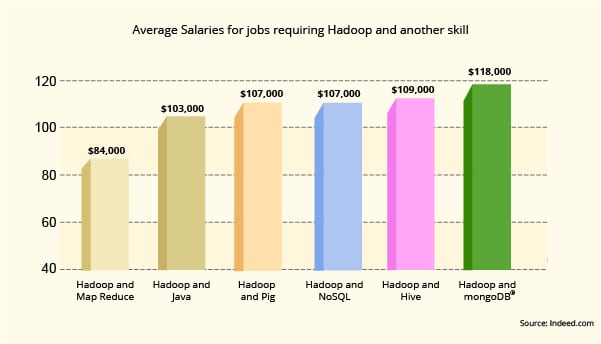 Here is what Rackspace, early adopters of MongoDB® for their Cloud Solution had to say about MongoDB®:
MongoDB® is the de facto choice for NoSQL applications. Our customers want MongoDB®. It is the No.1 requested previously unsupported database.
It is seeing widespread adoption by developers because:
It is super easy get started and to use, and it boosts productivity.
MongoDB® has removed the schema barrier, which allows developers to focus on building applications, not databases.
It also has widespread support for every language we see being relevant to the future of the web – C, C++, C#, JavaScript, Node.js, Objective-C and Scala, just to name a few.
These reasons drive MongoDB® adoption today and have pushed MongoDB® to quickly become the database of choice for non-relational applications.
If you wish to learn Microsoft SQL Server and build a career in the relational databases, functions, queries, variables, etc domain, then check out our interactive, live-online SQL Server Certification here, which comes with 24*7 support to guide you throughout your learning period.
Got a question for us? Please mention it in the comments section and we will get back to you.
Related Posts: