Leveling up your career in the field of Project Management can be tedious. The search for appropriate professional certifications never seems to cease. If the above pointers bother you then you must read this article on PMP® vs PRINCE2®, which will definitely clarify all your doubts and will help you to understand all the distinctions between PMP Certifications and PRINCE2 Certification.
Below are few of the factors based on which I will be comparing PMP® vs PRINCE2®:
You can watch this video on PMP® vs PRINCE2® for a detailed explanation.
PMP® vs PRINCE2® | Project Management Certification | Edureka
This Edureka video on PMP® vs PRINCE2® will compare two major certifications in the field of Project Management.
But, before I start off with this PMP® vs PRINCE2® blog, let me give you a quick brief on these certifications.
PMP

®

Certification
PMP Certification stands for Project Management Professional Certification. This certification is proof of education and experience in the project management field of any project management practitioner. It is known as the golden standard of Project Management and is acknowledged by the organizations across the globe. Once you successfully clear the PMP® Exam, you fall into the cream layer and will be preferred by the recruiters.
PRINCE2® Certification
PRINCE2® stands for PRojects IN Controlled Environment. The PRINCE2 certification focuses on a structured project management approach and practitioner certification program. It is a systematic process-based method that helps in delivering a successful project with clear templates, processes, and steps.
PMP® and PRINCE2® both are certifications for experienced project management practitioners. One thing you must keep in your mind is, these certifications are "not" competing, rather they are mutually exclusive and complement each other. Moreover, if they are pursued together, can widen your horizon as a project manager. Thus, before opting for any one of these, you must have an unclouded understanding of what each of these certifications has to offer. Through this blog on PMP® vs PRINCE2®, I am going to throw some light on the major differences as well as advantages of each of them.
So, let's begin our comparison of PMP® vs PRINCE2® certifications with the very first topic, i.e., PM Methodology.
PMP® vs PRINCE2®: Project Management Methodology
Project management methodology is a model, which organizations adopt for the design, planning, implementation, and fulfillment of project objectives. It depends on the industry or business domains as to what project methodology should be adopted for a particular project. You can consider these methodologies as the threshold on which these two certifications operate in the industry.
PMP®
PRINCE2®

PMP® is based on the PMBOK® Guide

Follow the knowledge-based approach encompassing 10 Knowledge Areas

Prince2® follows a process-based approach

It is a directive and sets out clear processes defining what should be done
The next point of comparison between PMP® vs PRINCE2® is the PM approach. So, let's move ahead and see how they differ in their approaches.
PMP® vs PRINCE2®: Project Management Approach
Project management approach is basically the framework used for handling the different factors of a project and achieving successful project completion.
PMP®
PRINCE2®

The project is completed in a sequential manner

Before the commencement of the project, it's scope, time and cost are finalized

The customer can't alter these factors
Industry/Geography-wise Relevance
Now that we have established clear differences between these three certifications, let us discover the industry-specific or geographical prominence of these three certifications.
PMP®
PRINCE2®

PMP® is recognized across all major industries
PMP® certification is majorly recognized across India, USA, Canada, Middle East, South East Asia, and Australia
PMP® vs PRINCE2®: Certification Bodies
Well, these certifications are provided by the prominent certification bodies of project management and are equally prestigious. Having certification stamp of these institutes automatically beefs up your resume and puts you in the elite group of professionals.
| | |
| --- | --- |
| PMP® | PRINCE2® |
| | |
PMP® vs PRINCE2® : Eligibility & Fee Structure
Now, prerequisites are the important factor which you must know before you apply for any of these certifications. PMP® and PRINCE2® , both have different requirements. Check out the table below, to know about them in detail:
PMP®
PRINCE2® Foundation
PRINCE2® Practitioner

Min Experience Required

3 Years

N/A

PM Experience Required

4500/ 7500 Hrs.

N/A

Formal Training Required

Yes

Exam Cost

555 USD

Included in Training Fee

Renewal Cycle

3 Years

N/A

5 Years

Renewal Criteria

PDUs

N/A

Short Exam
Exam Format
Being well acquainted with the exam format is the first step to cracking it. Being the most reputed certifications in the field of project management, clearing these exams is no joke. You must have a thorough knowledge of the exam you are going to appear for. Few of the major differences are listed below:
| | | | |
| --- | --- | --- | --- |
| | PMP® | PRINCE2® Foundation | PRINCE2® Practitioner |
| No. Of Questions | 200 | 75 | 8 x 10 |
| Total Time | 4 hrs | 1 hr | 2.5 hrs |
| Exam Pattern | Abstract Questions with Multiple Choice | Abstract Questions with Multiple Choice | Scenario-Based Subjective Questions |
| Passing Score | Not Disclosed, Psychometric Assessment | 50% | 55% |
| Exam Center | Prometric | Online | Online |
Preparation Time
Getting acquainted with the exam pattern is the first step in exam preparation. But for the actual preparation, you need to build a detailed schedule based on the time bracket you have and the syllabus you need to cover. But just creating schedule won't do, adhering to it, is a must in order to succeed. So, for your reference, I have added a rough outline of prep time for all the three certification exams.
Alternatively, you can also learn with PMP Training in Bangalore!
| | |
| --- | --- |
| PMP® | PRINCE2® |
| | |
Average Salary
Now, last but not least. The driving factor that makes professionals take these certifications is the salary factor. Below is the summation of the average salary of a professional holding any of the certifications among PMP® vs PRINCE2®.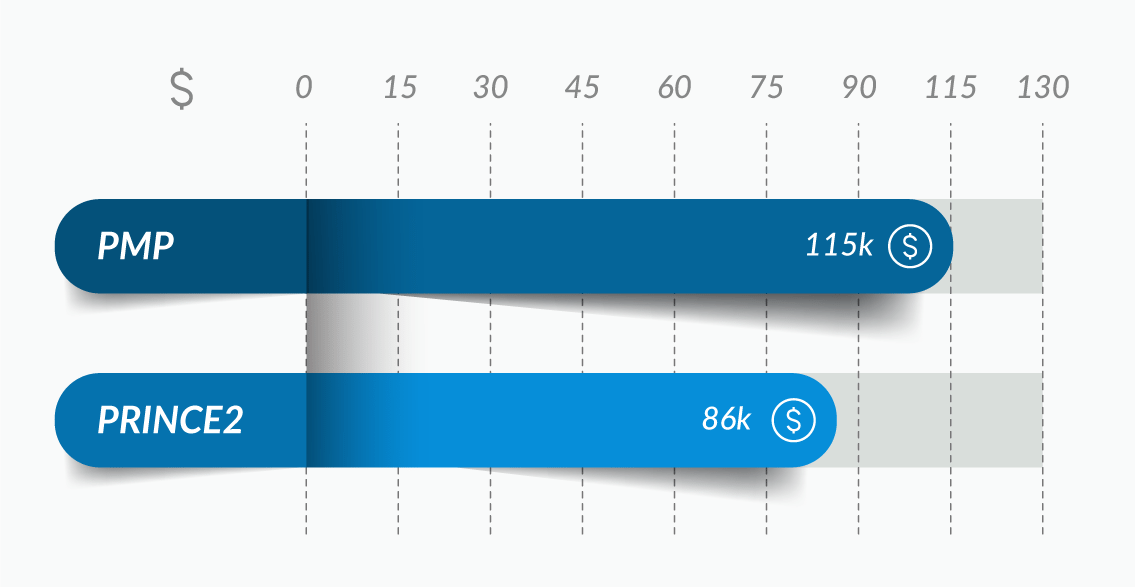 Companies
Big brands across the globe often hire professionals with these certifications. Few of the companies hiring PMP® and PRINCE2® professionals are:
PMP®

---

Since you are familiar with the nitty gritty of PMP® and PRINCE2® certification, in the next section, I will deal with the major question revolving in your mind. You can learn more from the PRINCE2 foundation certification.
Which certification suits you better?
As I have already mentioned, both certifications are prominent in the project management field and hold paramount importance. So, you can opt for either of the two. But before you choose your certification, there are a few important aspects that you need to consider like:
Decide on where you want to work and what is your location preference?

In your project, during which phase you will be focusing on your clients?

Which work routine do you think will suit you better?
Once you sort out your priorities based on these aspects, I am sure the answer to your question will become crystal clear. Alternatively, you can also visit PRINCE2 Training in Bangalore for the expert guidance.
This brings us to the end of this blog on PMP® vs PRINCE2®. Hope, I was able to give you a clear picture of each of these certifications and help you to decide on which certification to go for.
If you found this PMP® vs PRINCE2® blog, relevant, check out the PMP Training in Chennai by Edureka, a trusted online learning company with a network of more than 250,000 satisfied learners spread across the globe.
Got a question for us? Please mention it in the comments section and we will get back to you.