Project Management is the discipline that helps in organizing and managing the objectives of a project in a controlled manner to produce unique outcomes. The profession of the Project Manager traces back to the early 19th Century but was not recognized as a distinct profession until the late 20th century. But in today's market, it is recognized as one of the most reputed professions offering a lucrative salary. But grasping it is definitely not a piece of cake, where you will have to compete with others across the globe. In this Top 50+ PMP Interview Questions – An Ultimate Guide in PMP article, I will help you in gearing up for your interview and ace it. This blog is going to help you crack all your PMP Interview Questions.
You can also, check out our PMP Certification Training if you want to ensure your job as a project manager because certifications like PMP, Prince2, etc. help in beefing up your resume and are preferred by employers globally.
Apart from this PMP Interview Questions blog, you can also check out our video on PMP Certification Full Course.
So, let's get started with our PMP Interview Questions.
Top 5 FAQs in PMP Interview Questions
Explain what you know about the principle of "Six Thinking Hats" in PMP
Elaborate on the Project Management Life Cycle process?
What is your leadership style?
What are the processes and process groups in the project management framework?

Explain Ishikawa/ Fishbone diagrams.
Beginner PMP Interview Questions
So let's get started with Beginner PMP Interview Questions.
1. What is the difference between Project, Program, and Portfolio?
| | | |
| --- | --- | --- |
| Project | Program | Portfolio |
| An endeavor undertaken to produce a unique product or solution | A group of interrelated projects that are managed together | A collection of projects and operations managed under one group to achieve a strategic goal |
| Temporary in nature with defined start and end point | Temporary in nature but lasts longer than project | Permanent in nature that keeps on changing and is aligned with the strategic planning |
| Follows the project-level plans with the main focus on detailed delivery | Follows the high-level plans that are backed up by detailed plans | Follows the ongoing processes that prioritize and align the portfolio to achieve strategic objectives |
| Has a narrow and defined scope with no changes | Has a wide scope can change with time-based on client requirements | Has the widest scope with the strategic perspective of the whole organization |
2. Explain what you know about the principle of "Six Thinking Hats" in PMP

.
"Six Thinking Hats" is an interesting way of understanding an issue from a variety of perspectives. You can think from 6 different perspectives or you and your team members could do this. Now, each of the 6 hats represents a different point of view.
Let us talk about it one by one:
The White Hat: A person who has the white hat will talk only about the Information, you have to consider it from both within and outside the scope of the discussion.
The Yellow Hat: The yellow hat symbolizes brightness and optimism. The wearer of this hat should bring or think of positive aspects related to the subject as much as possible. They should encourage the team members.
The Black Hat: A person who has the black hat is responsible for identifying any mistakes or roadblocks. They should be judgmental. Think about everything that could go wrong. Think about worst case scenarios, so that others can find a solution for it.
The Red Hat: A person with the red hat should express his feelings. The red hat signifies emotions. You can express emotions and feelings and share likes, dislikes, loves & hate. The objective here is to address the credibility of the emotions that are part of a certain discussion.
The Green Hat: A person wearing the green hat should come up with new innovative ideas. They should be creative. They should know all the information, problems and come up with new ideas that solve the problems and help in better productivity. The main purpose of earring this hat is to generate as many new ideas as possible.
The Blue Hat: The blue hat is the thinking hat(cap). It is all about thinking. It is the hat which ensures the six thinking hat guidelines are observed.
They decided the agenda and timeline, how long do the sessions take? When do you need to wear a particular hat, and for how long? So the group's controller should wear the blue hat for the session.
Learn more about ITIL and its framework from the ITIL Foundation Certification.
3. How will you define a project?
As per Project Management institute, a project is a 'temporary endeavor with a definite beginning and end' . To explain this in simple terms, A project can be defined as a sequence or series of tasks that should be completed to obtain the end result. A project could range from simple to complex, it could be handled by one team or by many teams. Now, every project will have these listed characteristics:
It will have a defined life cycle( Start day – End day)

Iterative deliverables or tasks leading a predefined idea

A project always creates a new end product
4. What is your understanding of Project Management?


Project Management is the discipline that helps in implementing various processes, methods, knowledge, skills, and experience for achieving the objectives of a unique project. Project Management is nothing like the usual management. One key factor which differentiates these two is that project management has a final deliverable and a definite timeline whereas management is an ongoing process. A project manager must always follow the 6P rule of project management which is Proper Planning Prevents Poor Project Performance.
5. Elaborate on the Project Management Life Cycle process?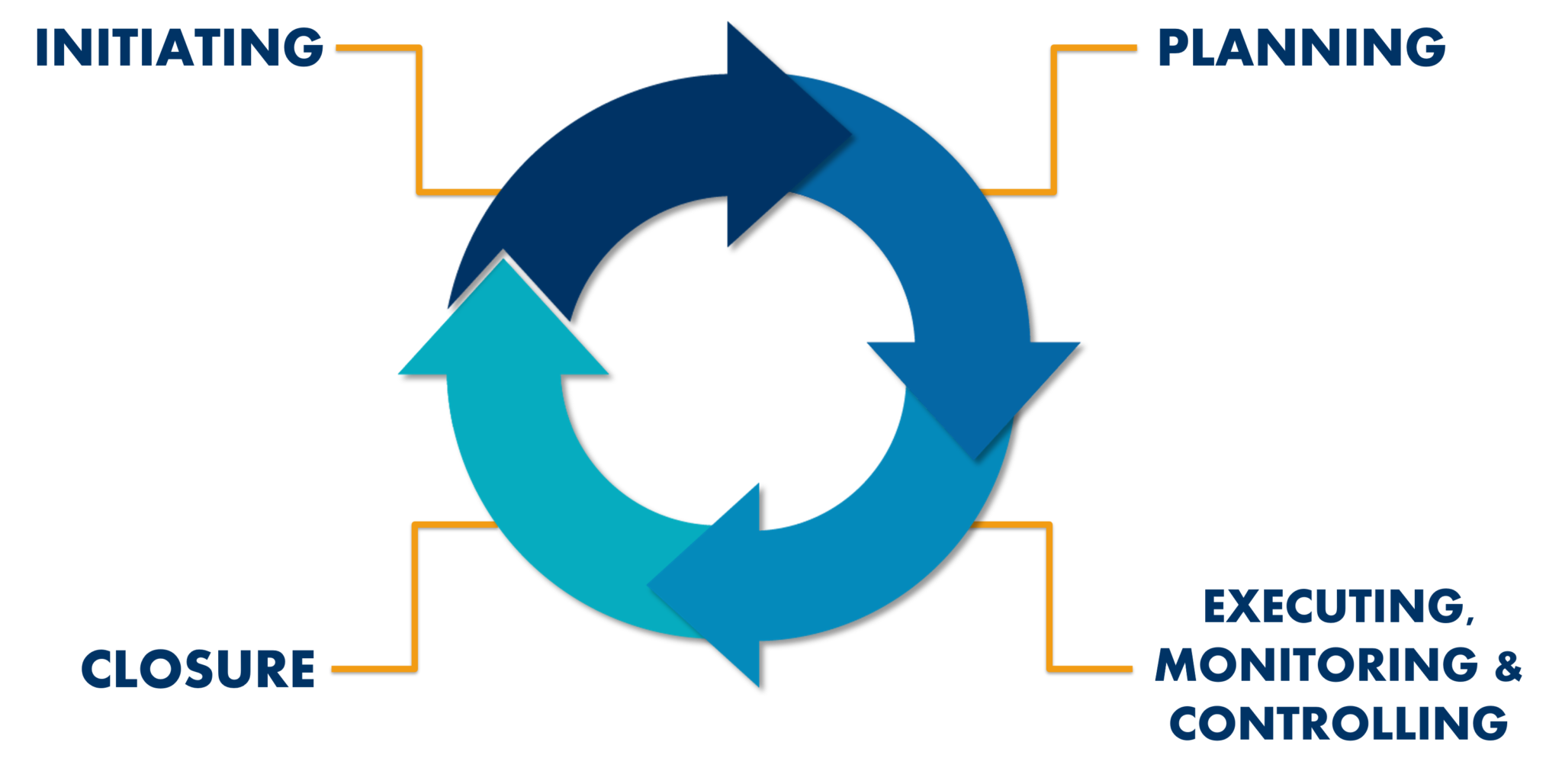 The Project Management Life Cycle is a series of various activities/tasks that are crucial for accomplishing project objectives or targets. This helps in structuring the efforts and simplifying them into a series of logical and manageable steps. The Project Management Life Cycle consists of four simple phases which are listed below:
Initiation


It's the first and most vital step in the life-cycle of your project where the initial scope of the project gets defined and resources are committed. This process group ensures the success of your project.

Planning


In this process group,

an appropriate level of detail is jotted for the project to plan time, cost and resources. It estimates the work needed and manage risk effectively.

Executing
This process group consists of the processes which are used to complete the work defined in the project management plan. It's about achieving the project's objectives. It also involves tracking, reviewing and regulating the performance of the project. Also, you need to identify potential problems quickly and take corrective actions.
Closure
This process group is an important part of project management, performed to finalize all project activities to complete the project. This means finishing all activities across all the process groups, disbanding the project team and signing off the project with the customer using the project closure report.
Next in this PMP Interview Questions, let's look at the techniques that you can use to collect project requirements.
6. What are the techniques that you can use to collect project requirements?
Before, we talk about the techniques used to collect project requirements, let us first understand what is project requirements. Project requirements can be defined as "what stakeholders expect from a project, or from the product of the project". So, all these requirements should be collected in the project and also managed properly. Now, some of the important techniques that you can use to collect project requirements are:
Gathering the data

Analyzing the data.

Observing the performance of individual team members.

Organizing or grouping of requirements or ideas.

Prioritizing the requirements and working on them first.

Prototyping
7. What is the importance of maintaining a requirement traceability matrix?
Requirements Traceability Matrix or RTM is a document which ensures that all the requirements that are defined for a particular system are linked at each and every point during the verification process. RTM also assures that they are tested with respect to various test parameters and protocols. The importance of maintaining requirement traceability matrix is that:
RTM can be defined as a powerful planning tool which helps in determining various factors like, the required numbers of tests, what are the types of test required or whether these tests can be automated, done manually, or whether any existing tests can be reused.
Also, using the RTM you get results in the most effective test execution which provides reports of the overall defect status, focusing majorly on business requirements.
8. What is a project charter in PMP ?
Project charter is a document which includes all the details of the project. It mainly includes information about the scope, objectives and the individuals who are involved in the project( It also includes roles and responsibilities of each project member). This project charter acts as a contract between the sponsors, key stakeholders and the project team.
9. What are the most important skills that a Project Manager should possess?
Most important skills that a Project manager must possess are:
Communication
Leadership
Team Management
Negotiation Power
Personal Organization
Risk Management
10. How will you start your job as a new project manager?
When you start your job a project manager first few things that you need to take care of are:
Listen, observe and learn
Understand your client's needs and wants
Know your team and their personalities
Take the opportunity to learn some new skills
Help out around the workplace
Try to master the tools your company possesses
Note: The above questions are frequently asked in PMP Interview Questions. With that lets move ahead.
11. How will prioritize tasks in your project?
Prioritizing tasks in a project is very important and especially if it is an extensive one. It helps in ensuring successful and timely completion of your project. In order to prioritize the tasks you should follow the below pointers:
List the tasks and responsibilities
Distinguish between urgent and important
Assess the value of each task
Order the tasks by estimated efforts
Stay flexible and ready to adapt
Know when to say NO
12. How do you handle non-productive team members?
The first thing you can do is

set achievable and measurable goal

s and also set a deadline for completing the assigned job.




Encourage your team members and make them understand that their efforts matter and are very valuable for the growth of his/her career and also the company.

Motivate your team members and do not embarrass them.

Offer help when they have any problems and do not over do it.
13. What is your leadership style?
Leadership is a quality that every project manager must possess. Every leader has his own leadership style to guide his team. The leadership style refers to a leader's characteristic behavior while directing, motivating, guiding, and managing his team to bring the best out of them. In a project, they hold the responsibility to motivate others for better performance, creation, and innovation.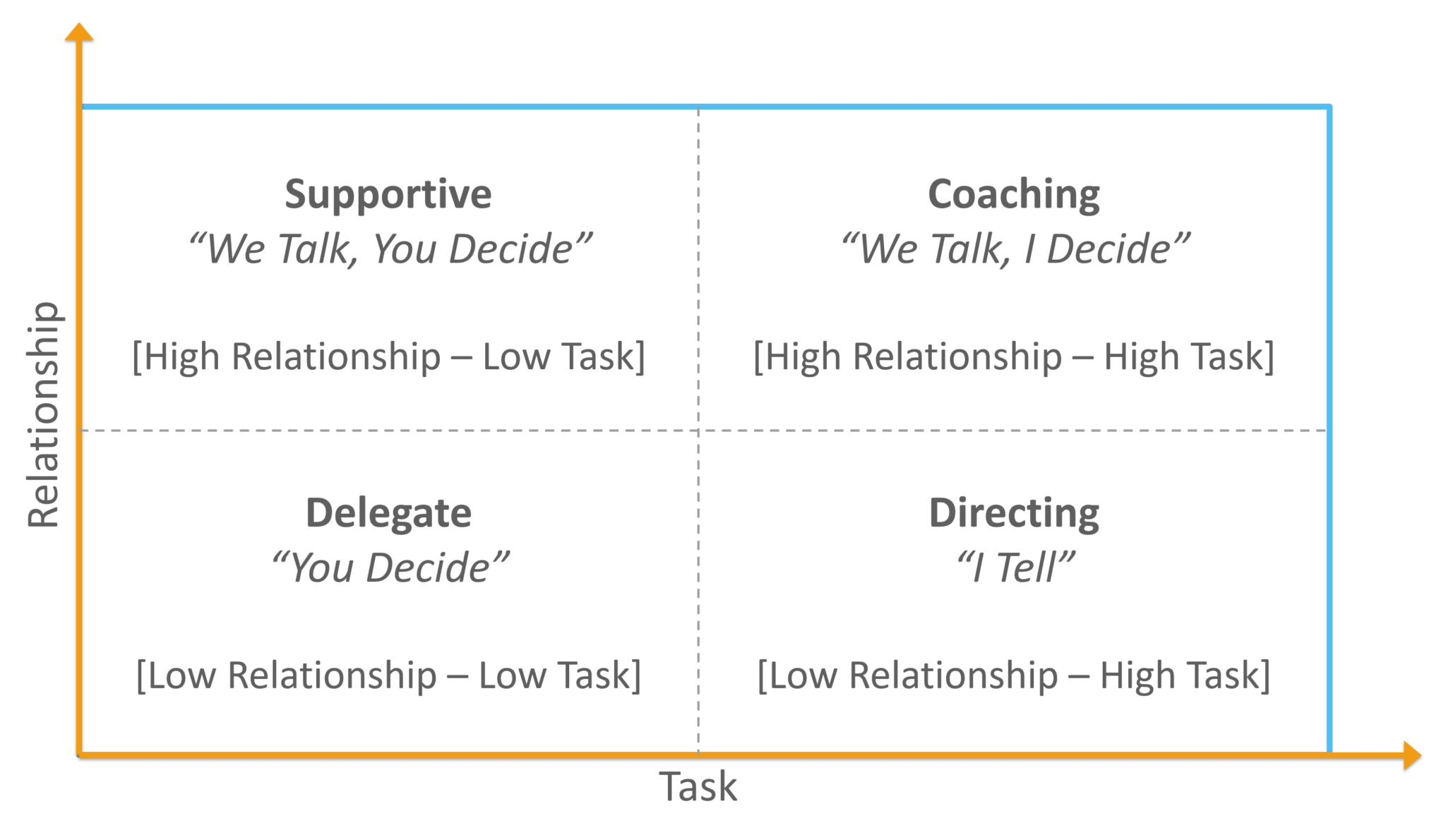 There are basically four types of leadership styles and your leadership style should be situational, depending on the type of team you are working with and the importance of the tasks involved in the project. Below are the four leadership styles:
Delegate
Supportive
Directing
Coaching
14. What is your ideal project in Project Management?
Before you decide on your ideal project, you must consider the following questions. These questions will help you in narrowing down your choices while making sure that your productivity maximizes.
What type of work do you enjoy the most?
How much you want to and are allowed to show your creativity?
Under what type of deadlines do you work best?
How comfortable are you with trying new things on a project?
Do you prefer to always receive full credit for your work?
Are you okay with working as part of a team, or do you prefer to work alone?
15. How does organizational structure influence resource acquisition?
An organizational structure determines a lot of factors that influence resource acquisition such as the level of project management, organization's environment, the communication between the team members, how the project manager works with the team and many more.
Now, talking about a few points how organizational structure influence resource acquisition:
1). Project management: During the process of your project management, your organization structure can either be a tight structure where all the steps that you take are managed very closely or a loose structure where there are not many rules and a little liberty in performing the tasks.
2). Communication: The communication between the team members to complete a project is greatly impacted by the organizational structure. There should be good communication between the team members and also inter departmental communication in an organization. It will create a friendly environment where people can share their ideas and suggestions, which in turn help in the project to thrive.

3). Chain of Command Impact: This means the hierarchy of the organization. The organization structure should be in such a way that when higher authorities communicate their requirements, it should be well understood and followed by the project manager and the subordinates correctly. Also, The project manager should know his subordinates, so that he can pick the right people for a particular task. They should be authoritative as well as friendly, they should communicate and express their thoughts clearly. All the tasks given by the management should be communicated properly to the subordinates and the management should allow the project manager to perform their own way of getting the work done.
Intermediate PMP Interview Questions
So let's get started with Interview PMP Interview Questions.
16. Customer or Development Team. Which one is important for a project manager?
Both are equally important as both are customer oriented. The development team works on developing products for customers while the customer team works on helping the customers with the products. A project manager should invest equal time with both the team and understand their requirements, solve their problems in order to increase their productivity.
17. What are the processes and process groups in the project management framework?
A process in the project management framework is a defined way of doing tasks that are involved in the successful completion of a project. These processes define the actions to be taken along with their sequence. There are around 49 processes in the project management framework embedded in various process groups. Process groups are a collection of processes that are applicable through various stages of a project.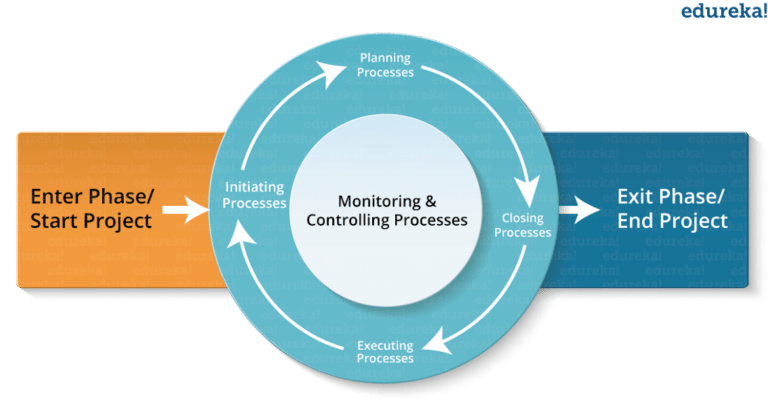 There are 5 process groups in which 10 knowledge areas and 49 processes are mapped into. The five process groups are:
Initiation
Planning
Executing
Monitoring & Control
Closing Process Groups
Note: Project Management Framework is one of most asked or demand in PMP Interview Questions
18. What are the knowledge areas and how relevant are they in a project?
Knowledge Areas are the core technical subject matter that are vital for effective project management. All the 49 processes are primarily part of these knowledge areas where they are grouped based on their commonalities. Below I have listed down the 10 knowledge areas of project management framework:
Project Integration Management
Project Scope Management
Project Schedule Management
Project Cost Management
Project Quality Management
Project Resource Management
Project Communications Management
Project Risk Management
Project Procurement Management
Project Stakeholder Management
19. How would you handle a difficult stakeholder involved in your project?
Since stakeholders hold a high authority and are an integral part of a project having their consent is very important. But sometimes they can be little difficult to handle, in such cases should:
Accept their authority without fighting
Remove all the negative emotions
Understand their issue
Ask for advice and listen to them
Be tactful and honest with your decisions
Praise them and try to establish the connection
Improve your communication
20. What is RAID in Project Management?
RAID in project management stands for Risk, Assumptions, Issue, and Dependencies. These are very important items that a project manager must have knowledge about.
Risks are the potential problems that can have either a positive or negative impact on the project resulting in a deviation of the final result from the original plan.
Actions are the task that you perform throughout the project.
Issues are the hurdles that you might face in the course of the project which must be successfully resolved or it might derail the project or cause the project to fail.
Decisions are your choice of actions/tasks in the project.
21. How does the RACI matrix help in resource management?
Every individual in a project should understand his/ her roles and responsibilities. Each team member's role can be defined using a RACI matrix.
RACI stands for the 4 roles which stakeholders may portray in any project. It maps out to is Responsible, is Accountable, who must be Consulted with, and who shall stay Informed. Just to explain this better, a project delegation looks like with RACI.
Responsible – Defines who is completing the task.
Accountable – Defines who is making decisions and taking actions on the tasks.
Consulted – Define who will be communicated with regard to decisions and tasks.
Informed – Defines who will be updated on decisions and actions taken during the project.
With the RACI matrix there will be no role or task-related ambiguity among the team members. It defines details like what level of responsibilities each person has, who to report to , and also when to ask guidance from project manager and when to take their opinion.
22. What is the critical path method (CPM)?
Critical path method or CPM is a resource utilization algorithm which is used for scheduling project activities. So this algorithm is used to create a structure in which the tasks are executed. So to construct a CPM, you should includes the following things:
A list of all the tasks that have to be completed for the project.

The dependencies between these tasks, to understand which task is dependent on which task

The time estimated to complete these tasks.
Based on these criteria, you can prioritize the tasks which have to be performed on priority.
23. When you consider that your project is off track and what will be your steps to ensure that it finishes within the given timeline?
To detect whether your project is on track or falling behind the agreed timeline, you must check the below pointers:
Budget is under control or not
Is it consuming too much time
Does the project scope keeps changing
Original goals are still present or not
If the answers to these pointers are true then, your project is definitely off the track and you must take immediate action to bring it back on track. Few steps that you might take are:
Discover the root cause
Put in more time and efforts to catch up
Try to follow the original goal or vision
Re-adjust resource management (resource, finance, human etc.)
Keep open communication with client and stakeholders
24. What is effort variance?
Effort variance in simple terms can be defined as the difference between the planned effort and the actual effort required to undertake the task.:
Now, to calculate the effort variance, here is the formula
Effort variance = (Actual Effort – Planned Effort)/ Planned Effort x 100.
25.

Which Project Management methodology do you prefer following in your projects?
Not a single methodology can be applied to all types of projects. The selection of project management methodology must be based on the following criteria:
Strategic goals and core values of your organization
Key business drivers of your project
Constraints (if any) in the project
Stakeholders involved in the project
Risks that might occur
Level of complexity of the project
Estimated size and cost of the project
26. What kind of bid documents can be used for procurement management?
A bid document is a document that comprises a proposal, which is often made through a bidding process, by a person or company and will include certain important factors like delivery schedule , the availability of the product, pricing and so on.
The different kind of bid documents can be used for procurement management are:
Request for Proposal (RFP) – RFP is a document which is used by the buyer to specify all their purchasing needs and any supporting requirements which will help the sellers understand what are the needs of the buyer.
Request for Quotation (RFQ) – RFP is a formal document used as a request for a price quotation and to specify all the requirements for certain purchases clearly. The major difference between RFQ and RFP is that RFQ is a relatively smaller document compared to a RFP, and it only provides the specification of the items to be purchased and request for a quotation unlike RFP.
Request for Information (RFI) – RFI is used to seek information on various aspects from the future buyers. RFI can contain questions asking about information about bidders such as their financial statements for the last ten years, details of their processes in the organization, details of their past accomplishments and so on.
Invitation for Bid (IFB) – Invitation for bid is a document which is used for inviting potential bidders to come and participate in the bidding process.
Request for Bid (RFB) – RFB is used to obtain financial bids for specific purchases from a selected group or set of suppliers.
Purchase Order (PO) – A purchase order is an order raised for favoring a supplier for regular purchases.
Contract or Agreement – Contract or agreement can be described as a mutual agreement between the two parties(buyer and the seller).
27. What are the tools mostly used for improving the process activities?
Majorly used tools in the industry:
Comparing and Baselining a Process
Flow-charting
Value-Stream Mapping
Cause and Effect Analysis
Hypothesis Testing
Advanced PMP Interview Questions
So let's get started with Advanced PMP Interview Questions.
28. What is stakeholder analysis and Power-Interest Grid used for?
Stakeholder Analysis is the technique used for identifying, analyzing and prioritizing potential stakeholders who might be associated with the project in some way or another. It can also be defined as a process which should take place before the project begins, where you identify or analyze the stakeholders and group them according to various factors like their interest in the project, their contribution to the project and their influence to the project. This helps in determining how to prioritize and communicate with different stakeholders. Now, analyzing stakeholders will give you all the necessary information about who they are, what their needs or expectations may be, what issues matter to them and many more. All of this information can be very helpful in making your projects successful.
A power-interest grid is used for classifying the stakeholders according to their power over the project and their interest on its results; based on these two criteria's you can allocate a position for each one on the power- interest grid.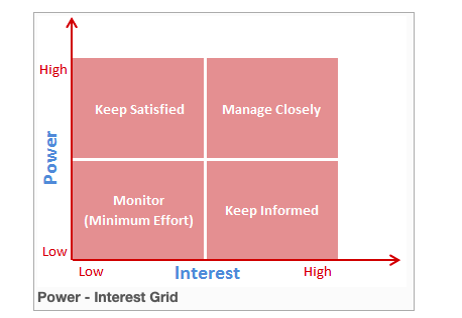 For stakeholders in the high power, high interest quadrant, needs to be managed closely, they should be your top priority and you should engage them and put in efforts to satisfy them.

For stakeholders in the high power, low interest quadrant, you should put efforts to keep them satisfied, but as they have low interest, you should not always disturb or bother them.

Next, For Stakeholders in the low power, high interest quadrant, you should keep them informed about the project's updates, growth and so on because these are the stakeholders who are highly interested in the project.

For stakeholders in the low power, low interest quadrant, they should be given least priority. You can just put minimum effort and just monitor them, in case their position on the grid changes to something more significant.
29. How will you manage the team members who are not working to their full potential in a PMP project?
To bring the best out of your team members, you must:
Try to avoid any type of emotional confrontation with the team and stakeholders
Encourage them to think and act in their own ways
Help your team members in developing their decision-making abilities
Develop their performance tolerance threshold
Strengthen the potential of weak employees by surrounding them with those even stronger
Understand what motivates your employees
Show your employees where they fit in the company mission and vision
Arrange a proper follow-up process
Reward and appreciate their improvement to encourage them more
Be ready to let them go if there is no scope of improvement
30. Being a project manager how will you get team agreement for results?
Trust and agreement is a key factor that facilitates proper communication and coordination in a team. that brings ou the best outcome. To gain agreement from your team members you must:
Keep your expectations clear from the very beginning
Build achievable milestones so that they don't feel pressured
Collaborate and maintain team trust throughout the project
Agree on the terms with the team & ask for their opinions as well
Schedule frequent accountability meetings
Establish outcome results and consequences
Clear out any conflicts among the team members as soon as it arises
Now that we have reached to top 30 PMP Interview Questions let move ahead with few more
31. Explain Ishikawa/ Fishbone diagrams which can be asked in PMP Interview.
A fishbone diagram is also known as a cause and effect diagram or Ishikawa diagram. It is a visualization tool that is used for categorizing the potential causes of a problem in order to identify its root causes. A Japanese quality control expert named Dr. Kaoru Ishikawa invented this fishbone diagram in order to help employees to avoid solutions that will merely address the symptoms of a much larger problem.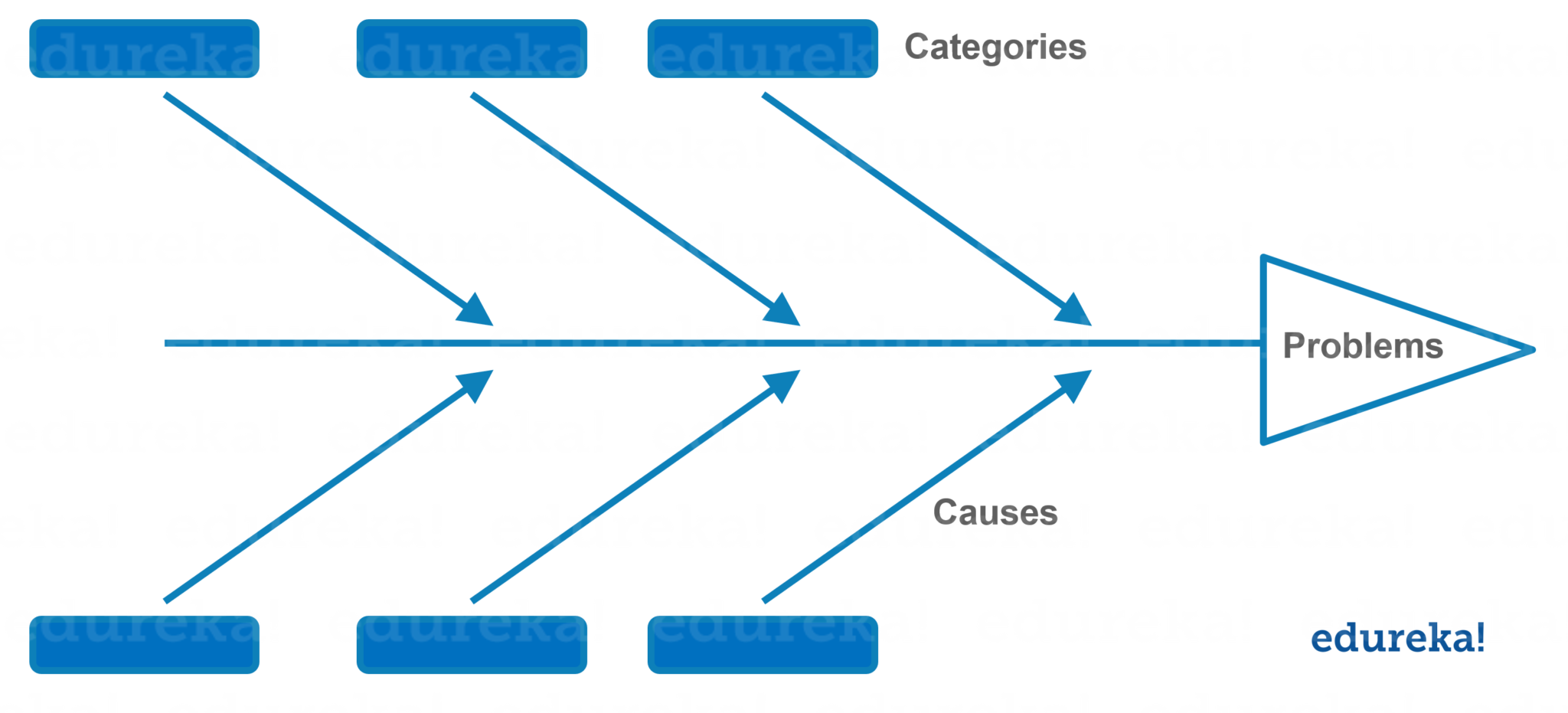 Now let's talk about what are DMAIC and DMADV in this PMP Interview Questions blog.
32. What are the DMAIC and the DMADV methodologies?
Firstly, DMAIC and DMADV are methodologies which are designed so that a business process will be more effective and efficient.
DMAIC
DMADV

1). DMAIC stands for D

efine—Measure—Analyze—Improve—Control

1). DMADV stands for Define—Measure—Analyze—Design—Verify

2). DMAIC is limited to improving existing processes, it does not address anything regrading the design of new products, services, or processes.

2). DMADV is majorly focused on the process of designing new products, services or processes.

3). D stands for defining the problems, which all output has to be improved, customers, and the process associated with the problem

3). D stands for Define design goals

4). M stands for measuring the data to make a baseline for improvements.

4). M stands for measure and identify characteristics that are critical to quality

5). A stands for analyzing the data to find the main cause for the defect

5). A stands for analyzing the data to find the best design

6). I stands for improving the process by trying out different ideas and solutions.

6) Stands for planning and designing the product, service or process.

7). C stands for controlling process implementation to sustain the improvements.

7). V stands for verifying if the designed product works well as planned under real time and simulated conditions.
33. Explain the entire team forming process you follow for your team.
Developmental stages of the team generally consist of:
Forming: In this stage, the entire group unites for the first time where

the focus is to build relationships within the team and clarify the mission or vision of the project.

Storming:

In this stage, team members get more comfortable in sharing their opinions with the team and with a possibility of internal conflict within the group.

Norming: In this stage,

the project team receives the clarity and support on the tasks to proceed with the project.

Performing:

By this stage, the team members learn to trust and accept each other. Each of the team members become competent, autonomous and is able to handle the decision-making process without anyone's supervision.

Adjourning: This is the final stage of the team forming process, which takes place after project completion. In this stage,

the team is broken up and resources are released.
34. What is the process of calculating the three-point estimating method?
There are two ways in which you can calculate the three-point estimation:
Triangular Distribution E = (P+M+O)/3
Beta or PERT Distribution
E = (P+4M+O)/6
where P = pessimist, O = Optimist, M = most likely.
35. Explain the Work Breakdown Structure (WBD) and its effect on the work estimates of tasks/activities?
Work breakdown structure defines the work activities that are required for the project completion and the sub-activities of each of those work requirement. It has a hierarchical structure in which concrete/ main activities are segregated into logical sub-activities. There are two approaches:
Top-down approach
Bottom-up approach
36. What is a WBS and how does it help in preparing a good plan?
WBS stands for Work breakdown structure which is a very important step in preparing a good plan . As the name suggests, WBS is breaking up the project work into smaller and manageable parts which are known as work packages. WBS helps in preparing a good plan as it is integrated with cost, scope and schedule baselines which ensures that the project plans are going as planned.
So instead of planning for the entire project, it would be easier and more efficient to break the project into parts and then plan for those individual parts. So it will be easier to plan and even when there is a problem, it is easier to identify and solve the problem. A good WBS helps to achieve optimal results and leads to development of an robust and accurate plan.
37. Define Planned Value, Actual Cost, and Earned Value?
Planned Value: Planned value is the budget which is authorized to an activity or work breakdown structure (WBS). This planned value can be allocated in various phases over the lifetime of the project.
To calculate Planned Value (PV) use the relation:
PV= BAC x Planned % of complete.
Earned Value: EV is a measure of work performed/ budget authorized for that work. In simple words, it's the budget authorized for completed work.
To calculate EV, you'd use the relation:
EV = Total percentage of work completed x BAC
Actual Cost: It is the cost which is incurred for the completed work on a task during a specific time period. In simple words, the cost you incur while you're completing the work for which EV is measured.
AC can be measured as it relates to PV (which is budgeted) and EV (which is measured).
38. Differentiate between risk and issues.
| | |
| --- | --- |
| Issues | Risks |
| Issues are more of present focused | Risks are more of future focused |
| These always tend to be negative in nature | They can be either, positive or negative |
| Issues are generally documented in "Issue Register" | Risks are generally documented in "Risk Register" |
| The response to an issue will be "Issue workaround" | The response to risk is based on "risk response planning" |
39. Why does a Project Manager need to be proactive?
Proactive Managers have higher chances of finding out the risks and implementing solutions in order to minimize them. Being proactive, lets them have more control over their project tasks and resources. They can keep a better track of all tasks and issues to work towards implementing small changes and improvements for higher productivity and efficiency. Organizes frequent meetings for developers to talk about their problems, brainstorm solutions, share best practices etc. Compares the actual costs and time spent on tasks on a weekly basis with the planned numbers.
40. What is the difference between Risk Impact and Risk Probability?
Risk Probability is the chance that a risk will occur whereas Risk Impact is the cost when a risk does occur.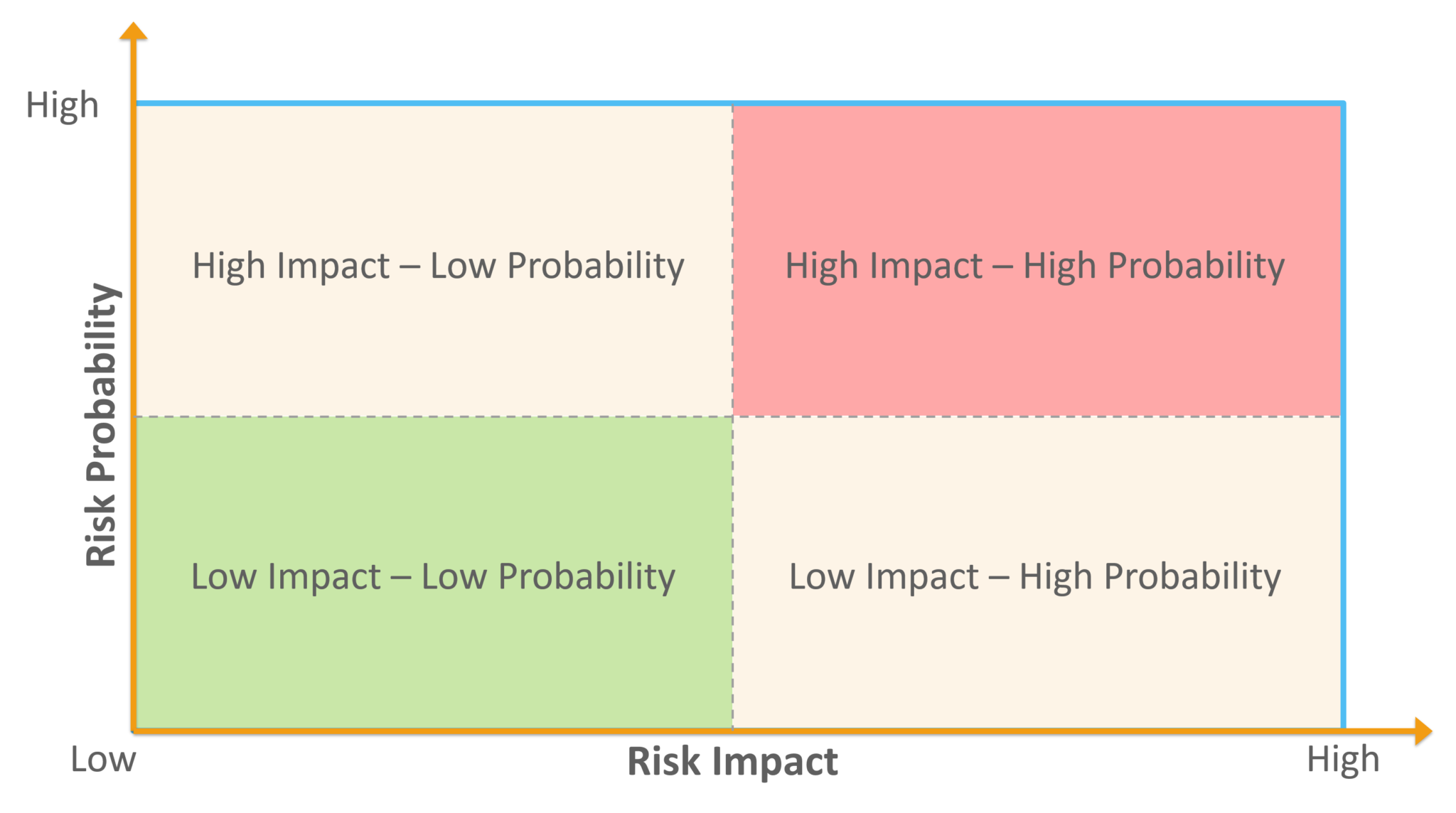 41. What are the steps that you will take to do risk planning?
There are 5 important steps in risk planning:
Step 1: Identify the Risk. This step includes identifying and describing all the possible risks that might affect your project or its results, so to avoid this make a note of all the possible risks. During this step, you start to prepare a Project Risk register which is a register the keep the details of all the possible risks
Step 2: Analyze the risk. Once risks are identified, the next step you should take is to analyze the likelihood and consequence of each risk. This is a very important step because you will understand the nature of the risk and its effect on project goals and objectives. You should also input this information to your Project Risk Register.
Step 3: Prioritize the Risk: After analyzing all the possible risk, it is time for you to evaluate and prioritize the risk by determining the risk magnitude, now the risk magnitude can be calculated as the combination of likelihood and consequence. So on top will be the risks, which have the most chances of occurring and whose consequences are bad for the project and vice versa . You should add all these risk rankings to your Project Risk Register.
Step 4: Treat the Risk. During this step you analyze the highest ranked risks and plan strategies to treat or avoid these. You create risk prevention & reduction strategies and also any plans for emergency in this step. Then you add the risk treatment measures as the highest ranking risks on your Project Risk Register. This is also called Risk Response Planning.
Step 5: Monitor and Review the risk: This is the step where you review your Project Risk Register and with the help of it track, Review and monitor risks.
42. What is the PDCA cycle?
PDCA cycle stands for Plan-Do-Check-Act (PDCA) Cycle. It is a 4 step problem solving technique which is used to improve business processes. It was originally developed by an American physicist named Walter A. Shewhart. It is a cycle, which means it keep iterating or repeating these 4 steps.
The first step is Plan: This step includes planning a project in such a way, that it defines clearly what is the project's goal and what are the best ways to work towards the goal. It is basically, setting up a framework for all the operations that should be done.
The second step is do: This step includes executing the actions which were planned. This do stage can be broken down into parts, the first part includes assigning tasks to individuals and training them, the second part includes the actual process of doing the work and the third part is noting down the progress and insights for future evaluation.
The third step is check: This step is used to check if the project's objectives are met. It also includes checking if the completed project addresses both the successes and failures, so that any further changes have to be made.
The fourth step is act: This step includes performing any corrective actions that were needed after the evaluation in the previous step. This cycle can be repeated until you get the optimal results.
43. Which communication style do you prefer using in your projects?
Type of communication you use in your project will completely depend on the type of project you are working on and the type of team you have. Types of communication styles that a project manager uses:
Written
Electronic
Face-to-Face
Responsive
44. What do you understand by time & material contract?
It is a type of contract that is a hybrid contractual arrangement containing aspects of both cost-reimbursable and fixed-price contracts. Time and material contracts resemble the cost-reimbursable type arrangements where they have no definitive end. This contract is generally used in projects whose accurate project size can't be estimated or when it is expected that the project requirements would most likely change.
45. What will you do if any of the customers are not happy with the quality or results of the product by the end of the project?
To handle an unhappy customer, you must:
Show the customers that you value them
Understand why they are not happy
Figure out what modifications they want
Try to incorporate the modifications if possible
If not possible try to convince and explain to the customer that the project fits in with the agreed scope
46. What is the Pareto principle analysis?
Pareto Analysis is a statistical technique in decision-making. It is basically used for the selection of a limited number of tasks which can bring a significant overall effect. This principle follows the Pareto Principle (also known as the 80/20 rule) and states that 80% of the results come from 20% of the actions. It helps in prioritizing the work especially in large projects with a number of small tasks.
47. What is a Decision Support System (DSS)? How many types of DSS are there?
DSS or a decision support system is an informational application which basically provides the users, relevant information which it has collected from a variety of data sources. This DSS can help by providing information which leads to better decision-making.
A Decision Support System is made up of three different parts:
Knowledge base. It is a part of a database of the decision support system, it contains all the information which are basically collected from both internal and external sources.
Software system: This is composed of model management systems. Now, a model is basically a simulation of a real-world system with the goal of understanding how the system works and how it can be improved.
User interface: The primary goal of the decision support system's user interface is to make it easy for the user to change the data that is stored on it.
48. Explain the triple constraint triangle in Project Management.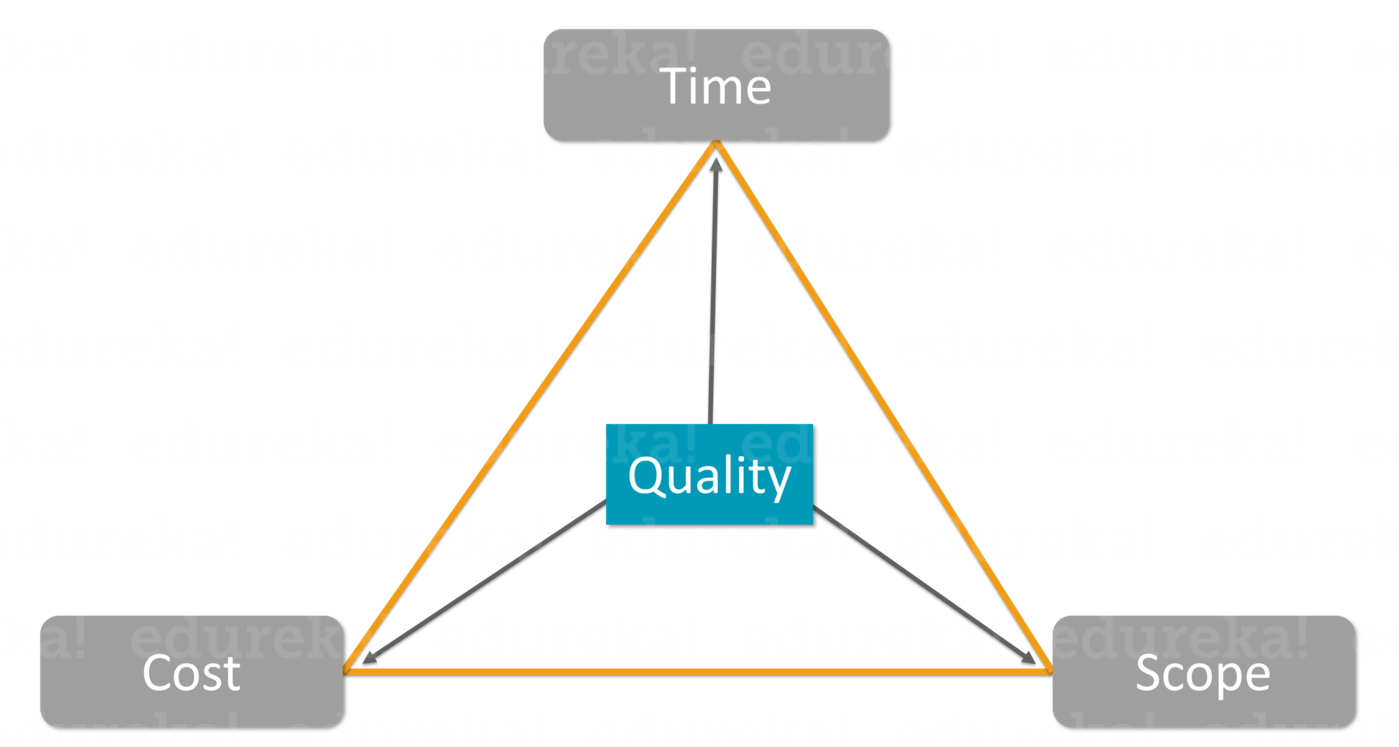 Triple Constraint Triangle is a combination of three key components which acts as the most significant restrictions on any project. Following are the three constraints in this model:
Time
Cost
Scope
Each of the constraints forms the vertices of the triangle with quality as the central factor.
49. What are the major types of risks you might encounter in a project?
Majorly encountered risks in a project are:
Cost Risk
Schedule Risk
Performance Risk
Resource Risk
Technology Risk
Market Risk
Legal Risk
Strategic Risk
Governance Risk
Operational Risk
External Risk
50. Work from home has become the new normal in the post-COVID-19-world. How well are you prepared to manage a remote team?
Now, you can answer this question by saying that you are very well prepared to manage a remote team. Then, you can talk about a few points on how you will manage the remote team. Some of the pointer that will help you answer this question is:
1) Have a well organized workspace.
2) Have clear communication with team members
3) Conduct weekly meetings to discuss project updates and address any problems regarding the project.
4) Prioritize the important tasks and work on that first.
5) Use project collaboration tools to improve the productivity of the tasks and also the team.
51. What Methods Will You Use to Deliver the Results we're Looking For?
Now, the answer for this question will change for every individual. But, before you go to the interview, learn about the company, understand how the company carries out its work. So according to the answer this question. Some of the point you can use here is,
First of all, analyze and plan all the work to be done.

Clearly understand and communicate the work.

Use project collaboration tools to increase productivity of the tasks

Conduct weekly meetings and take updates and if there is some problem, solve it

Prioritize the higher priority tasks and complete them first
Let's move on to the next question, in this PMP Interview Questions blog.
52. You will be using QA and QC for ensuring the quality of the final deliverables. What's the difference between them?
| | |
| --- | --- |
| QC(Quality Control) | QA(Quality Assurance) |
| QC is used to verifying the quality of the output | QA is the process of managing for quality |
| QC is done in the end where they check if the end products meet the expected standards | QA is done throughout the execution and development process |
| QC is a strategy for detection | QA is a strategy for prevention |
Next in this PMP Interview Questions Blog we will understand the key knowledge areas.
53. Name the ten key knowledge areas as mentioned in the PMBOK Guide.
According to PMBOK (Project Management Body of Knowledge): "an identified area of ​​project management defined by its knowledge requirements and described in terms of its processes, practices, initial data, results, tools and techniques that compose them." Now, all Project Management is the discipline that helps in organizing and managing the objectives of a project in a controlled manner to produce unique outcomes. processes in the PMBOK are divided into 10 areas, which are:
Project integration

Project scope management

Project time management

Project cost management

Project quality management

Project Human Resource Management

Project Communication Management

Project Risk Management

Project Procurement Management

Project Stakeholder Management.
54. Why did you choose PMP certification?
Now, in this question, you will have to explain your reason for choosing PMP Certification.
Here are some pointers that might help you prepare for the answer:
Gives you a Platform for Worldwide Recognition.
Provides you an edge over non-PMPs during your job interviews.
Upgrades your leadership quality
Makes you more responsible
Refines your problem-solving skills
Gives the Opportunity of Continuous Learning
Enhances Risk Management Skills
Improves Teamwork And People Orientation
Utility Across Various Industries
You can just frame some sentences using some of these points to answer the PMP Interview questions.
Your professional growth is guaranteed with PMP Training! Join our Training Course and make yourself job-ready.
Here are the top technologies to learn in 2023

This brings us to the end of this article on Top 50+ PMP Interview Questions. Hope it helped in adding up to your knowledge. If you prepare these much of PMP Interview Questions, then it will surely help you crack your PMP interview successfully. Wishing you all the best for your interview. Happy learning.
If you found this "PMP Interview Questions" article relevant, check out the PMP certification Mumbai by Edureka, a trusted online learning company with a network of more than 250,000 satisfied learners spread across the globe.
Got a question for us? Please mention it in the comments section on this PMP Interview Questions and we will get back to you.