Irrespective of the type of industry, Project Management is an integral factor that decides the success or the failure of a project. With time, organizations across the globe are looking for professionals who are not only talented and experienced but also hold relevant certifications. There is 'n' number of certifications available which can put you in the bracket of certified professionals. Through this blog, I will be specifically discussing PMP® Certification, which is considered to be the most prestigious certification of all. To acquire in-depth skills, enroll in the PMP training.
Below are the topics, I will be discussing today:
Before embarking on your PMP® certification journey, let us take a look at few terms around which PMP® Certification is built.
What Is PMBOK® Guide?
PMBOK® Guide stands for Project Management Body Of Knowledge. It is the complete collection of processes, best practices, terminologies and guidelines that are globally accepted as standards and best practices within the project management industry. The first edition of the PMBOK® Guide was published in 1996. The latest is the 6th edition, which was realeased in March, 2018.
Every five to seven years, PMI performs a Role Delineation Study (RDS), which is particularly a global survey among the project management community to identify how day-to-day tasks of project managers have evolved since the last revision.
What Is PMI?
PMI stands for Project Management Institute. It is a not-for-profit professional membership association for the project management profession, based out of Pennsylvania, US. The primary role of PMI is to be actively engaged in the advocacy of the profession, conducting research, providing career paths, and setting professional standards for project management. PMI offers 8 professional certifications, with PMP®Certification being the most popular one. They are as follows:
PMP® (Project Management Professional)
PgMP® (Program Management Professional)
PfMP® (Portfolio Management Professional)
CAPM® (Certified Associate in Project Management)
PMI-PBA® (PMI Professional in Business Analysis)
PMI-ACP® (PMI Agile Certified Practitioner)
PMI-RMP® (PMI Risk Management Professional)
PMI-SP® (PMI Scheduling Professional)
Below is a graph showing the popularity of PMP® certification over other major certifications.

What Is PMP® Certification?
Project Management Professional® Certification (PMP) is a globally acknowledged professional certification program in project management, that legalizes a professional's education and experience in project management.
It is offered by the Project Management Institute (PMI), USA. In the IT industry, the term project management refers to a methodical approach to software development through well-defined stages called initiation, planning, executing, controlling and closing. Get a better understanding from the PMP Certification Atlanta.
At present, there are a total of 729,552 credential holders who are active, 284 chartered chapters across 210 countries and territories worldwide. This is a very large number in itself. See the below image to find out the increase in the number of active PMP® certified members over the past few years.

Why PMP® Certification?
As per 2014 survey report by PMI, there will be a large number of opportunities for Project Management Professionals by 2020. The reason behind this is, when the companies recruit project managers from various cultural backgrounds, the need for project managers with a standardized set of skills eventually increases. These project managers are expected to undertake projects on different system reorganizations, turn strategic visions into tangible goals and ensure effective and acceptable outcomes, all while balancing various project constraints.
Below is a graph, displaying the expected increase in opportunities across various countries by 2020.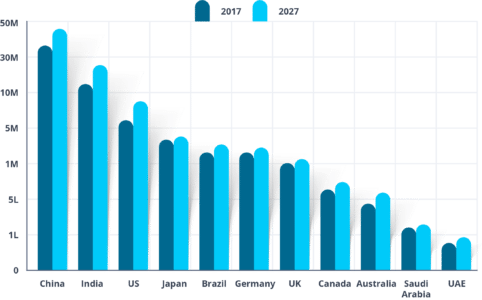 Now, if you are not satisfied yet, then check out a few more intriguing points below:
Utility across various industries
Improves Team Work and people orientation
Enhances Risk Management Skills
Provides you the opportunity for Continuous Learning
Refines your problem-solving skills
Makes you more responsible
Upgrades your leadership quality
Provides you an edge over non-PMPs
Gives you a platform for worldwide recognization
Boosts up your salary
PMP® Certification Exam
In this section, I will discuss the PMP® certification exam process in detail. So, let me begin by explaining you the prerequisites for applying for this exam.
Prerequisites Of PMP® Certification Exam
Everyone can't opt for PMP® certification. You need to fulfill some prerequisites in order to take up this certification program. PMI mandates that PMP® certification aspirants come with a high school degree along with an Associate's degree or a global equivalent segree. Additionally, the candidate must have 60+ months or 7,500+ hours of project management experience. Here are the prerequisites in a nutshell: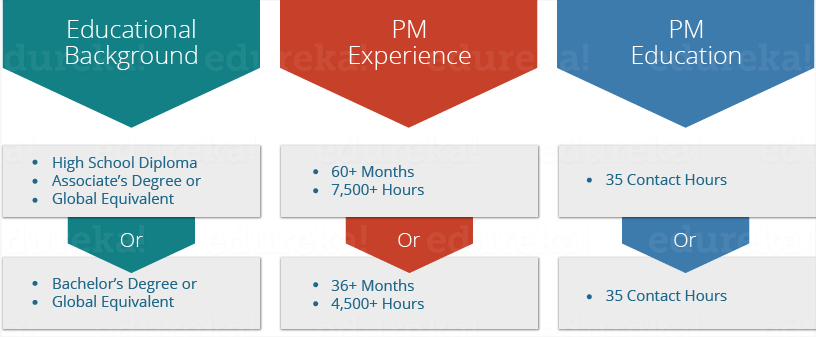 NOTE:
Project duration must not overlap
Experience in the project during last eight years
20% of applications are picked up for random audit
There is some fine print that you shouldn't overlook. One, you can only attempt the PMP® exam thrice in one year, and your project management experience shouldn't go back to more than 8 years. The second thing I would like to emphasize upon is "This course is not for freshers". So, in case you are a fresher, you need to gain some specific number of PDU's (Professional Development Units) before you can apply for PMP® Certification.
Details Of PMP® Certification Exam
200 multiple choice questions

4 hours to complete the exam

No negative marks

25 questions inserted randomly in the question paper are sample questions that aren't graded

The result is based on answers

of

175 questions

To pass, you need to answer 106 questions correctly

The exam is preceded by a 15-minute walkthrough of exam format
Each of the 200 questions is based on the 'PMP® examination specification', which essentially describes tasks under the five performance domains as prescribed by PMI. These domains, along with their weight-age in the exam are:

PMP® Certification Fee Structure
Below is a table depicting the complete breakup of the exam fee.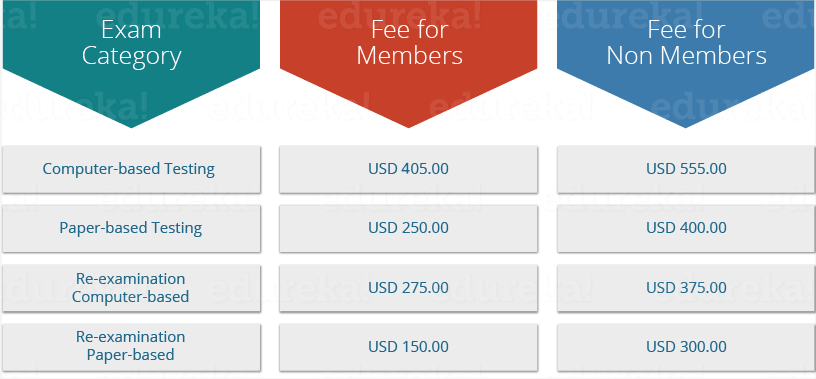 NOTE:
PMI membership fee – 139$
Only 3 PMP® Exams are allowed in one year
Certified PMPs have to earn 60 Professional Development Units (PDUs) in a three-year cycle. PDUs can be earned through multiple avenues.
Watch this PMP® Certification Training video which will give you the complete insights of PMP Certification and will help you to clear your PMP® Certification exam at the first attempt.
Application Process of PMP® Certification Exam

Above image depicts the four steps involved in the PMP® Certification application process. Let's discuss them in detail:
NOTE: Before you start filling up the form, make sure that you are eligible. If you are not, I would suggest you, not to apply as it would result in wastage of your time, effort and money. Also, check whether you are lacking any requirement. If you are, please satisfy them before applying.
Filling the online Application Form: This application needs a lot of information. It is divided into three sections:
STEP I: General Information
STEP II: Project Management Experience
STEP III: Details On 35 Contact Hours Training Program


This application requires a lot of information as well as time. An unfinished application form can be saved and finished later. You can complete filling up the form within a duration of 90 days, during which PMI will keep reminding you to complete it. Thus, you need to provide a valid email id. One thing you must remember is that, once you start filling it up, it can't be canceled.




Before submitting the application, double check the details you have provided otherwise, it will become a hassle to change it later.


NOTE: Once you submit your application, PMI will take 5-7 working days to review your application. In case something is missing in your application, PMI will notify you by email.
Fee payment: Once your application is received and accepted, PMI will send you a confirmation email requesting for payment. You will receive a refund in case you don't meet the requirements of the audit.
PMP® audit process: Once your application is accepted and payment is made, audit process will begin. Among all the applications submitted to PMI, only a small percentage is selected. Application selection is done on a random basis. If you are selected for the audit, PMI will notify you. Once you receive the confirmation mail, within 90 days, you need to submit the required documents. Once your documents are submitted, within 6-7 working days, the audit process will commence. Moreover, your eligibility period will start from the day your audit gets cleared.
Scheduling the exam: If your audit is cleared, PMI will send you an email with a unique code. Use this code to schedule your exam through the Prometric site. You will have one year time to pass the exam. In case, you need to reschedule your exam, you can do so, two days prior to the exam.
With this, we have reached the end of this blog on PMP® Certification. I hope you were able to understand the details, requirements, and benefits of PMP Certification.
If you want to get certified in PMP® and pass the PMP® Exam in your first try, then check out the PMP Course in USA by Edureka, a trusted online learning company with a network of more than 250,000 satisfied learners spread across the globe.
Got a question for us? Please mention it in the comments section and we will get back to you.